Cream Cheese Lasagna is made with a homemade meat sauce, loaded with cheese and baked to cheesy & creamy perfection. This is a family favorite and the best version of the classic lasagna dinner. 
 Cream Cheese Lasagna. It is so amazingly delicious you guys. I've had this recipe written down for years and I've made it several times because we love it so much. I realized that I needed to get this on the blog because I want everyone to love it like we do. 
I made this over the weekend and forgot to factor in that it's pretty much pitch dark at 5:00 pm around here and this lasagna needed to cook for 45 minutes, cool for about 10 minutes, the meat sauce has to simmer for 30 minutes... you can probably see where this is going. By the time it was ready to eat it was so dark out. But I knew I needed to get pics so I made use of some lamp lighting (which is a big no no in food photography) to try and get decent pics of it.
So please don't judge my photos, hahaha. It really is so yummy.
I don't know about you but when I make lasagna I am not making it for diet food 🙂 I want my lasagna creamy, cheesy, and tender pasta noodles through out. This cream cheese lasagna has it all!
A homemade meat sauce with ground turkey that simmers on the stove top for 30 minutes. This lasagna is not a quick, 30 minute meal but no lasagna worth making is ever a quick meal. 
Boil up some lasagna noodles while the meat sauce is simmering and then start assembling your layers. 
4 cups of cheese + a block of cream cheese. Trust me, this one is delicious.
The recipe calls for lasagna noodles that you need to boil before using. I highly suggest that you use those instead of the no boil lasagna noodles that you use straight from the box. I've found that those don't cook as well and have a weird chewy texture. So please get the classic lasagna noodles and boil those. It will be worth it. Promise.
Serve with some garlic bread and a salad. I love buying the bagged Caesar salad kits at the grocery store. My kids eat salad like it's candy (for real!) so it's something that we all love. 
I hope you love this one. Let me know if you try it. Enjoy friends.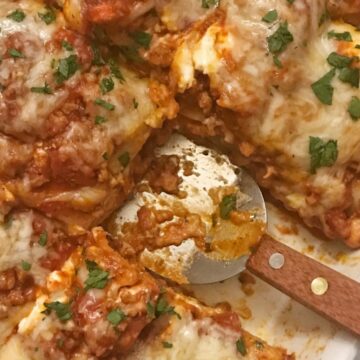 Cream Cheese Lasagna
Cream Cheese Lasagna is made with a homemade meat sauce, loaded with cheese and baked to cheesy & creamy perfection. This is a family favorite and the best version of the classic lasagna dinner.
Ingredients
1

lb

ground turkey

1

yellow onion

finely diced

½

teaspoon

salt

4

garlic cloves

minced or pressed

1

can (29 oz)

tomato sauce

1

can (14.5 oz)

Itailan diced tomatoes w/ garlic, oregano, basil

1

can (6 oz)

tomato paste

2

teaspoons

dried basil

1

teaspoon

dried oregano

1

teaspoon

Italian seasoning

1

teaspoon

granulated sugar

½

teaspoon

salt

¼

teaspoon

pepper

12

lasagna noodles

4

cups

shredded mozzarella cheese

1

bar (8 oz)

cream cheese

cut into small chunks
Instructions
In a pot, over medium-high heat, cook ground beef, onion, and salt until meat is no longer. Break up meat and crumble as it cooks. Drain and return to pot.

Add garlic cloves and let cook for about 1 minute.

Add the remaining ingredients; tomato sauce, diced tomatoes, tomato paste, and seasonings. Stir together and let it come to a low boil. Reduce heat to low and let simmer for 30 minutes.

While pasta sauce is simmering, boil the lasagna noodles according to package instructions. Don't forget to salt the water. When pasta is done cooking, drain the water and lay the noodles on tin foil or wax paper on top of the counter to cool. Don't let them touch or else they will stick.

Heat oven to 350 degrees. Spray a 9x13 baking dish with cooking spray.

Assemble lasagna: Pour 1 cup of meat sauce into bottom of baking dish. Layer with 3 lasagna noodles, top the noodles with ⅓ of the cream cheese chunks, ⅓ of the shredded cheese, and top the cheese with ⅓ of the meat sauce. Repeat the layers two more times, ending with cheese on top (see notes).

Cover with tin foil and cook for 45 minutes. Take the tin foil off the last 10 minutes of cook time.

Remove from oven and let sit for 10 minutes before serving. Garnish with dried or fresh parsley, if wanted.
Notes
You can use any type of cheese you want! I used 2 cups shredded mozzarella & provolone (It's a pre-shredded bag I buy) + 1 cup shredded Swiss cheese + 1 cup shredded parmesan cheese. Use whatever combination you want to.
For the last layer of lasagna, I always put the chunked cream cheese on top of the noodles, and instead of the shredded cheese I then put the meat sauce on the cream cheese, and end with the shredded cheese on the very top.
Nutrition
Calories:
513
kcal
Carbohydrates:
41
g
Protein:
34
g
Fat:
24
g
Saturated Fat:
13
g
Trans Fat:
1
g
Cholesterol:
107
mg
Sodium:
934
mg
Potassium:
599
mg
Fiber:
3
g
Sugar:
6
g
Vitamin A:
1109
IU
Vitamin C:
6
mg
Calcium:
349
mg
Iron:
2
mg