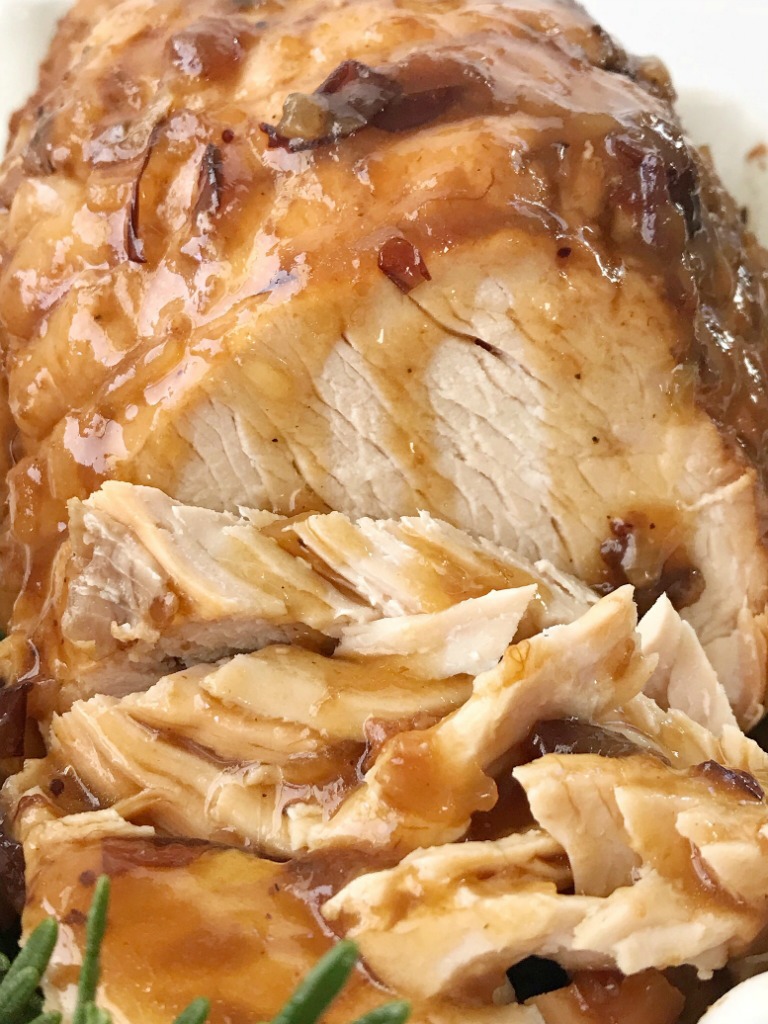 CROCK POT TURKEY BREAST BONELESS
No need for a big turkey at Thanksgiving? Try this boneless turkey breast recipe that gets cooked right in the crock pot with minimal ingredients.
Flavorful, moist, and tender flaky turkey breast that is so easy and perfect for Thanksgiving dinner. No cleaning the bird! Let the slow cooker do all the work and it even makes it's own cranberry gravy.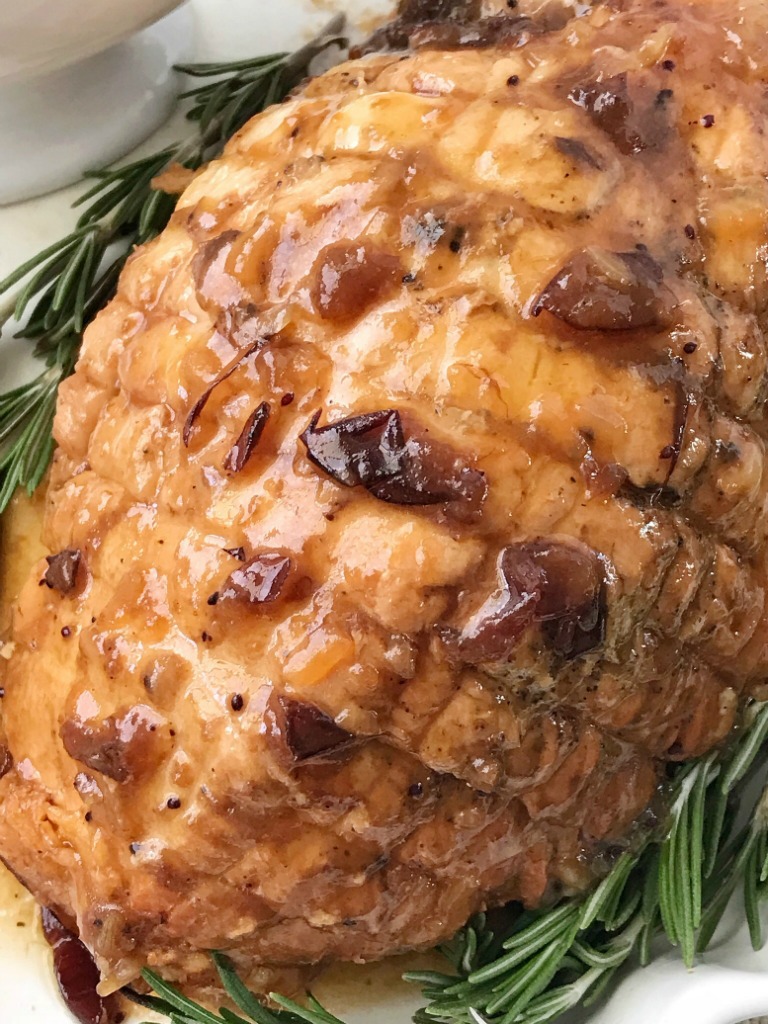 I love Thanksgiving but I'll be honest... I don't eat the turkey! I should say I don't eat 'traditional turkey'. You know the 20 pound bird that you have to clean out, wash, season, stuff, and then try and figure out how to cook it perfectly brown in the oven for hours? That one. 
I much prefer this super easy and simple to make boneless turkey breast that cooks in the slow cooker. And another bonus is that you won't end up with 20+ cups of leftover turkey from Thanksgiving dinner!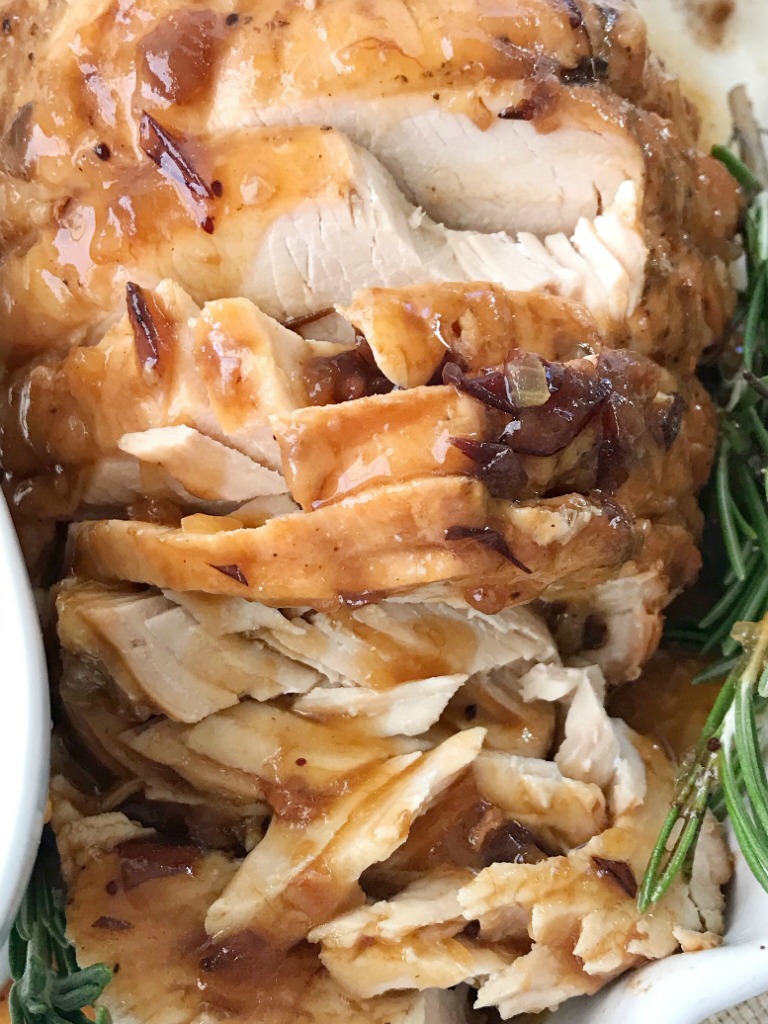 BONELESS TURKEY BREAST WITH CRANBERRY SAUCE AND ONION SOUP MIX
5-7 pound boneless turkey breast - 

Most grocery stores will have these but I always buy mine at Costco. It's the best price and all the turkey breasts are exactly 4.75 pounds (which is slightly under 5 lbs but it's close enough). I have had people sucessfully make this with a bone-in turkey breast. I've never done it but I know others have with great success. Just watch the internal temperature as it may take longer to cook with the bone-in. 

1 can of whole berry cranberry sauce - 

No need for fancy homemade cranberry sauce here. Just grab a can and you're good!

Packet of onion soup mix/seasoning 

Orange Juice
WHAT TEMPERATURE DO I COOK TURKEY BREAST TO?
When a thermometer inserted into the largest part of the turkey breast it should read 165 degrees. I'll be honest and say that mine was more like 180 degrees. I am terrified of meat not being cooked all the way through so I just cook it a little bit hotter to be safe.
If you use a larger turkey breast, closer to 7 lbs, your cook time may take longer than mine. Just check the temperature starting at 5-6 hours. The beauty of using the slow cooker is that no matter the meat temperature the turkey will stay juicy and moist because of all the liquid. It's basically fool-proof!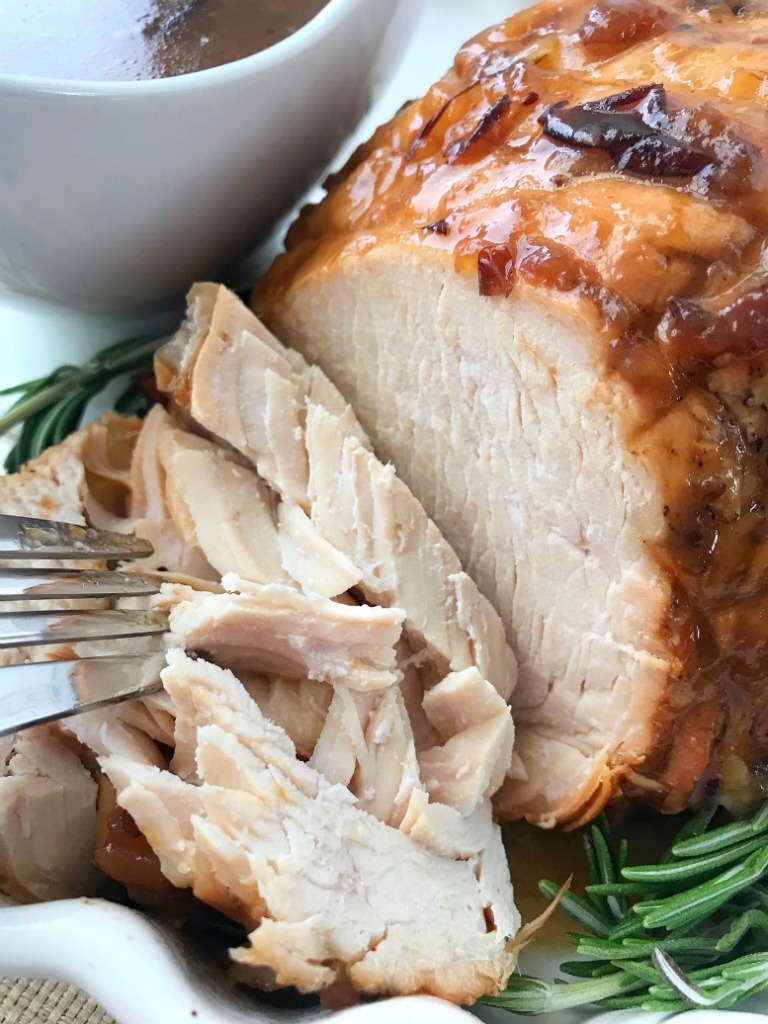 MY TIPS FOR MAKING THIS RECIPE
The turkey will come wrapped in three layers. A green netting on the outside, the wrapper, and then the turkey breast inside the package will have a netting wrapped around it. DO NOT remove the netting. Only remove the outer two layers. The netting helps the turkey keep it's shape while cooking which will make it easier to slice it into pieces to serve. Don't worry, you will remove the netting before serving 🙂 

If the turkey is slightly less than 5 pounds then that's fine. Just check the temperature and adjust the cook time as needed. 

Remember to THAW THE TURKEY BREAST BEFORE COOKING. Stick it in the fringe for at least 2-3 days before you plan on cooking it.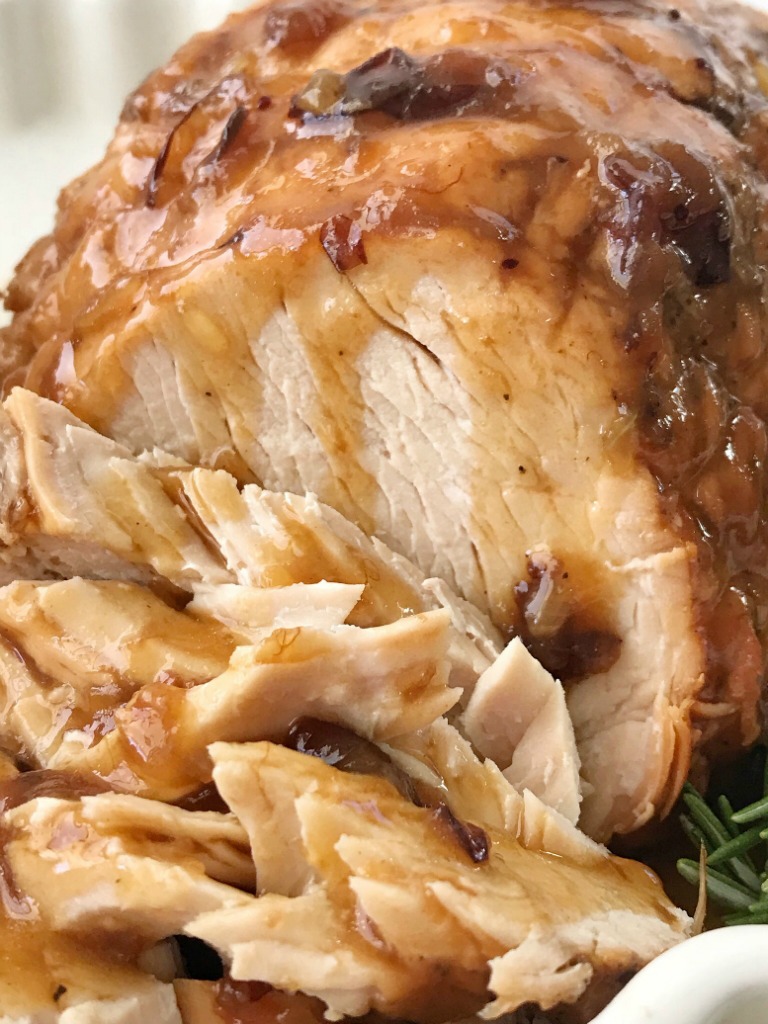 TRY THESE OTHER THANKSGIVING DAY RECIPES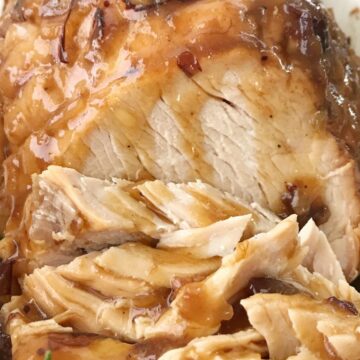 Crock Pot Cranberry Turkey Breast
Crock Pot Turkey Breast only needs 4 ingredients and you won't believe how easy it is to make! Tender flaky, moist, fool-proof boneless turkey breast recipe that's perfect for Thanksgiving. 
Ingredients
1

(5-7 lbs)

boneless turkey breast

1

teaspoon

salt

½

teaspoon

pepper

1

can

(14 oz) whole berry cranberry sauce

1

packet

onion soup seasoning mix

½

cup

orange juice
Gravy
1

tablespoon

cornstarch

1

tablespoon

cold water
Instructions
Unwrap turkey breast, making sure to leave the netting on the turkey, and place into a slow cooker. I use a 6-qt crock pot.

Sprinkle salt and pepper over the turkey and rub it in. In a mixing bowl combine cranberry sauce, onion seasoning mix, and orange juice. Pour over the turkey.

Cook on LOW heat for 5-7 hours. Internal temperature needs to be at least 165 degrees. Mine cooked for 6 hours. 

Take turkey breast out of the crock pot and place onto the serving plate. Cover with tin foil to keep it hot. Skim the fat pieces from the crock pot. Pour the remaining liquid from the crockpot into a medium saucepan.

Mix together the cornstarch and water in a small bowl. Bring the sauce from the slow cooker to a boil. Once boiling add the cornstarch mixture and stir with a whisk until it's thickened. You may have to turn the heat down while doing this to prevent it from boiling too much and burning. It should only take between 1-2 minutes for it to thicken.

Pour some of the gravy over the turkey breast and serve. I pour the extra sauce into a jar and set that out with the turkey so you can serve additional gravy with the turkey servings.
Notes
Calorie information is for 5 ounces of turkey breast (size of your palm) with ¼ cup gravy. 
Keep the netting on the turkey breast while it's cooking. Remove it only after the cook time. The netting helps the turkey keep it's shape during the cook time.
Nutrition
Calories:
398
kcal
Carbohydrates:
28
g
Protein:
62
g
Fat:
5
g
Saturated Fat:
1
g
Cholesterol:
153
mg
Sodium:
1293
mg
Potassium:
768
mg
Fiber:
1
g
Sugar:
23
g
Vitamin A:
111
IU
Vitamin C:
9
mg
Calcium:
51
mg
Iron:
2
mg