No Mushroom Green Bean Casserole Recipe has no creamed soup in it! Canned green beans, cheese, french fried onions, and a few seasonings is all you need for the best green bean casserole. This is a must-make side dish recipe for nice Sunday dinners and especially for Thanksgiving.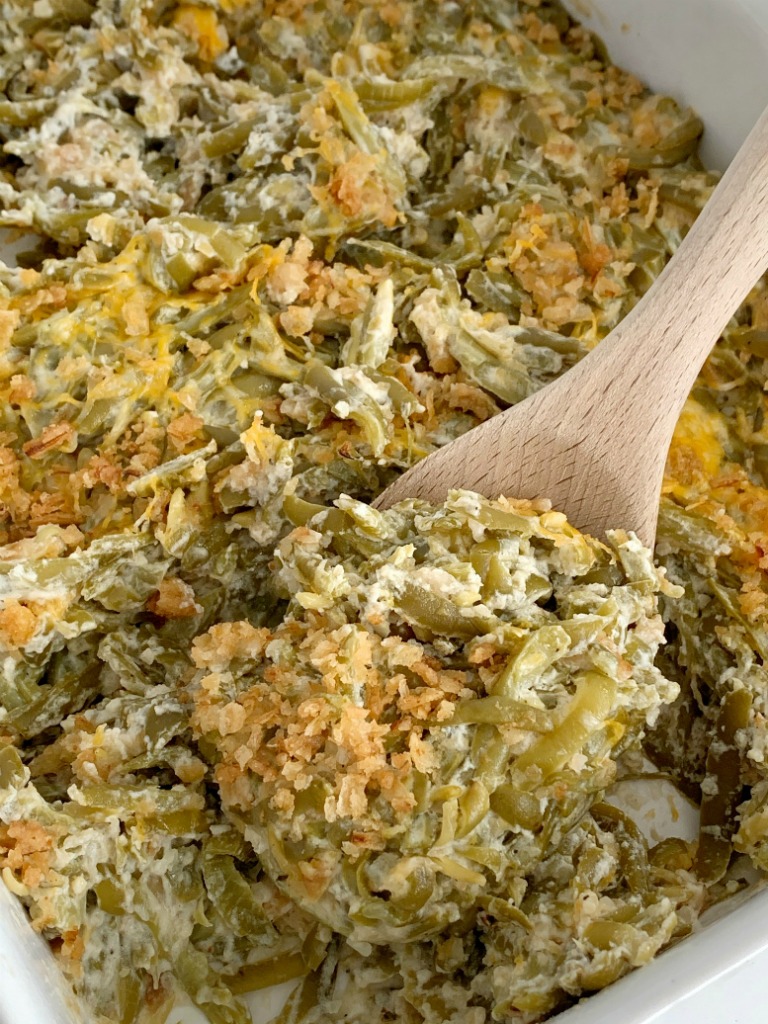 NO MUSHROOM GREEN BEAN CASSEROLE RECIPE
My family's favorite green bean casserole recipe is always a must-have at my own Thanksgiving table and pretty much any Holiday. I won't lie… I even make it as a side dish for a nice Sunday dinner. It's that good. 
There are only 3 foods I refuse to eat and mushrooms is one of them! Which is why I love this green bean casserole because there are no mushrooms in it. 
It's perfect for those that have mushroom allergies or if you're like me and just don't like them. 
I have absolutely nothing against canned soup but when I can make something from scratch that just takes minutes, I happen to love that it can replace a canned ingredient in a recipe.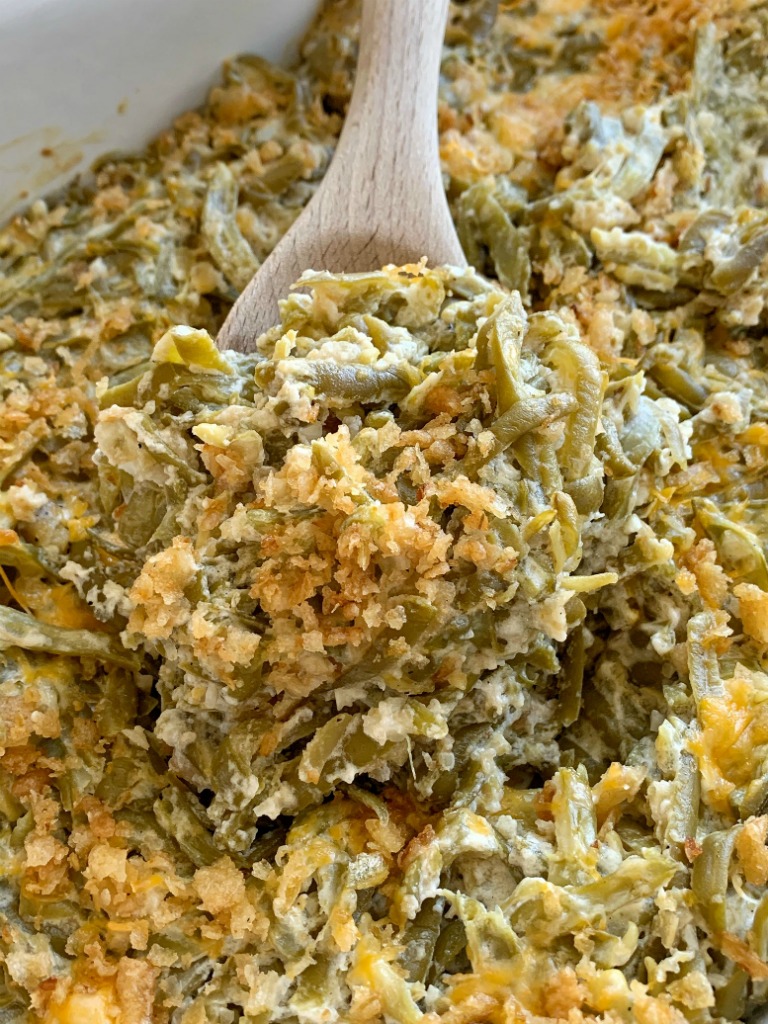 WHAT INGREDIENTS DO I NEED TO MAKE GREEN BEAN CASSEROLE WITH CANNED GREEN BEANS?
Butter – I use salted butter in this recipe but unsalted butter works just fine too. Be sure to add a bit more salt (if wanted) if using the unsalted butter. 
All-Purpose Flour – This is what helps to thicken the mixture so that you don't end up with a wet, runny green bean casserole. 
Sour Cream – I highly prefer the full-fat regular sour cream in this recipe. You can use the lite sour cream but it tends to have a thinner texture and not as rich taste. So just use what you love!
Dried Minced Onion – These are just dried pieces of onion. They come in a spice type bottle and you will find them by the other spices and seasonings in the grocery store. If you don't have these already at home, I highly encourage you to buy some. They are cheap (like 50 cents) and they give such a great flavor to this casserole. Plus, it makes the recipe a no chop recipe!
Canned Green Beans – I prefer green bean casseroles with canned green beans. Why? They're convenient, usually cheaper, and they cook up perfectly because they are already soft. I can't tell you how many recipes I tried using fresh green beans that turn out with crispy and crunchy beans, and they take forever to prepare for the casserole. I love the French-style green beans but yes you can use the regular, cut green beans if you prefer that. 
Shredded Cheese – I use Colby Jack cheese but feel free to use whatever you like the best. Colby Jack or Cheddar will be the best for this recipe. Use as little or as much as you want. I don't care for the casserole to be super cheesy so I actually use less than the 1 cup called for. 
French Fried Onions – Get yourself a small can of these. They give that super crispy texture and some great flavor.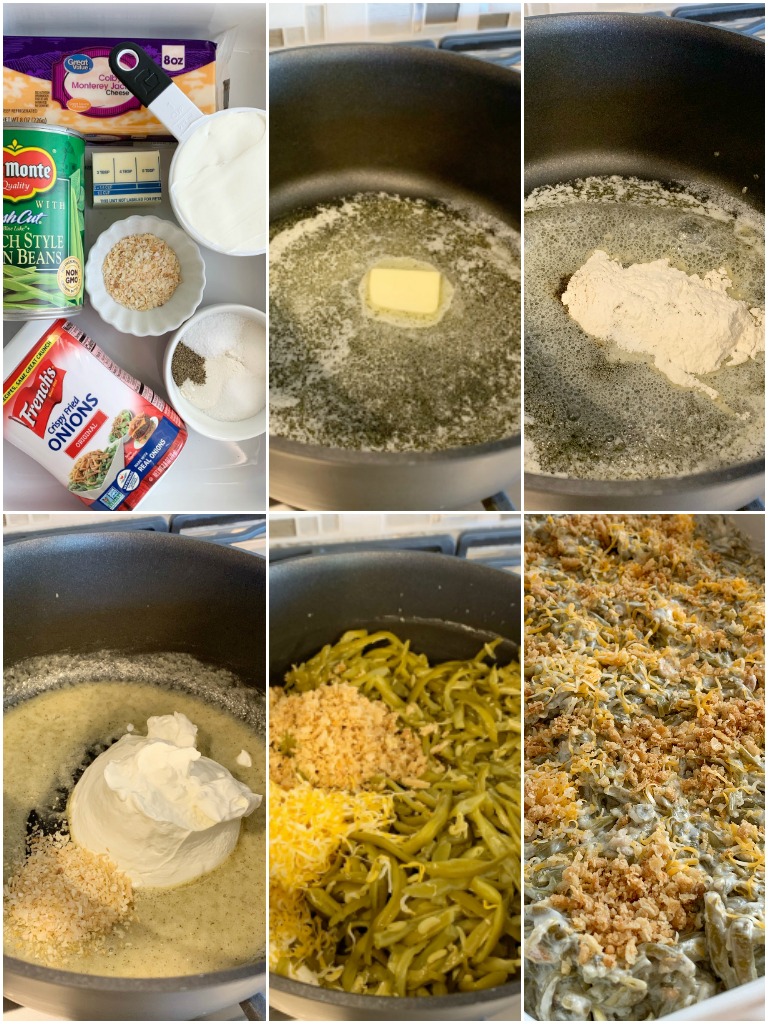 WHAT TO SERVE WITH GREEN BEAN CASSEROLE
Slow Cooker Honey Glazed Ham – Cooks in the slow cooker all day in the best sweet honey glaze. 
Crock Pot Cranberry Turkey Breast – One of my family's Thanksgiving dinner tradition. So incredibly easy to make and it creates the flakiest and most tender turkey ever. 
Soft & Fluffy One Hour Rolls – Easy to make and so buttery!
Corn Casserole – Cornbread mix, sour cream, melted butter, corn, and creamed corn make this the best version of this Thanksgiving day classic.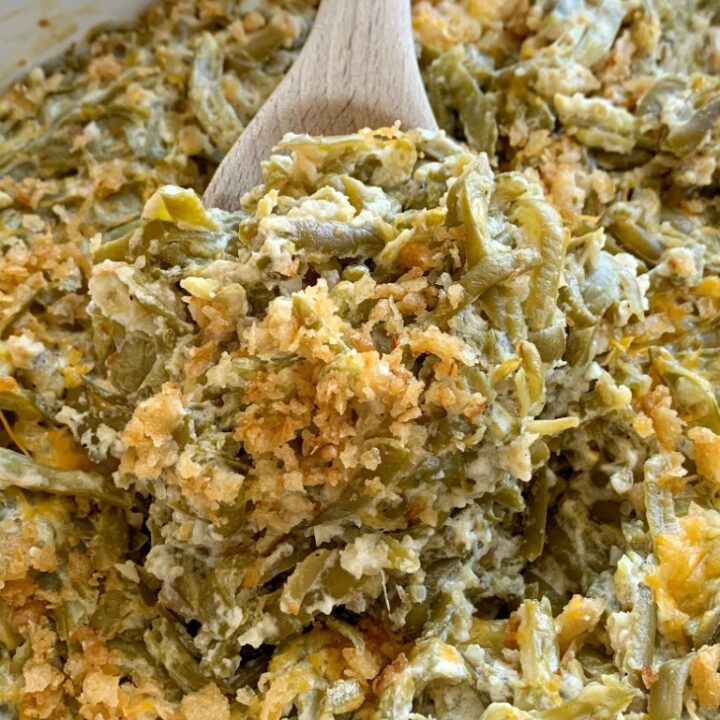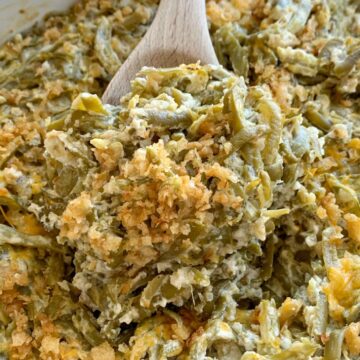 No Mushroom Green Bean Casserole
No Mushroom Green Bean Casserole has no creamed soup in it! Canned green beans, cheese, french fried onions, and a few seasonings is all you need for the best green bean casserole.
Ingredients
3 tablespoons salted butter
2 tablespoons all-purpose flour
1 teaspoon granulated sugar
½ teaspoon salt
¼ teaspoon pepper
1 tablespoon dried minced onion
1 cup sour cream
2 cans (28 oz each) french-style green beans drained well
1 cup shredded cheese I use Colby Jack
1 cup French's fried onions
Instructions
Heat oven to 350°. Spray a 9x13 baking dish with cooking spray. Set aside.

Melt the butter in a large pot over medium heat. Once melted, add the flour, salt, sugar, and pepper. Stir with a whisk for 1 minute. Stir constantly so it does not burn.

Take off the heat and add sour cream and dried minced onion. Stir together until combined.

Add green beans, half the cheese, and half the fried onions. Stir together and pour into prepared baking dish. Top with the remaining cheese and sprinkle with the remaining fried onions.

Bake for 25-30 minutes.
Notes
Onion : If wanted, you can use 1 tablespoon of diced fresh onion. I prefer the dried minced onion because it's easy and you don't waste an onion for only 1 tablespoon! Tip : To make this easy to prepare: measure out your dry ingredients (flour, salt, sugar, pepper) into a small bowl. That way when it's time to add them you just dump & stir. Green Beans : I prefer the French style green beans in this casserole. But if you want a thicker, heartier green bean texture then use the cut green beans. If you can't find the larger 28 oz cans of green beans then use 4 cans of 15 oz green beans instead.  Sour Cream : For best texture and taste use real, full-fat sour cream.
Nutrition
Calories: 251kcal | Carbohydrates: 20g | Protein: 8g | Fat: 17g | Saturated Fat: 9g | Cholesterol: 37mg | Sodium: 364mg | Potassium: 480mg | Fiber: 5g | Sugar: 8g | Vitamin A: 1774IU | Vitamin C: 25mg | Calcium: 179mg | Iron: 2mg
recipe found and adapted years ago from Keat's Eats