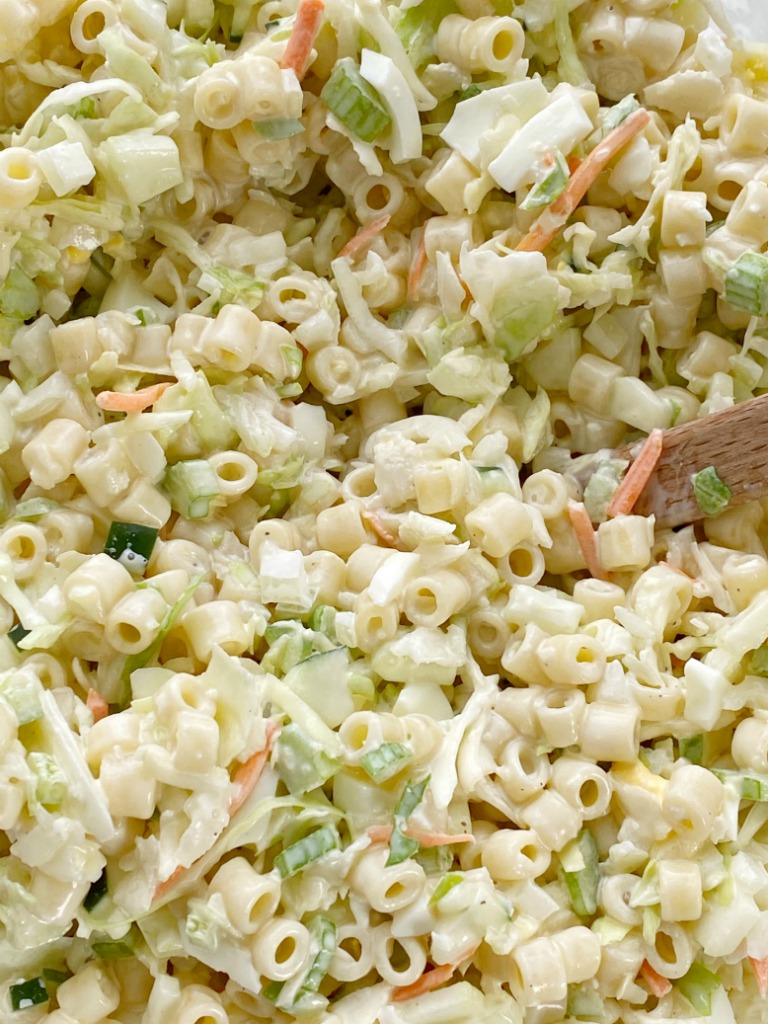 COLESLAW PASTA SALAD
Coleslaw Pasta Salad is full of amazing crunch, texture, and creamy flavor! I always love pasta salads at gathering or BBQ's with family. I love the variety and I love to try new salads. 
This coleslaw pasta salad is always a winner wherever I take it. It's so different then normal pasta salads and everyone loves this stuff. There is lots of chopping involved (you've been warned 🙂 ) but it's worth it when you taste it.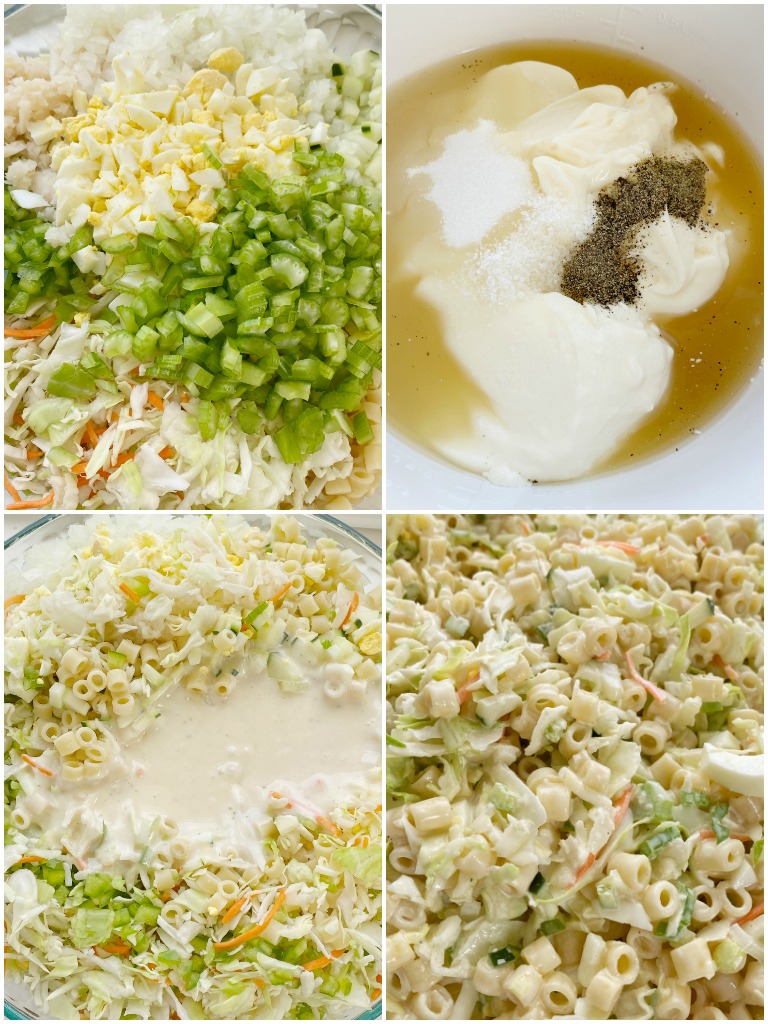 HOW TO MAKE COLESLAW PASTA SALAD
Ditalini Pasta Salad – You could experiment using other pasta shapes if wanted but I have found that the ditalini pasta is the best. It's small in size but still large enough to be able to compete with the other flavors going on. The pasta gets cooked according to package directions and then you will drain it and rinse with cold water in a colander. 
Coleslaw Mix – Head to the bagged salad area of the produce section to find this. There is a coleslaw with shredded carrots and purple cabbage you can use or get the bag with just plain shredded green cabbage. Either one will work. I love the one with carrot and red cabbage for the color. 
Sweet Onion
Celery
Chopped & Seeded Cucumbers – You can peel off the skin on the cucumber or leave it on, whatever you prefer. I like to peel it about 3/4 the way so that there is still some green peel showing for some awesome color in the salad. Either way works just fine. 
Green Pepper
Water Chestnuts – I drain the juice from the can and then dump it into a food processor and chop it until it's chopped into small pieces. You can also just use a cutting board and a knife to chop. 
Hard Boiled Eggs – You can buy hard boiled eggs at the grocery store or use this super easy tutorial for Instant Pot hard boiled eggs that will change your life! I use it all the time and it's perfect. The egg shell literally just falls off. 
Mayonnaise, Sugar, Apple Cider Vinegar, Salt & Pepper – Feel free to add whatever you want to the dressing. I love it as is and that's how I've always made it.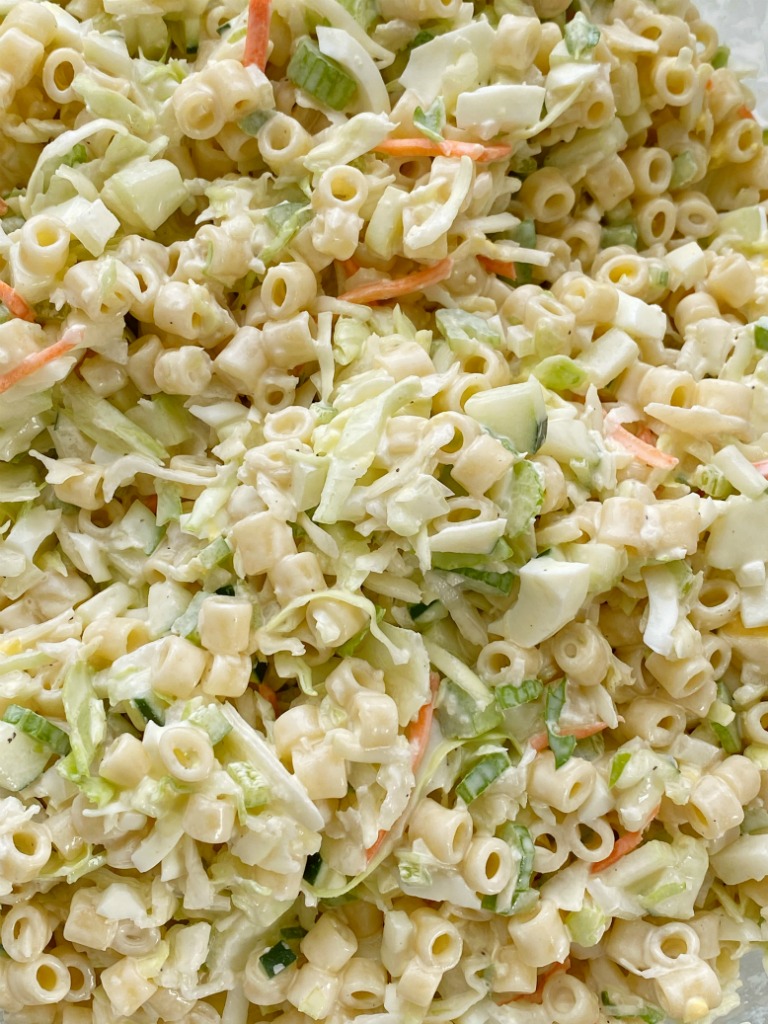 MY TIPS FOR MAKING THIS RECIPE
– Prepare this salad ahead of time! It's much better after it has had 4-5 hours of refrigeration time before serving. You can serve it right away, and maybe try it both ways to see what you prefer, but I think it's much better cold. Do not prepare the night before as it will make the salad too thick because the dressing would have had lots more time to thicken up and stick to the pasta. 
– For best taste use full-fat, real mayonnaise. No substitutes please if you want it to taste amazing. 
– It is a lot of chopping! I know. Every time I make this I wonder why I do it because there is so much chopping. But then I taste it and I remember why I do all that chopping. Speaking of chopping, try to cut everything the same size so the salad is uniform and you get some of everything in every bite. 
– I don't know why but I have seen 14 oz coleslaw bags and 16 oz sized bags. Just make sure you use between a 14-16 oz bag of coleslaw mix. Not sure why they make it so complicated?!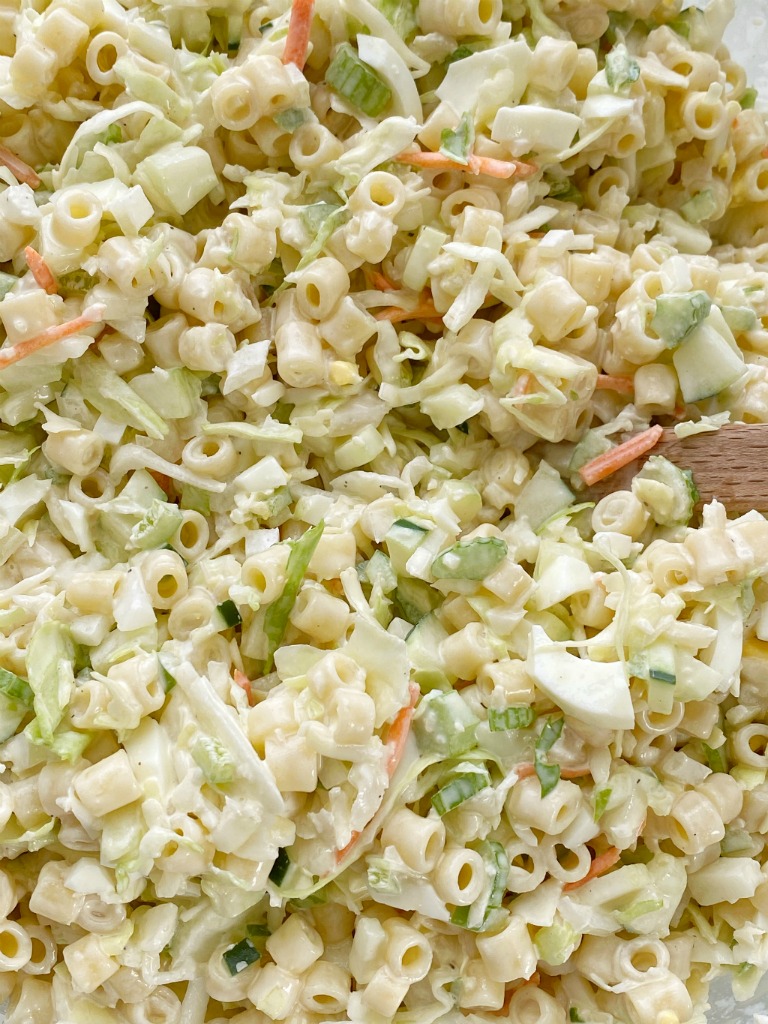 TRY THESE OTHER PASTAS SALAD RECIPES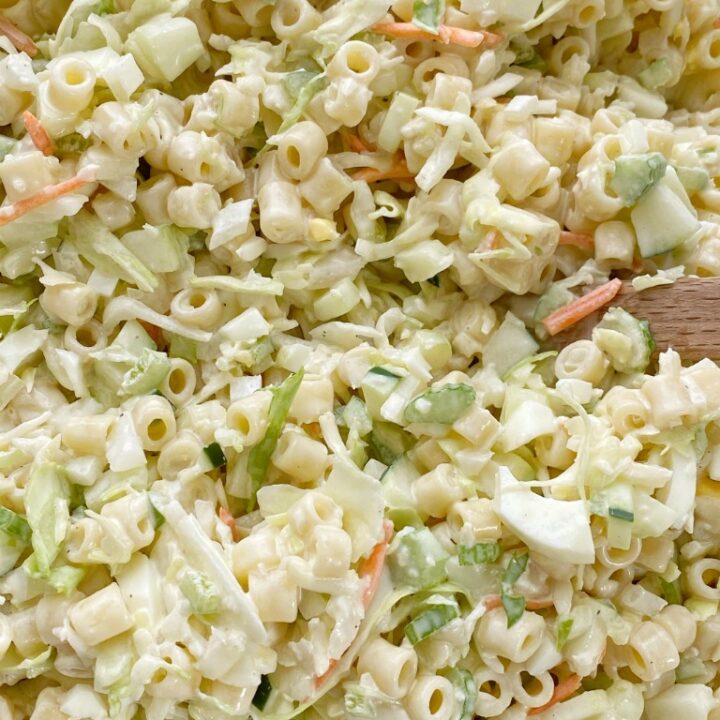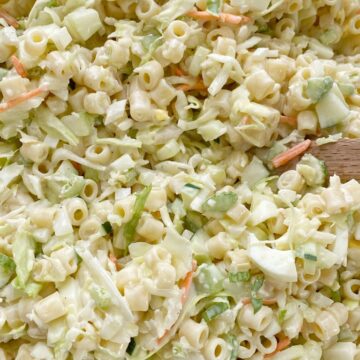 Coleslaw Pasta Salad
Coleslaw Pasta Salad is a fun twist to traditional pasta salad. Ditalini pasta with coleslaw and lots of other delicious and crunchy mix-ins for pasta salad that is always a hit.
Ingredients
coleslaw pasta salad
1 box (16 oz) ditalini pasta
1 bag (14-16 oz) coleslaw mix
1 sweet onion finely chopped
2 celery ribs finely chopped
2 cucumbers peeled, seeded, & chopped
1 green pepper chopped small
1 can (8 oz) sliced water chestnuts drained & chopped small
3 hard boiled eggs chopped
dressing
1 1/2 cups mayonnaise
1/3 cup granulated sugar
1/4 cup apple cider vinegar
½ teaspoon salt
¼ teaspoon pepper
Instructions
Cook pasta according to package directions; drain pasta and rinse in cold water. *Don't forget to add salt to the cooking water. I add about 2 teaspoons. 

Transfer pasta to a large mixing bowl. Add the coleslaw mix, onions, celery, cucumber, green pepper, water chestnuts, and eggs. Mix together.

In separate bowl combine the dressing ingredients and stir with a whisk. Pour over the pasta salad and stir well to combine.

Cover and refrigerate for 4-6 hours before serving.
Notes
The is recipe has been updated (June 2020) with new helpful text and new pictures. The recipe is the same as it always has been.  Plan ahead! This salad needs at least 4 hours of fridge time before serving.  Store leftovers in the fridge. Surprisingly, the salad stays well in the fridge for a couple of days. And it even still retains the slight crunch too!
Nutrition
Calories: 300kcal | Carbohydrates: 31g | Protein: 6g | Fat: 17g | Saturated Fat: 3g | Cholesterol: 40mg | Sodium: 231mg | Potassium: 233mg | Fiber: 3g | Sugar: 8g | Vitamin A: 163IU | Vitamin C: 18mg | Calcium: 33mg | Iron: 1mg