Ranch Pasta Salad is the best pasta salad side dish! Rotini spiral pasta noodles, cucumber, tomato, broccoli, parmesan cheese with an easy dressing of ranch. Simple to make with only 6 ingredients and it's full of fresh vegetables!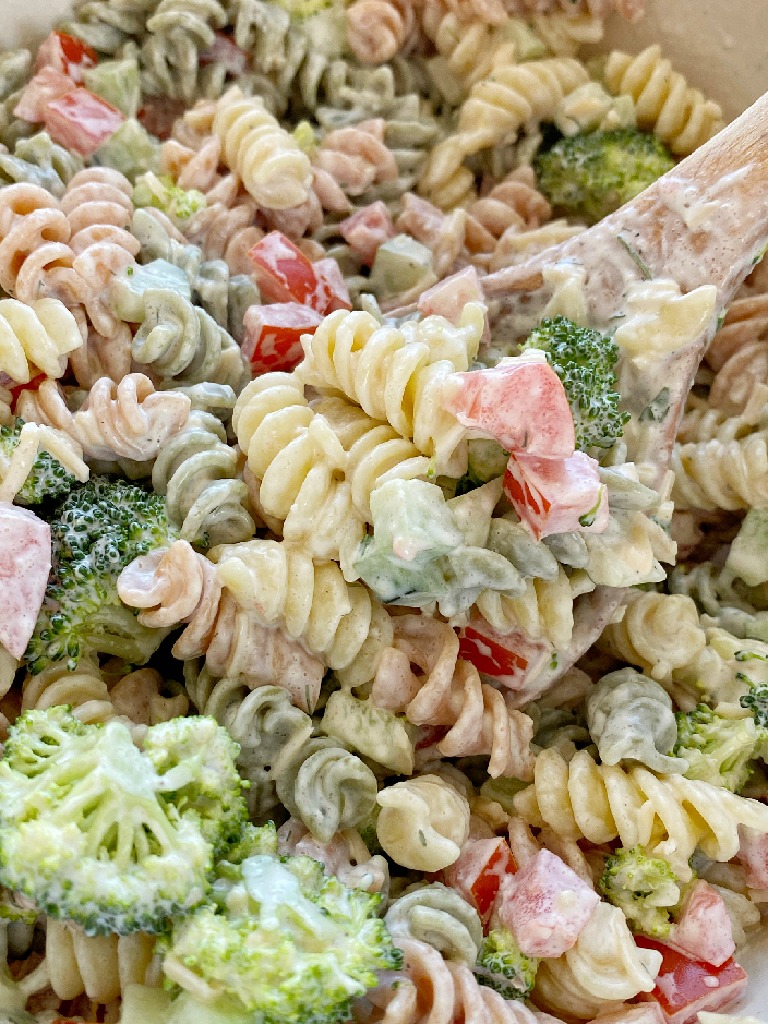 RANCH PASTA SALAD
This ranch pasta salad recipe continues to be one of the most popular recipes on my site. I have been making this for years and we could never get tired of it. 
Only 6 ingredients to make this side dish and one of those is ranch dressing. There are some tips and how-to instructions in the post below so be sure and read them. One of them is an easy homemade ranch dressing that goes perfectly with this salad.
If you love all things ranch like we do then be sure and check out my slow cooker creamy ranch potatoes, this homemade ranch seasonings mix (to replace store bought packets), or this vegetable ranch dip.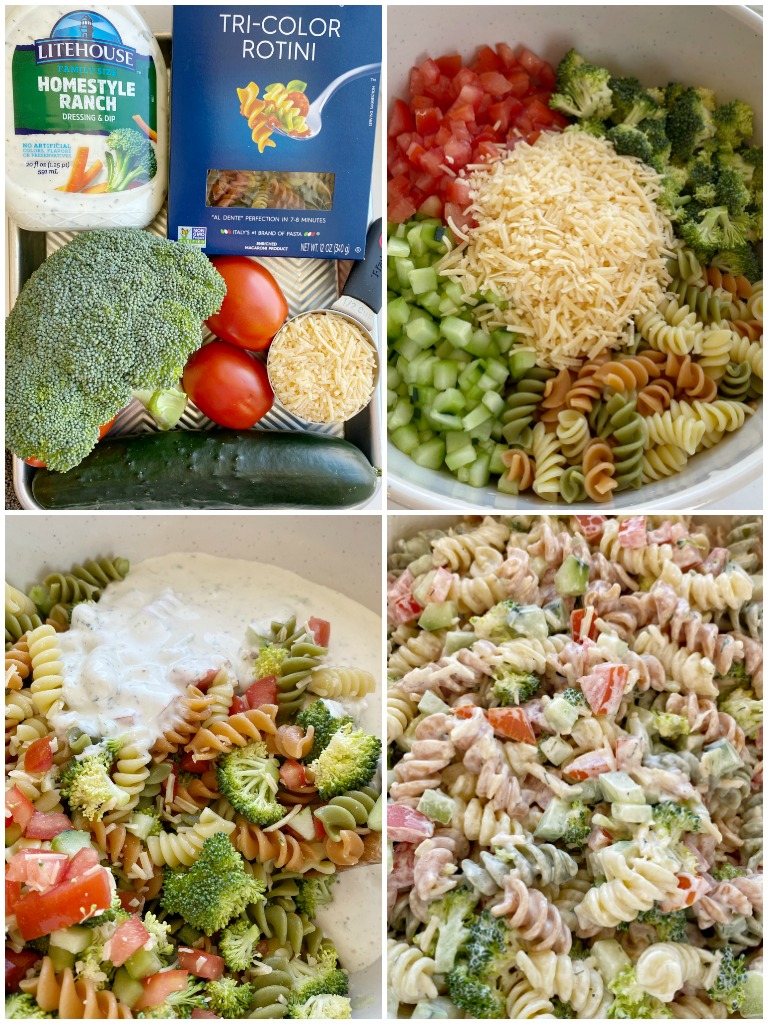 HOW TO MAKE PASTA SALAD RECIPE, STEP-BY-STEP PHOTOS
Boil the tri color rotini noodles. Depending on your preference, cook to al dente or to soft. I prefer the noodles softer in pasta salads so I always cook for the longest cooking time given on the box. 
While the noodles are cooking prepare the vegetables. Dice the cucumber, tomatoes, and broccoli into small bite-sized pieces. I try to make them all the same size. 
Add noodles, vegetables, parmesan into a large mixing bowl. Stir together to combine. 
Pour the ranch dressing over top and mix well. Serve right away or let it refrigerate for 1-2 hours before serving if you want the salad colder.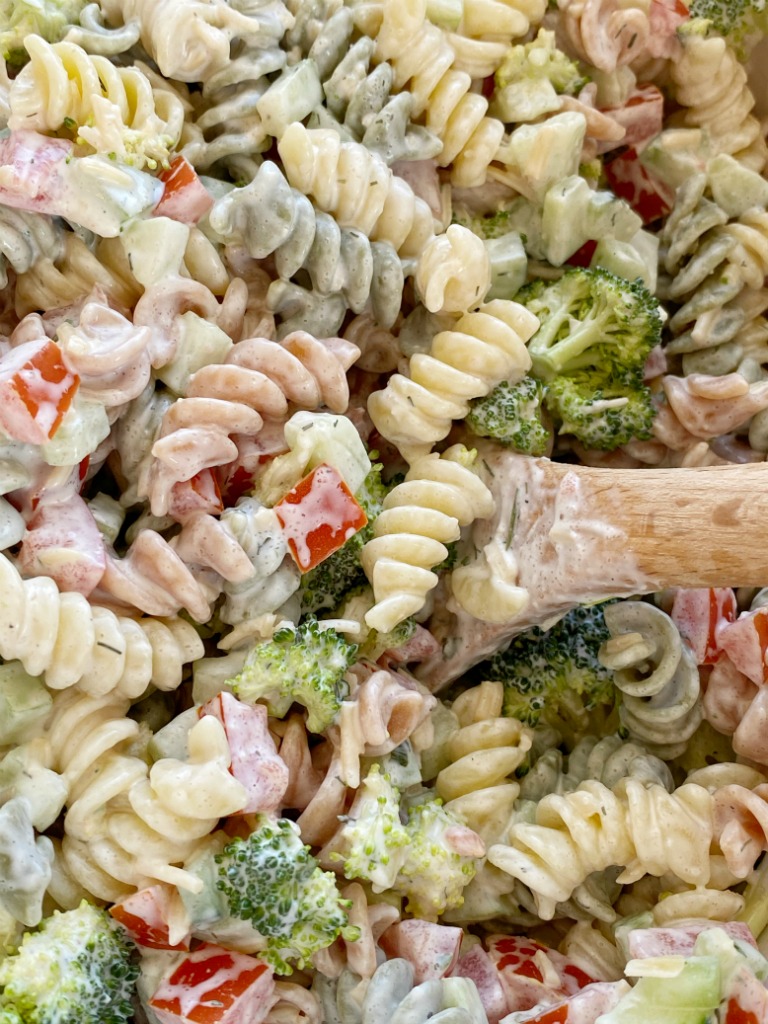 MY TIPS FOR MAKING THIS RECIPE
If you are using a bottled, store-bought ranch dressing then be sure and use one that you love! I really like the Litehouse brand that you find in the refrigerated part of the produce area in the grocery store. 
This salad is so delicious with my homemade ranch dressing (which will be in the recipe card if you want to try it). No matter if you use homemade ranch dressing or store-bought, be sure that it is COLD. If you add warm, room temperature ranch then it will make the salad that same way.
Tri color rotini pasta is the best one to use for this salad. The noodles have much more flavor than just regular rotini noodles. They are easy to find in any store so be sure you use them. 
For the parmesan cheese you can shred your own from a wedge or buy a bag/container of shredded parmesan cheese. This is what I do cause it's easy. 
Like any pasta salad, this will dry out once it's in the fridge for several hours. This salad can be served right away OR refrigerated for 1-2 hours at the most before serving. Leftovers are fabulous! Just add some additional ranch dressing and mix it up, and it's good as new. 
One recipe of the homemade ranch dressing is the perfect amount for this salad. When I eat leftovers of it the next day, I just add some bottled ranch dressing and it's fabulous.
TRY THESE OTHER PASTA SALAD RECIPES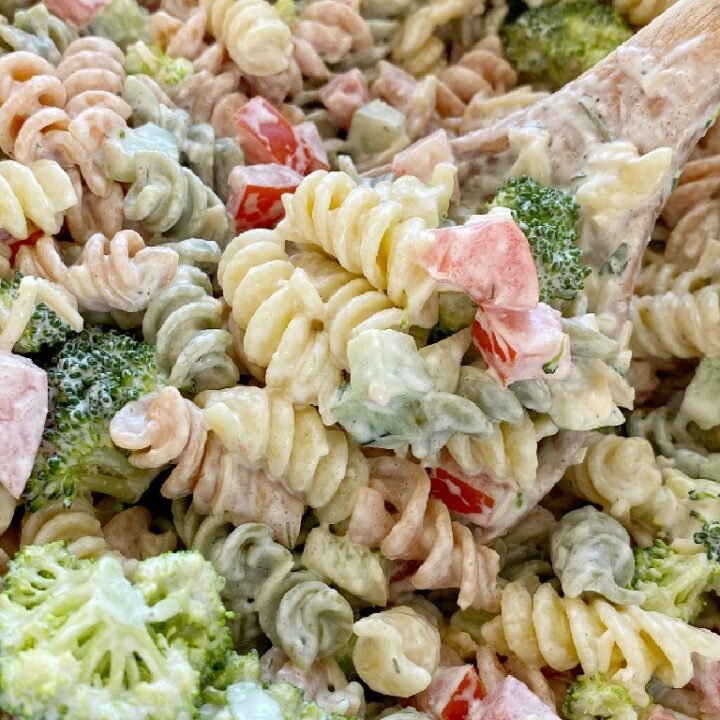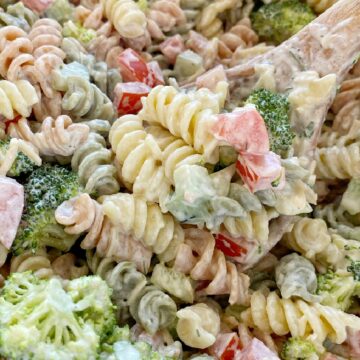 Ranch Pasta Salad
Ranch Pasta Salad is the best pasta salad side dish! Rotini noodles, cucumber, tomato, broccoli, parmesan cheese with an easy dressing of ranch. Everyone will love this pasta salad!
Ingredients
1 box (12 oz) tricolor rotini pasta
1 cup chopped broccoli
1 cup chopped cucumbers (peeled & seeded)
1 cup chopped tomatoes
1/2 cup shredded parmesan cheese
1¼ cups ranch dressing (more or less to taste)
Homemade Ranch Dressing (optional)
1/2 cup mayonnaise
1/2 cup buttermilk
1/4 cup sour cream
½ teaspoon dried parsley
½ teaspoon dried dill weed
½ teaspoon dried chives
½ teaspoon onion powder
½ teaspoon garlic powder
½ teaspoon worcestershire sauce
¼ teaspoon salt
⅛ teaspoon pepper
Instructions
Cook pasta according to package instructions. Remember to salt the pasta water so the noodles have some flavor. I use about 1 teaspoon salt. Drain the pasta and rinse under cold water so pasta can cool. 

In a mixing bowl combine the cooled pasta, broccoli, cucumber, tomatoes, and parmesan cheese. Stir. Add ranch and stir again to coat the noodles and veggies in the ranch.  

Serve right away or let it refrigerate for 1-2 hours before serving. Pasta salad tends to dry out in the fridge so don't leave it in there too long before serving. If needed, add some additional dressing and give it a good stir to moisten it back up.

** If you are making the homemade ranch dressing, I would suggest making it before you make the salad so it has plenty of time to refrigerate and get cold. Combine all the ranch dressing ingredients into a small bowl and stir with a wire whisk. It makes just enough for the salad. For leftovers, I just use store-bought ranch dressing to moisten it back up.
Notes
Be sure and use a ranch dressing that you love! I always make my homemade ranch dressing. The recipe makes exactly enough for this salad.  I find the shredded parmesan cheese by the other bagged shredded cheeses at the grocery store. You could also get your own wedge and shred it, but I have found that the pre-shredded one tastes great. Use more or less depending on preference. I usually end up using about 3/4 cups. If you refrigerate it or want to eat leftovers the next day, you may need to add a tablespoon or two of additional ranch dressing to moisten everything. To seed a cucumber: cut cucumber in half (lengthwise) and then use a spoon to scoop out the seeds. NOTE : The recipe for homemade ranch dressing is only if you want to make your own ranch dressing for the pasta salad. If you use store-bought dressing, just use what's called for in the recipe. The homemade ranch dressing (labeled as 'optional') is not in addition to the ranch dressing in the recipe card. That's only if you want to make your own. Hopefully that clears up any confusion. 
Nutrition
Calories: 284kcal | Carbohydrates: 31g | Protein: 7g | Fat: 15g | Saturated Fat: 3g | Cholesterol: 11mg | Sodium: 374mg | Potassium: 180mg | Fiber: 2g | Sugar: 2g | Vitamin A: 121IU | Vitamin C: 10mg | Calcium: 76mg | Iron: 1mg
This recipe has been updated with new pictures & more helpful text in February 2020. Recipe is the same as before and has not changed. I also added the homemade ranch dressing right on the recipe card so you don't have to go to another post to find it. Enjoy!