Crispy Honey Chicken fried on the stove top and then covered in a sweet honey soy sauce dressing. Serve over rice for a better-than-takeout dinner! For more better than take-out dinner favorites try my baked orange chicken or baked sweet & sour chicken.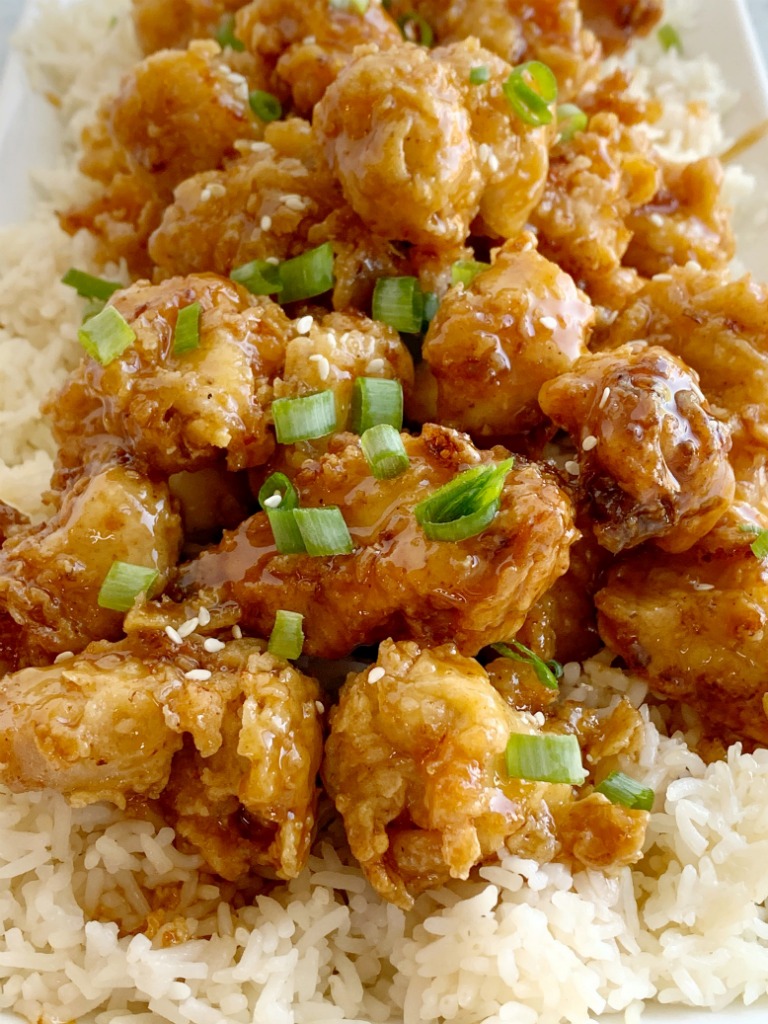 HONEY CHICKEN
All I can really say about this crispy honey chicken is that You. Need. To. Make. It! Trust me. I usually don't waste my time making dishes that have to be pan-fried in oil.
Because let's be real, it's a lot of work to stand there, dredge the chicken, fry it up, and then remove it all and then do all that for 3 more batches while the kids are screaming from their hunger pains.  
I promise that this one is worth all the "work" of dredging, frying, moving, cooling and repeating. It really is!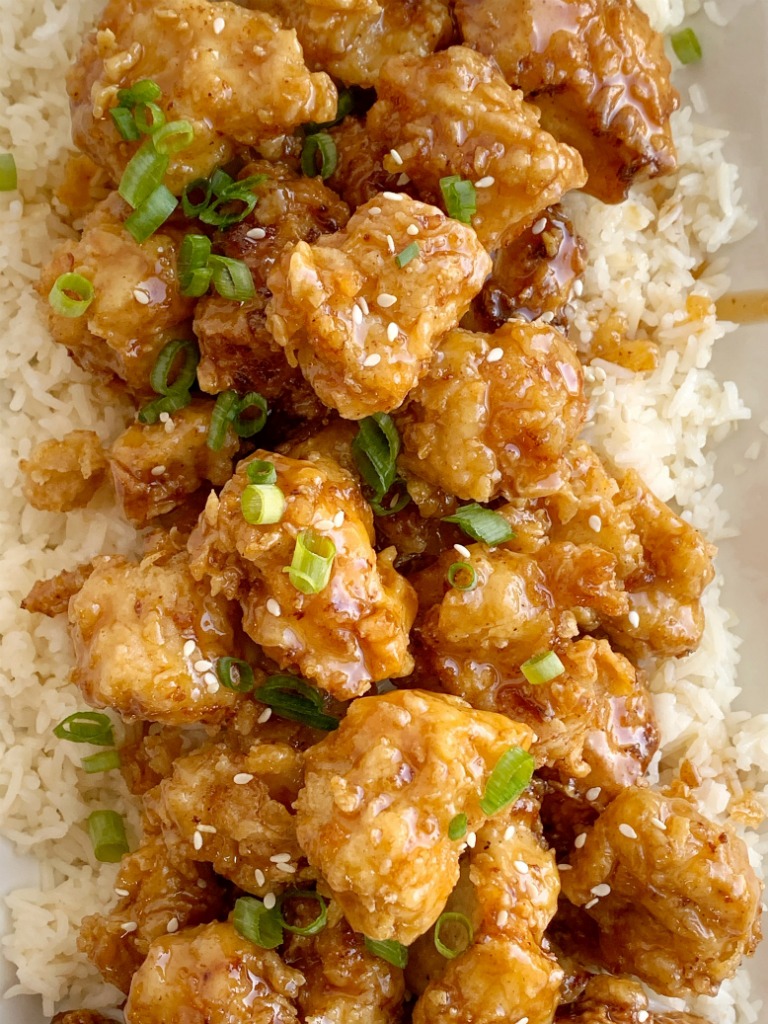 HOW TO MAKE CRISPY HONEY CHICKEN
Start by preparing all your ingredients. That way when it comes time to fry the chicken and make the sauce, you're not spending that time gathering all the stuff and cutting chicken. 
Start by pouring 2″-3″ of vegetable or canola oil into large pan that high sides on it. It takes several minutes for oil to warm up so start this first. Don't turn the burner on high heat, instead do medium-high heat and let it slowly come to temperature otherwise it will spatter oil all over when you put the chicken in it later. 
Cut the boneless, skinless chicken breasts into large bite-sized chunks. Place those in a bowl and sprinkle with some salt & pepper if wanted. 
In a bowl, stir together the ingredients for the flour dredge. All-purpose flour, chili powder, cumin, onion powder, and coriander. 
In a separate bowl measure out 1 1/2 cups of buttermilk. 
Add all the ingredients (except for the cornstarch/water) for the honey sauce into a saucepan and leave it on a stove top burner (not turned on) so it's ready to go.
Two pieces of chicken at a time (one in each hand) and coat each piece in the flour mixture, dip it into the buttermilk, and then back into the flour. Place into the hot oil and repeat about 4-5 more times for the first batch. Each batch should have about 14 pieces in it. Recipe will take about 3-4 batches to finish them all. If you use a large pan then you can obviously fit more than the 14 pieces of chicken. It does not have to be exact, just don't over crowd the frying pan. 
Using tongs, remove the crispy chicken from the pan and place it on a plate that is lined with paper towel. Let it drain and cool while the next batch is cooking. Put the cooled, crispy chicken into a large bowl so the next batch can go on the paper towels. 
While the chicken is cooking, bring the honey sauce to a boil, once boiling add the cornstarch and water and bring it to another boil. Once boiling, let it cook for about 10 minutes and then reduce the heat and let it simmer. If it's getting too thick add 1-2 tablespoons of water to thin it out. 
When all the chicken is done cooling, pour the sauce over the chicken and stir very gently to combine. Serve with cooked white rice and green onions.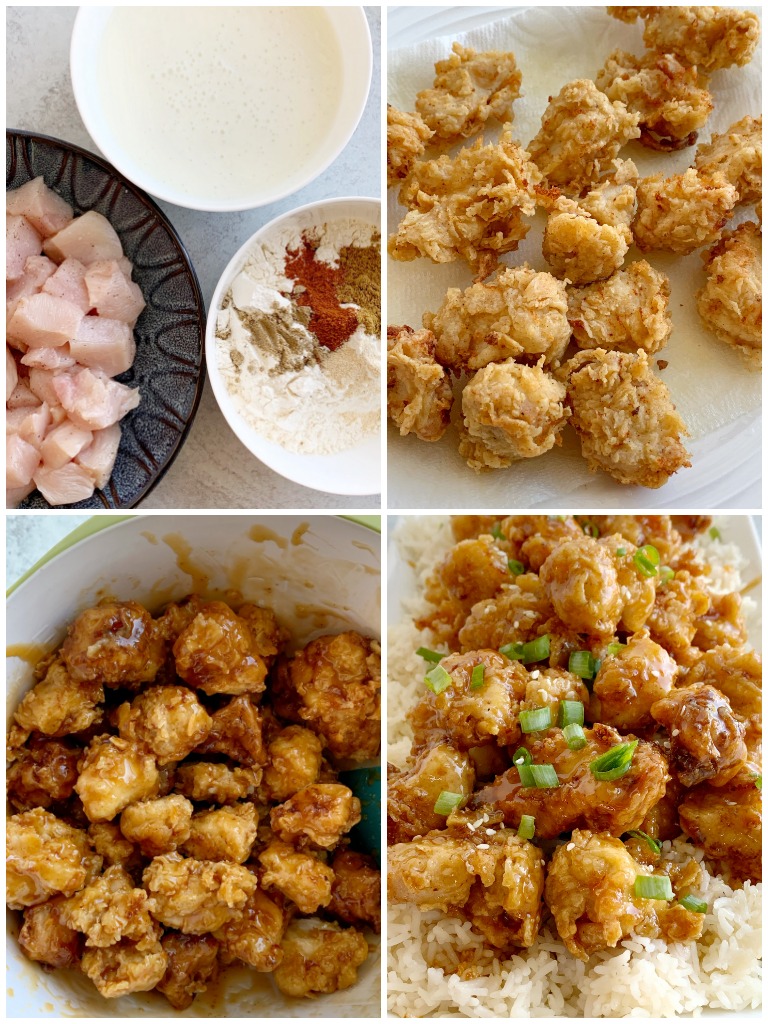 HOW DO I KNOW WHEN THE OIL IS READY?
An easy way to tell if the oil is ready to fry the chicken in, simply take a wooden spoon and dip the end into the oil. If there are bubbles that vigourously start bubbling around the wooden spoon end, then it's ready. 
If the oil just kind of sits there and lightly bubbles up then it probably needs a few more minutes.
HOW DO I KNOW WHEN THE CHICKEN IS DONE FRYING?
Each batch should only take about 5-7 minutes and the crust should be a pale, golden brown color. Really, the only right way to know if the chicken is done is by using a thermometer and making sure the chicken is up to temperature, 165 degrees.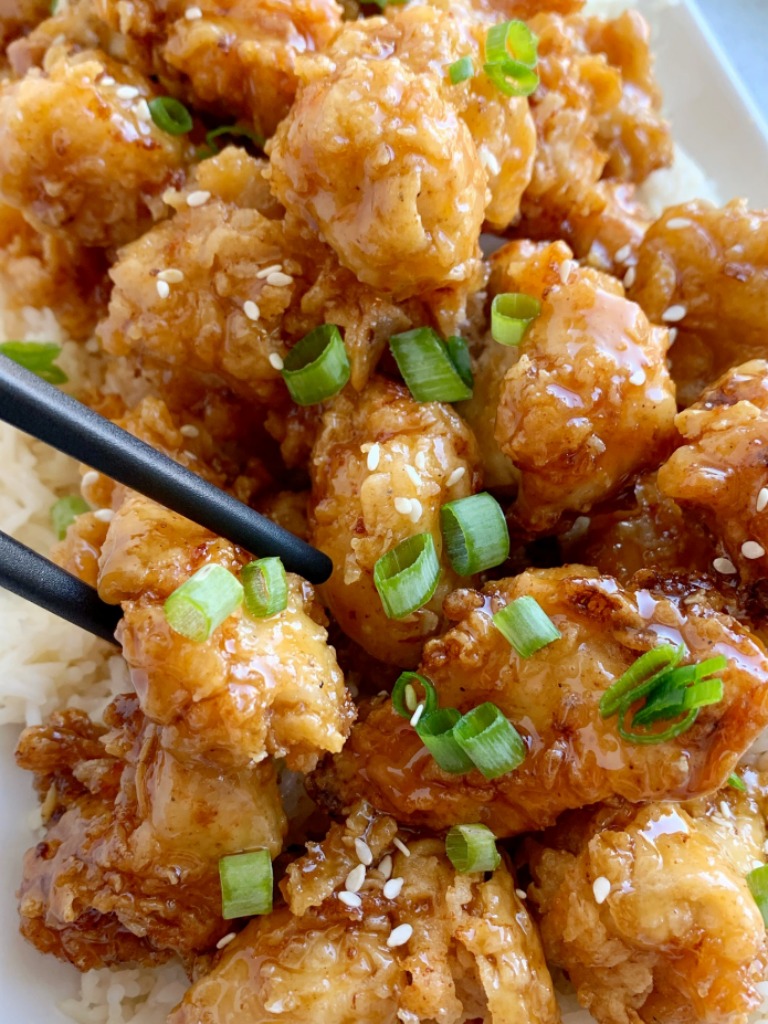 MY TIPS FOR THIS HONEY CHICKEN RECIPE
Prepare to get messy when making this! You will get a thick coating of the flour/buttermilk mixture on your fingers. Just wash it off between each batch. 
Make sure the oil is not turned to very highest heat setting otherwise it will splatter at you when you put the chicken in. If it does splatter, simply turn the heat down before you add more chicken. 
Turn on the exhaust fan above the stove when making this to keep the "fried food" smell at bay. 
Start the sauce before you start cooking your first batch of chicken. The sauce is just fine simmering as the chicken finishes cooking. If it starts to get too thick, just add 1-2 tablespoons of water to thin it out.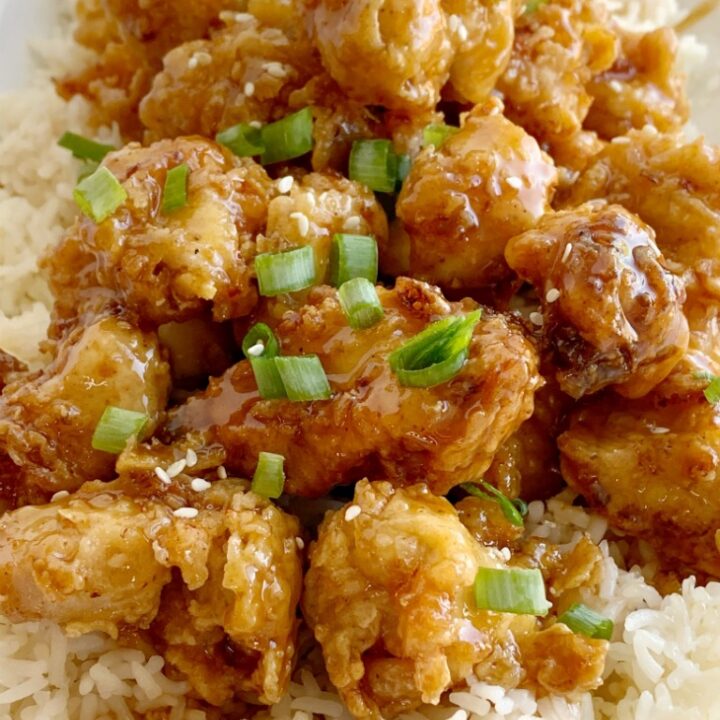 Crispy Honey Chicken
Crispy Honey Chicken fried on the stove top and then covered in a sweet honey soy sauce dressing. Serve over rice for a better-than-takeout dinner!
Ingredients
Honey Sauce
1/2 cup Honey
2 tablespoons low sodium soy sauce
2 tablespoons water
1/4 teaspoon sesame oil
1 tablespoon apple cider vinegar or rice wine vinegar
pinch of red pepper flakes (optional)
1 tablespoon cornstarch
1 tablespoon water
Chicken
3 large chicken breasts (about 1 1/2 lbs, cut into large bite-sized pieces)
1 1/2 cups flour
1 teaspoon chili powder
1 teaspoon cumin
1/2 teaspoon coriander
1/2 teaspoon onion powder
1 1/2 cups buttermilk
canola oil or vegetable oil (about 2"-3" of oil in a skillet pan with sides)
Instructions
Pour about 2"-3" of canola or vegetable oil into a large frying pan with high sides. Turn the burner to medium-high heat and let the oil get hot while you prepare the sauce and other ingredients.
Make the Honey Sauce
In a saucepan over medium heat, add the honey, soy sauce, water, sesame oil, red pepper flakes (if using) and vinegar. Whisk together and bring to a boil.

In a separate bowl stir together the cornstarch and water. Set aside. Once the sauce is boiling slowly add the cornstarch mixture, while whisking. Bring back to a boil and then turn the heat down to low and let simmer for 10 minutes.

** If the sauce seems to be getting too thick (while you're frying the chicken) then add water, a tablespoon at a time, to thin it out. You don't want the sauce too thin as it is supposed to be a thicker sauce.** The sauce is just fine simmering on the stove top while you're frying the chicken batches.
Crispy Chicken
Add flour, chili powder, cumin, coriander, and onion powder into a bowl. Stir with a fork to combine. In a sperate bowl, add the buttermilk.

Two pieces of chicken at a time, once in each hand (fingers), dip the chicken in the flour, then into the buttermilk and then back into the flour. Place the coated chicken in the hot oil and cook for about 5-7 minutes, turning the chicken as needed. The chicken needs to be cooked through and up to temperature, 165 degrees.

Place the cooked chicken on a paper towel lined plate.

Continue cooking the remaining chicken in batches until done.

Combine all the cooked chicken into a large mixing bowl. Pour the hot honey sauce over and gently mix together until all chicken pieces are coated.

Serve with cooked rice and sliced green onions.
Notes
I find the sauce too sweet when I double it. If you want more sauce then you can try doing 1 1/2 times the sauce recipe. Again, I find it too sweet and I think the sauce as is, is perfect for the juicy crispy chicken. But double it or 1 1/2 times it, depending on your preference if you want some additional sauce to drizzle over the chicken & rice. 
Nutrition
Calories: 378kcal | Carbohydrates: 52g | Protein: 30g | Fat: 6g | Saturated Fat: 2g | Cholesterol: 79mg | Sodium: 380mg | Potassium: 569mg | Fiber: 1g | Sugar: 26g | Vitamin A: 232IU | Vitamin C: 1mg | Calcium: 84mg | Iron: 2mg