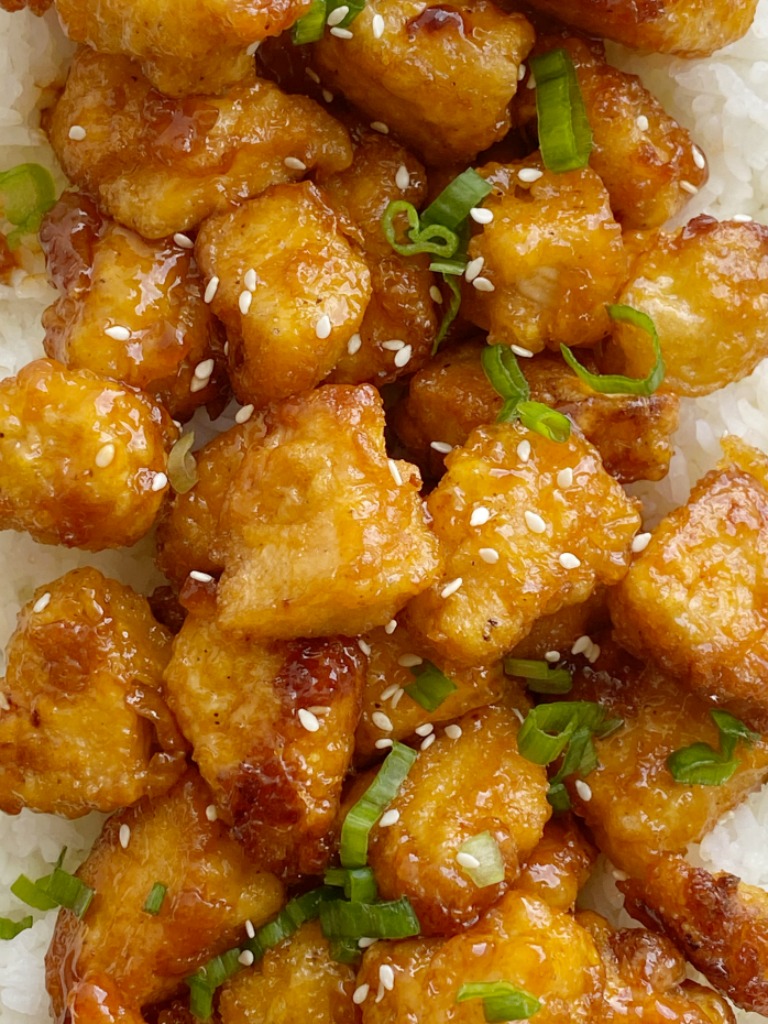 BAKED SWEET AND SOUR CHICKEN RECIPE
Baked sweet and sour chicken is a yummy dinner that is better then any take-out! This dinner recipe does take some time to prep and cook, but it's one of those dinners that you make every once in a while when you want something truly outstanding and worth all the work. 
Pieces of crispy fried chicken bake in one pan with an easy homemade sweet and sour sauce. The chicken turns into these glorious sticky, sweet, crispy chicken bites.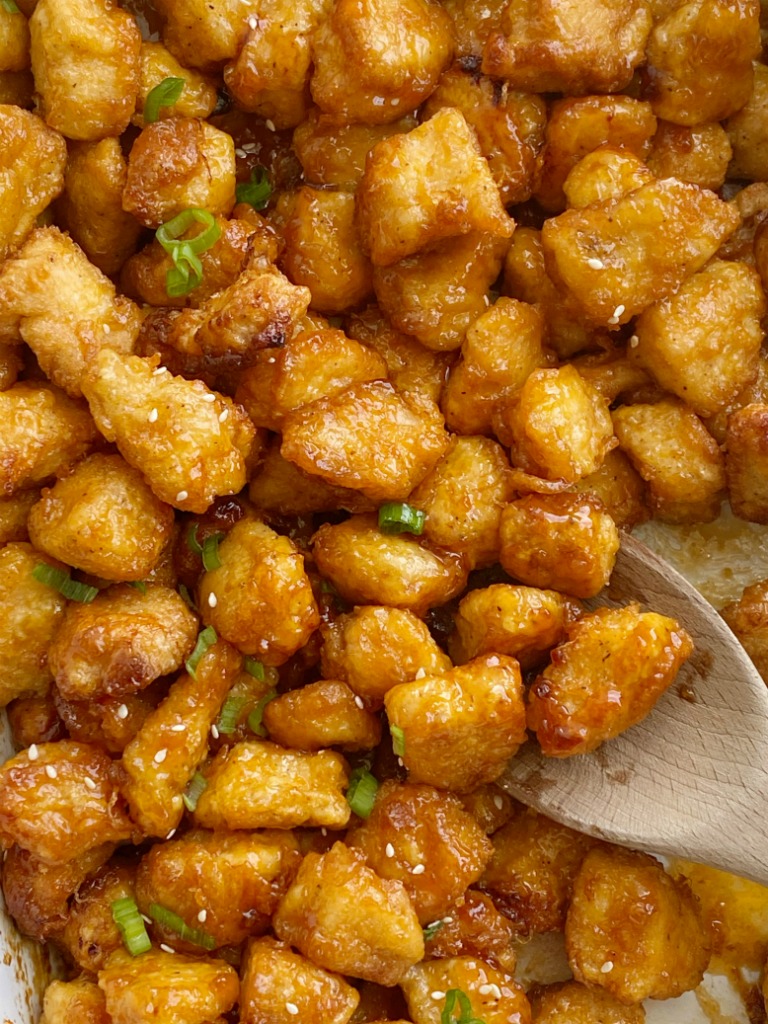 INGREDIENTS NEEDED FOR BAKED SWEET AND SOUR CHICKEN
Boneless, Skinless Chicken Breasts – You need 4 chicken breasts for this recipe. Cut them into small 1-inch sized chunks. 
Cornstarch, Salt, & Pepper – Add the chicken pieces into a Ziploc bag with cornstarch, salt, and pepper. Shake it up to coat all the chicken in the cornstarch. 
Oil – I use canola oil but vegetable oil would also work. Fill a skillet pan, with high sides, with enough oil to cover about 2 inches of the pan. Let it heat up over medium heat. 
Eggs – Crack 3 eggs into a bowl or rimmed plate (like a pie plate). Take the cornstarch coated chicken and dip it into the egg mixture (working with a few chicken pieces at a time) and then put into the hot oil. This will take about 3 batches to complete all the chicken. 
Sugar, Apple Cider Vinegar, Ketchup, Soy Sauce, Garlic Powder – Mix this up and then pour over the fried chicken pieces in a 9×13 baking dish.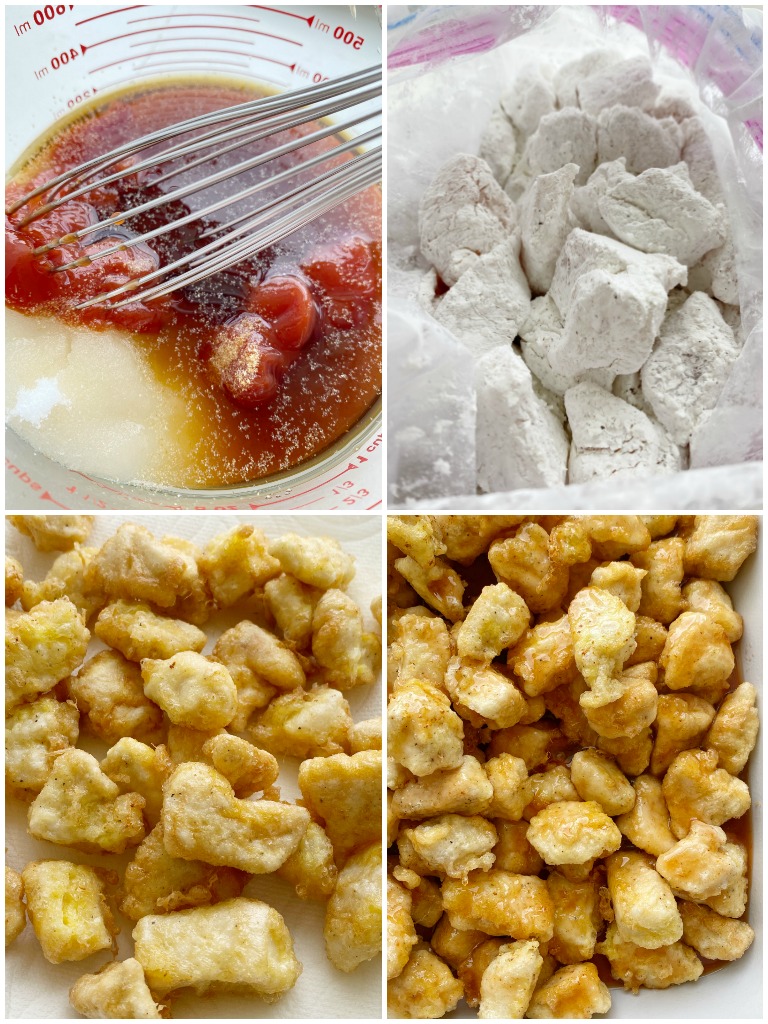 MY TIPS FOR THIS RECIPE
– Start heating the oil up before you cut the chicken and prepare the sauce. It does take awhile for the oil to get hot enough. Don't turn the heat up or else it will be too hot which means that once you put the chicken in, it will splatter. Leave it on medium heat during the warm up time and during cooking. 
– An easy way to test if oil is hot enough is to sprinkle just a tiny bit of flour into the oil. If the oil bubbles around the flour then it's ready to fry. 
– The recipe as is, does not make tons of sauce. During the cook time the chicken soaks up most of it. That being said, we love it as is. It's not supposed to be a saucy dish like a stir-fry. The chicken is moist and juicy even with the rice. 
– You do not need to cook the chicken all the way through during the frying stage in the pan. You just want to cook it until it has a nice, golden brown exterior. It will finish cooking all the way during the cook time. 
– I get asked all the time if the chicken turns out dry with the 1 hour cook time. I promise it does not! I don't know how that works or why, but the chicken is crispy and juicy and so yummy.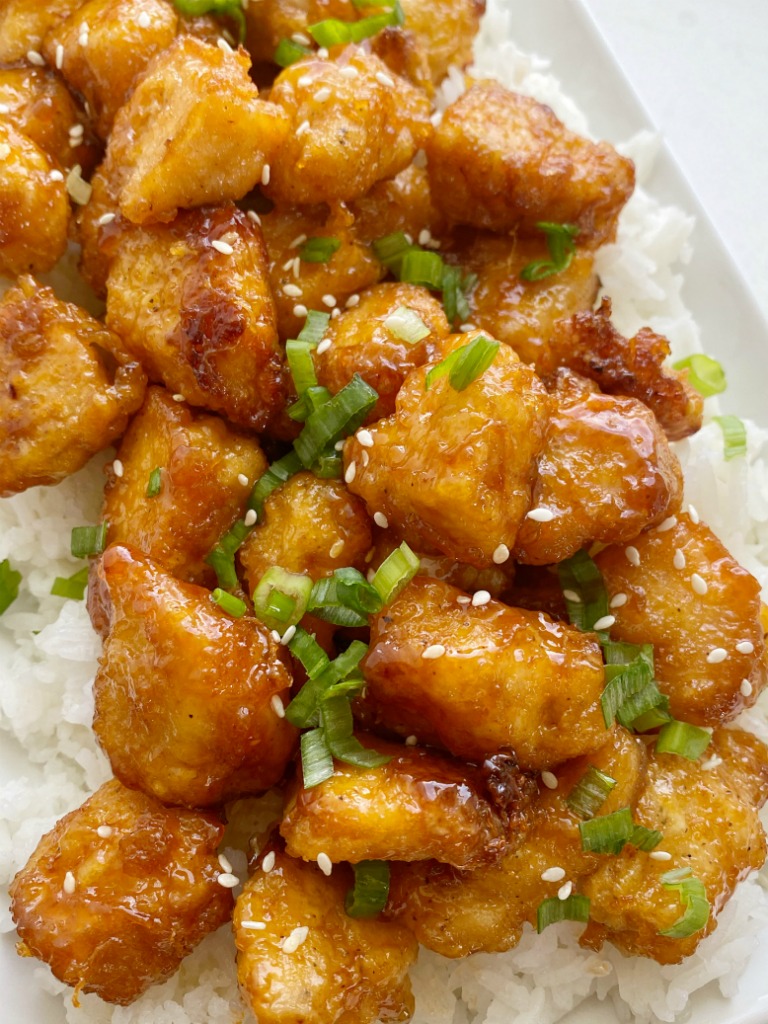 TRY THESE OTHER CHINESE INSPIRED DINNER RECIPES
Baked Sweet & Sour Chicken
Homemade Baked Sweet & Sour Chicken is better than any take-out! Fresh and homemade with only a few ingredients. Chunks of crispy baked chicken in an easy sweet & sour sauce.
Ingredients
Sweet & Sour Sauce
¾ cup granulated sugar
½ cup apple cider vinegar
¼ cup ketchup
1 tablespoon soy sauce I use reduced-sodium
½ teaspoon garlic powder
Chicken
4 boneless, skinless chicken breast about 2 pounds
½ cup cornstarch
1 teaspoon salt
½ teaspoon black pepper
3 large eggs
canola or vegetable oil for frying enough for about 2" in pan
Instructions
Add all the sweet & sour sauce ingredients into a small bowl and whisk together until combined. Set aside.

Pour enough oil into a skillet pan (with high sides) to cover about 2" in the pan. Turn heat to medium and let it heat up while you prepare the chicken.

Cut chicken into 1-inch bite-sized chunks. Place in a gallon sized Ziploc bag, or a bowl, and add the salt, pepper, and cornstarch. Shake the bag, or stir in the bowl, until all chicken pieces are coated. * This is easier to do if you use the gallon size Ziploc bag. Just zip it shut and shake.

Heat oven to 325°. Prepare a 9x13 baking dish and spray with cooking spray.

Crack the eggs into a rimmed plate (like a pie plate) or a bowl. Whisk together with a whisk or a fork.

Take the cornstarch coated chicken pieces and working with a few at a time, dip them in the eggs, shaking off excess egg, and then place in the hot oil. Continue coating the chicken pieces and adding to the pan until it's full.

Cook chicken for about 3 minutes on each side. Turn over the pieces and let cook for another 3 minutes. The chicken does not need to be fully cooked, it just needs to have a golden brown outside. When chicken is done, remove from the skillet pan with a slotted spoon. Place onto a plate that has been lined with paper towels so the chicken can drain a bit.

Repeat this in batches until all the chicken is done. Depending on how big your skillet pan is, it may take anywhere from 3 to 4 batches.

When each batch is done draining on the paper towels, dump into the prepared baking dish.

Once all the chicken is in the baking dish, pour the sweet & sour sauce over the chicken and gently stir to coat.

Cook for 60 minutes. Stirring every 15 minutes.

Serve over rice and garnish with green onions.
Notes
The serving size listed is for 8 servings. If you are serving all adults then you may only get about 6 servings. I have 4 young kids, me, and my husband and we have plenty for all of us with at least one serving leftover.    Calorie information is only for the chicken. It does not include cooked rice. 
Nutrition
Calories: 397kcal | Carbohydrates: 29g | Protein: 27g | Fat: 19g | Saturated Fat: 2g | Cholesterol: 142mg | Sodium: 644mg | Potassium: 485mg | Fiber: 1g | Sugar: 21g | Vitamin A: 174IU | Vitamin C: 2mg | Calcium: 16mg | Iron: 1mg