EASY RED VELVET SHEET CAKE RECIPE
Whenever Valentine's Day comes I always think of red velvet cake. I don't eat it or think about it any other time besides Valentine's Day!
It probably has to do more with the fact that I am not a fan of making red velvet cake from scratch. I have tried many times and they've all ended up in disaster and my hands being dyed bright red from all the food dye!
Which is exactly why I prefer to make this recipe that uses a doctored up red velvet cake mix. No messy red dye. No puffs of cocoa powder exploding all over the kitchen. Just an easy, one bowl recipe for a better than the bakery red velvet cake.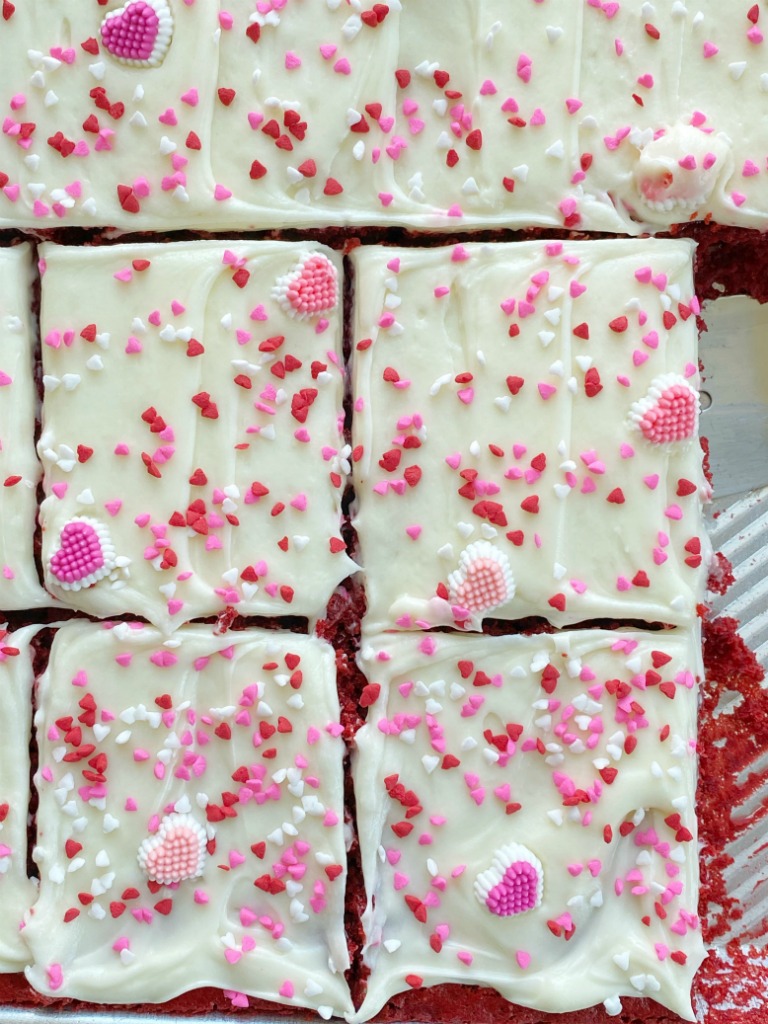 DOCTORED UP RED VELVET CAKE MIX
I am clearly a fan of doctored cake mix recipes and this easy cake mix recipe. Any time I can take a shortcut and still yield delicious, can't-tell-it's-from-a-box-dessert results, then I am happy!
This easy red velvet cake recipe just requires a few ingredients added to a boxed red velvet cake. You won't believe how delicious the cake is. I guarantee that no one will ever be able to guess how easy it was for you to make.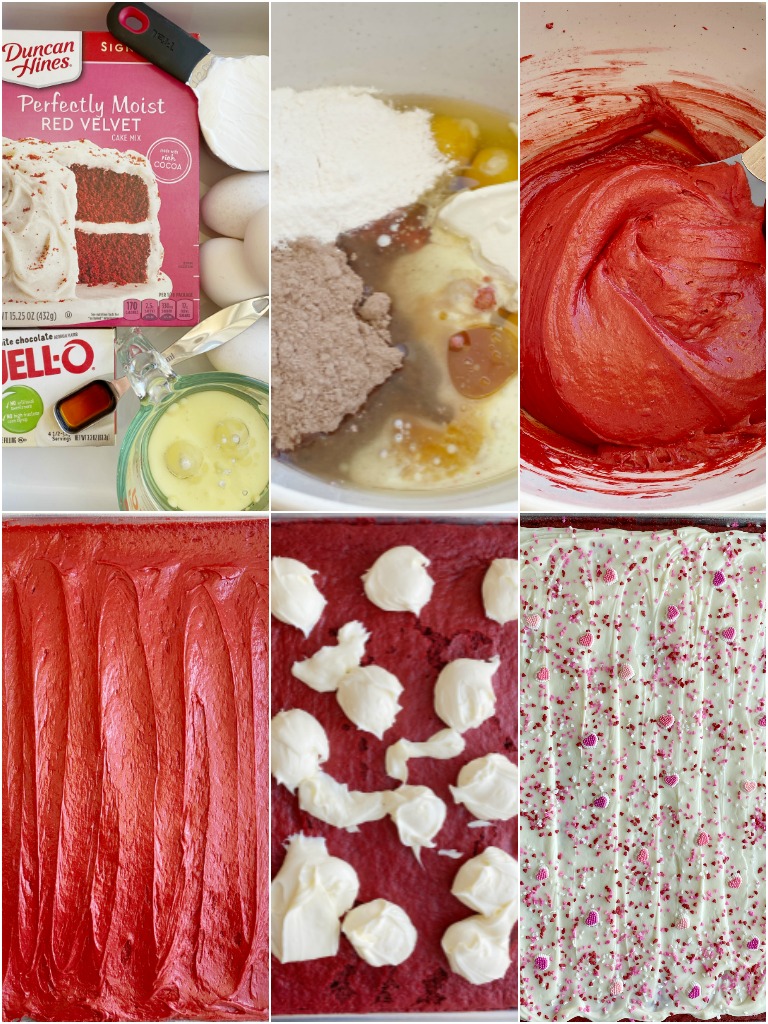 HOW TO MAKE EASY RED VELVET CAKE
Red Velvet Cake Mix – Use any brand you prefer just pay attention to the box size. You want a boxed cake mix that is 15.25 oz. Which most of them are now, so you should not have any problems getting that size. 
White Chocolate Instant Pudding – A small box is all you need. DO NOT prepare the pudding! We are just going to be adding the dry pudding mix.
Eggs
Sour Cream – For best taste and texture use the real, full-fat sour cream. 
Buttermilk
Vegetable or Canola Oil
Vanilla Extract
TRY THESE OTHER RED VELVET DESSERT RECIPES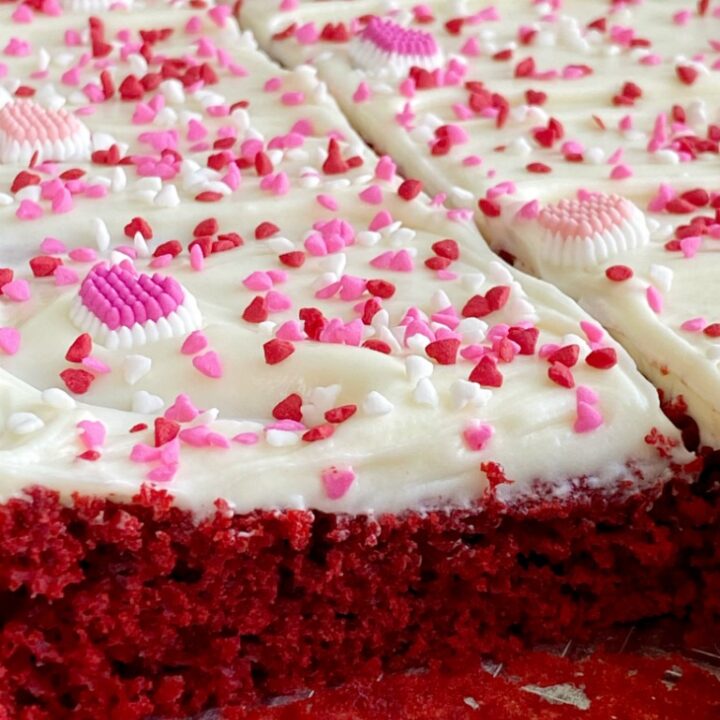 Easy Red Velvet Sheet Cake
Easy Red Velvet Sheet Cake is so simple to make! A doctored up red velvet cake mix topped with the best, and fluffiest white chocolate cream cheese frosting. 
Ingredients
Red Velvet Sheet Cake
1 box (15.25 oz) red velvet cake mix
1 small box (3.4 oz) white chocolate instant pudding
4 large eggs
1/2 cup sour cream
1/2 cup buttermilk
1/3 cup vegetable or canola oil
1 teaspoon vanilla extract
White Chocolate Cream Cheese Frosting
1 bar (8 oz) cream cheese, softened
5 tablespoons butter, softened (I use salted butter)
4 oz white chocolate baking bar (melted according to package directions)
2 1/2 cups powdered sugar
1 tablespoon sour cream
Instructions
Make the Red Velvet Sheet Cake
Heat oven to 350 degrees. Prepare a cookie sheet (12"x17") by spraying with bakers spray. Which is cooking spray with flour added in. If you don't have that, spray cookie sheet with cooking spray and then sprinkle flour over top. Move the cookie sheet around until flour gets in all spots. Tap off excess flour, if needed.

Combine all cake ingredients into a large bowl, or bowl of a stand mixer, and beat together for 2 minutes. Batter will be thick and fluffy looking.

Spread batter into the prepared cookie sheet. Bake for 25-30 minutes. Use a toothpick inserted into the middle to test for doneness. There should be dry cake crumbs on the toothpick, not wet batter.

Let cool completely (this is so important!) for at least 2 hours (or longer) before frosting it. If you try to frost it without the cake being completely cooled, then you will get lots of crumbs from the cake into the frosting and the frosting will not go on smoothly.
Make the Frosting:
Add softened cream cheese and butter into a small bowl. Beat together with a stand mixer, or a handheld blender, until creamy and combined. About 1-2 minutes. Add melted white chocolate baking bar, sour cream, and powdered sugar. Beat on low speed and gradually increase speed until everything is combined and the frosting is thick.

** Melt the white chocolate baking bar according to package directions. It should be something like melt at 50% power in the microwave for 2-3 minutes, stirring every 30 seconds.

** It works best to dollop spoonfuls of frosting all over the top of the cake and then spread it out. Like in the step by step pictures above.

Frost completely cooled red velvet sheet cake and decorate with sprinkles or whatever you want! Serve right away but our very favorite way is to let the frosted cake refrigerate for several hours (even overnight) before serving. The cake is so yummy when it's cold.
Notes
When I make this cake I will make the cake the night before I need it, let it cool completely, and then loosely cover it with tin foil or a lid and let it sit out at room temperature all night. In the morning, I will make the frosting and frost/decorate the cake and then store it in the fridge all day until I need it that evening. So yes, this can be made ahead of time with great results.    For softened cream cheese, place unwrapped cream cheese on a microwave-safe plate and microwave for about 25 seconds. This ensures that the cream cheese is softened but not too hot.    You will find a 4 oz bar of white baking chocolate by the chocolate chips in the baking aisle at the store. Common brands are Ghiradelli and Baker's. If you don't like white chocolate, then just leave it out of the frosting but I promise it makes this cake amazing!   This recipe does need to be made in a cookie sheet (12"x17") that has sides on it. I have tested this recipe in a 9x13 baking dish and it does not work. There is too much batter so it ends up being cooked but sinking in the middle because there is just too much batter for the smaller dish/smaller area.  DO NOT prepare the cake mix and instant pudding before adding it into the bowl! You are just adding the dry ingredients from the boxes.