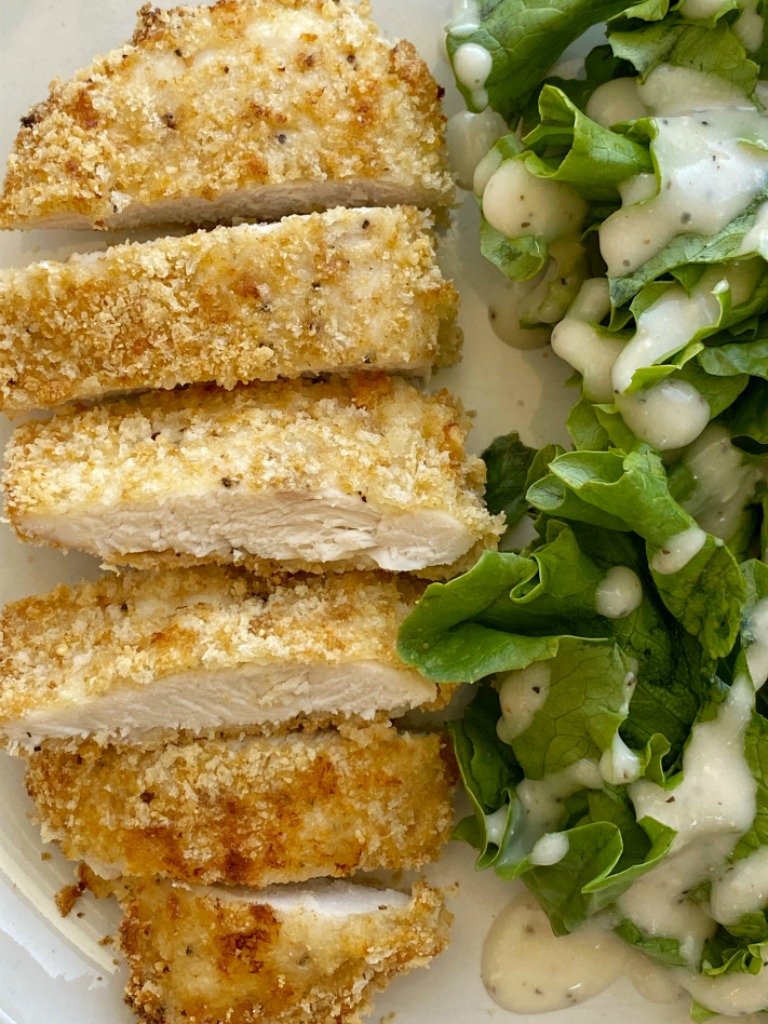 BAKED CAESAR CHICKEN
Baked Caesar chicken is an easy dinner recipe that uses lean chicken breast that have been coated in Caesar dressing and crushed Caesar croutons. It bakes in the oven for a crispy & flavorful healthy family dinner. 
I love crispy baked chicken but have always had trouble getting the crispy coating to stick to the chicken while baking. The "secret" to getting that perfectly crispy coating that actually stays on the chicken is an egg! 
Caesar dressing is my favorite salad dressing so I am always finding ways to use it like in this Caesar pesto pasta salad or these super delicious & easy chicken Caesar wraps that actually use an easy homemade Caesar dressing!
INGREDIENTS NEEDED TO MAKE CRISPY BAKED CAESAR CHICKEN
Boneless, Skinless Chicken Breasts – Make sure they are fresh chicken breasts or completely thawed frozen chicken breasts. I always like to cut the chicken in half (lengthwise) to form two thinner pieces of chicken. It cooks faster and my kids can eat the thinner pieces easier. And it's easier to coat when it's a thinner, more even size. Some stores also sell thinly sliced chicken breasts which work well for this recipe. If you have smaller chicken breasts then just leave them as is; no need to cut them thinner. Most chicken breasts you buy in the store are big and thick enough to thinly slice if wanted. 
Salt & Pepper
Egg – Crack and egg and whisk it with a fork.
Caesar Salad Dressing – I always just buy a store-bought bottle of dressing. Be sure and buy one that you love the flavor of. I normally go for the Cardini's brand or LiteHouse brand.
Grated Parmesan Cheese – Use the cheap, grated Parmesan cheese that you'll find in the pasta aisle on the shelves. The fresh, shredded Parmesan cheese is too big for the coating and it burns in the oven. 
Plain Panko Bread Crumbs – These are like bread crumbs but much more crispier! They will specifically say 'panko bread crumbs' on the container. 
Crushed Croutons – The best ingredient that gives so much crunch and flavor! Be sure and use a food processor or food chopper for the finest crumbs possible. Or you can put the croutons in a Ziploc bag and pound them with a meat mallet or something else heavy. 
MY TIPS FOR THIS RECIPE
The recipe makes enough for 6 chicken breasts. I always use 3 large chicken breasts and slice each one in half so I end up with two thinly sliced pieces of chicken per chicken breast. So 6 total from 3 large chicken breasts. 
The cook time will vary depending on the size and thickness of the chicken you are using. Be sure and check the temperature to ensure that the chicken is done. Chicken needs to be at 165 degrees. 
For best results use a food chopper OR a food processor to get really fine crumbs from the croutons. 
What do I do with leftovers? Leftovers keep well in the fridge for 2-3 days. The coating will not be as crispy but it's never stopped me from eating it 🙂 The leftover chicken is great to use for a salad for lunch the next day. Chop it up and throw it on some greens with other toppings that you prefer. 
Can I substitute regular bread crumbs for the panko? I would suggest not doing this. The panko breadcrumbs help the coating get nice and crispy like fried chicken would. Regular breadcrumbs would work but for best results, and crispiest chicken, use the panko. 
TRY THESE OTHER BAKED CHICKEN BREAST RECIPES
Baked Caesar Chicken
Baked Caesar Chicken with a crispy coating of breadcrumbs, croutons, and dipped in Caesar dressing. The coating stays on this crispy baked chicken so well thanks to the egg!
Ingredients
6 boneless, skinless chicken breasts (see notes below)
1 teaspoon salt
½ teaspoon black pepper
1 large egg, beaten
¾ cup caesar salad dressing
¾ cup plain panko bread crumbs
¾ cup crushed croutons
½ cup grated parmesan cheese
Instructions
Heat oven to 400°. Prepare a baking sheet (12"x18") by spraying with cooking spray, lining with parchment paper or tin foil.

Combine the salt and pepper into a small bowl and mix. Sprinkle both sides of each chicken breast with salt & pepper.

Stir together the beaten egg and caesar dressing on a rimmed plate. On another rimmed plate stir together the panko bread crumbs, crushed croutons, and parmesan cheese.

Dip both sides of each chicken breast in the egg and salad dressing mixture. Then coat both sides in the crumb mixture. Shake off any excess and place the chicken on the prepared pan. Repeat with remaining chicken. *Use your fingers to press the crumbs into the chicken.

Cook for 15-20 minutes. Turn chicken over gently as to not take off any coating. Use tongs if possible. Cook for an additional 10 minutes. Check to make sure chicken is to temperature of 165°.*If you thinly sliced your chicken breasts or used thin sliced ones then you will probably only need the 15 minute cook time for the first cook time.
Notes
Croutons : Use any kind of croutons you want. I like to use Caesar croutons but any salad crouton will work great. Also, for best results and the finest pieces, place the croutons into a food chopper or food processor and crush into fine crumbs. You can also just put them into a Ziploc bag and use a meat mallet or something else heavy and crush them really fine.  Chicken Breasts : For this recipe you can either use 6 chicken breasts (they will be thicker and larger pieces which may mean they need the full cook time or more) OR you can take 3 large chicken breasts and cut each one in half horizontally. This way you still end up with 6 pieces of chicken breast but they are thinly sliced and cook in less time. My kids eat chicken breast better if it's thinly sliced so this is what I always do. 
Nutrition
Calories: 254kcal | Carbohydrates: 7g | Protein: 17g | Fat: 17g | Saturated Fat: 4g | Cholesterol: 74mg | Sodium: 788mg | Potassium: 243mg | Fiber: 1g | Sugar: 1g | Vitamin A: 112IU | Vitamin C: 1mg | Calcium: 99mg | Iron: 1mg