This easy to make Pesto Pasta Salad is always a top requested pasta salad recipe. Loaded with Caesar salad dressing, pesto, pasta, pine nuts, parmesan cheese, olives, and tomatoes and covered in a simple creamy dressing.
For more delicious pasta salads be sure and make my ranch pasta salad and this easy Italian pasta salad.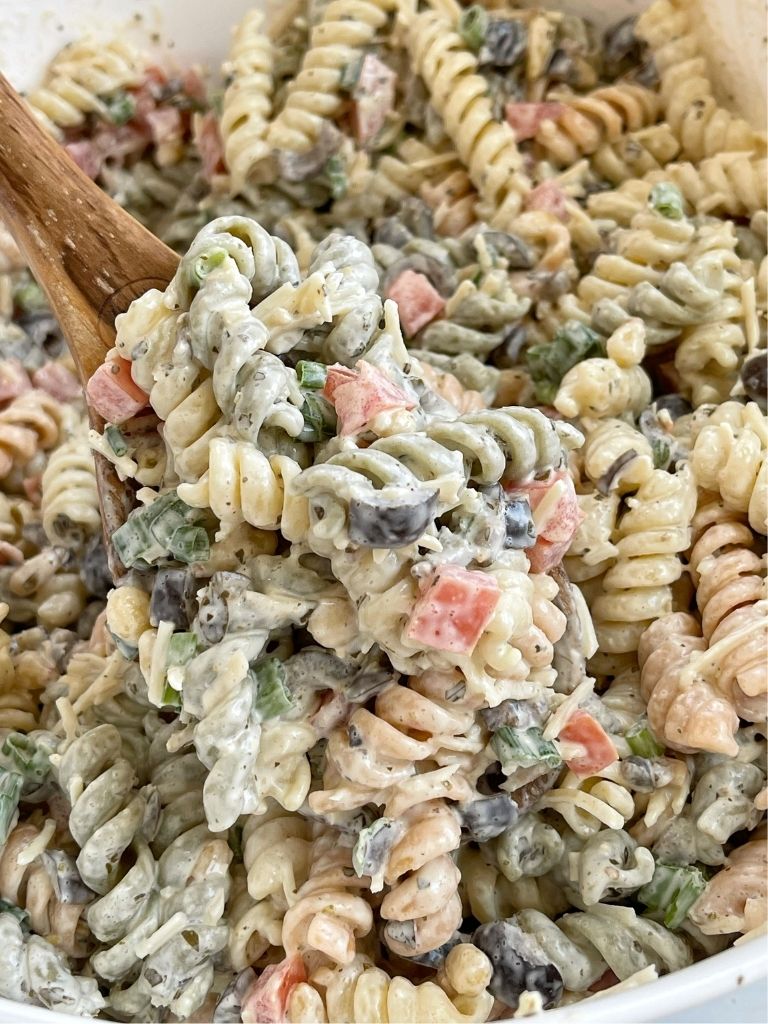 PESTO PASTA SALAD RECIPE
This pesto pasta salad recipe with pine nuts, pesto, and Caesar dressing is filled with so many delicious flavors and textures. No boring, dry, and tasteless pasta salad here!
I don't think there is anything better than a pasta salad with all the delicious mix-ins and covered in a creamy dressing. Pesto and Caesar salad dressing create the creamy dressing for this pasta salad. The flavor that those two bring is so yummy and really makes this stand out from the rest.  
Add in the crunch from pine nuts, the salty flavor of parmesan cheese, and chopped tomatoes and olives, and it creates a seriously delicious pasta salad. 
WHAT YOU'LL NEED
This pesto pasta salad is made with some fairly simple, grocery store staple ingredients. You may not be as familiar with the pine nuts but those can easily be found with the other chopped nuts in the grocery store. 
Tri-Color Rotini Pasta – This is the spiral pasta that comes in three different colors. It has lots more flavor than regular rotini pasta so I always use it in this salad. Plus it just looks pretty! You can substitute any pasta for it but make sure it's only the 12 oz that is called for in the recipe. 
Basil Pesto – I always just buy a jar of this at Costco or you can also find it in the pasta/spaghetti sauce aisle of the grocery store. I think it tastes great from a jar so I never take the time to make it myself. But you can certainly do that if you want.
Caesar Salad Dressing– Be sure and use one that you love! I find that the best tasting salad dressings are the refrigerated ones in the produce section at the store. But any bottle of Caesar dressing will work just fine. 
Salt & Garlic Powder
Chopped Tomatoes– I always take the seeds out of tomatoes when I use them in salad recipes. You can get some Roma tomatoes and cut those or use the small grape/cherry tomatoes and just cut them in half. 
Green Onions
Pine Nuts– You can toast these for a deeper, richer flavor. I never do but if you want to it certainly would taste amazing.
Black Olives – You can use sliced or chopped black olives for this recipe. If you want chopped olives, but can't find them in the store, buy some sliced black olives and chop them up.
Shredded Parmesan Cheese – You can shred your own parmesan cheese from a wedge or keep it simple and buy the pre-shredded parmesan cheese.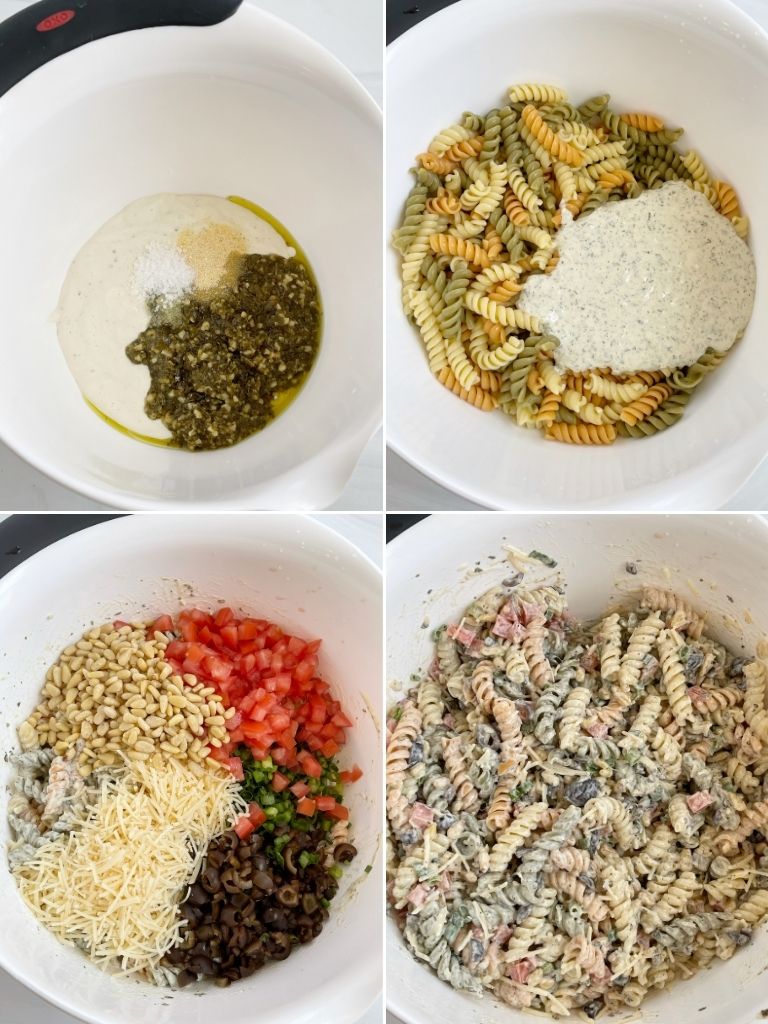 HOW TO MAKE PESTO PASTA SALAD
With only a few steps this pasta salad is quite simple to make thanks to the prepared, store-bought ingredients like salad dressing and pesto.
Cook the Pasta : Cook pasta according to package instructions. If you prefer al dente pasta then be sure and cook for the recommend time. I prefer softer pasta so I always cook for about 1-2 minutes past the al dente time on the box. 
Prepare Creamy Dressing : Stir together the salad dressing, pesto, and some seasonings in a small bowl. Pour this dressing over the pasta after it has cooked and been rinsed under water. 
Make the Pasta Salad : Now that the pasta is coated in the dressing, go ahead and add the remaining ingredients, and stir together well. 
Serve : This pasta salad can be served right away or if you prefer it cold, let it refrigerate for 1-2 hours before serving. As with any pasta salad, you don't want to refrigerate it for too long as that can dry out the pasta salad because the pasta will soak up all that creamy dressing. If it does get too dry, go ahead and add some additional Caesar salad dressing and stir to combine.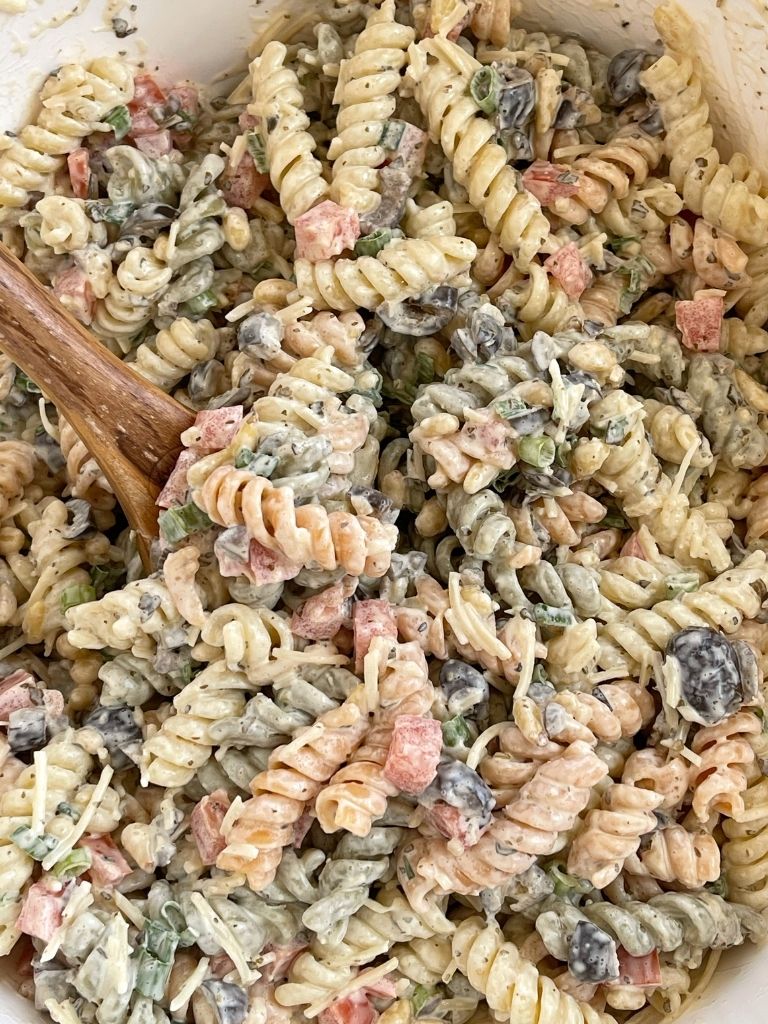 TIPS FOR SUCCESS
Here are a few tips and helpful hints that will hopefully make preparing this pasta salad as easy as can be!
Toast the Pine Nuts : I will be honest and say that I normally don't do this but the one time I did toast the pine nuts it was delicious. If wanted, toast the pine nuts for a few minutes over medium heat. Watch closely so they don't burn. They don't need to be there long. 
Use a Good Quality Caesar salad dressing : The flavor really shines through so make sure you are using a good quality one. I like to use Ken's Steakhouse brand or a refrigerated Caesar salad dressing which can be found in the produce area by the salsas and other dressings.
Salt the Pasta Water : You want the pasta to taste like something so be sure and add some salt to the boiling water before you add the pasta. I use about 1 teaspoon but you can use more or less depending on preference. 
Rinse the Cooked Pasta : You want to drain and rinse the pasta. This removes all the extra starch from the noodles and it naturally helps cool the pasta salad down because the noodles won't be hot when they're added in with everything else. 
VARIATION IDEAS
There are several substitutions and additions for this pesto pasta salad. Pasta salads are really quite adaptable too!
Don't Want to Use Pine Nuts? The best substitute for pine nuts is either cashews or almonds. 
Homemade Pesto : If you want to, or just don't care for store bought, make your own pesto for this pasta salad. 
Add Additional Seasonings : I think there is so much flavor from the salad dressing + pesto so I make the recipe as is. But if you want even more then feel free to add in more seasonings to the creamy dressing mixture. Add more garlic powder. Black pepper for a peppery bite. Or you can some dried basil, etc. 
Tomatoes : You can either chop up some Roma tomatoes or use grape/cherry tomatoes that have been halved. I like to take the seeds out if I use Roma tomatoes. 
Can I use a different pasta? You can if you want to. I love it with the tri color rotini but you can use any pasta that you like. The recipe only calls for 12 oz of pasta which equals about 3 cups of dried, uncooked pasta noodles. 
HOW TO STORE LEFTOVER PESTO PASTA SALAD
There are two ways to serve this pasta salad. You can serve it right away after making it OR if you prefer a colder pasta salad, refrigerate it for about 2 hours before serving. 
Leftovers will keep well in a covered container in the fridge for up to 3 days. 
If leftovers get to dry, which is common because the pasta soaks up the dressing, simply add some additional Caesar salad dressing into it and mix together.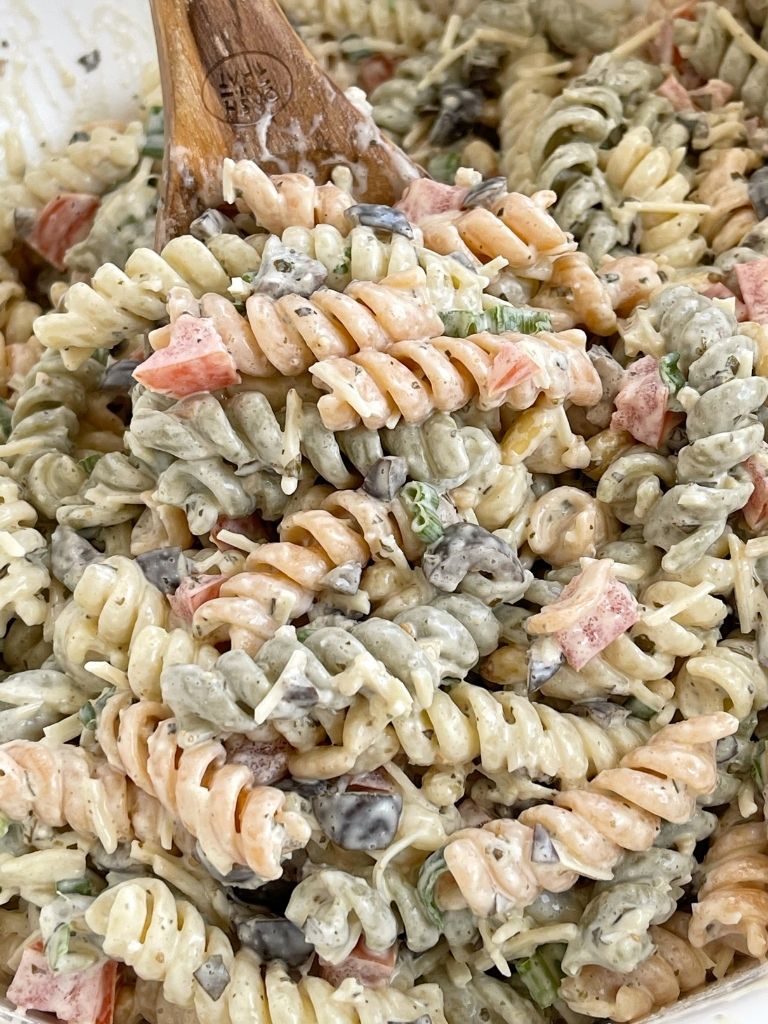 TRY THESE OTHER PESTO RECIPES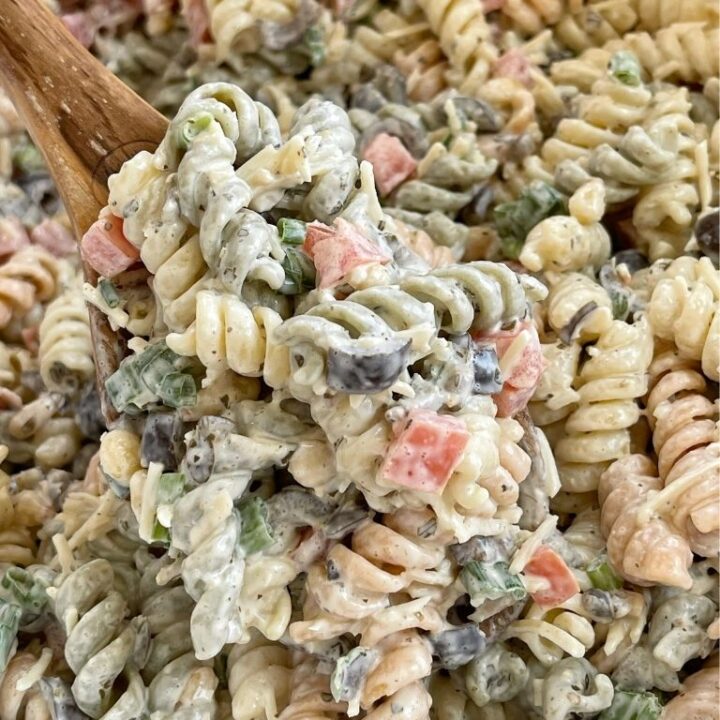 Pesto Pasta Salad
This easy to make Pesto Pasta Salad is always a top requested pasta salad recipe. Loaded with Caesar salad dressing, pesto, pasta, pine nuts, parmesan cheese, olives, and tomatoes and covered in a simple creamy dressing.
Ingredients
1 box (12 oz) tri color rotini pasta
2/3 cup creamy caesar salad dressing
1/3 cup basil pesto
¼ teaspoon salt
¼ teaspoon garlic powder
1 cup chopped roma tomatoes
1 can (3.8 oz) sliced or chopped black olives drained
3/4 cup shredded parmesan cheese
1/2 cup pine nuts
1/3 cup sliced green onion
Instructions
Cook pasta according to package directions. Don't forget to salt the pasta water. I use about 1 teaspoon.When pasta is done cooking, drain it in a colander, and rinse with cold water.

In a mixing bowl combine the caesar dressing, basil pesto, salt, and garlic powder. Stir together. Add the drained & rinsed pasta into it and stir until all the noodles are coated well. 

Add the chopped tomatoes, olives, parmesan cheese, pine nuts, and green onions into the bowl and stir to combine everything together. 

You can either serve this salad right away OR put it in the fridge for 1-2 hours before serving.Leftovers will keep well, in a covered container, for up to 3 days. If leftovers are dry, simply add some additonal Caesar salad dressing and stir to combine.
Notes
Pine Nuts : If you want to and have the time, try toasting the pine nuts before adding them into the salad. Toasting the pine nuts adds a whole new flavor and it's really good. I just put the pine nuts into small sauté pan and let it cook over medium heat for several minutes. Stirring often to make sure they don't burn. A good substitute for pine nuts are cashews or almonds.  Olives : If you can't find the 3.8 oz black olive sized can at your grocery store you can get two of the small (2.25 oz) cans. You can either use sliced black olives or chopped black olives.  Tomatoes : Use chopped Roma tomatoes or you can use halved cherry/grape tomatoes. You can use more or less of the tomatoes depending on preference.  Parmesan Cheese : I use the parmesan cheese that you buy pre shredded in the bags. You could also shred your own from a wedge. I would suggest not using the finely grated parmesan cheese that you get in the can. You know the cheaper dried parmesan cheese. Caesar Salad Dressing : Make sure and use a Caesar dressing that you love because that flavor really shines through. I love using Ken's Steakhouse Caesar dressing.  Serving Size : The nutrition information listed is for 12 servings of the pasta salad. Each serving being about 1/2 cup. 
Nutrition
Calories: 283kcal | Carbohydrates: 24g | Protein: 8g | Fat: 17g | Saturated Fat: 3g | Polyunsaturated Fat: 7g | Monounsaturated Fat: 4g | Cholesterol: 10mg | Sodium: 521mg | Potassium: 165mg | Fiber: 2g | Sugar: 2g | Vitamin A: 423IU | Vitamin C: 3mg | Calcium: 107mg | Iron: 1mg