Baked parmesan chicken is a family favorite dinner that cooks up in a sheet pan with only a few ingredients. Chicken breasts are sprinkled with seasoned salt and pepper, and then covered in a creamy mixture with garlic and parmesan cheese.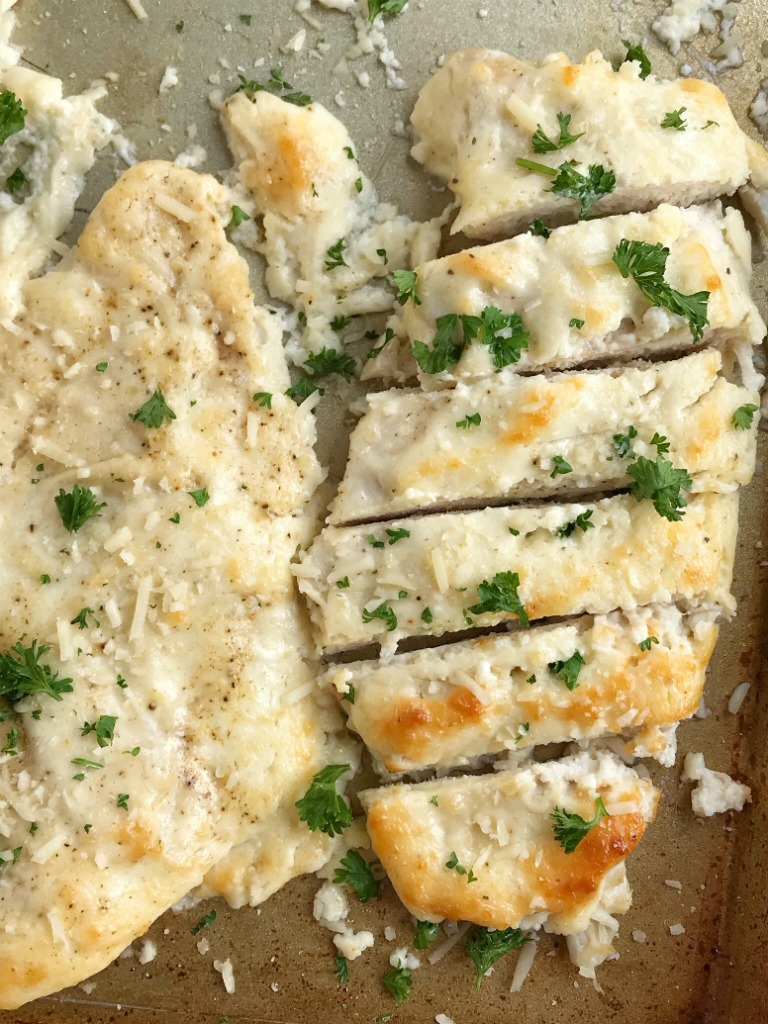 I seriously cannot believe that I have never shared this recipe for baked parmesan chicken before. I make a lot of food and this baked chicken is by far the one thing I make the most. Oh, and this creamy beef noodle bake is a very close second.
My 8 year old son is very much into wanting to grow "strong and tall". He asks me all the time what he can eat to grow strong and tall. I think that's the reason he likes chicken so much because I tell him it has lots of protein and will help him grow strong 🙂
Because my son is obsessed with chicken lately, I am always looking for new ways to cook chicken and I have yet to find any recipe that is better than this one. Which is probably why I make this baked parmesan chicken at least twice a month.
Every time I make this chicken I always laugh and think of my mom. I remember years ago telling her how much I loved it and then recommending it to her when she asked me for a good recipe to make for company. I told her she had to make this chicken!
Well, she did make it……. but mistakenly used vanilla yogurt! haha 🙂 Needless to say, it did not turn out as it should. It gives me a good laugh every time I make it. On a side note, be sure to use PLAIN Greek yogurt. NOT vanilla!
The recipe calls for 4 chicken breasts that have been sliced in half lengthwise to create two thinner chicken breasts from one piece. After making this recipe so many times I have found that it works best when you cut them into thinner pieces. It cooks faster and I think the flavor is much better with the thinner chicken breasts. 
Once you have your thinner pieces of chicken you will mix together black pepper and seasoned salt and sprinkle that on top of each piece. Then mix up the creamy mixture; mayo, plain Greek yogurt, garlic powder, and parmesan cheese. Spread that on top of each chicken piece and that's it.
It's basically a fool-proof recipe because no matter how long you cook this chicken, it stays so creamy and moist thanks to that mayo-Greek yogurt topping. It's very forgiving. Which is good if you're like me and "forget" that you have chicken in the oven.
I always serve this with a side salad. My favorite way to eat this is to cut the chicken breast and then put it on top of a bed of salad greens. Or it's also really good with these parmesan roasted potatoes and maybe some slow cooker sweet glazed carrots too. 
I buy the bagged salad mixes that you find in the produce area of the grocery store. We love the Walmart brand one that is called 'chopped Caesar salad'. That's what is pictured above. I know I will get asked that question so I will just share it 🙂 
Tips for making baked parmesan chicken
After testing this recipe over and over again, you must use half mayo and half Greek yogurt. I know some may want to use all Greek yogurt but I promise it does not work. It's too bitter and no flavor. The mayo may throw some people off but you need it and after tasting this chicken you won't mind it at all.

It's best to use the cheaper parmesan cheese. Not the fresh, shredded stuff that you buy in a wedge or the pre-shredded parmesan cheese in the bags. Use the cheap parmesan cheese that comes in the can. You know the one that's not refrigerated in the store. That's the one you want. The shredded stuff burns really easily in this recipe and then gets hard. It's much better with the finer, cheaper parmesan cheese.

You need 4 chicken breasts that are cut in half, lengthwise. So you will end up with 8 thin chicken breast pieces. I have found that the thinner pieces work best, taste the best, and cook the best cause they take less time.
Watch the recipe video to see how to make Baked Parmesan Chicken
Baked Garlic Parmesan Chicken
Baked parmesan chicken is a family favorite dinner that uses simple ingredients and is so good! Chicken breasts are seasoned to perfection and then topped with a creamy garlic mixture. Tender chicken and a creamy topping that you will love.
Ingredients
4

boneless, skinless chicken breasts

1 1/2

teaspoon

seasoned salt

1/4

teaspoon

black pepper

1/2

cup

mayonnaise

1

container

(5.3 oz) plain Greek yogurt

1/2

cup

parmesan cheese

1

teaspoon

garlic powder
Instructions
Heat oven to 375 degrees. Spray a cookie sheet (12"x18") with cooking spray. If you are making a smaller half batch, then you will just need a 9x13 baking dish. Whatever you use, you don't want the chicken overlapping at all.

Slice each chicken breast in half lengthwise to form 2 thinner pieces from each one. You will end up with 8 thin pieces of chicken breasts. Arrange them on the cookie sheet.

** If your chicken breasts are smaller to begin with, you may not have to slice them to form thinner pieces. You may just want to use 6 chicken breasts if they are smaller to begin with. Cutting them in half lengthwise works best for larger pieces of chicken **

In a small bowl, stir together the seasoned salt and black pepper. Sprinkle it over the chicken pieces. In a separate bowl, combine the mayo, yogurt, parmesan cheese and garlic powder. Evenly divide the mixture among the chicken pieces. Spread it out over the entire piece of chicken so that it stays moist.

Bake for 25-35 minutes or until internal temperature reads 165 degrees. The cook time will vary depending on the thickness or thinness of the chicken breasts.

Sprinkle with additional parmesan cheese and/or chopped parsley if wanted. Leftover keep well in the fridge and can be reheated.
Recipe Notes
You don't have to slice the chicken breasts to make the thinner pieces. I just prefer it and think it works the best. If you just use the 4 large chicken pieces, you may have to increase the cook time to 40 minutes to make sure it's cooked through. 
Save this recipe for later and PIN IT to PINTEREST