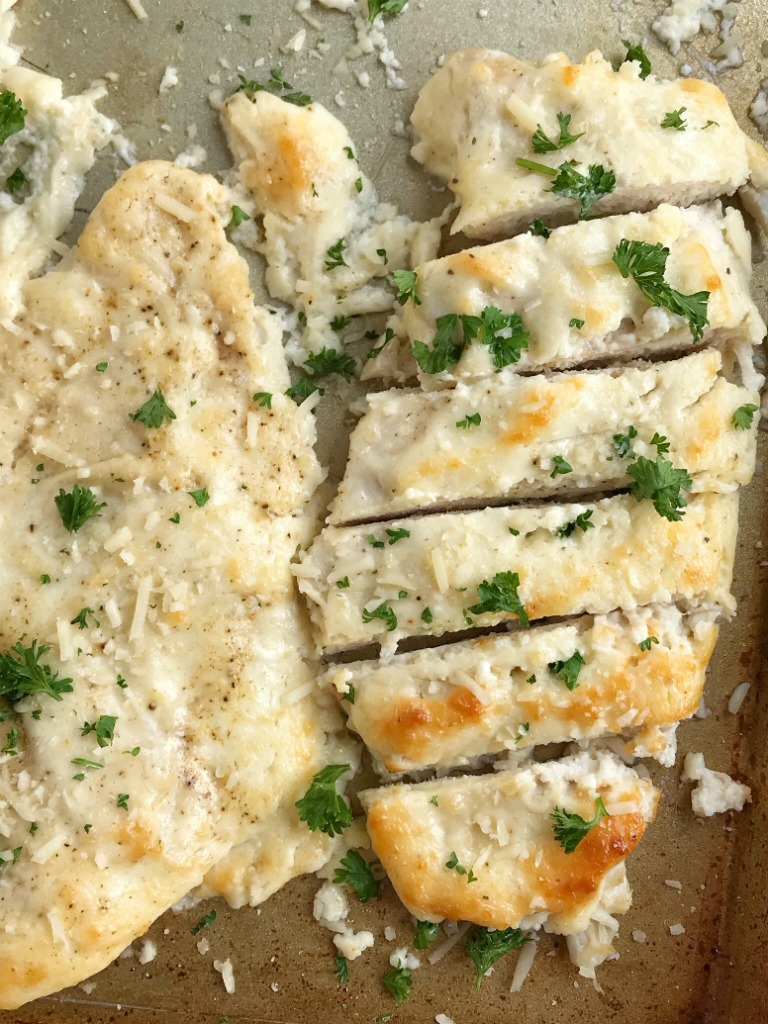 BAKED PARMESAN CHICKEN RECIPE
Your family will love this baked Parmesan chicken! Not only is it so easy to make but it's a perfect way to dress up boring chicken breasts that also happen to be kid-friendly. 
This creamy baked Parmesan chicken calls for only a few, easy ingredients and it bakes up on one sheet pan!
INGREDIENTS NEEDED TO MAKE BAKED PARMESAN CHICKEN
Boneless, Skinless Chicken Breasts – I have never tried this with anything else so I am not sure if chicken thighs would work or not. 
Seasoned Salt & Black Pepper – This gets sprinkled on top of the chicken before that delicious creamy mixture goes on. 
Mayonnaise – Full-fat or the lite stuff will work just fine. For best taste and texture use the real stuff.
Greek Yogurt – Please make sure you are using PLAIN Greek Yogurt and not Vanilla Greek yogurt.
Parmesan Cheese – Just the cheap, bottled grated Parmesan cheese. You will find this on the shelves (it's not refrigerated) usually in the pasta aisle of the grocery store. 
Garlic Powder – Seasoning for the creamy Parmesan mixture for the chicken.
TIPS FOR MAKING BAKED PARMESAN CHICKEN
I have tested this recipe several times and for best results use half mayo and half Greek yogurt as called for in the recipe. Using all Greek yogurt, while healthier, yields a very bitter & odd tasting chicken with not as much flavor. 
It's best to use the cheaper grated Parmesan cheese for this recipe. The one that comes in the green can and is found on the shelves at the grocery store (rather than refrigerated). Shredded Parmesan cheese burns really easily in the oven and does not stick as well to the chicken.
The recipe calls for 4 chicken breasts that are cut in half (lengthwise) so you will end up with 8 thin chicken breast pieces. The thin pieces of chicken work best but you can just use the 4 larger chicken breasts if wanted. The cook time will have to be increased to make sure they are cooked through. 
Baked Garlic Parmesan Chicken
Baked Parmesan Chicken is a family favorite dinner that uses simple ingredients and is so good! Chicken breasts are seasoned to perfection and then topped with a creamy garlic mixture. Tender chicken and a creamy topping that you will love. 
Ingredients
4 boneless, skinless chicken breasts
1 1/2 teaspoon seasoned salt
1/4 teaspoon black pepper
1/2 cup mayonnaise
1 container (5.3 oz) plain Greek yogurt
1/2 cup parmesan cheese
1 teaspoon garlic powder
Instructions
Heat oven to 375 degrees. Spray a cookie sheet (12"x18") with cooking spray. If you are making a smaller half batch, then you will just need a 9x13 baking dish. Whatever you use, you don't want the chicken overlapping at all.

Slice each chicken breast in half lengthwise to form 2 thinner pieces from each one. You will end up with 8 thin pieces of chicken breasts. Arrange them on the cookie sheet. ** If your chicken breasts are smaller to begin with, you may not have to slice them to form thinner pieces. You may just want to use 6 chicken breasts if they are smaller to begin with. Cutting them in half lengthwise works best for larger pieces of chicken **

In a small bowl, stir together the seasoned salt and black pepper. Sprinkle it over the chicken pieces. In a separate bowl, combine the mayo, yogurt, parmesan cheese and garlic powder. Evenly divide the mixture among the chicken pieces. Spread it out over the entire piece of chicken so that it stays moist.

Bake for 25-35 minutes or until internal temperature reads 165 degrees. The cook time will vary depending on the thickness or thinness of the chicken breasts.

Sprinkle with additional parmesan cheese and/or chopped parsley if wanted. Leftover keep well in the fridge and can be reheated.
Notes
You don't have to slice the chicken breasts to make the thinner pieces. I just prefer it and think it works the best. If you just use the 4 large chicken pieces, you may have to increase the cook time to 40 minutes to make sure it's cooked through. 
Nutrition
Calories: 264kcal | Carbohydrates: 2g | Protein: 22g | Fat: 18g | Saturated Fat: 4g | Cholesterol: 63mg | Sodium: 931mg | Potassium: 332mg | Fiber: 1g | Sugar: 1g | Vitamin A: 100IU | Vitamin C: 1mg | Calcium: 134mg | Iron: 1mg