Oatmeal Energy Balls require only 4 ingredients! Quick oats, peanut butter, honey, and mini chocolate chips for snack-sized energy oatmeal balls which make the perfect after school snack or healthier treat.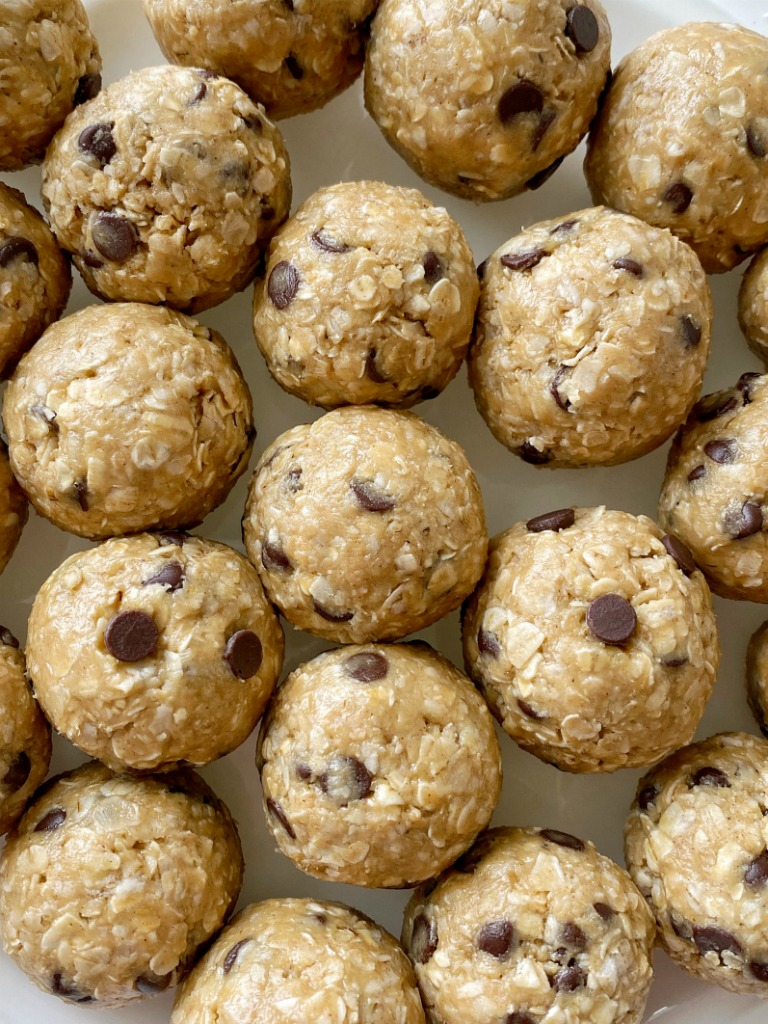 ENERGY OATMEAL BALLS
These energy oatmeal ball snacks have saved me during this "no-school-quarantined-at-home-with-4-kids" part of my life. You would think my kids are ravenous animals who have not eaten in weeks because they just snack and snack all day long.
But thanks to these energy balls, which I have been making at least 2x per week lately, my kids have a grab & go snack that they can get themselves, and they are somewhat nutritious for them and will keep them full…… for like 10 minutes. 
I also have these steel cut oatmeal energy balls and monster cookie energy balls on my site. But today's recipe is my favorite because it's only 4 ingredients, and the ingredients are mostly pantry staples that hopefully you already have.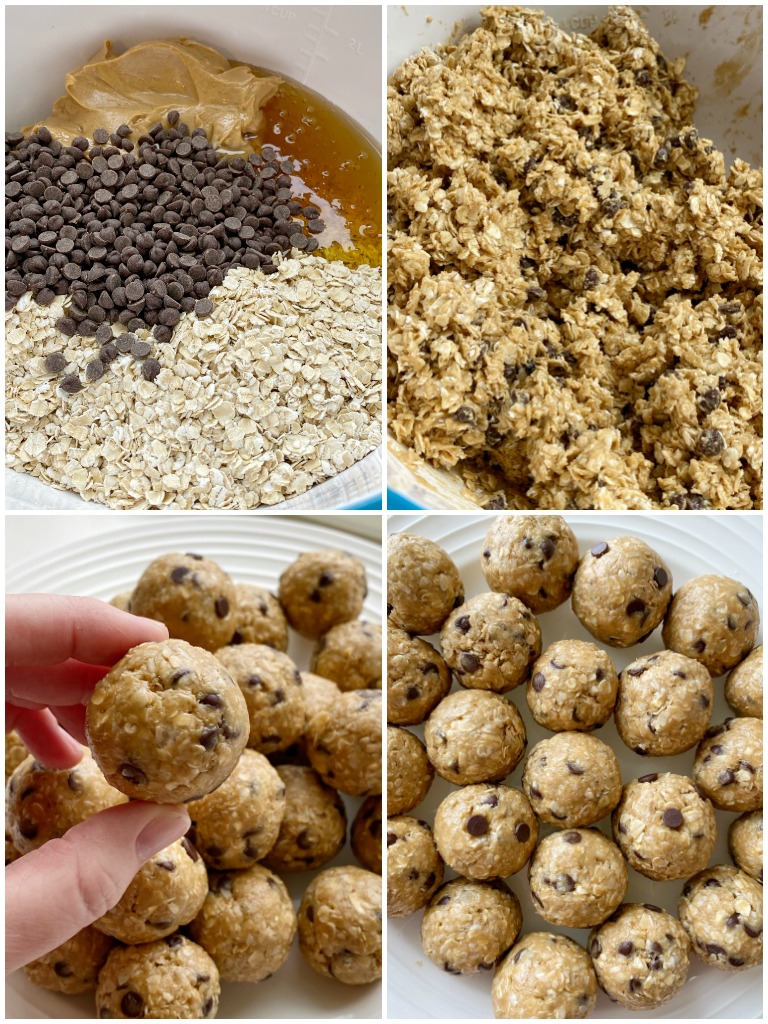 HOW TO MAKE ENERGY BALLS
Quick Oats – I love quick oats for these energy balls because they have a finer, smaller texture which is more appealing to kids. Yes you can use whole, old-fashioned oats but I find that the balls tend to not hold together as well when you use the old fashioned oats. So for best results, stick with the quick oats. 
Creamy Peanut Butter – Creamy peanut butter is best. Crunchy peanut butter can be used but it's a lot thicker and drier, and therefore will end up drying out the energy balls. It's also best to use the regular old peanut butter with all the oil. Natural peanut butter tends to be drier because it has less oil, which will effect the end result of the energy ball. 
Honey
Mini Chocolate Chips – I like using the mini chocolate chips because of the small size. But go ahead and use regular chocolate chips, semi-sweet chips, or even peanut butter chips if that's what you have in your pantry.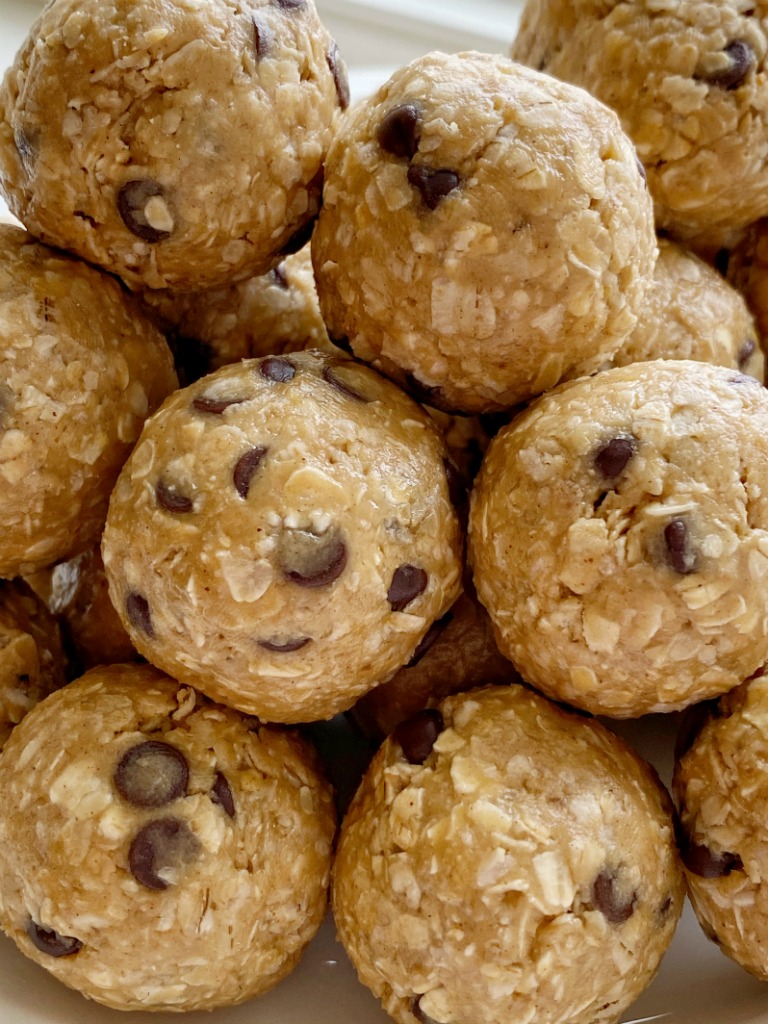 MY TIPS FOR THIS RECIPE
If there are peanut allergies in your house then feel free to substitute the peanut butter with some other alternative. I don't know much about them, but I do know they sell SunButter in the stores which is a great alternative, and I have heard from readers that they use that in my no flour monster cookie bars with great success. 
The refrigeration time before rolling into balls is necessary and important! It helps the dough to not be sticky so you can easily roll into balls. It's only about 20 minutes or so of refrigeration time. 
This recipe makes 30 energy balls. They store well in the fridge for several days. I put mine in a quart-sized Ziploc bag (or use a Tupperware type container) and put it inside the snack drawer of the fridge. It's an easy grab & go snack that the kids can get themselves.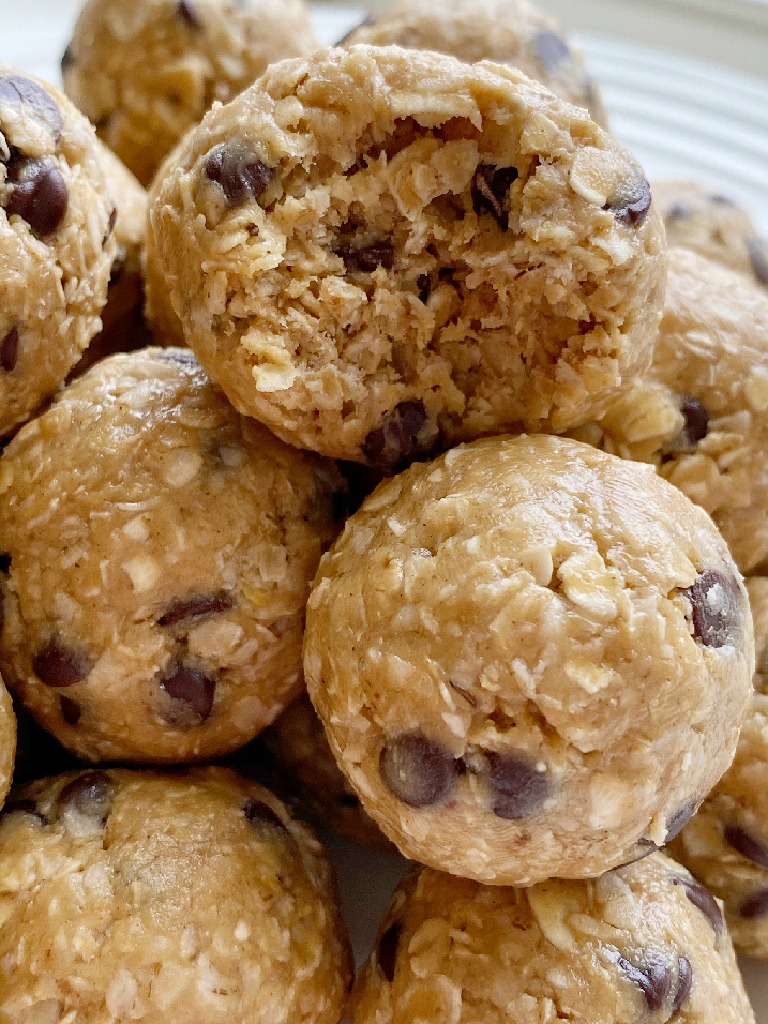 TRY THESE OTHER KID FRIENDLY SNACK RECIPES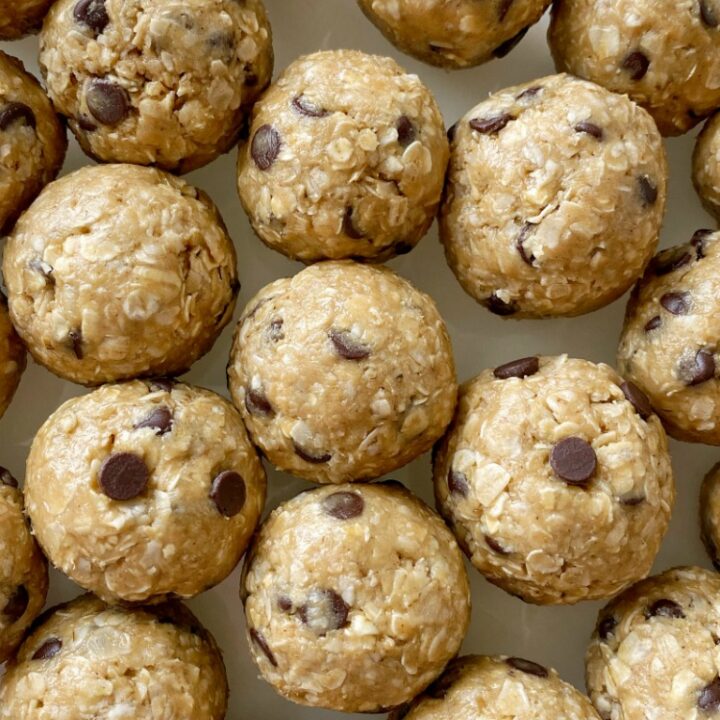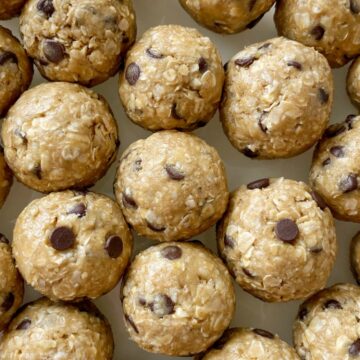 Oatmeal Energy Balls
Oatmeal Energy Balls require only 4 ingredients! Quick oats, peanut butter, honey, and mini chocolate chips are all you need for these perfect snack-sized energy oatmeal balls.
Ingredients
3 cups quick oats
1 cup creamy peanut butter
1/2 cup mini chocolate chips
1/2 cup honey
Instructions
Combine all ingredients into a mixing bowl and stir together until well combined. You can either stir by hand with a wooden spoon or spatula OR use a handmixer and beat on LOW speed until combined. Increasing speed as needed.The mixture is thick so it will take a few minutes to fully mix it all together.

Roll into balls. I use a small cookie scoop to get even sized energy balls, which holds about 1 tablespoon of the energy ball dough. TIP : If you are having difficulty getting the mixture to roll into a ball, try pressing the energy ball dough between your fingers (to loosen it up/warm it up) and then roll into a ball. TIP : If the energy ball dough is too sticky, which it will be naturally as there is honey in it, try refrigerting for about 20 minutes to see if that helps.

Eat right away or you can refrigerate for a couple of hours if you want to serve them cold. I think they're best tasting when they are cold so I always make them before I need them (like for after school) so they have time to refrigerate for at least 2-3 hours.

Store leftovers in the fridge, in a covered container, for several days.
Notes
HONEY : To make measuring honey easy, spray the measuring cup with cooking spray before adding the honey. When you pour it into the bowl the honey will slide right out! PEANUT BUTTER : It's best to use regular peanut butter because it has more oil, fat, and it's softer, which will hold together well without drying out the energy ball dough. Lots of people seem to have trouble with this recipe and I can almost guarantee it's because they are using the all-natural peanut butter instead of the regular peanut butter. 
Nutrition
Calories: 112kcal | Carbohydrates: 14g | Protein: 3g | Fat: 6g | Saturated Fat: 1g | Cholesterol: 1mg | Sodium: 42mg | Potassium: 87mg | Fiber: 1g | Sugar: 7g | Vitamin A: 7IU | Vitamin C: 1mg | Calcium: 11mg | Iron: 1mg