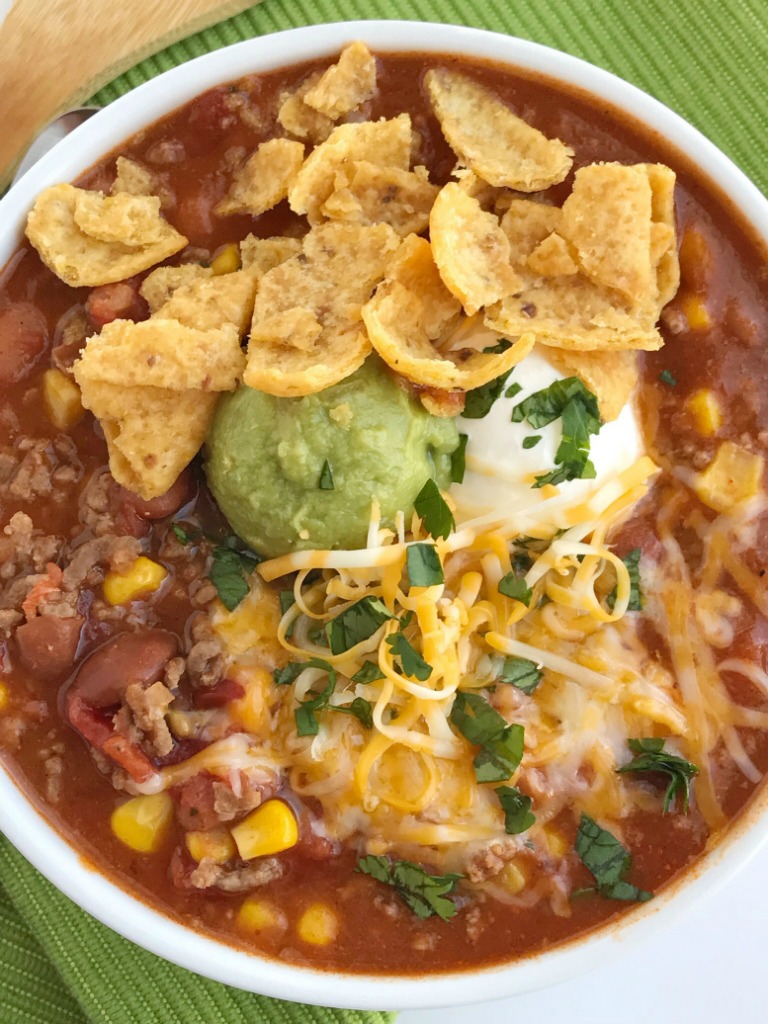 TACO SOUP
Taco soup is one of my favorite dinner recipes. I have tried so many different recipes and I always come back to this simple recipe that requires just one pot and no chopping!
The "secret ingredient" that I think makes this the best is the stewed tomatoes. So much flavor and they provide the tomato base for this soup. They do get blended up in the blender so there will not be any large chunks of tomatoes.
A packet of ranch seasoning is also another taco soup essential.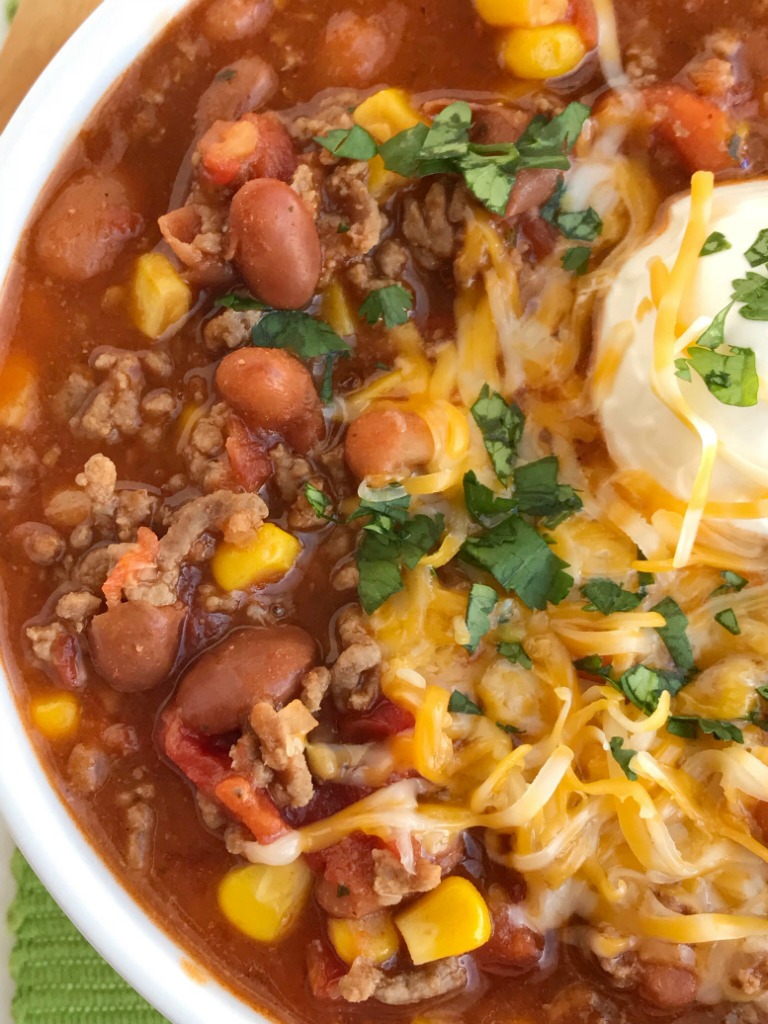 So many recipes say 'easy' or 'simple' but this one is actually both those. I judge a recipe as easy & simple when there is no chopping involved. Because who really wants to get out a cutting board and chop a bunch of stuff for an easy recipe?! Not me.
INGREDIENTS NEEDED FOR THIS TACO SOUP RECIPE
Ground Beef – Recipe calls for 1 1/2 lbs but I know some grocery stores only sell ground beef in one pound packages. I have used just one pound before and it's fine. But if you can find the 1 1/2 pounds of ground beef then be sure and get that. 
Taco Seasoning – Going with the easy theme here and using a packet of taco seasoning. You can of course use a homemade taco seasoning if that's what you prefer.
Water – Normally taco soup recipes call for broth but trust me on this one. The stewed tomatoes + the taco seasoned meat + ranch seasoning give this soup more than enough flavor.
Stewed Tomatoes – These are canned tomatoes that have been roasted with seasoning like onion and garlic. So much flavor but they also come in big chunks of tomato. Which is why it's important to blend them up. It provides the tomato base for the soup combined with the water. 
Chili Beans – These are pinto beans in a mild chili sauce. Do not drain them. You want that chili sauce that comes in the can. 
Pinto Beans – You do want to drain and rinse the pinto beans.
Canned Corn
Petite Diced Tomatoes – I prefer the smaller size of the petite tomatoes but a can of regular diced tomatoes will also work just fine.
Ranch Seasoning Packet
TRY THESE OTHER SOUP RECIPES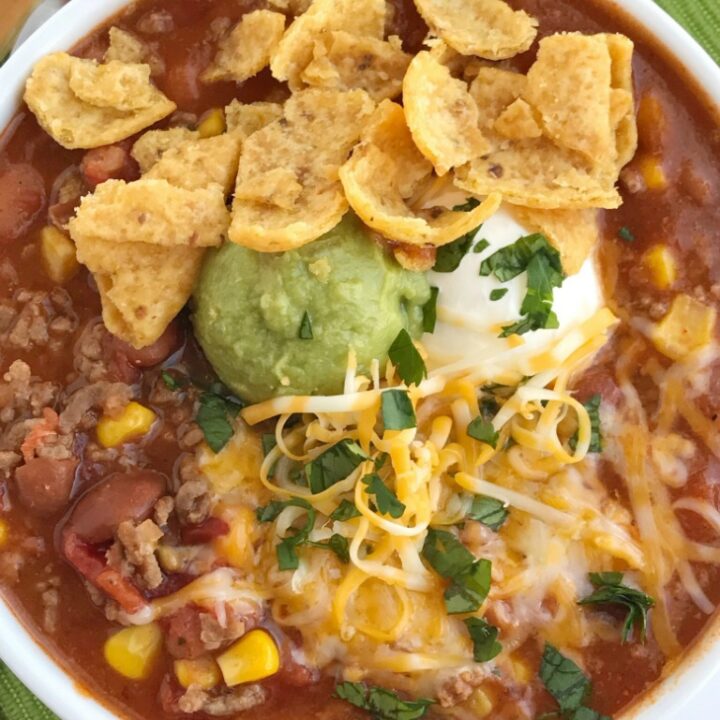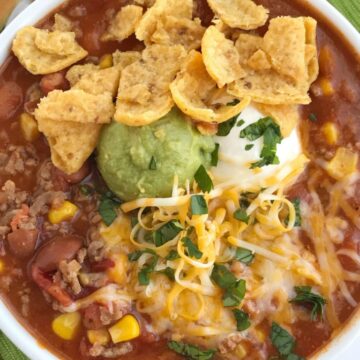 Taco Soup
Taco Soup uses simple ingredients like ground beef, beans, stewed tomatoes, corn, taco seasoning, and a ranch seasoning packet. One pot and no chopping!
Ingredients
1 1/2 lbs lean ground beef
1 packet taco seasoning
1 1/2 cups water
1 (15 oz) can stewed tomatoes do not drain
1 can (15 oz) chili beans do not drain
1 can (15 oz) pinto beans drained & rinsed
1 can (15 oz) corn drained
1 can (14.5 oz) petite diced tomatoes do not drain
1 packet ranch seasoning mix
Instructions
In a soup pot, over medium-high heat, cook and crumble ground beef until no longer pink. Drain. Add the packet of taco seasoning and mix together.

In a blender, add the can of undrained stewed tomatoes and all of the water or some of it (if needed). Blend together and add into the soup.

Add in the chili beans, pinto beans, corn, petite diced tomatoes, and packet of ranch seasoning mix. Stir together and bring to a boil. 

Turn heat to low and let simmer for 15-25 minutes.

Serve with all your favorite taco toppings and enjoy!
Notes
Use anywhere from 1 pound to 1 1/2 pounds of lean ground beef. Some stores only sell 1 pound packages (which will work fine), while other stores sell the weighted packages.    If you have the time simmer this soup for longer than called for. You can never go wrong with too much simmer time when it comes to soup!
Nutrition
Calories: 295kcal | Carbohydrates: 36g | Protein: 26g | Fat: 6g | Saturated Fat: 2g | Cholesterol: 53mg | Sodium: 1270mg | Potassium: 942mg | Fiber: 8g | Sugar: 9g | Vitamin A: 662IU | Vitamin C: 11mg | Calcium: 69mg | Iron: 5mg