Butterscotch Lush is a 4-layer dessert of graham cracker crust, cream cheese layer, butterscotch pudding layer, and topped off with whipped cream. This no bake lush dessert recipe may look hard – but you won't believe how easy it is to make! Perfect for family gatherings, Holidays, summer potlucks, or serving a big group.
Don't miss these other lush cake recipes – Raspberry Cheesecake Lush, Strawberry Cheesecake Lush, Chocolate Lush, and Chocolate Peanut Butter Lush.
Butterscotch Lush Recipe (Butterscotch Delight)
This butterscotch lush – also called butterscotch delight – is a showstopper desert for any dessert table. With 4 sweet layers of buttery graham cracker crust, cheesecake, butterscotch pudding, and whipped cream layer – this is a dessert that has it all!
It's the perfect combination of texture and taste, and it cuts so nicely which makes it a pretty dessert with it's four distinct layers inside. This entire desert is completely no bake, which means that it's a breeze to make with minimal prep time needed.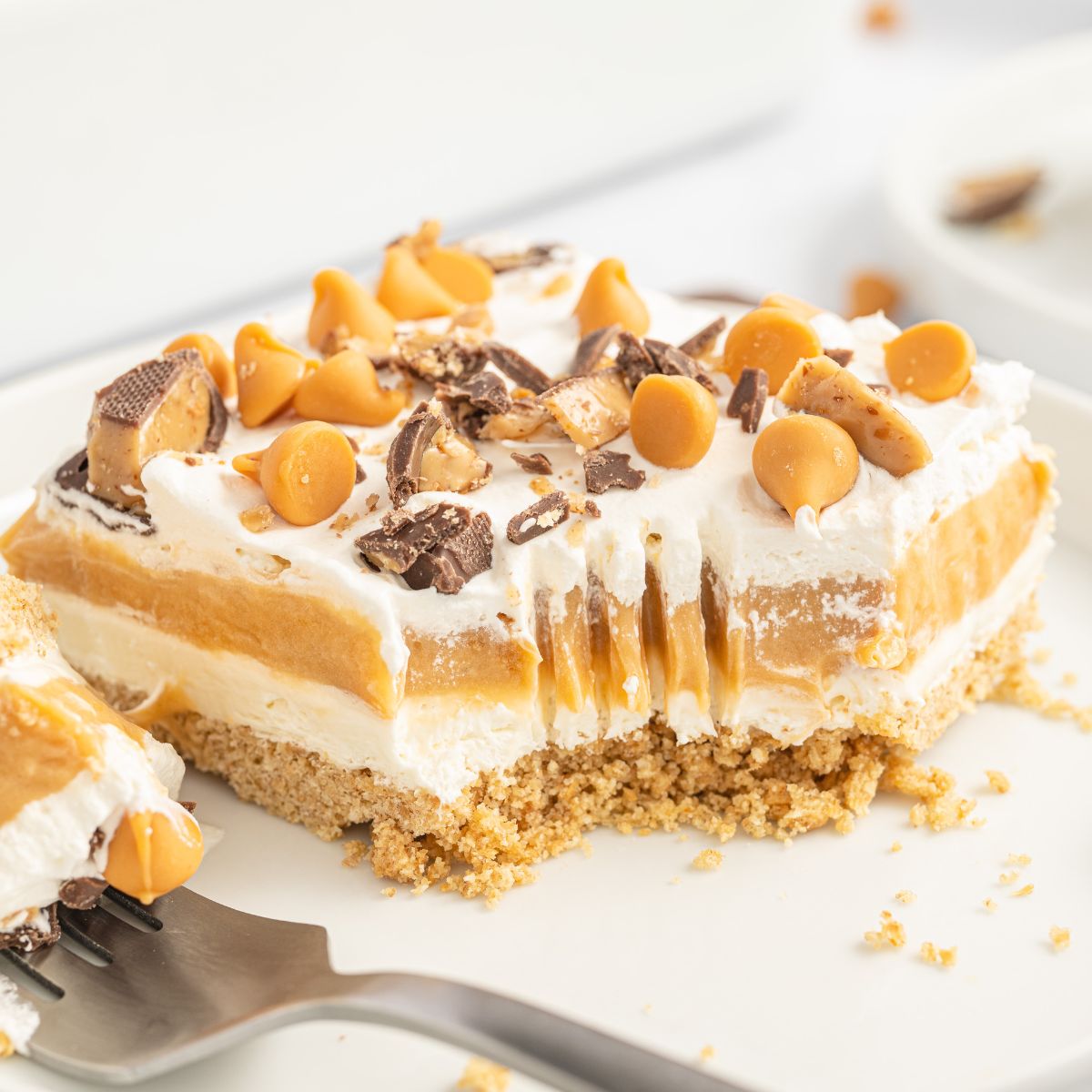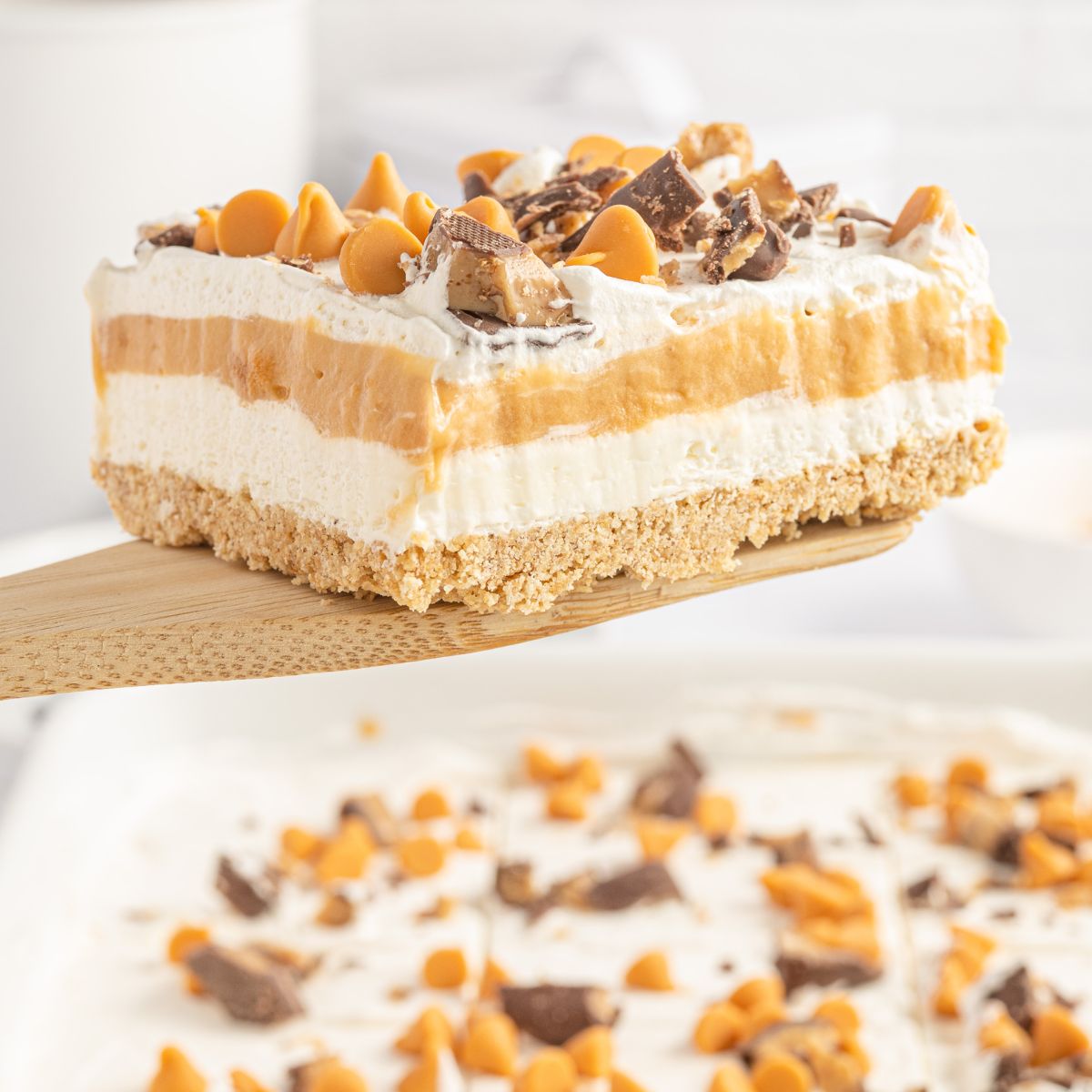 Full List of Ingredients (Recipe Card Below)
Here are the list of ingredients that you will need to make this layered butterscotch pudding dessert. There are 4 different layers, so the ingredient list may look long, but it's all completely no bake and very simple to whip up.
Graham Cracker Crust Layer
Graham Cracker Crumbs – Measure out 3 cups of crumbs from a box or you can put whole graham crackers into a food processor and blend until fine crumbs.
Light Brown Sugar – Sweetener for the crust layer.
Melted Butter – Makes a buttery crust!
Cream Cheese Layer (No Bake Cheesecake Layer)
Cream Cheese – It's important to use softened cream cheese for this layer. If it's too cold, you will end up with lumps in the cream cheese mixture. Place it out at room temperature for 2 hours (no more than 2) before starting the recipe.
Powdered Sugar
Cool Whip
Butterscotch Layer
Instant Butterscotch Pudding – Two boxes of butterscotch is what this creamy layer calls for. Make sure to use instant pudding and not the cook n' serve pudding.
Whole Milk or Half and Half – You need a higher fat milk in order for the pudding layer to set properly, make it easier to slice, and thicken up nicely. I don't recommend using anything lower in fat than 2% milk.
Whipped Cream Layer
Cool Whip : This is the last layer of the dessert! Feel free to make homemade whipped cream if wanted. You will need 1.5 cups of heavy cream + 1/3 cup powdered sugar. Beat it inside a medium mixing bowl, using an electric mixer, until stiff peaks form.
Garnishes & Toppings : Butterscotch chips, butterscotch sauce, chopped Heath candy bar bits, chocolate shavings, chopped pecan sandies cookies, or chopped pecans are all great topping ideas for this decadent lush cake.
How To Make a No Bake Butterscotch Lush Dessert
Crust : Combine the graham cracker crumbs, light brown sugar, melted butter into a medium mixing bowl. Press the crumbs firmly into a 9×13 baking pan to form an even crust. Place the dish inside the freezer for 20 minutes while you prepare the rest of the layers.
Cheesecake Layer : In a mixing bowl, using an electric mixer, beat the cream cheese and powdered sugar until smooth and creamy. Stir in the thawed Cool Whip with a wooden mixing spoon or spatula until combined well.
Butterscotch Pudding Layer : In a separate mixing bowl, add the instant butterscotch pudding mix and half and half milk. Whisk together for 1-2 minutes or until it starts to thicken. Set the pudding aside and let it rest, so it can thicken even more, for about 3 minutes.
Assemble The Butterscotch Lush : Spread the cheesecake layer over the crust, making sure to spread it all the way to the edges of the pan to create a firm layer. Spread the butterscotch pudding over the cheesecake layer. For the final layer, spread the Cool Whip over top.
Fridge Time : Cover the pan with a lid or plastic wrap, and let it refrigerate for at least 6 hours – or overnight is even better.
Garnish : Garnish the top of the lush with butterscotch chips and/or chopped Heath candy bars. Slice into squares and serve chilled.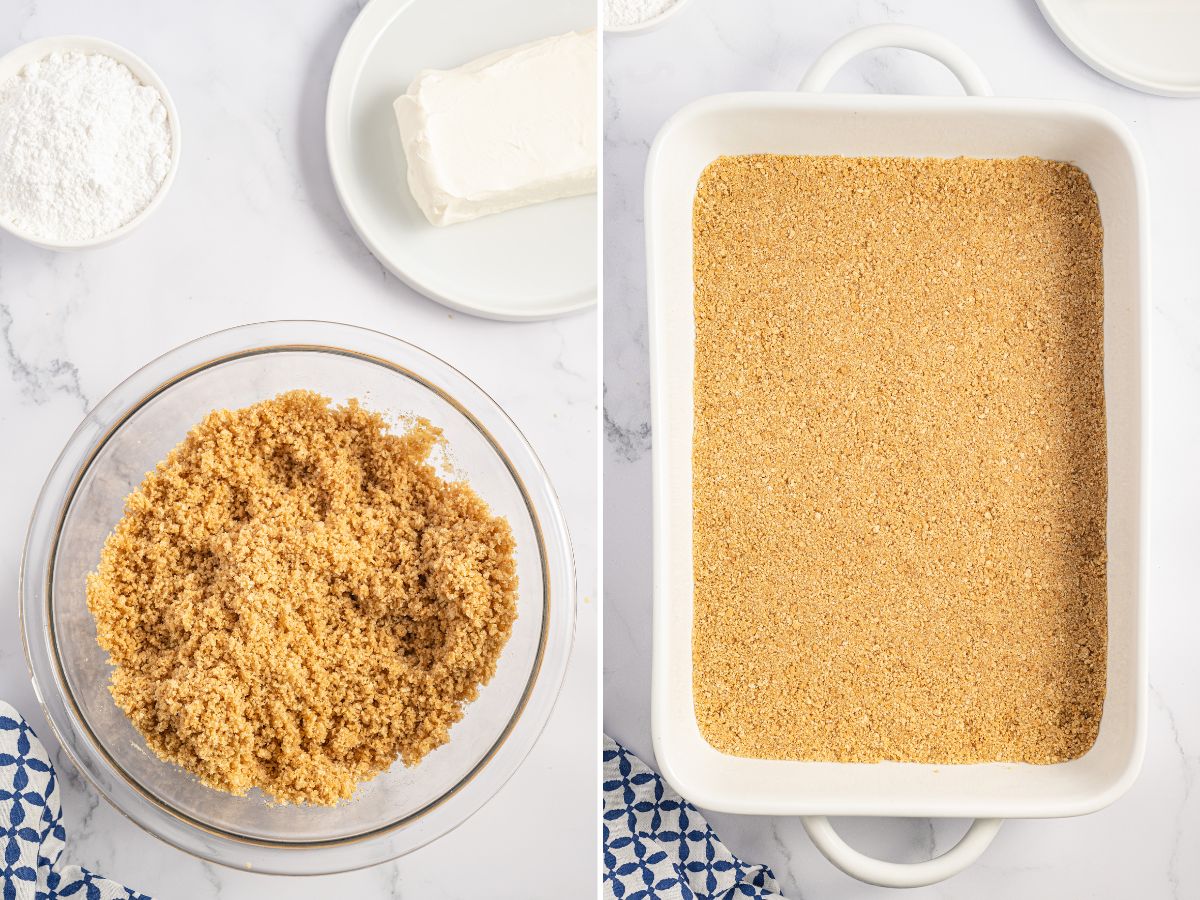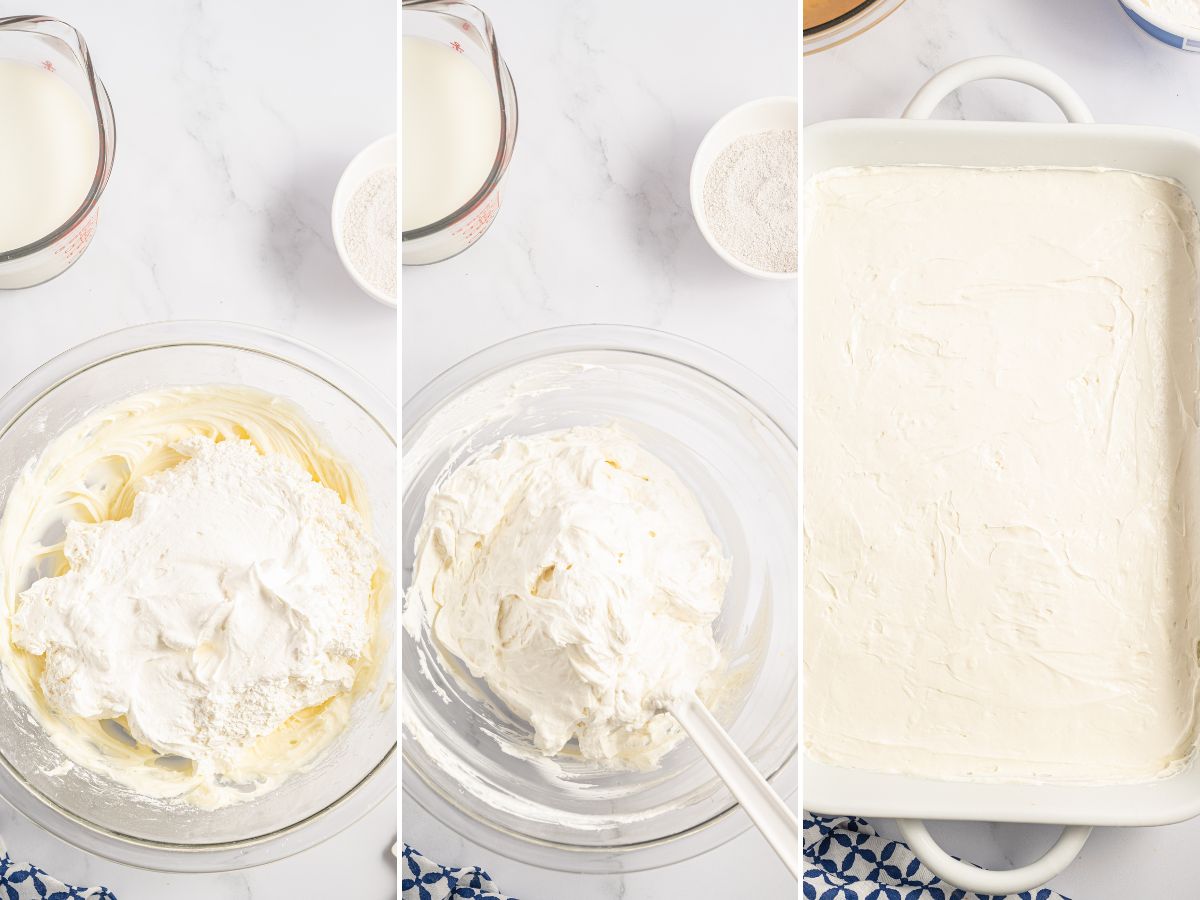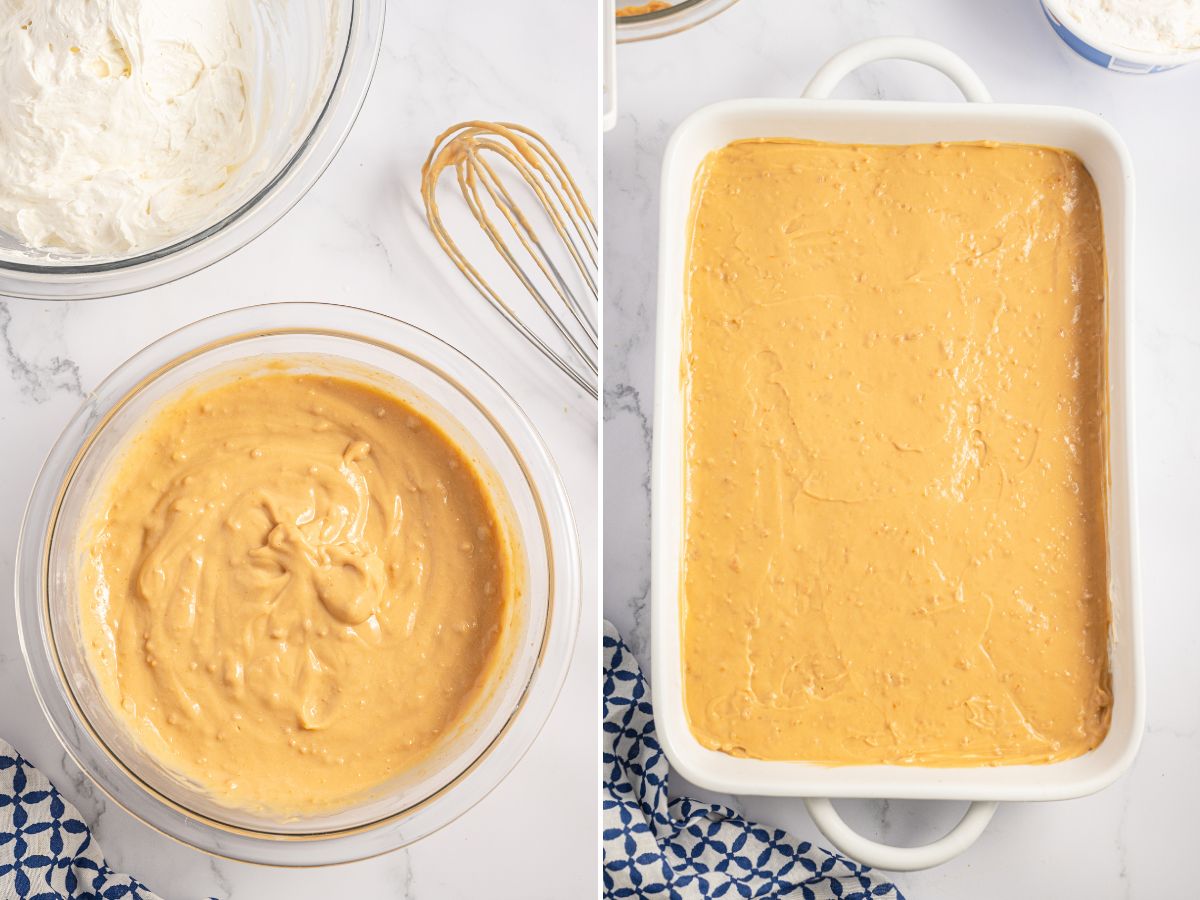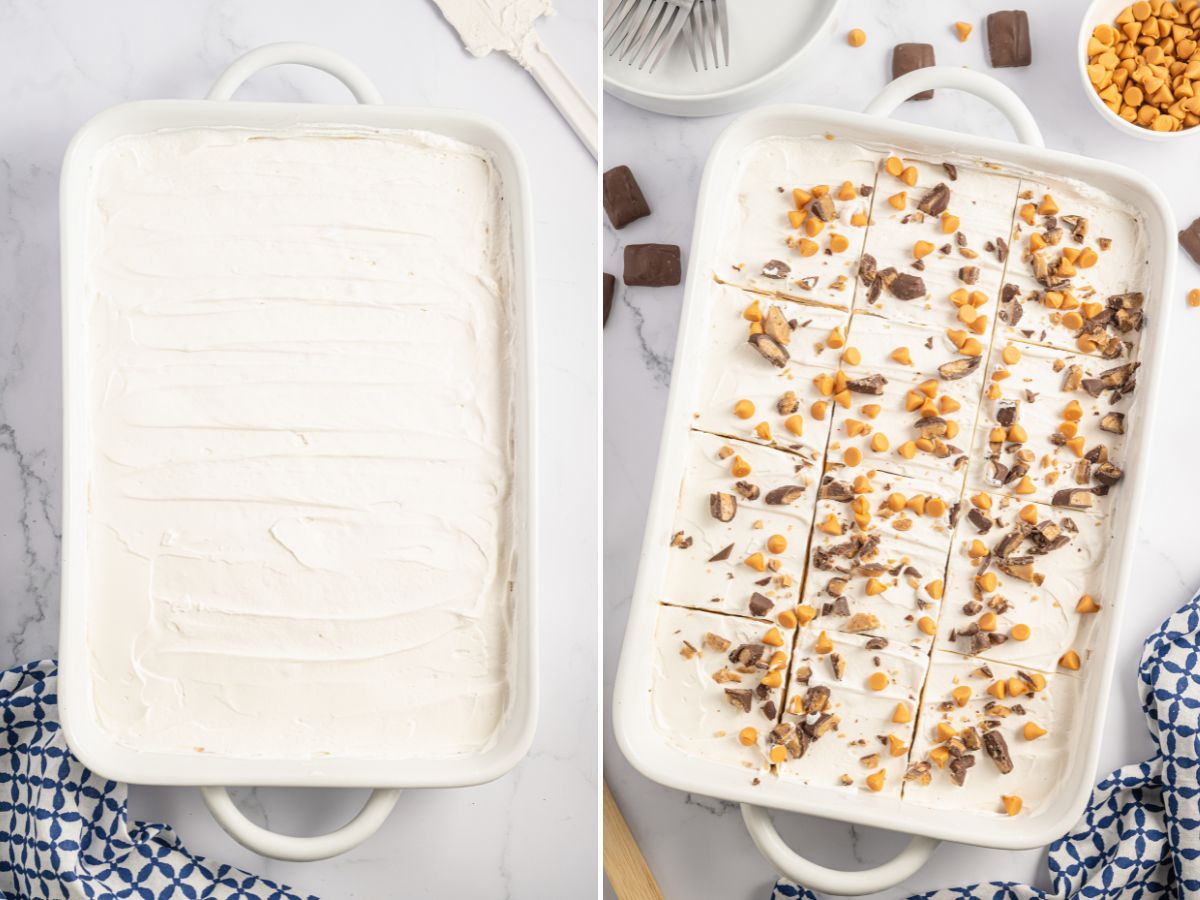 Can I Make Any Changes or Substitutions To This Recipe?
Sugar-Free Instant Pudding Mix : Use 2 boxes (1 oz each( of sugar-free instant butterscotch pudding mix in this recipe. Use the same amount of milk that is called for in the recipe.
Pecan Sandies : Use crushed pecan sandies for the crust layer instead of the graham crackers. Using all pecan sandies might result in a very rich desert, so I actually recommend using 1.5 cups graham cracker crumbs + 1.5 cups crushed pecan sandies.
Butter : Salted butter and unsalted butter can both be used in this recipe. I love the sweet & salty combo so I always use salted butter.
Favorite Pudding Flavor : Instead of butterscotch, try using any 2 small boxes of instant pudding that you love. A really combo is vanilla instant pudding + French vanilla instant pudding mix. Or try pistachio, chocolate, coconut creme, banana cream, white chocolate, etc. Change out the toppings and garnishes depending on what pudding flavor was used.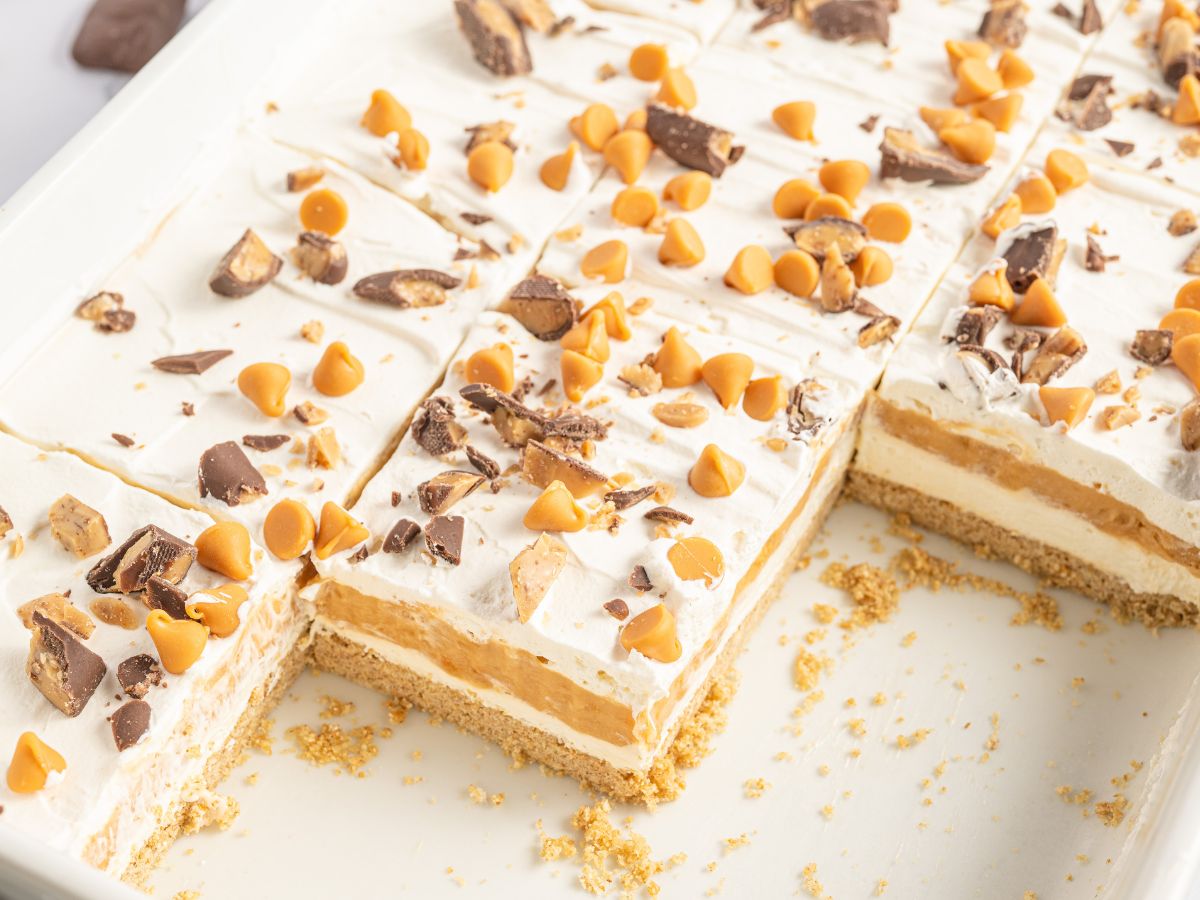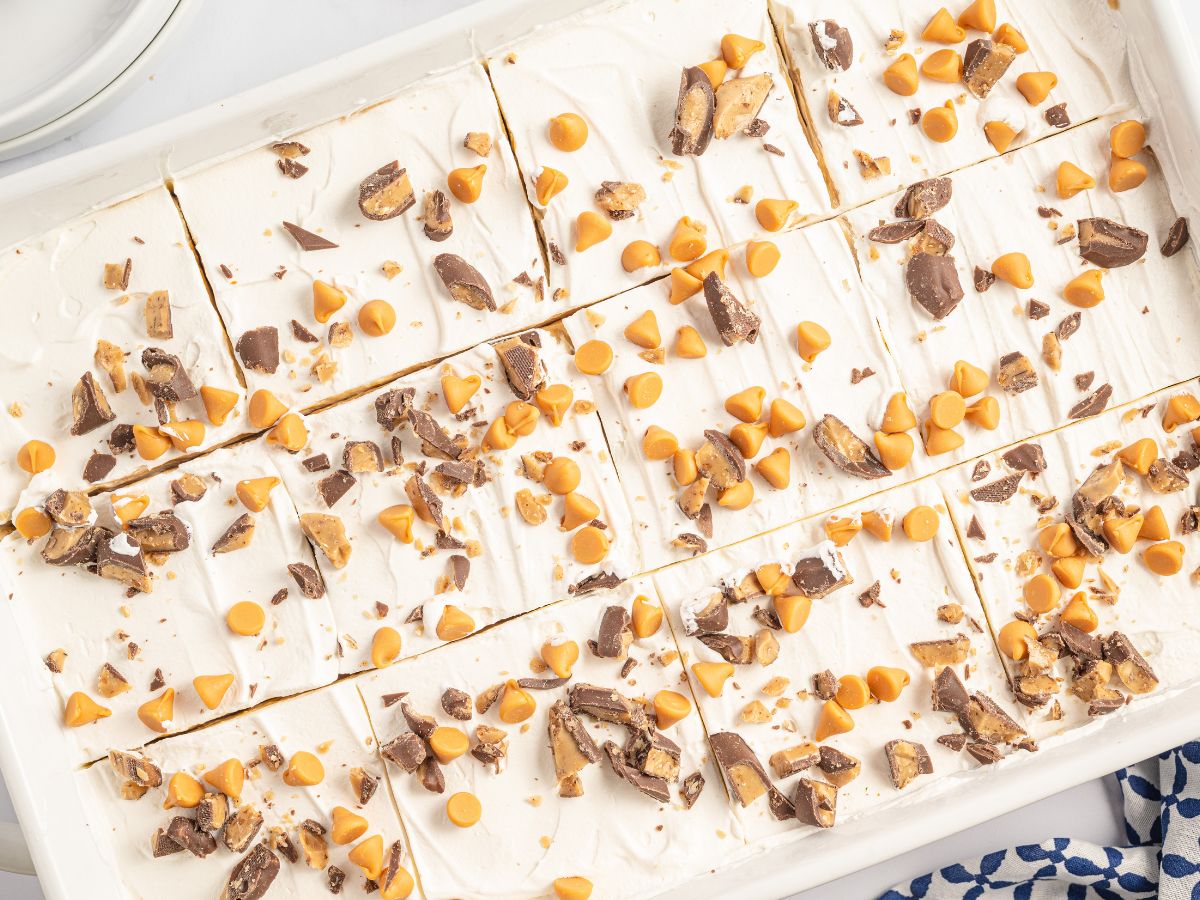 How To Store Layered Lush Desserts
I recommend only storing leftovers of this lush dessert inside the fridge. You can freeze it, if you really need to, but the texture and consistency of the creamy layers will change dramatically once frozen and thawed.
Refrigerator : Cover the pan with plastic wrap, foil, or a lid and store it inside the fridge for up to 4 days. You can also place individual pieces inside a container with an airtight lid. The longer it sits in the fridge, the soggier and much softer the crust will become. This lush dessert is best served within 1-2 days of making it.
Freezer : Cover the pan with plastic wrap and then cover again in freezer-safe tin foil to prevent freezer burn. Store it inside the freezer for up to 2. months. Let it thaw in the fridge overnight before serving the following day.
Baking Tips For Success
High Fat Milk : I highly recommend only using whole milk, half and half, or even heavy cream in this recipe when you make the pudding mixture. You need the fat and thick texture from the milk in order for the pudding layer to set properly and firm up in the fridge. I only ever use the half and half milk, but whole milk will work just great as well.
Chill Time : This creamy dessert with 4 layers NEEDS the 6 hour minimum chill time in the fridge before slicing and serving. For the best results, I recommend refrigerating up to overnight (12-18 hours) before serving it. The dessert is best served chilled from the fridge.
Garnish Tip : Wait to add the optional toppings and garnishes until after the chill time and before serving it. You can either decorate the entire lush dessert or serve each piece and add decorations/toppings once it's already cut and on the serving plate.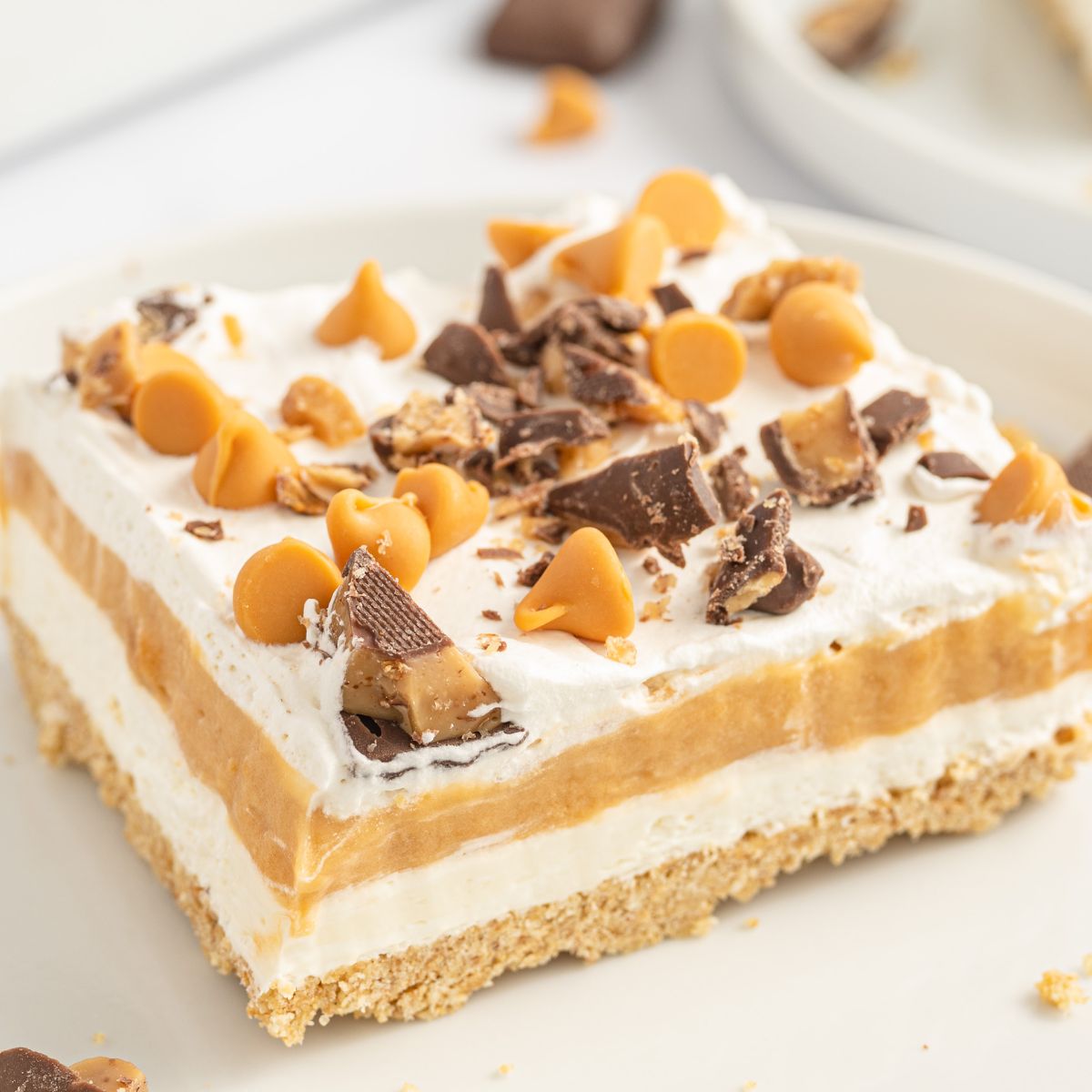 More Amazing Layered Dessert Recipes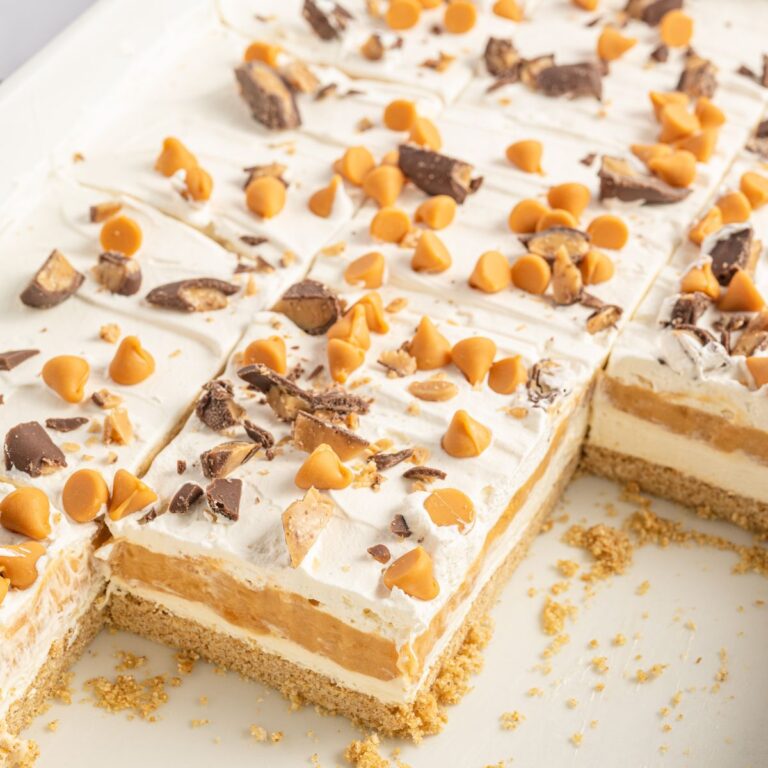 Butterscotch Lush
Butterscotch Lush is a 4-layer dessert of graham cracker crust, cream cheese layer, butterscotch pudding layer, and topped off with whipped cream. This no bake lush dessert recipe may look hard – but you won't believe how easy it is to make!
Ingredients
Graham Cracker Crust
3 cups graham cracker crumbs
3 tablespoons light brown sugar
10 tablespoons butter melted
Cheesecake Layer
8 ounces cream cheese room temperature
3/4 cup powdered sugar
8 ounces Cool Whip thawed
Butterscotch Pudding Layer
2 boxes (3.4 oz each) instant butterscotch pudding mix
3 cups half and half (whole milk works also)
Whipped Cream Layer & Garnishes
8 ounces Cool Whip thawed
butterscotch morsels, chopped pecans, chopped Heath candy bars, butterscotch sauce drizzle (optional topping ideas)
Instructions
Prep : Get a 9×13 baking pan and set it aside.

Crust : Combine the graham cracker crumbs, light brown sugar, melted butter into a medium mixing bowl. Press the crumbs firmly into a 9×13 baking pan to form an even crust. Place the dish inside the freezer for 20 minutes while you prepare the rest of the layers. 

3 cups graham cracker crumbs, 3 tablespoons light brown sugar, 10 tablespoons butter

Cheesecake Layer : In a mixing bowl, using an electric mixer, beat the cream cheese and powdered sugar until smooth and creamy. Stir in the thawed Cool Whip with a wooden mixing spoon or spatula until combined well.

8 ounces cream cheese, 3/4 cup powdered sugar, 8 ounces Cool Whip

Butterscotch Pudding Layer : In a separate mixing bowl, add the instant butterscotch pudding mix and half and half milk. Whisk together for 1-2 minutes or until it starts to thicken. Set the pudding aside and let it rest, so it can thicken even more, for about 3 minutes.

2 boxes (3.4 oz each) instant butterscotch pudding mix, 3 cups half and half

Assemble The Butterscotch Lush : Remove the crust from the freezer.– Spread the cheesecake layer over the crust, making sure to spread it all the way to the edges of the pan to create a firm layer. – Spread the butterscotch pudding over the cheesecake layer. – For the final layer, spread the Cool Whip over top. 

8 ounces Cool Whip

Fridge Time : Cover the pan with a lid or plastic wrap, and let it refrigerate for at least 6 hours – or overnight is even better.

Garnish & Serve : Garnish the top of the lush with butterscotch chips and/or chopped Heath candy bars. Slice into squares and serve chilled. 

butterscotch morsels, chopped pecans, chopped Heath candy bars, butterscotch sauce drizzle
Nutrition
Calories: 317kcal | Carbohydrates: 36g | Protein: 4g | Fat: 18g | Saturated Fat: 10g | Polyunsaturated Fat: 1g | Monounsaturated Fat: 5g | Trans Fat: 0.3g | Cholesterol: 48mg | Sodium: 293mg | Potassium: 129mg | Fiber: 1g | Sugar: 25g | Vitamin A: 550IU | Vitamin C: 0.4mg | Calcium: 98mg | Iron: 1mg