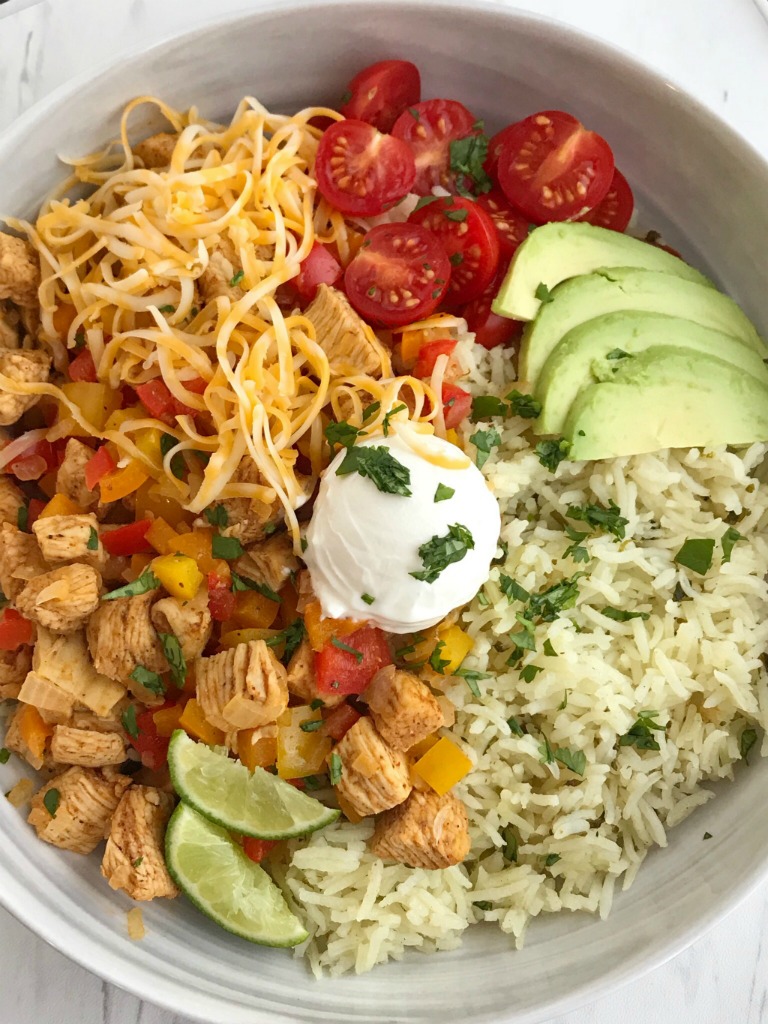 CHICKEN FAJITA BURRITO BOWLS
I am not sure why I have this *slight* obsession with burrito bowls. I mean, honestly, I don't even really like Chipotle which is how the burrito bowl became so popular. But I do LOVE rice and avocado so I suppose anytime I can combine those, I will. 
The best base for a burrito bowl is really good rice. I highly recommend using my cilantro lime rice recipe. While the rice cooks on the stove top, it just happens to be almost the exact time you need to cook the chicken fajita mix. That way everything is done at once!
The best part about these burrito bowls is that everyone can make their own. Anytime my kids can make their own dinner and get involved, there is a much higher chance that they will eat with no complaining. I like to put all the different toppings into bowls. I use some plastic bowls because let's be honest, I don't want to wash like 20 bowls after dinner 🙂 
Some topping ideas are: sour cream, shredded lettuce, avocado slices, chopped tomatoes, pico de gallo, chopped cilantro, shredded cheese, jalapenos, salsa, guacamole, black beans, lime wedges. I am sure I missed some, but basically top these bowls with whatever you want. 
HOW TO MAKE CHICKEN FAJITA BOWLS AT HOME
Start by cutting up your chicken breasts, onion, and bell peppers. This will take the most time as it is a lot of prep work and cutting.
Make the rice and let that simmer/cook for about 20 minutes.
While the rice is simmering, heat up some oil and cook the chicken. Remove the chicken from the skillet pan, add more oil, and then cook the onions and peppers. Combine everything together, including the cooked chicken, and it's ready to serve.
Now you're ready to eat! I love to put all different toppings into bowls and lay them out on the table buffet style. Everyone can now create their own burrito bowl.
Toppings : shredded cheese, guacamole, pico de gallo, chopped tomatoes, jalapeño, sour cream, avocado slices, salsa, shredded lettuce. These are just a few ideas, but really, top it with whatever you want. They're also yummy topped with tortilla strips (or crush tortilla chips and crumble them on top).
MY TIPS FOR THIS RECIPE
To cut down on prep time, purchase prepared pico de gallo and guacamole. I always do this because it saves a lot of time and I think the store bought ones taste really good. 
You can use whatever rice you want. If you don't want make your own, use some minute rice or buy some of those microwaveable packages of rice. Or just serve the chicken fajita mixture over some salad greens for a chicken fajita salad. 
There is lots of cutting and prep involved, but once it's done then it all goes pretty fast. You can either cut the peppers into strips (like traditional fajitas) or chop them (like I did). Either way works just fine. 
If you want a yummy dressing to drizzle over these burrito bowls, then be sure to also make this creamy cilantro lime salsa verde ranch dressing. It's so yummy that I could basically drink it 🙂
Chicken Fajita Burrito Bowls
Chicken fajita Burrito Bowls are so easy to make at home! No need to go to restaurant for a burrito bowl anymore. Chicken, onion, peppers and seasonings cook in a skillet pan while cilantro lime rice simmers on the stove top. Serve with all your favorite burrito toppings for a healthy and delicious dinner that everyone can make their own of. 
Ingredients
Chicken Fajita
3 boneless, skinless chicken breasts (cut into bite-sized chunks)
3 tablespoons olive oil, divided
1 teaspoon chili powder
1 teaspoon cumin
1/2 teaspoon onion powder
1/2 teaspoon smoked paprika
1/2 teaspoon salt
1/4 teaspoons black pepper
juice of 1 lime
3 bell peppers, chopped small or sliced (any variety of colors)
1 onion, chopped small or sliced
Cilantro Lime Rice
2 tablespoons butter
1 1/4 cup basmati rice
2 1/4 cup chicken broth
1/4 cup chopped cilantro
1/2 teaspoon cumin
1/2 teaspoon salt
zest and juice of 1 lime
Burrito Toppings
shredded lettuce, cheese, pico de gallo, avocado, sour cream, etc.
Instructions
Make the cilantro lime rice:
Over medium high heat in a saucepan (with a lid) add butter and basmati rice. Let butter melt and the rice toast, stirring occasionally to not let it burn. Once rice is toasted and the butter is melted (2-3 minutes), add the remaining ingredients and return to a boil. Once boiling, cover with the lid and reduce heat to low. Cook for 15-20 minutes or until liquid is absorbed and rice is tender. Fluff with a fork.
Make chicken fajitas:
In a mixing bowl, combine chunks of chicken, 1 tablespoon olive oil, chili powder, cumin, onion powder, paprika, pepper, salt, and juice of 1 lime. Stir together.

Heat 1 tablespoon olive oil in a skillet pan over medium-high heat. Dump the contents of the chicken mixture in the bowl, cook chicken until fully cooked, about 5 minutes or so. Once cooked, remove from skillet pan and set aside.

Add remaining 1 tablespoon olive oil to the same skillet pan, add the bell pepper and onion. I like to season this with some salt (about 1/4 teaspoon). Sauté mixture for several minutes until it's tender.

When peppers and onion are done, add the chicken back in and stir everything together.

Assemble the burrito bowls by laying rice in the bottom of a bowl, top with some chicken fajita mixture, and then top with desired toppings.
Notes
If you would rather not make the cilantro lime rice, substitute with whatever rice you prefer. Make instant rice, microwaveable rice, or serve the chicken fajita mixture over some shredded lettuce for a salad.