Cucumber salsa is full of fresh cucumber, tomatoes, cilantro, red onion, jalapeño, and a light & creamy seasoned dressing. Serve with chips, as a side dish, or on top of grilled meat for a deliciously light summertime recipe.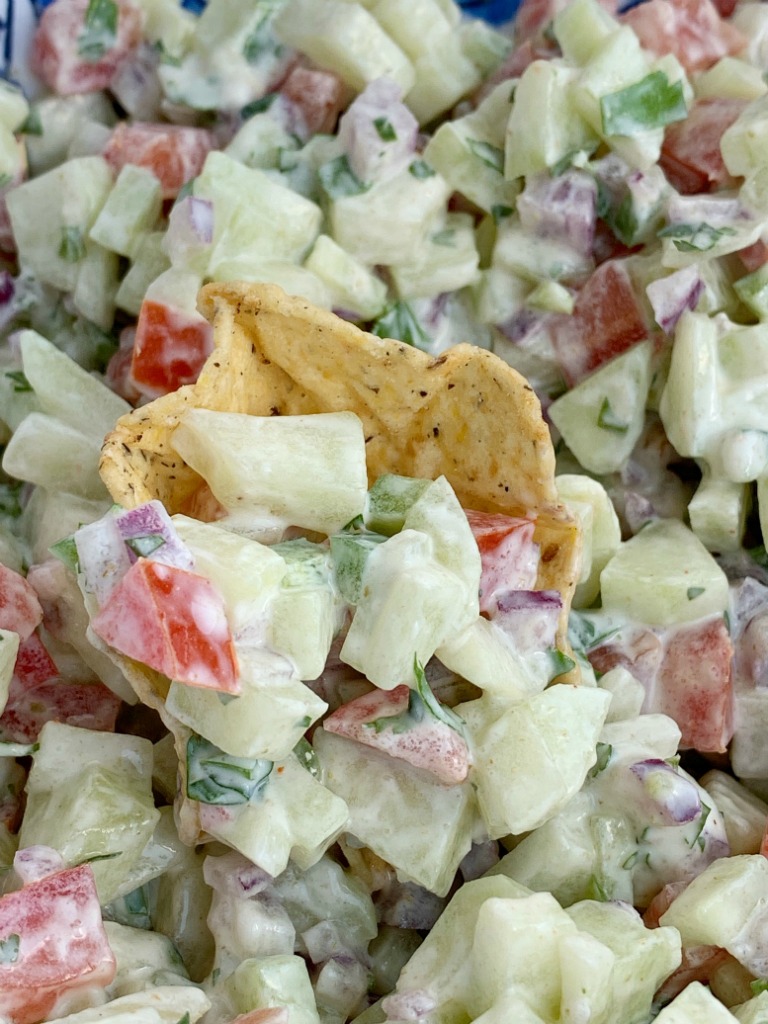 CUCUMBER SALSA
I've been making this salsa recipe for years and it's one of my very favorites!
Cucumber salsa is a unique salsa and different than most of the traditional summertime salsas. It's also a great way to use up all the zucchini and tomatoes from a garden.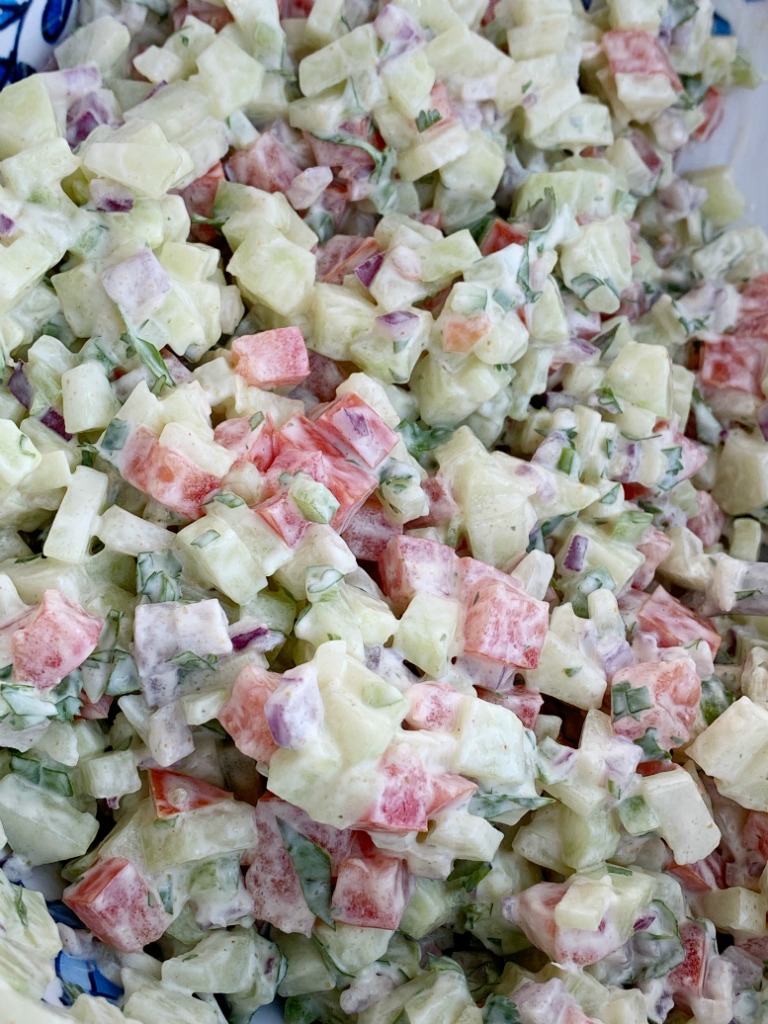 HOW TO SEED A CUCUMBER AND TOMATO
The most important part of this recipe is to seed the cucumber and the tomato before adding them into the salsa. Meaning, you want to scoop the liquid seed stuff out before cutting the cucumber/tomato into small pieces for the salsa. 
Peel the cucumber skin off and chop both ends off.
Cut the cucumber in half LENGTHWISE. You will have two long, and thin pieces of cucumber.
Take a spoon and scoop out the pulpy seed part. 
Then cut the remaining part of the cucumber into small pieces for the salsa. 
For tomatoes, it's kind of the same idea. Stand the tomato upright and then cut down on all 4 sides of the tomato. You will be left with 4 tomato wedges. Usually the seeds will just fall right out but you may have to take a spoon and gently scoop them out. 
Cut the remaining tomato into small pieces for the salsa. 
If you don't seed the cucumber and tomato the salsa will have too much liquid from all the excess water of the seeds and pulpy stuff in the veggies.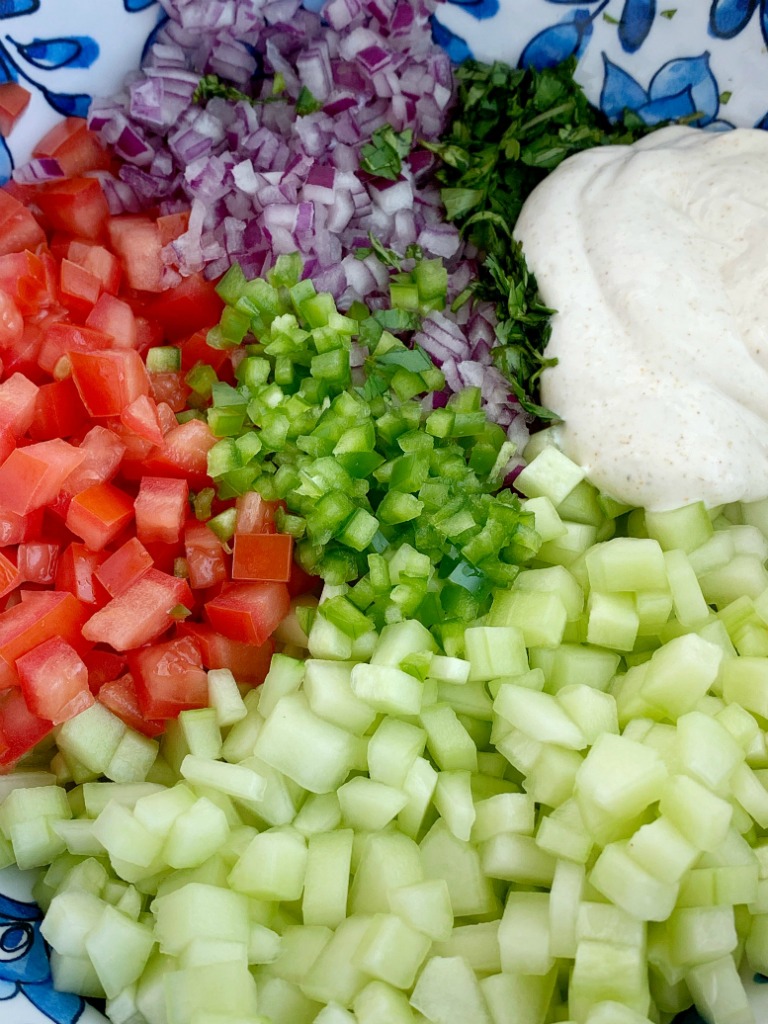 MY TIPS FOR THIS RECIPE
It's best to serve this right away. But with that said, I have eaten leftovers several hours later and it's still good. But for serving at a picnic or a party, serve right away so you avoid all the liquid that will pool up at the bottom of the dish. 
My tip for salsa recipes is to cut everything small and uniform size. No one wants huge chunks of cucumber, so try to cut everything small.
Make sure you peel the cucumber before seeding it. And make sure you're seeding the tomato and cucumber. 
I prefer the roma tomatoes in this recipe because you can easily seed them. But you could use grape tomatoes or cherry tomatoes if needed. 
Serve as a side dish with a spoon, with chips as a dip, on top of grilled meats or even on top of hot dogs. It may sound odd, but it's actually really good on top of grilled hot dogs 🙂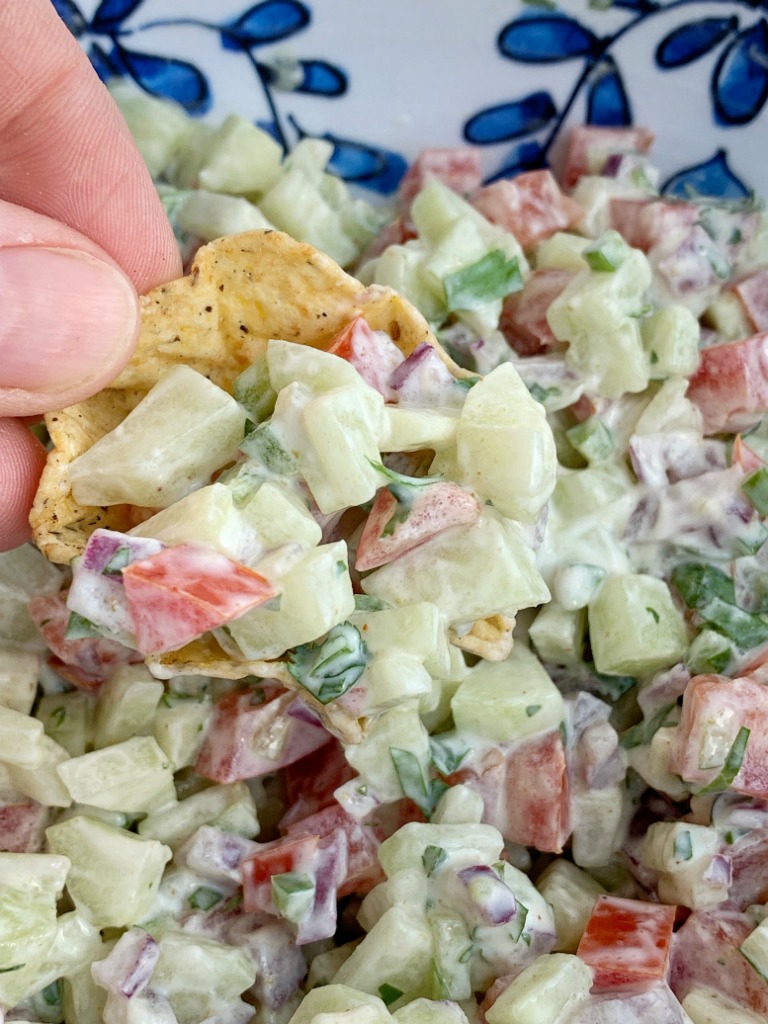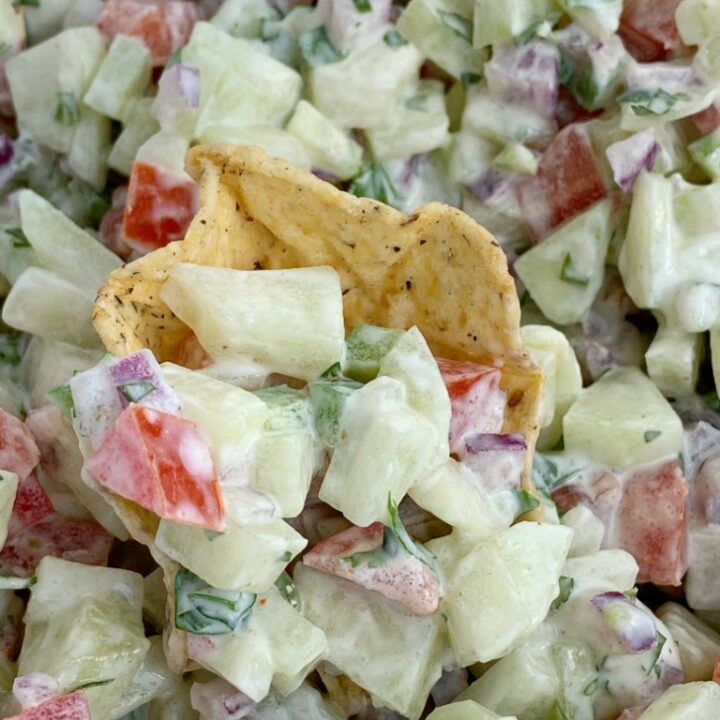 Creamy Cucumber Salsa
Ingredients
2 cups peeled, seeded chopped cucumber (2 large cucumbers)
1 cup seeded chopped roma tomatoes (2 large roma tomatoes)
1/4 cup finely chopped red onion
2 tablespoons chopped cilantro
1 jalapeno pepper, finely chopped
1/3 cup lite sour cream
1 tablespoon fresh squeezed lemon juice (1/2 a lemon)
1 tablespoon fresh squeezed lime juice (1 small lime)
1 clove garlic, minced or pressed
1/4 teaspoon seasoned salt
1/4 teaspoon cumin
Instructions
Add the cucumber, tomato, red onion, cilantro, and jalapeno into a mixing bowl. In a separate small bowl, combine the sour cream, lemon & lime juice, garlic, seasoned salt, and cumin. Stir together. Pour over the cucumber mixture and gently stir everything together.

Serve right away with chips, as a side dish, on top of grilled meats like chicken & salmon, or even hot dogs!

Leftovers are good and can be eaten, but they won't last longer than 1 day. The salsa will produce lots of liquid, so it's best to serve it right away or at least within 1 hour or so of making the salsa.
Notes
The cilantro, red onion, and jalapeno can all be increased or decreased depending on preference.    I use an entire jalapeno and the salsa is not hot at all. Just be sure you take out the seeds and the white membrane part inside the jalapeno before chopping it. If you want the heat, leave the seeds and membrane intact.    Add additional salt & pepper if you feel it needs it.   If you don't like cilantro use chopped fresh parsley in it's place. You can also add parsley to the salsa along with the other ingredients as well.    I use the refrigerated garlic paste in place of the garlic clove. 1 teaspoon of garlic paste = 1 garlic clove.
Nutrition
Calories: 20kcal
Save this recipe for later and PIN IT to PINTEREST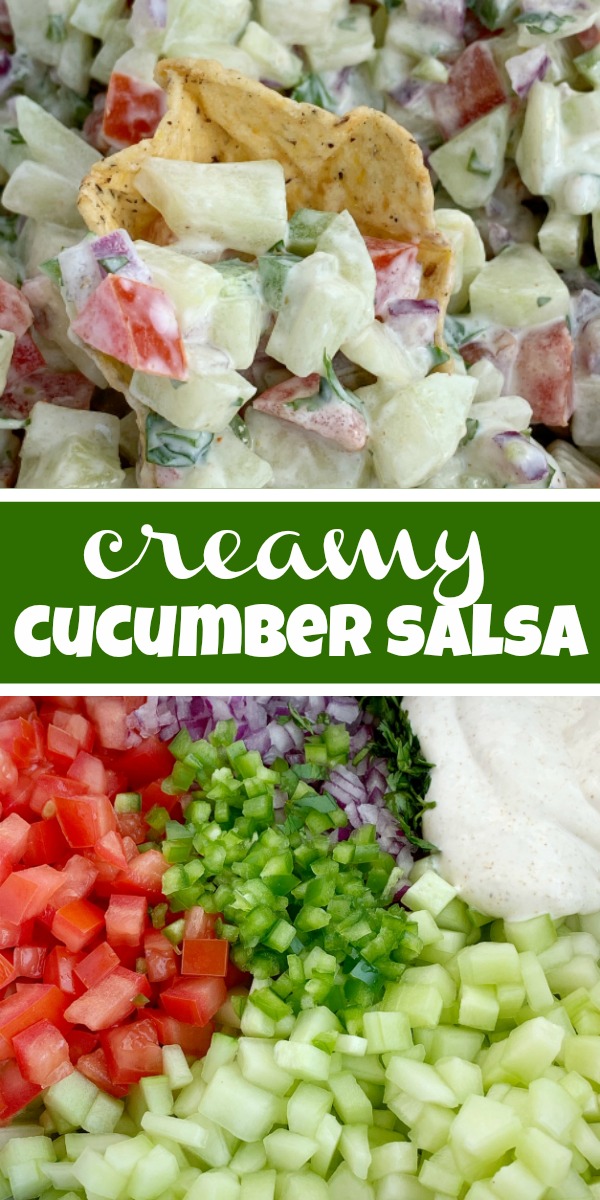 recipe adapted from taste of home