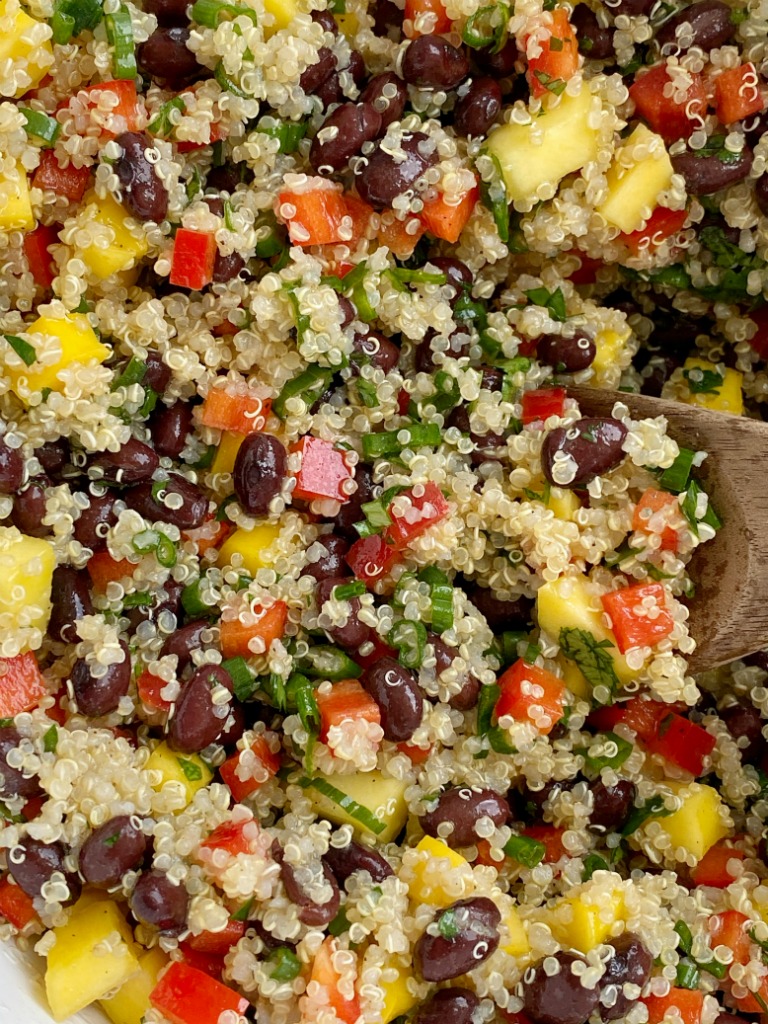 QUINOA SALAD WITH MANGO AND BLACK BEANS
This mango and black bean quinoa salad is the perfect way to get introduced to quinoa if you've never had it! Quinoa is healthy and packed with protein.
I love this quinoa salad because of the sweet mango pieces, crisp bell pepper, black beans and the homemade olive oil vinaigrette dressing. It's really simple to make too.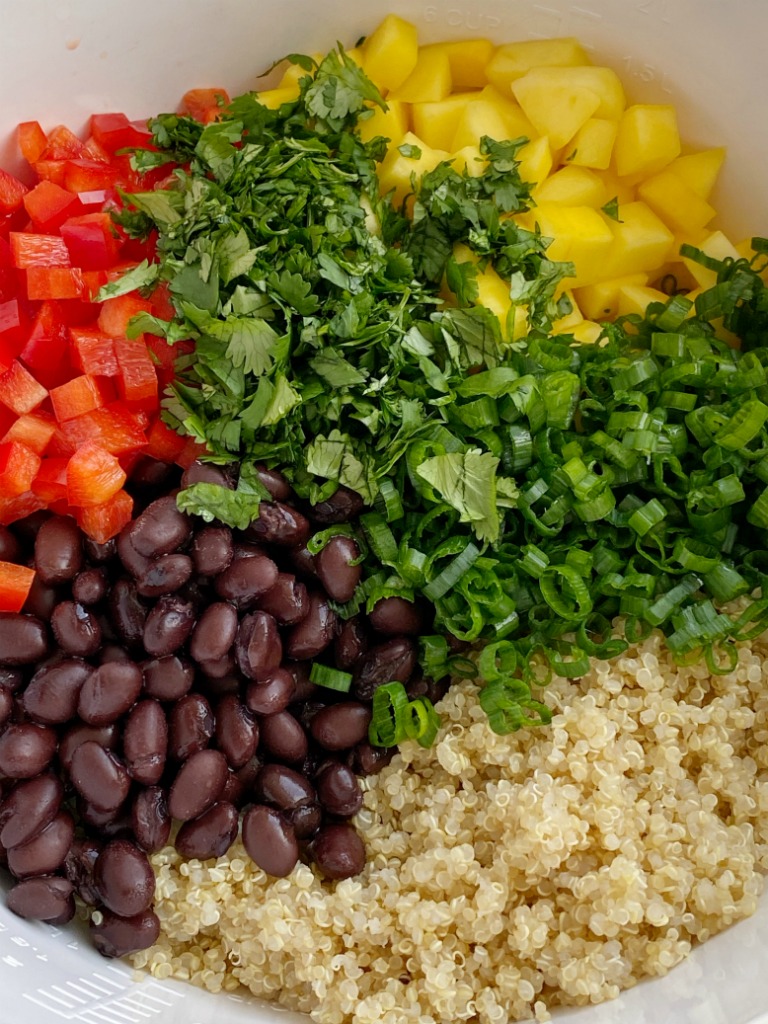 WHAT IS QUINOA?
Quinoa has more protein than any other seed or grain. It's actually a complete protein, meaning it has all the essential amino acids that our bodies can't make on their own. 
Not only is quinoa healthy, it's also a great substitute for pasta in salad recipes. Quinoa on it's own has a nutty, hearty flavor which is why I love pairing it with juicy, sweet mango, sweet bell peppers, and back beans in this salad. 
HOW TO COOK QUINOA
Quinoa cooks just like rice does. It's 1 part quinoa to 2 parts water or chicken broth. Combine the dry quinoa and water into a saucepan and bring to a boil over high heat. Once boiling, cover with lid and reduce heat to low. Let cook for 15-20 minutes. The water should all be absorbed and the quinoa should be fluffy.
The most important part is to wash the quinoa before cooking it. It comes with a soapy smelling coating on it, and you want to rinse the quinoa off under running water for at least 1 minute to get rid of that. Because it will affect the taste of the cooked quinoa.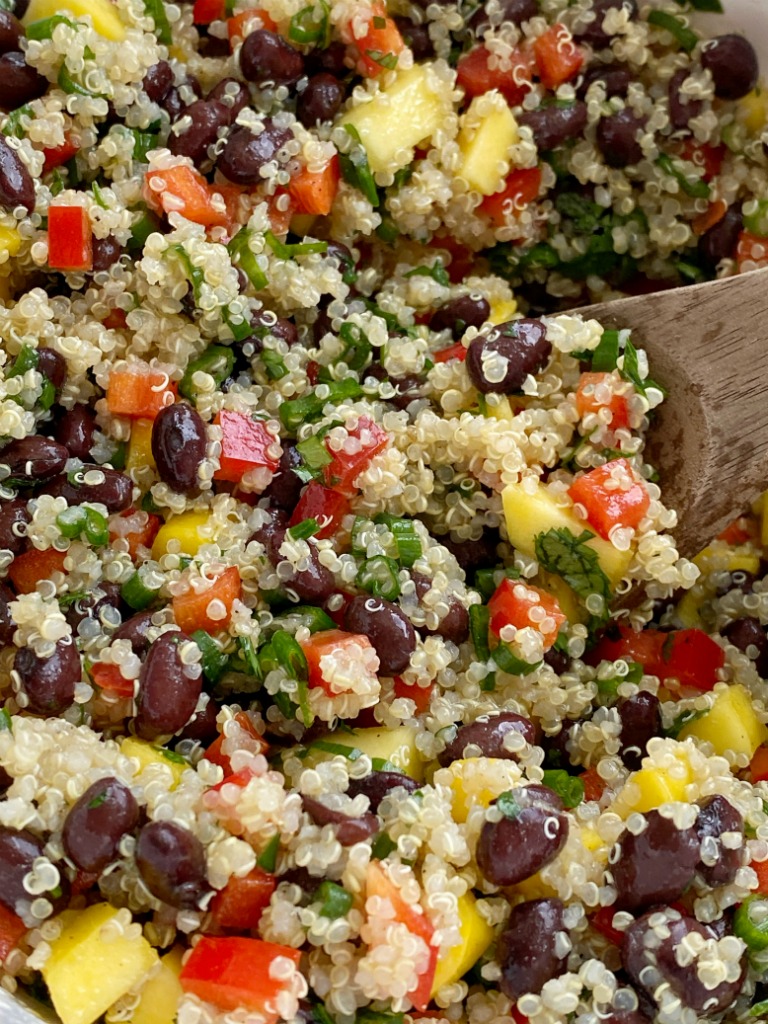 MY TIPS FOR THIS QUINOA RECIPE
Wash the dry quinoa before cooking it! This is so important. Measure the quinoa and put it into a fine mesh strainer. Run it under cold water for at least 1 minute to get all the residue, and soapy smell and coating rinsed off of it. 
This recipe calls for 2 cups cooked, cold quinoa. I cook 1 cup dry quinoa + 2 cups water or chicken broth. Cooking quinoa is 1 part quinoa to 2 parts liquid. 
For the best flavor, cook the quinoa in chicken broth or vegetable broth. 
The quinoa does need to be cold before adding it into the salad, so be sure to plan ahead!
Mango is hard to cut so my tip is to buy a container of pre-cut mango from the produce section of the grocery store. It's already cut and peeled for you, so all you have to do is chop it up.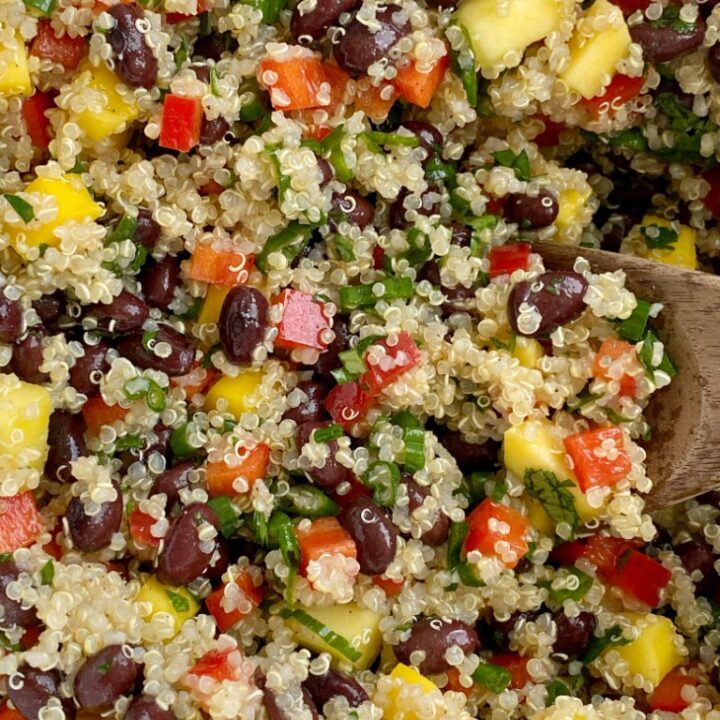 Mango Black Bean Quinoa Salad
Mango Black Bean Quinoa Salad is a light & healthy salad. Protein packed quinoa, black beans, sweet mango, crisp red peppers, green onions, and cilantro covered in an easy olive oil vinaigrette dressing. It's also great for lunch prep!
Ingredients
Quinoa Salad
2 cups cooked quinoa (at room temperature or chilled)
1 can (15 oz) black beans, drained and rinsed
1 red bell pepper, chopped small
1 cup chopped mango
1/2 cup chopped cilantro
1/4 cup thinly sliced green onions
Olive Oil Vinaigrette
4 tablespoons olive oil
3 tablespoons red wine OR white wine vinegar (can also use rice wine vinegar)
2 tablespoons fresh lime juice (1 large lime)
1/2 teaspoon salt
1/4 teaspoon ground black pepper
Instructions
In a large bowl, add the cooked quinoa, black beans, red pepper, mango, cilantro, and green onions. Stir together.

In smaller bowl, whisk together all the vinaigrette ingredients. Pour over the salad and mix well.

For best taste, let refrigerate for at least 2 hours before serving.
Notes
For an easy way to cut mango: I peel the skin with a vegetable peeler and then slice down (with the mango vertical) on both sides. The middle of a mango is rough and hard, so you want to only cut the sides. It's just like an apple when you cut around the core, the mango is similar to that.   For 2 cups cooked quinoa: Add 1 cup quinoa + 2 cups liquid into a sauce pan. Bring to a boil, cover with lid, and reduce heat to low. Cook 15-20 minutes until all liquid is absorbed and quinoa is fluffy. 
Nutrition
Calories: 179kcal | Carbohydrates: 22g | Protein: 5g | Fat: 8g | Saturated Fat: 1g | Sodium: 151mg | Potassium: 270mg | Fiber: 5g | Sugar: 4g | Vitamin A: 788IU | Vitamin C: 28mg | Calcium: 21mg | Iron: 2mg
TRY THESE OTHER QUINOA RECIPES
recipe adapted from Mel's Kitchen Café