These Cake Mix Sugar Cookies are easy to make with only 5 ingredients and there is no rolling or cutting out shapes involved. Thick, chewy, soft-baked, and puffy sugar cookies can be decorated with any color frosting for any Holiday with coordinating sprinkles. 
For more cake mix cookie recipes be sure and make my Peanut Butter Chocolate Cake Mix Cookies or these Toffee Cake Mix Cookies.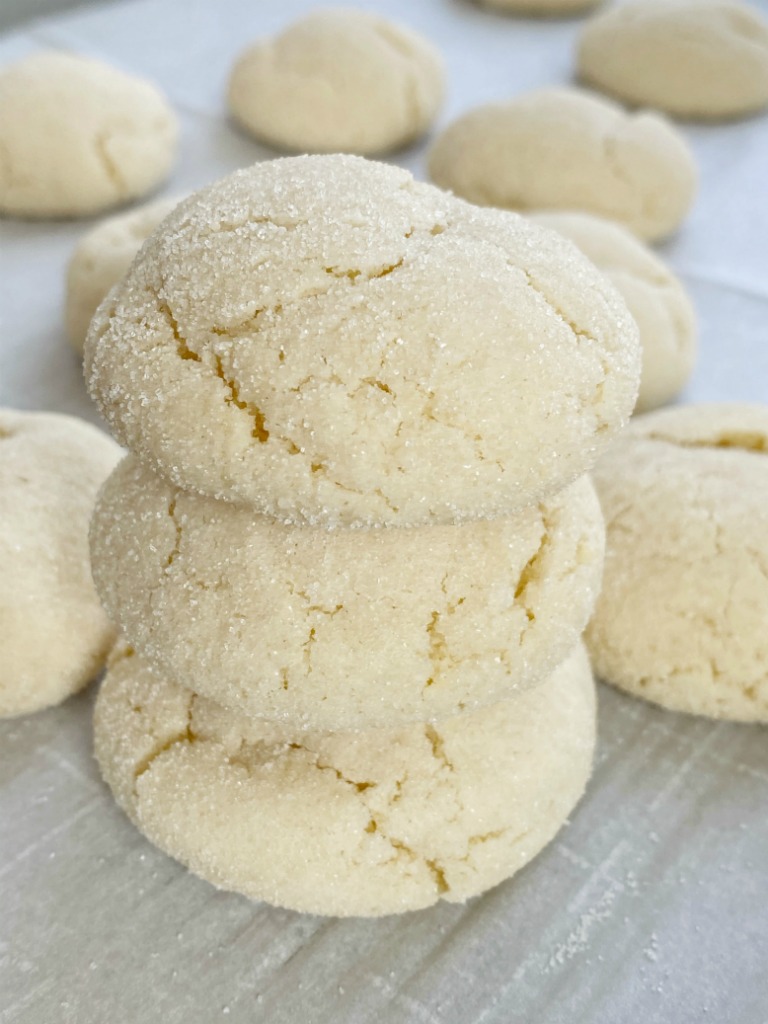 Cake Mix Sugar Cookies Recipe
If you're anything like me you love sugar cookies but can't stand the idea of spending a couple of hours rolling the dough out, cutting shapes, and then repeating that a few more times.
Which is why I love these no roll cake mix sugar cookies. Only 5 ingredients. One bowl. And it takes just minutes to make them!
Change up the frosting color for any Holiday or event. These sweet sugar cookies are soft-baked, thick, puffy, and so chewy! They are a guaranteed hit. 
Ingredients Needed for No Roll Sugar Cookies with a Cake Mix
White Cake Mix or Vanilla Cake Mix : I have made these cookies using a white cake mix and a vanilla. I slightly prefer the vanilla cake mix over the white cake mix (to me it is not as sweet as white cake mix), but either one will work just fine. It is the standard sized cake mix box.
Large Eggs
All-Purpose Flour : The added flour makes the cookies puffy and thick. Helps them to not bake up so flat and thin. 
Oil : Use vegetable or canola oil. You could probably also use olive oil but I would suggest using extra-virgin olive oil as the olive taste is very light almost non-existent. I have only ever used canola oil when I make these cookies. 
Sour Cream : For the best results use the real, full-fat sour cream. 
Granulated Sugar : This is not an ingredient that goes into the cookies. You simply roll the sugar cookie dough balls in the sugar. It gives the cookies a nice sweet crunch on the outside and makes them look really pretty too. 
I have included an easy & simple frosting recipe but feel free to frost these with any frosting you love. Or leave them plain. You could even dip the dough balls in sprinkles before baking if you still want sprinkles but not the frosting.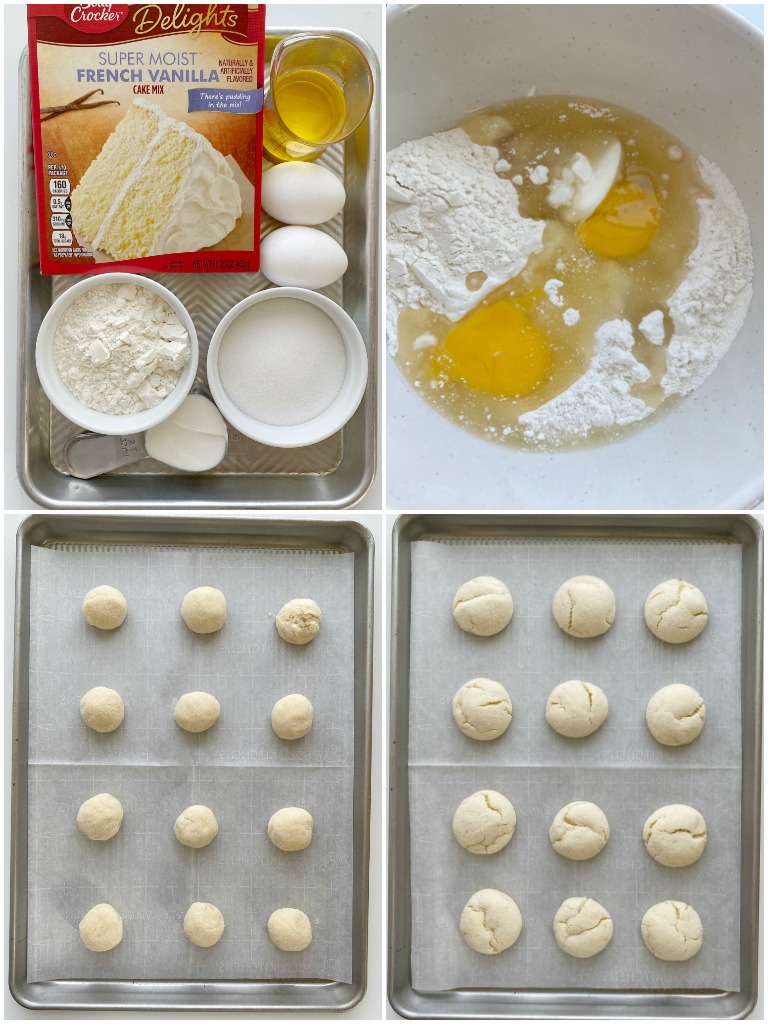 Recipe Tips
Here are a few of my helpful tips so that you can have success recreating this recipe in your own kitchen ♥
Dough Balls : It's important to take the time to roll the dough into balls before placing them on the cookie sheet. Don't just scoop and dump onto the cookie sheet. When you roll the dough into a ball it helps the cookie bake in an even shape so you end up with perfect looking round cookies. 
Cake Mix Tip : DO NOT prepare the cake mix before adding it into the bowl. You just want to dump the dry contents from the box into the mixing bowl. 
Frosted Cookies : Keep the cookies unfrosted or frost them! Either way is delicious.  
Sweetness Tip : These cookies are sweet! I always get comments saying that these were way too sweet. Well, yes of course they are, it is a cake mix and it's a sugar cookie. With that said, they are delicious and yummy, and I know for sure kids will just love them. And they're easy enough that a kid could make them.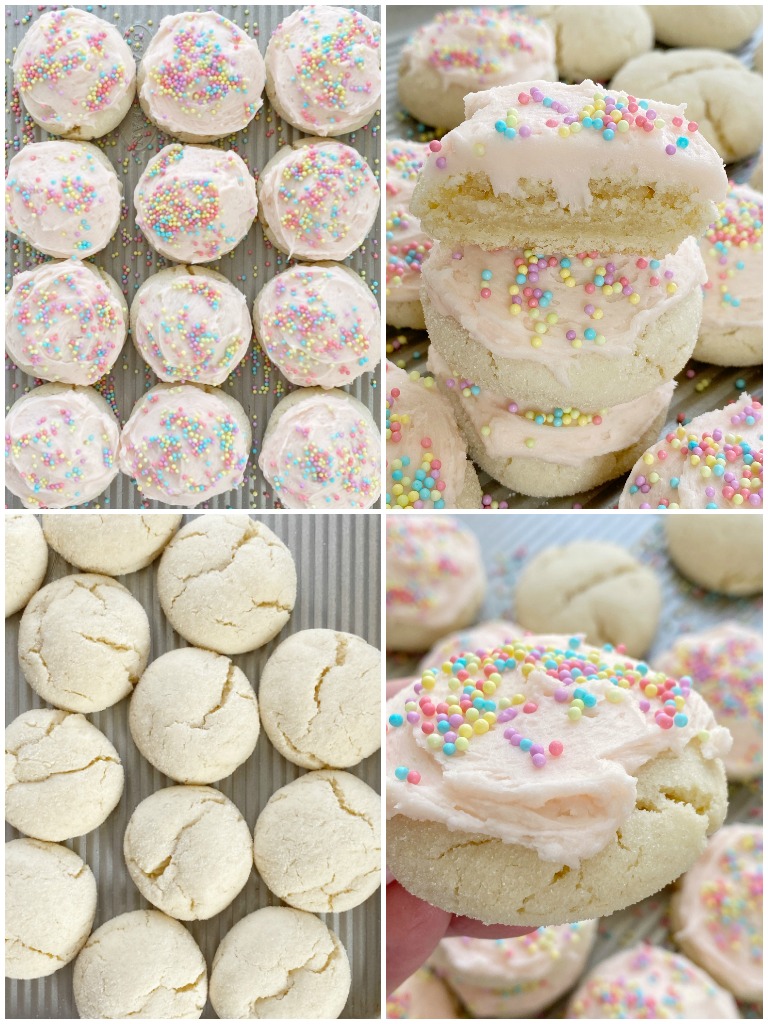 Cake Mix Sugar Cookies FAQ's
How To Store Leftovers

Store any leftovers covered well, or in an airtight container, at room temperature for 3-4 days. 
If you have frosted sugar cookies with a cream cheese frosting, you may want to store them in fridge. If the frosting is just buttercream then storing them at room temperature is just fine. 

Can I Freeze Sugar Cookies?

Yes! You can either freeze the dough balls (unbaked and rolled in sugar) or freeze the cooked and completely cooled cookies in the freezer. 
I have never tried freezing these cookies with the frosting on but I think it would be just fine. 
I recommend freeze each cookie individually wrapped in plastic wrap, and then place the wrapped cookies inside a larger freezer-safe Ziploc bag. 

Variations & Substitution Ideas

Cake Mix : You can use any cake mix you want in this recipe. For the classic sugar cookie it's best to stick with a white cake mix or a vanilla cake mix. 
Frosting & Sprinkles : Use any color of gel food coloring and any design of sprinkles that you want! These are great to make for parties and all the Holidays by simply switching out the color of frosting and the sprinkles. 
Almond Extract : Although I highly recommend using the almond extract you can swap it out for vanilla extract instead if wanted. 

Decorating Ideas

Christmas : Use green or red gel food coloring for the frosting, or leave it white. Use Christmas themed sprinkles, Christmas colors of mini m&m's to decorate, or any other small red & green colored candies. 
Valentine's Day : The light pink frosting is the perfect color for Valentine's Day along with heart shaped sprinkles on top. 
4th of July : Keep the frosting white and decorate with red, white, & blue sprinkle or m&m's. 
Halloween : So fun for this Holiday! Dye the frosting orange and use some Halloween themed sprinkles for the top. 
Leave Them Plain : These sugar cookies are also really good plain with no frosting on them!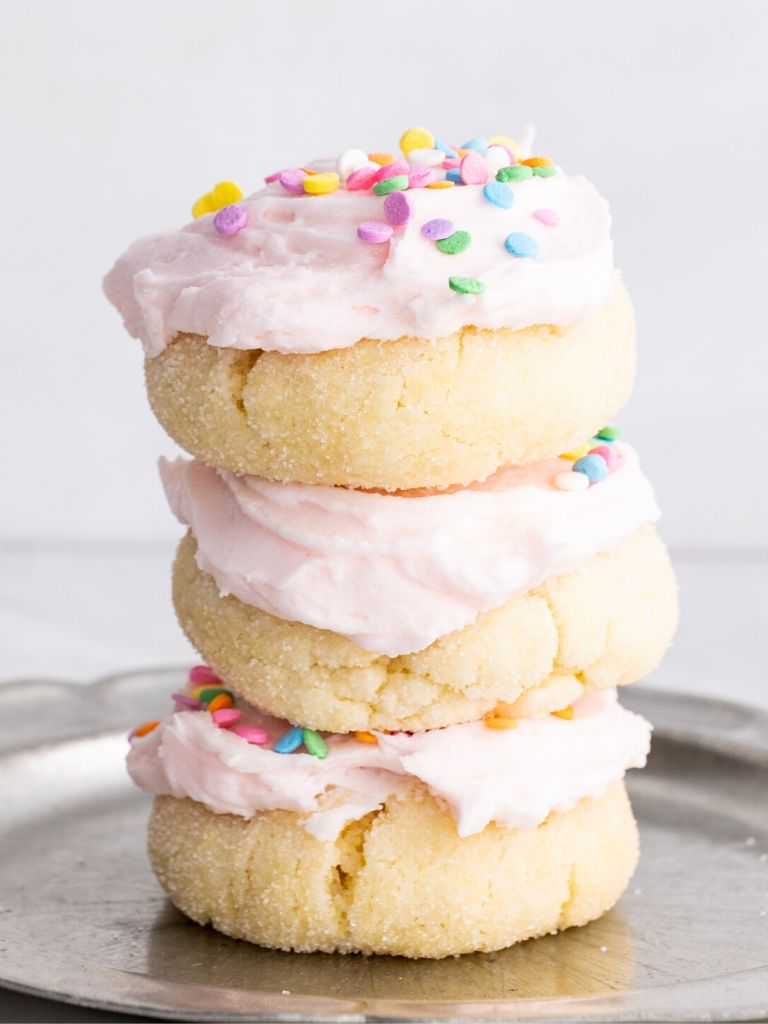 You'll Love These Other Sugar Cookie Recipes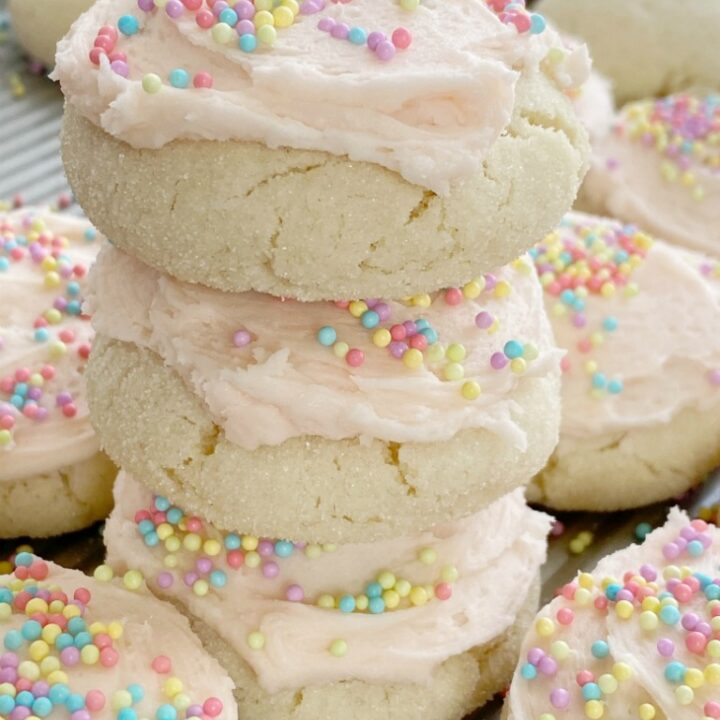 Cake Mix Sugar Cookies
Cake Mix Sugar Cookies are only 5 ingredients, require no rolling and no chilling time, and mix up in just one bowl! Super soft-baked, thick, chewy sugar cookies made so easy with a cake mix. Change up the frosting color and sprinkles for any event or Holiday.
Ingredients
1 box (15.25 oz) white cake mix OR vanilla cake mix (DO NOT prepare according to package directions)
2 large eggs
⅔ cup all-purpose flour
⅓ cup canola or vegetable oil
2 tablespoons sour cream
⅓ cup granulated sugar (for rolling the cookies in)
Frosting
8 tablespoons (1 stick) butter softened
3 cups powdered sugar
¼ cup heavy cream
¼ teaspoon almond extract
Instructions
Heat oven to 350° F. Prepare a cookie sheet by spraying with cooking spray, lining with parchment paper, or using a silpat liner.

Sift the cake mix by placing a sifter over a large mixing bowl. * If you do not have a sifter then you can dump the cake mix into the mixing bowl you are using and stir it well with a wire whisk to break up the clumps.

In a mixing bowl with a handheld mixer, or use a stand mixer with the paddle attachment, combine the sifted cake mix, eggs, all-purpose flour, oil, and sour cream. Beat together for 1-2 minutes or until it's well combined. *Make sure to scrape the sides and bottom of the bowl as needed, to ensure that everything gets mixed together.

Put the granulated sugar into a small bowl.

Use a cookie scoop (I use a #50 from the brand OXO), or grab about 2 tablespoons of dough, and roll into a ball. Roll the dough ball in the sugar coating all sides. Place it on the cookie sheet. Repeat until you have 12 cookies per cookie sheet.

Bake for 8-12 minutes. Cookies should look puffy, thick, and still be very pale in color. If the cookies are golden brown at all then they are overcooked.

Let cool on the cookie sheet for about 15-20 minutes before moving them to a cooling rack to cool completely. Once cookies are completely cooled you can frost them if wanted.

Leftover cookies will keep well at room temperature, in an air-tight container, for several days. These cookies can be made ahead of time too. Frost them right before you serve them.
Frosting
Beat the butter in a mixing bowl until it's creamy (this should only take a few seconds if the butter is well softened). Add the powdered sugar, heavy cream, and almond extract. Beat until thick and it forms frosting. * At first the mixture will seem powdery but keep beating it and after 1-2 minutes it will form into a thick frosting. ** If you use anything else besides heavy cream start at 1 tablespoon and work from there. Heavy cream has a much higher fat content so you will need more if it. If you use low-fat milk then you may only need about 1 tablespoon. *** You can also add food coloring to the frosting with the other ingredients. It's best to use the gel food coloring as it's thicker. The liquid food coloring can thin out frosting slightly so be careful not to use too much.
Nutrition
Calories: 240kcal | Carbohydrates: 38g | Protein: 2g | Fat: 9g | Saturated Fat: 6g | Cholesterol: 30mg | Sodium: 193mg | Potassium: 25mg | Fiber: 1g | Sugar: 27g | Vitamin A: 188IU | Calcium: 54mg | Iron: 1mg