Sugar Cookie Bars are thick, soft-baked and topped with the best cream cheese frosting! Sugar cookie bars bake in a cookie sheet so there is plenty serve a crowd. Change up the frosting color and sprinkles for any event or Holiday.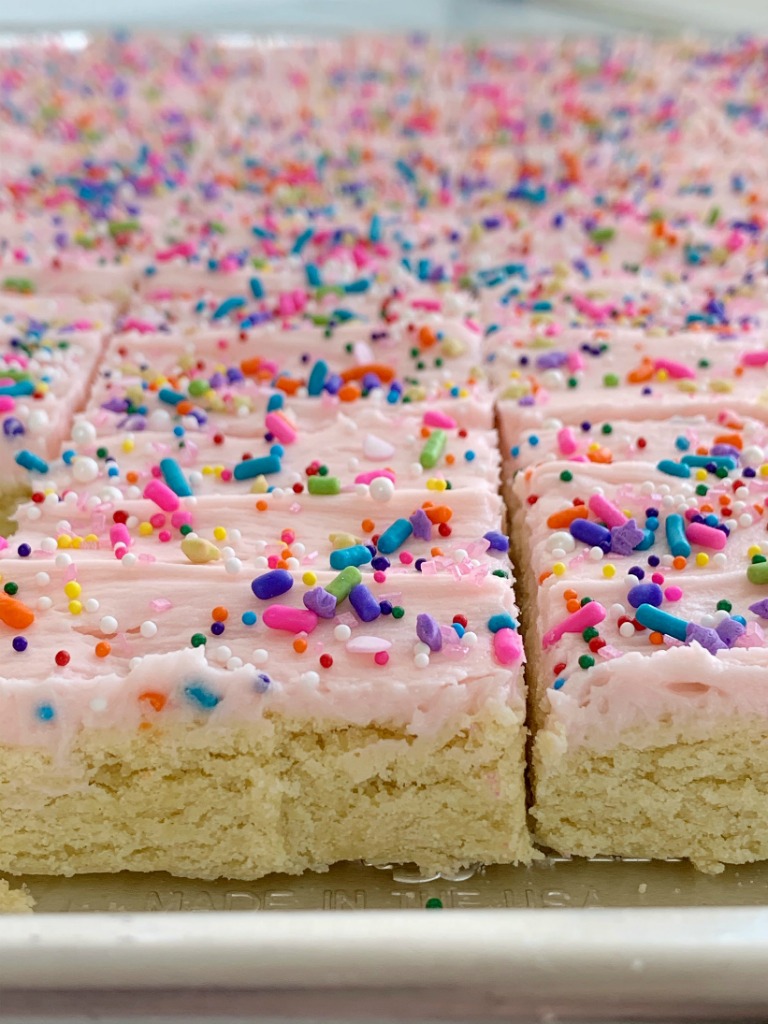 SUGAR COOKIE BARS WITH CREAM CHEESE FROSTING
Some of you may recognize this recipe for sugar cookie bars! I first posted them years ago and figured it was about time they got an update. 
These are our favorite thing ever! I know I probably say that about everything but for real, these sugar cookie bars are downright amazing and completely irresistible. They bake up so thick and fluffy, super soft-baked, and they have the most amazing flavor with that cream cheese frosting.
The "secret ingredient" for the most amazing frosting on sugar cookies is almond extract! If you have not tried almond extract in a sugar cookie recipe then be sure and do it because it takes these bars  to the next level in terms of taste.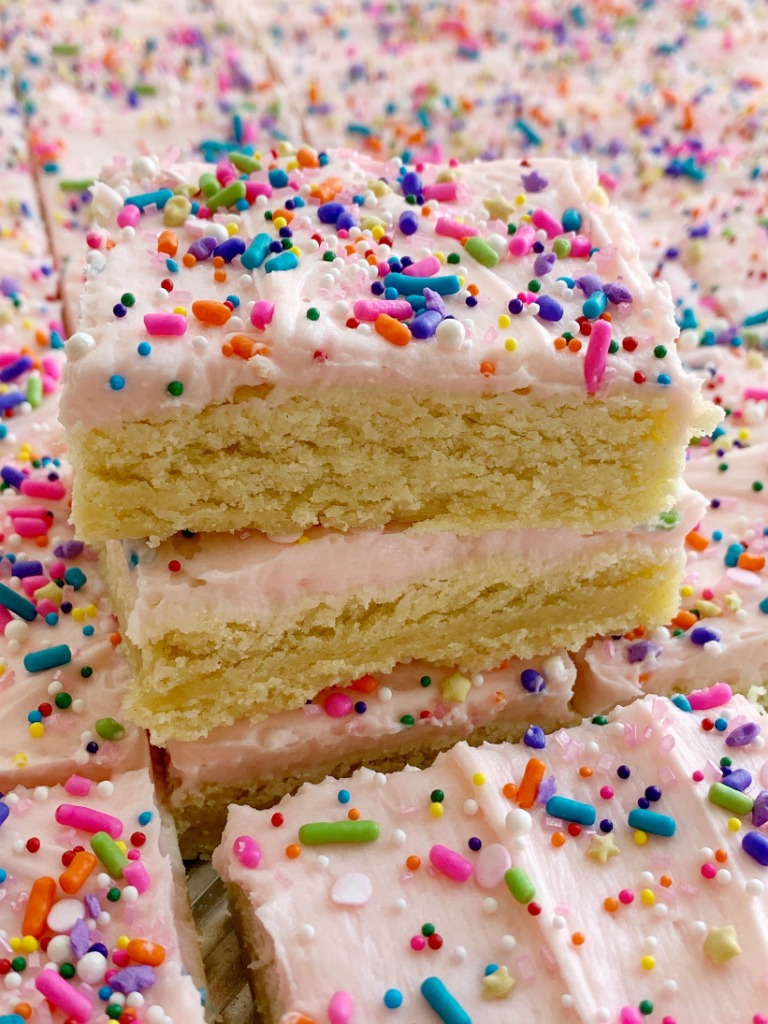 WHAT INGREDIENTS DO I NEED TO MAKE SUGAR COOKIE BARS IN A SHEET PAN?
Salted Butter
Granulated Sugar
Large Eggs
Vanilla Extract
All-Purpose Flour
Baking Soda
Salt
Cream Cheese
Powdered Sugar
Heavy Cream
Sprinkles
Almond Extract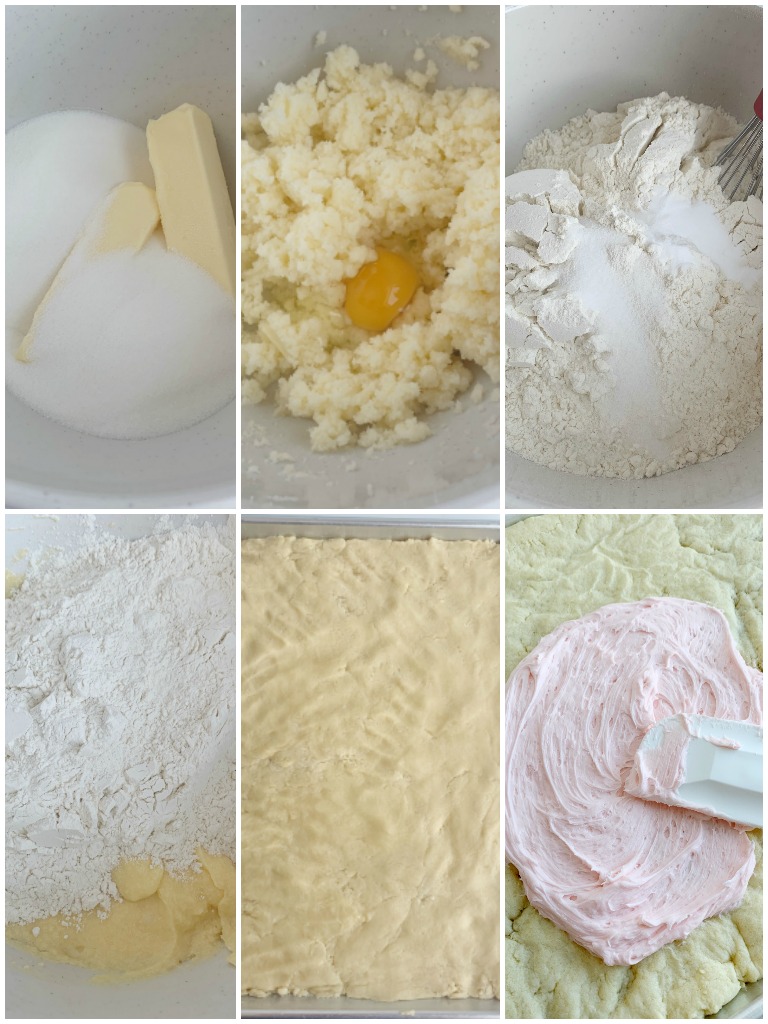 HOW TO MAKE SUGAR COOKIE BARS
Start by creaming butter and sugar together in a mixing bowl. You want to beat it for 2-3 minutes. At first the dough will be dry and crumbly but as you blend it more and more it will get softer and creamier. This is what you want so be sure and beat it for 2-3 minutes. 
Add eggs, one at a time, and beating after each egg. Add vanilla extract. 
In a separate bowl, whisk together the dry ingredients and then add it into the butter mixture. Blend on low speed just until combined. 
Spread the dough into the pan. It might be crumbly but it should still form into the pan as you press it down. 
Bake and then let cool completely before frosting. 
Frost the bars with whatever color frosting you want and sprinkles too! You can change up the color and frostings for whatever event and/or Holiday.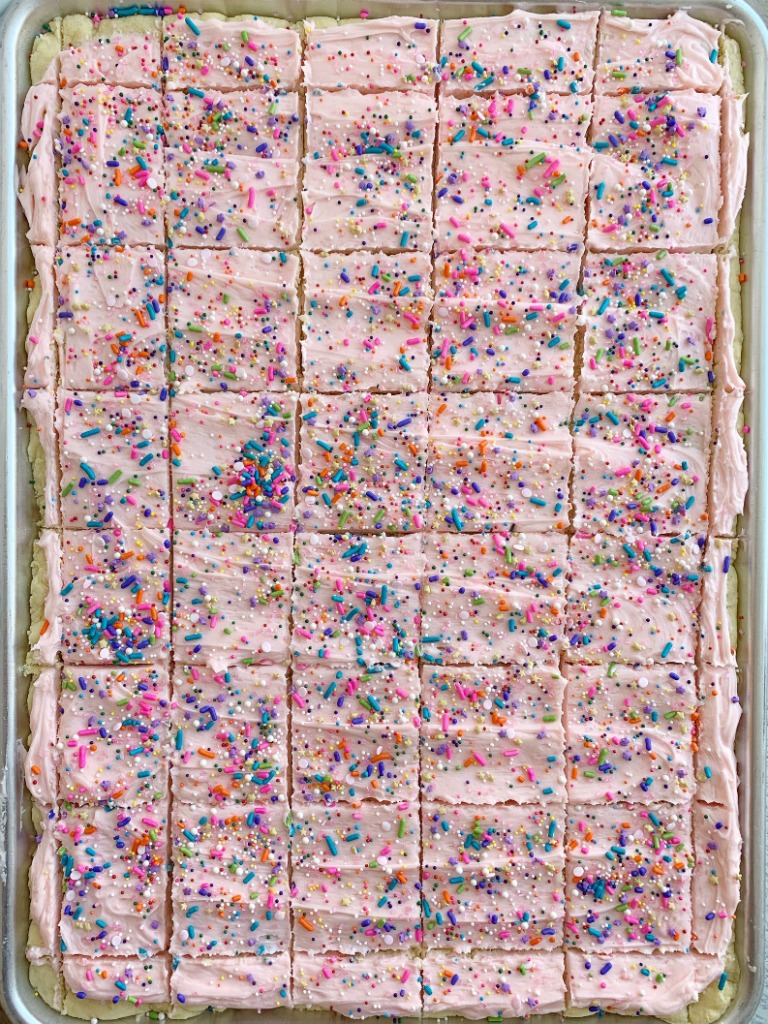 HELFUL TIPS TO MAKE THIS RECIPE
Does the frosting harden?

I get asked all the time if the frosting hardens enough so they can be stacked on top of each other. Yes it does! You just want to make sure that when you're making the frosting that you don't add too much heavy cream to it. You want a very thick, barely spreadable frosting to ensure that you don't have a wet and thin frosting. The frosting does not get hard, but it sets up nicely and you can stack the cookie bars or package them up. 

My dough seems crumbly and dry?

Some people have said that the dough is crumbly. It's not a wet dough so yes it will be drier but it should be still be easy to press it into the pan for baking. I have made these bars when we lived at low altitude (Maryland) and now when we live at high altitude (Utah) and the 5 cups of flour has worked in both locations. 
Make sure you are not packing down the flour into the measuring cup. You should just lightly scoop the flour and then use a table knife to even out the top so the excess flour falls back into the bag or container. 

Should I use salted butter or unsalted butter?

The recipe has been tested with salted butter. For best results use salted butter in this sugar cookie bar recipe. 
If you use unsalted butter then increase the salt to 1 teaspoon. 
Some people have said that these sugar cookie bars 'don't taste like anything' and chances are that unsalted butter was used. Salted butter has so much more flavor to it and it makes baked goods taste better so it's what I always use. 
These bars are so fun to make for any Holiday or gathering. We love making these for any Holiday like Valentine's Day with pink frosting and heart sprinkles. Or at Halloween with these fun candy corn sugar cookie bars. They're even great for a summer get together or BBQ with some bright rainbow sprinkles on top.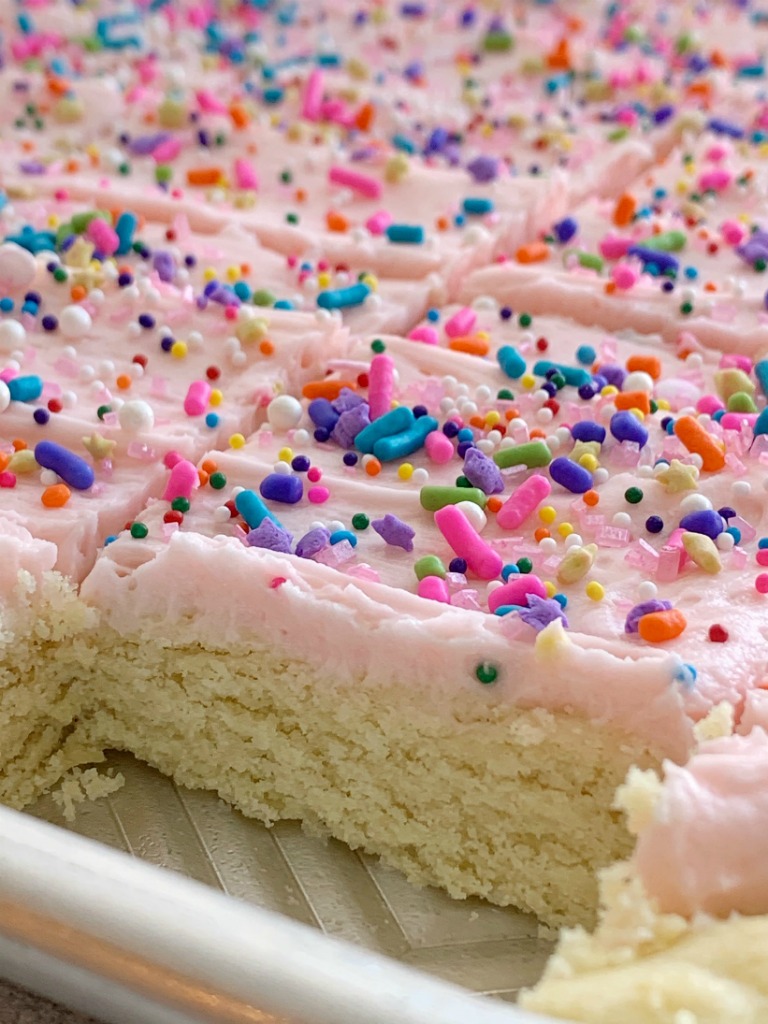 TRY THESE OTHE BAR RECIPES
Oatmeal Chocolate Chip Peanut Butter Bars – Oatmeal, peanut butter, peanut butter chips, and chocolate chips make these bars one of our favorites. 
Sheet Pan No Flour Monster Cookie Bars – One of the most popular recipes on my site. Soft, thick, chewy bars loaded with all the good stuff and no flour!
Monster Cookie Bars – Made in a 9×13 baking dish so it's a smaller batch.
Chocolate Chip Banana Bars – The best way to use up browned bananas. Banana bars with milk chocolate chips and yogurt in the recipe. 
Sheet Pan Carrot Cake Bars – The best carrot cake with a surprising ingredient… carrot baby food! Trust me it works and it's delicious.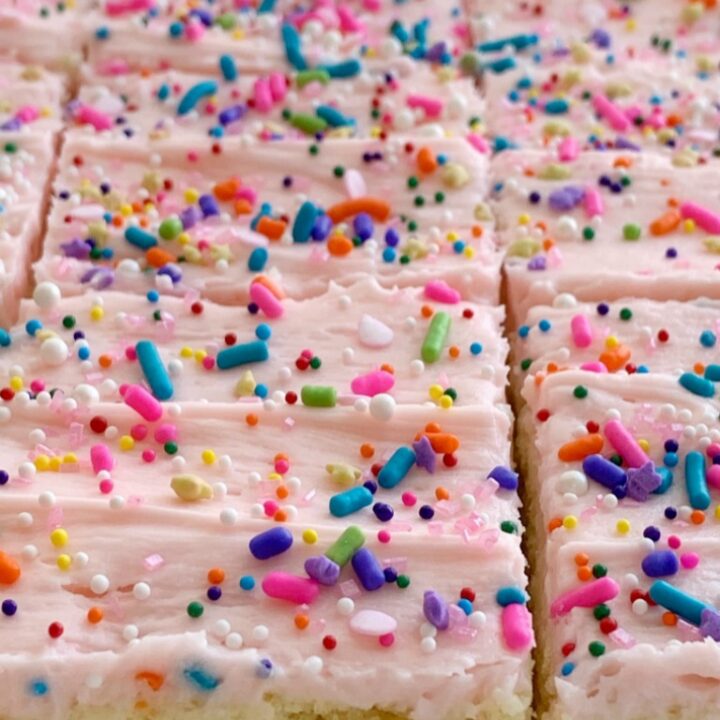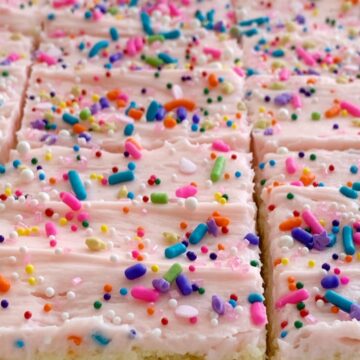 Sugar Cookie Bars
Sugar Cookie Bars are thick, soft-baked and topped with the best cream cheese frosting! Sugar cookie bars bake in a cookie sheet so there is plenty serve a crowd. Change up the frosting color and sprinkles for any event or Holiday.
Ingredients
sugar cookie bars
1 cup (2 sticks) salted butter softened
2 cups granulated sugar
4 large eggs
2 teaspoons vanilla extract
5 cups all-purpose flour
½ teaspoon table salt
½ teaspoon baking soda
cream cheese frosting
1/2 cup (1 stick) butter softened
4 oz cream cheese softened
½ teaspoon almond extract
½ teaspoon vanilla extract
4 cups powdered sugar
2 tablespoons heavy cream
food coloring & sprinkles (if wanted, optional)
Instructions
Heat oven to 350 degrees. Prepare a cookie sheet (12"x17" or 13"x18") by spraying with cooking spray.

In the bowl of a stand mixer, or using a hand held mixer, cream butter and sugar until light & fluffy. This will take 2-3 minutes. It will look dry and crumbly at first but then come together and get creamy after a couple minutes.

Add eggs, one at a time, mixing after each egg. Add vanilla and mix well.

In a separate bowl combine flour, salt, baking soda and stir with a whisk to combine. Add to the wet mixture and mix just until combined. Spread onto the prepared cookie sheet. * The dough should spread easily but if needed, drop large spoonful's of it all over the cookie sheet and then spread it out that way.

Bake for 13-16 min, until edges are just barely light golden brown and the center looks pale & puffy. The center should not look wet at all, but it should still be very pale. Mine usually take the full 15 minutes. Let cool completely in the pan before frosting.
Cream Cheese Frosting
Blend together the butter and cream cheese until smooth and creamy. Add vanilla and almond extracts and beat together until combined.

Add powdered sugar and heavy cream and blend on low speed (to avoid powdered sugar going everywhere) and eventually increase the speed as needed. Spread over cooled cookie bars.* I have never used more than 2 tablespoons heavy cream. You want the frosting as thick as possible but still spreadable. I have found that 2 tablespoons is perfect. If you use a lower fat milk you will need much less milk so start at 1 tablespoon with any milk besides heavy cream.
Notes
I store leftovers at room temperature on a covered plate. You can put them in the fridge but I feel like they get kind of "gummy" when they are really cold. I know there is cream cheese in the frosting but I've never had trouble with storing them at room temperature.  If you don't like almond extract just substitute with additional vanilla extract. The almond extract is amazing in these bars so try it! If you use unsalted butter increase the salt to 1 teaspoon. 
Nutrition
Calories: 224kcal | Carbohydrates: 34g | Protein: 2g | Fat: 9g | Saturated Fat: 5g | Cholesterol: 41mg | Sodium: 150mg | Potassium: 29mg | Fiber: 1g | Sugar: 22g | Vitamin A: 289IU | Calcium: 10mg | Iron: 1mg