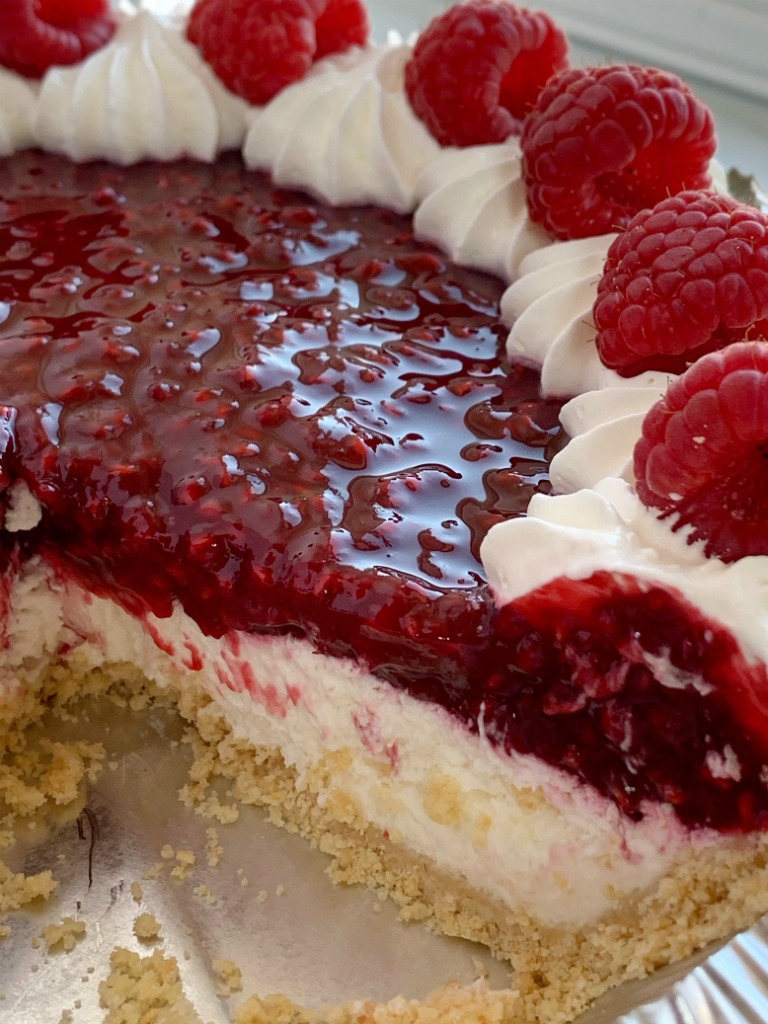 RASPBERRY CREAM PIE RECIPE
This raspberry cream pie has been a long time in the making. After remaking this recipe several times to get it just right, I am so glad to finally share it with you all because it's one of my personal favorites. 
The recipe is simple with simple ingredients but this pie does need lots of refrigeration time for the layers to thicken. Please read through the recipe so you can plan ahead.
But because it's a make-ahead pie it's perfect for gatherings and Thanksgiving! I love having this sweet, tart, and creamy pie at my own Thanksgiving dessert table.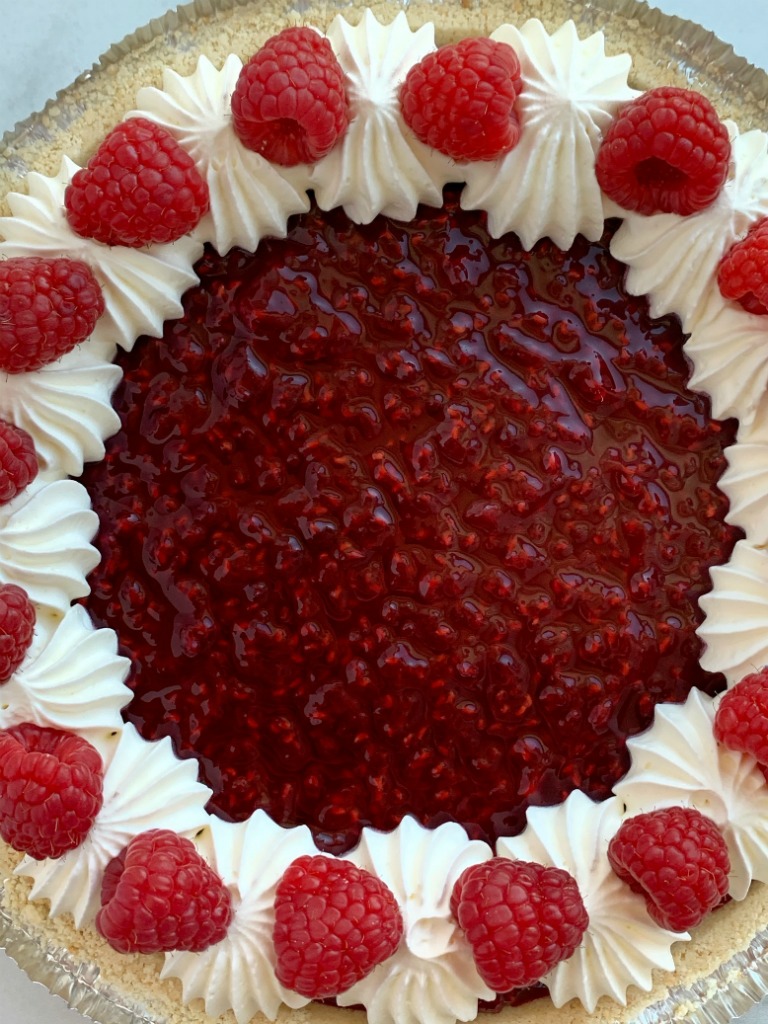 RASPBERRY CREAM CHEESE PIE WITH FROZEN BERRIES
Graham Cracker or Shortbread Ready-to-Use Crust – You will find these store-bought cracker crusts in the baking aisle. I prefer the shortbread cookie crust but not all stores carry it. Graham Cracker crust works just as well and can be found most anywhere. 
Cream Cheese – You will only need 1/2 of an 8 oz bar for this recipe. Not the full bar of cream cheese. 
Powdered Sugar – Used as a sweetener for the no bake cheesecake layer.
Vanilla Extract
Heavy Whipping Cream – Please do not try to substitute this with Cool Whip. You will need 1/2 cup heavy whipping cream that has been beaten in a bowl until stiff peaks form. 
Granulated Sugar
Cornstarch & Water – This is what thickens the raspberry layer.
Frozen Raspberries – Easy and convenient and they're ready to use year round. Fresh raspberries always go bad very quickly so I prefer to use frozen raspberries.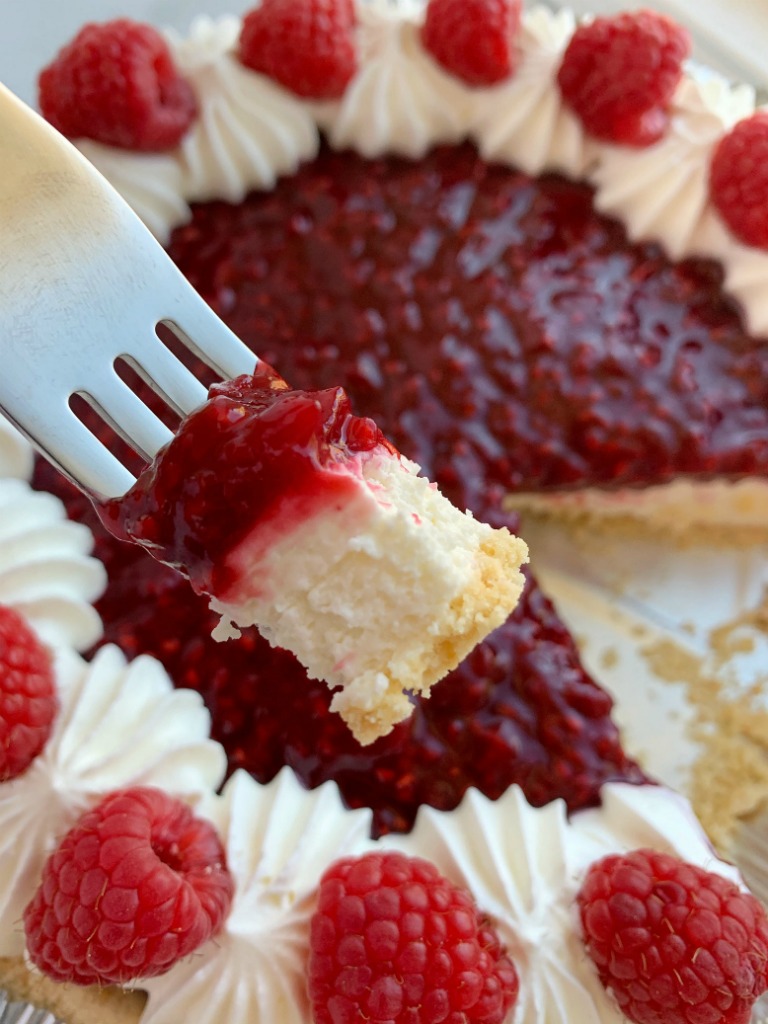 MY HELPFUL TIPS FOR THIS PIE RECIPE
Each layer is simple to make but each layer needs refrigeration time in order for it to thicken and set up. Read through the recipe before beginning so you are prepared for the refrigeration times between each layer. 
You can switch out the frozen berries for fresh if you prefer. 
For best thickness, texture, and taste use the real, full-fat cream cheese. 
If wanted, substitute the store-bought crust with your own homemade graham cracker crust. Make sure the crust is for a 9-inch pie and that it is baked and cooled. 
Because of the dairy in this recipe I would recommend not freezing this pie.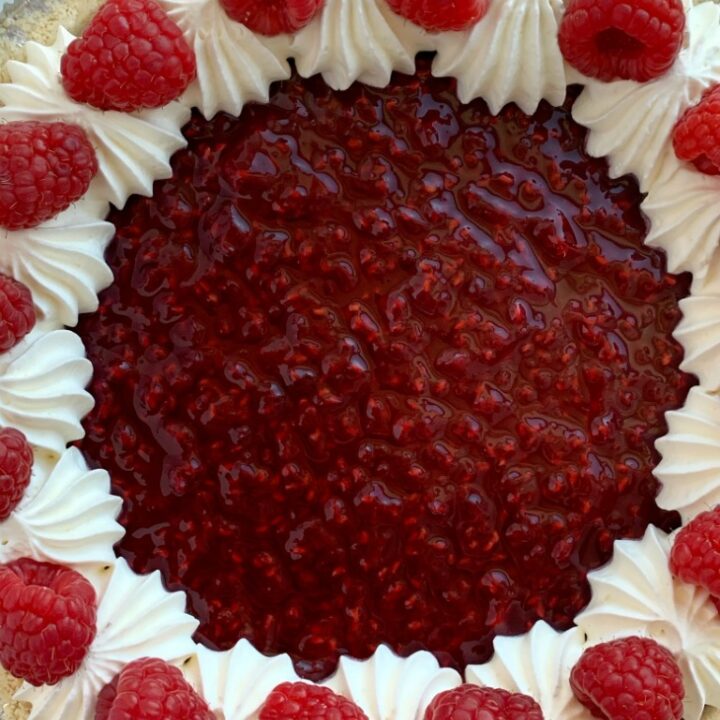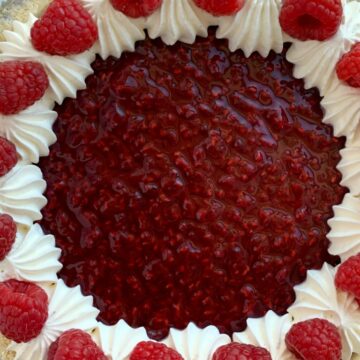 Raspberry Cream Pie
Raspberry Cream Pie has a sweet, cheesecake layer topped by a fresh raspberry layer inside an easy and convenient store-bought graham cracker crust!
Ingredients
1 (6 oz) ready-to-use Graham Cracker or Shortbread Crust
Cheesecake Layer
4 oz cream cheese, softened
1/3 cup powdered sugar
1/2 teaspoon vanilla extract
1/2 cup heavy whipping cream
Raspberry Layer
3 tablespoons water
3 tablespoons cornstarch
1 cup granulated sugar
1 bag (12 oz) frozen raspberries
additional whipped cream & fresh raspberries for garnish
Instructions
In a bowl, combine the softened cream cheese, powdered sugar, and vanilla extract. Beat together with a hand mixer until combined and creamy.

In a separate smaller bowl, beat the heavy whipping cream for several minutes until stiff peaks form. Add the whipped cream to the cream cheese mixture and beat together until well combined.

Evenly spread the whipped cream cheese mixture into the bottom of the prepared cracker crust. Cover with the lid and refrigerate for 6-8 hours.

Start preparing the raspberry layer.

Stir the water and cornstarch together with a fork in a small bowl.

In a saucepan over medium-high heat, combine the sugar and frozen raspberries. Stir together and cook for several minutes until it's boiling. Once boiling, add the water/cornstarch mixture and stir. Let this mixture boil for 2 minutes.

Turn off the heat and let the raspberry mixture cool for about 30 minutes in the pan. Transfer it to a Tupperware dish and let refrigerate alongside the cream cheese pie.

After the 6-8 hour fridge time, evenly spread the cooled raspberry mixture (that was in the fridge too) over the cream cheese layer. Cover with lid and refrigerate overnight.

If wanted, serve with additional whipped cream and fresh raspberries.
Notes
This is what I do when I make this pie : Let's say I need it on a Sunday. So Saturday morning I would prepare the cream cheese layer and put it in the fridge. I would then immediately start making the raspberry layer because it needs to refrigerate the same amount of time as the cream cheese layer in the pie. After the day, about 6-8 hours in the fridge, I would spread the raspberry layer on top of the cream cheese layer and go to bed! The pie will refrigerate overnight (with both layers) and it will be ready to use the next day when I need it. 
Nutrition
Calories: 229kcal | Carbohydrates: 34g | Protein: 1g | Fat: 10g | Saturated Fat: 6g | Cholesterol: 36mg | Sodium: 53mg | Potassium: 31mg | Sugar: 30g | Vitamin A: 409IU | Calcium: 24mg | Iron: 1mg
recipe adapted from Taste of Home