These Peppermint Bark Pretzel Bites are a yearly tradition for my family! Easy to make with only 4 ingredients like square pretzels, Hershey's candy kisses, peppermint m&m's, and Christmas sprinkles. Even the kids will love to help make these delicious peppermint pretzel treats for an easy Christmas treat!
Be sure and also make my Christmas Rolo Pretzels as well. Easy to make but with a chocolate caramel Rolo Candy and m&m's on top.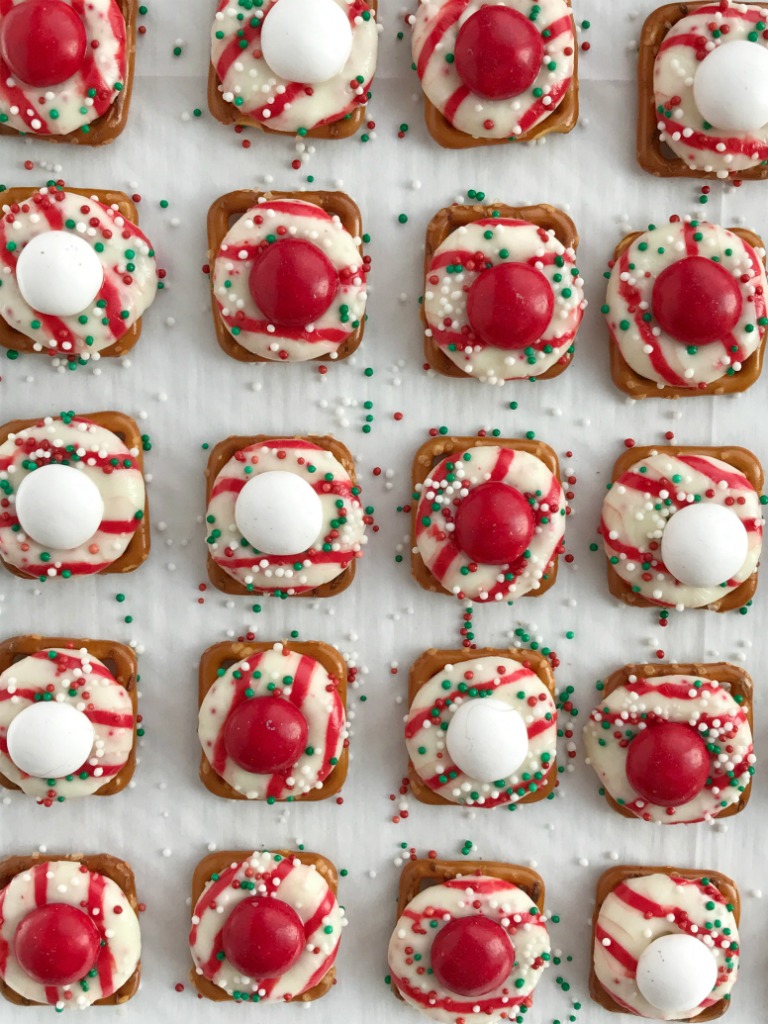 PEPPERMINT BARK PRETZEL BITES
These addicting & delicious little peppermint bark pretzel bites are the best Holiday treat! Once I see those Hershey Candy Cane Kisses at the store I always buy several bags so we can make these pretzel treats more than once!
The best part is that kids can basically make the entire recipe themselves. My kids always love to help me in the kitchen but sometimes it can be hard to find the "right job" for them 🙂 
HOW TO MAKE THIS PEPPERMINT BARK RECIPE
Lay the square pretzels on a cookie sheet. You can make as little or as many as you want, just make sure that you have enough Hershey Candy Cane Kisses and M&M's for each one of the pretzels. 
Unwrap the Candy Cane Kisses and place one on each pretzel square. 
Cook for 4 minutes.
Press a Christmas m&m onto each softened Hershey Kiss and gently press down. Sprinkle the warm chocolate with Christmas sprinkles if wanted. 
INGREDIENTS FOR EASY PEPPERMINT BARK PRETZELS
Square Pretzels – These are usually found by the name brand of Snyder's. I prefer the square pretzels when making this recipe but if you really can't find them then regular pretzels will work in it's place. 
Hershey Candy Cane Kisses – Basically the best Christmas treat ever, right?! Unwrap these babies so they're ready to go. This is the perfect way to get kids involved. There are 63 Hershey Kisses in the bag so you can yield 63 of these pepermint bark pretzel bites. Make more or less depending on the need. 
White Peppermint M&M's – These should be readily available most everywhere but if for some reason you can't find them, then get a bag of the Christmas Mix M&M's. 
Christmas Sprinkles – These are totally optional, but in my house they're not! We love adding some festive sprinkles on tops of these peppermint bark pretzel bites. Be sure and sprinkle them on when the chocolate is warm so they will stick. I like to add the sprinkles on after I finish one row of pretzels. 
TRY THESE OTHER CHRISTMAS TREAT RECIPES
Peppermint Bark Pretzel Bites
Peppermint Bark Pretzel Bites are sweet n' salty perfection. Melted candy cane crunch Hershey kiss on top of a pretzel, and then topped with a peppermint white chocolate m&m candy. Perfect for Christmas cookie plates or just a fun Holiday treat.
Ingredients
1 bag (10 oz) Hershey Candy Cane Kisses (unwrapped)
1 bag white chocolate peppermint m&m's
square pretzels
Christmas sprinkles, optional
Instructions
Heat oven to 250 degrees. Line a cookie sheet with parchment paper or tin foil.

Lay out 63 pretzels on the cookie sheet and place an unwrapped candy cane Hershey kiss on each pretzel. Cook for 4 minutes.

Immediately press a peppermint m&m on top of each Hershey kiss. If wanted, sprinkle some Christmas sprinkles on each one.

Let the cookie sheet sit out on the counter for 2 hours so the hershey kiss has time to harden up. Eat & enjoy!
Notes
I prefer the square pretzels and that's what I always use for this recipe. You can use the regular pretzel shaped pretzels if wanted.