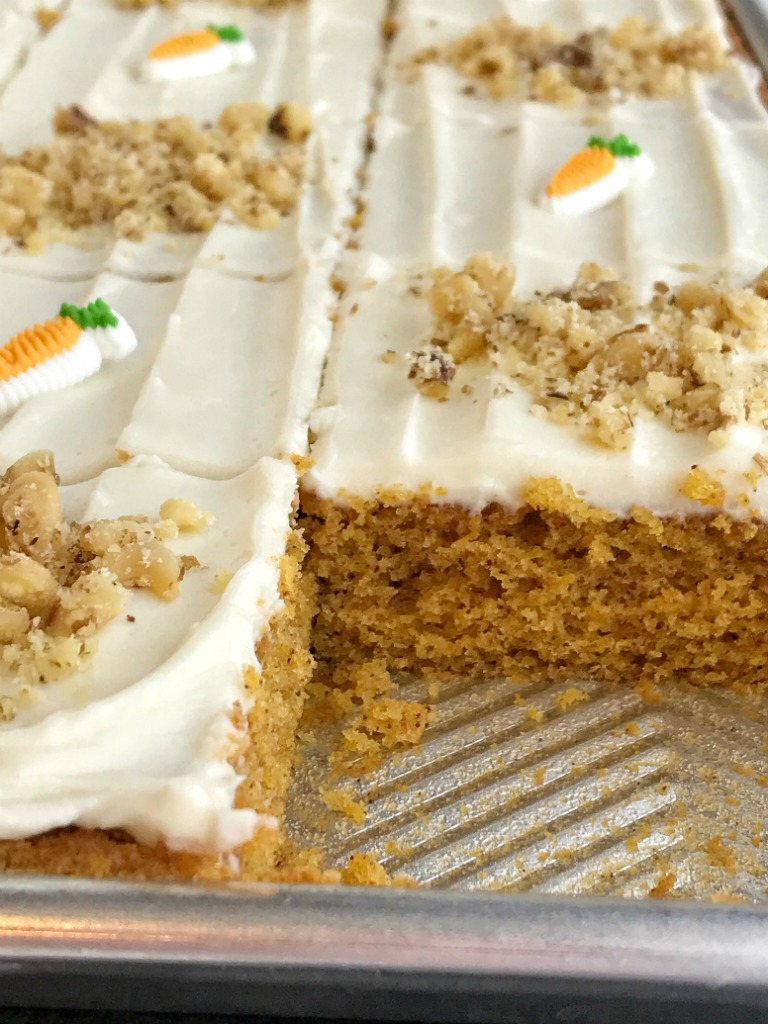 CARROT CAKE BARS
I have found that you either love carrot cake or hate it. Which one are you? I am a carrot cake lover!
There are so many different types of carrot cake out there. Raisins, pineapple, nuts…. I am pretty sure that every carrot cake lover has their preference.
Lucky for y'all I aim to please and I have quite a few variations of carrot cake on the blog. Not one with raisins in it cause I just can't. Sorry.
Today's recipe for carrot cake bars require no peeling and shredding carrots! So if you're one of those people that likes carrot cake but not all the stuff and chunks in it, then you will definitely want to make these bars. 
Carrot cake has such a warm and sweet spice to it and then top it with some tangy cram cheese frosting and it's pure heaven.
I am not a big frosting lover but cream cheese frosting is something I can tolerate because it's not overly sweet and has the perfect tang that pairs nicely with the sweet and moist carrot cake. 
Topped with chopped walnuts and you won't be able to stop yourself from eating it.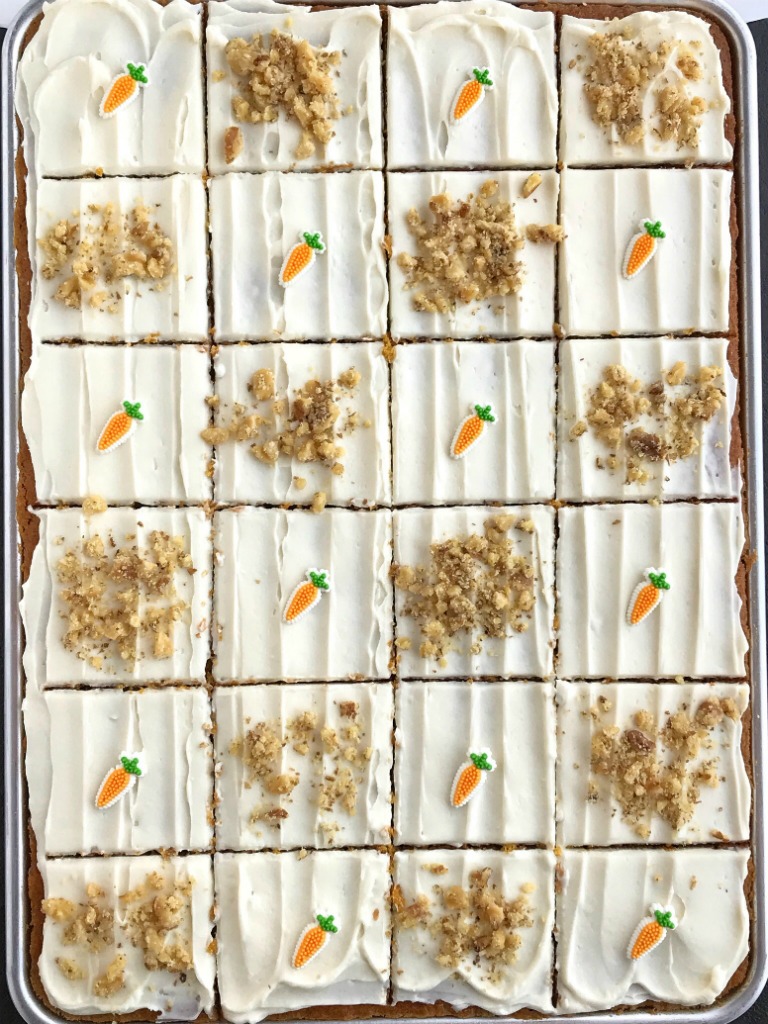 Don't let the baby food turn you off to these bars because they are seriously amazing and you would never even know that there is baby food in them! I have to admit that I don't mind baby food at all.
It's like pureed fruit and I'd be lying if I said I have never licked the baby spoon after feeing my kids 🙂 
The baby food acts like applesauce in these bars. It provides softness and richness with a lower fat ingredient.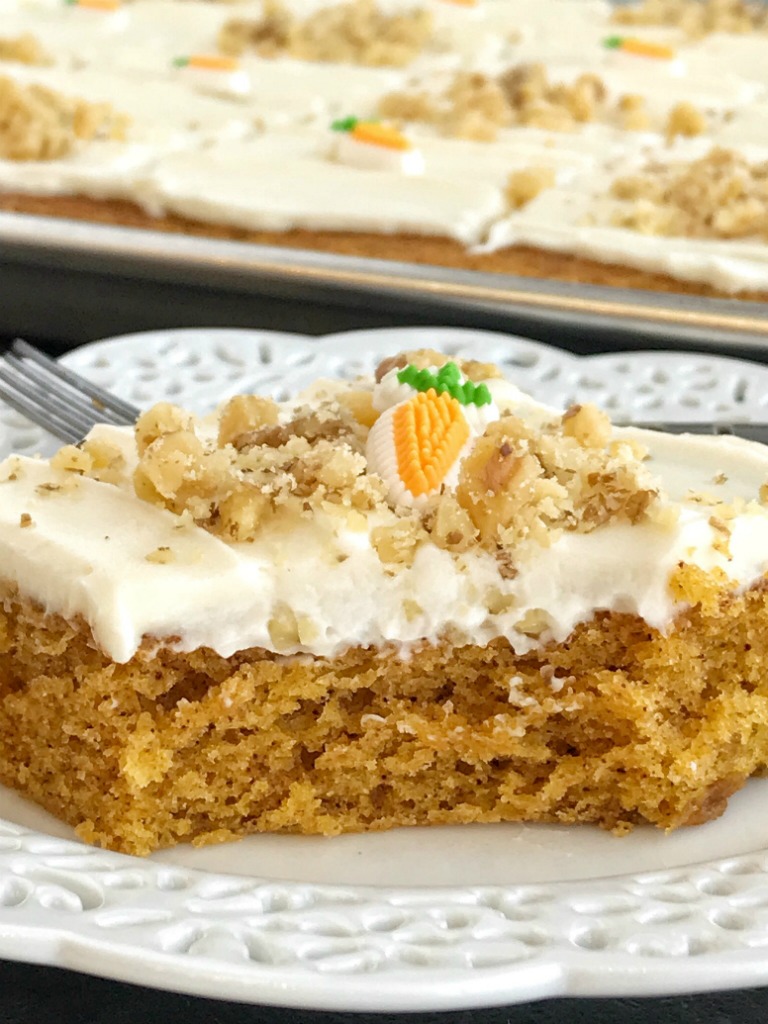 HOW TO MAKE SHEET PAN CARROT CAKE BARS
Combine sugar, oil, eggs, and carrot baby food puree. Add in your dry ingredients and mix together. 
Pour the batter into a cookie sheet with sides and bake in the oven. 
Once the bars have cooled completely you can frost them with a whipped cream cheese frosting. 
Serve these carrot cake bars at room temperature or cold. I prefer them cold.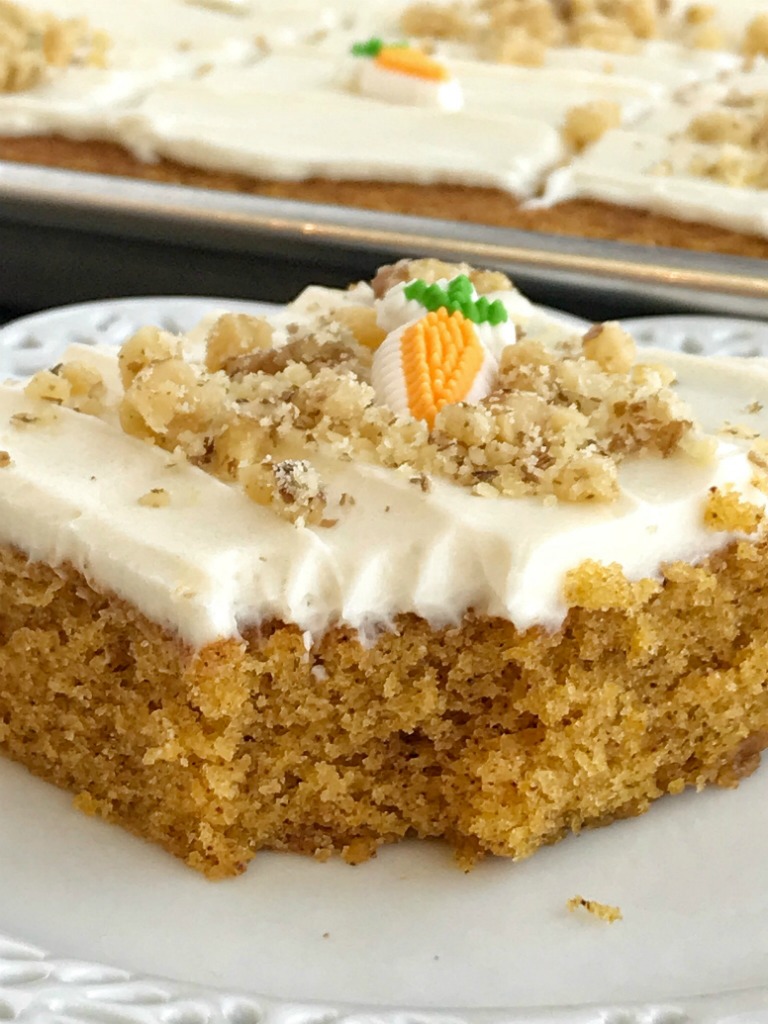 MY TIPS FOR MAKING THIS RECIPE
Make sure you spray the cookie sheet well with cooking spray to prevent any sticking. 
To make clean knife cuts in the bars, wet the knife with warm water and then wipe it dry between cuts. This helps the knife cuts be clean and precise. 
The most important thing is to let the bars cool completely before frosting. They cannot even be a little but warm when frosted. I always make these bars the day before and leave them out on the counter overnight. I frost them the next day and then leave them in the fridge until I need them. I prefer them cold from the fridge. 
If you really, really, really love frosting then feel free to double the frosting recipe (or 1 1/2 x the recipe). I use the recipe as directed and think it's enough frosting. 
TRY THESE OTHER CARROT CAKE RECIPES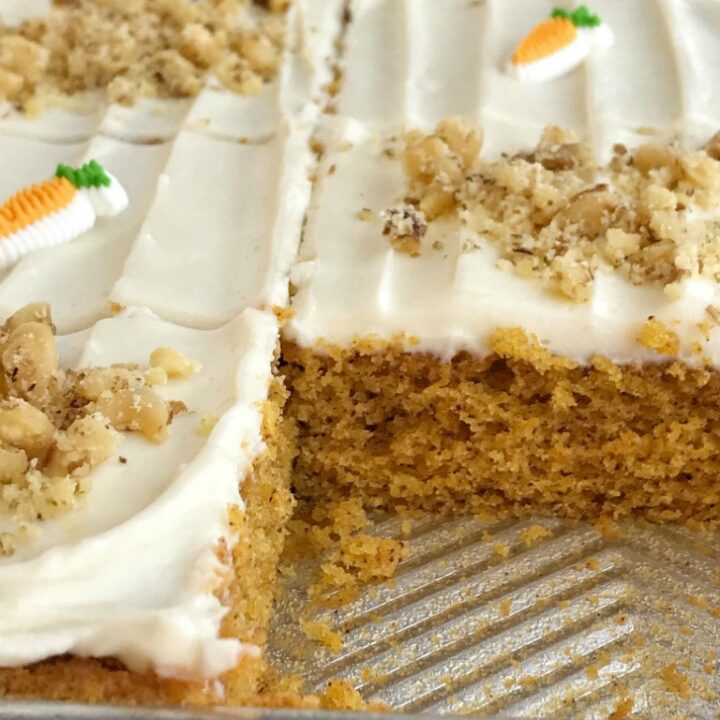 Sheet Pan Carrot Cake Bars
Sheet Pan Carrot Cake Bars are made with a surprise ingredient that makes them so moist, soft, and easy to make - carrot baby food! No shredding and peeling carrots needed for these delicious carrot cake bars topped with a whipped cream cheese frosting.
Ingredients
carrot cake bars
2 cups granulated sugar
1 cup canola oil
4 large eggs
12 ounces carrot baby food ( 3 jars - 4 oz each)
2 cups all-purpose flour
2 teaspoons baking powder
2 teaspoons ground cinnamon
1 teaspoon baking soda
1 teaspoon salt
whipped cream cheese frosting
1 package (8 oz) cream cheese, softened
5 tablespoons butter, softened
1 tablespoon full-fat sour cream
1/2 teaspoons vanilla extract
1 tablespoon heavy whipping cream
1 1/2 cups powdered sugar
Instructions
Heat oven to 350 degrees. Prepare a cookie sheet with sides(12"x18") by spraying with cooking spray.

In large bowl, add sugar, oil, eggs, and carrot baby food. Beat together with a handheld blender until combined together and smooth.

Add in flour, baking powder, cinnamon, baking soda, and salt. Blend together just until combined and no flour streaks remain.

Pour batter into the prepared cookie sheet and make sure it's spread evenly. Bake for 25-30 minutes. Edges should be slightly pulled away form sides, the top will be a golden brown and then center should not be wet and jiggly. A toothpick inserted should come out clean or with moist crumbs.

Let cool completely before frosting.

To make frosting: beat together the butter and cream cheese in a mixing bowl until combined and smooth. Add sour cream, vanilla extract, heavy whipping cream and powdered sugar. If wanted, add more or less milk depending on the consistency wanted.
Notes
Depending on how big or small you want these bars, you may get more or less than serving suggestion. I cut them rather big for the pictures but normally would cut them into smaller pieces so I would end up with about 30 servings.    Garnish with chopped walnuts. I found the cute carrot shapes at Target. They are completely not necessary but if you see them at the store, grab them, cause they look so cute on the bars.    Make sure to let the bars cool completely before frosting. I always make the bars the night before I need them. Once cooled, I cover the sheet pan with plastic wrap and let it sit on the counter overnight. I frost them the next day.    
Nutrition
Calories: 138kcal | Carbohydrates: 24g | Protein: 2g | Fat: 4g | Saturated Fat: 2g | Cholesterol: 30mg | Sodium: 158mg | Potassium: 86mg | Fiber: 1g | Sugar: 17g | Vitamin A: 1749IU | Vitamin C: 1mg | Calcium: 29mg | Iron: 1mg