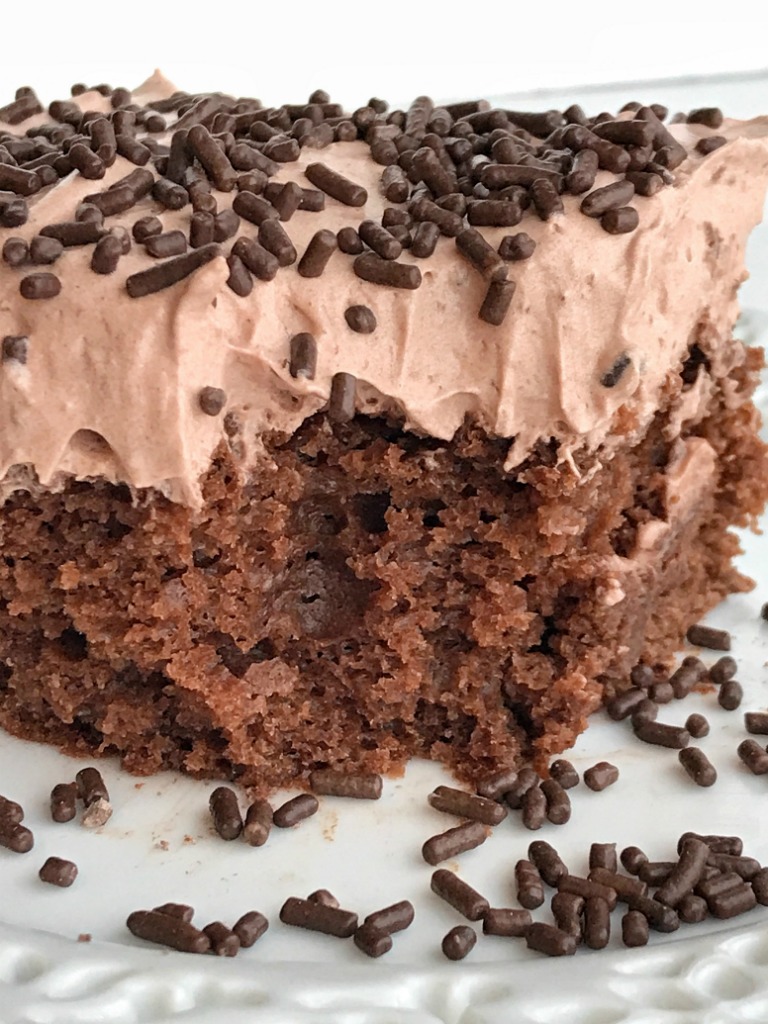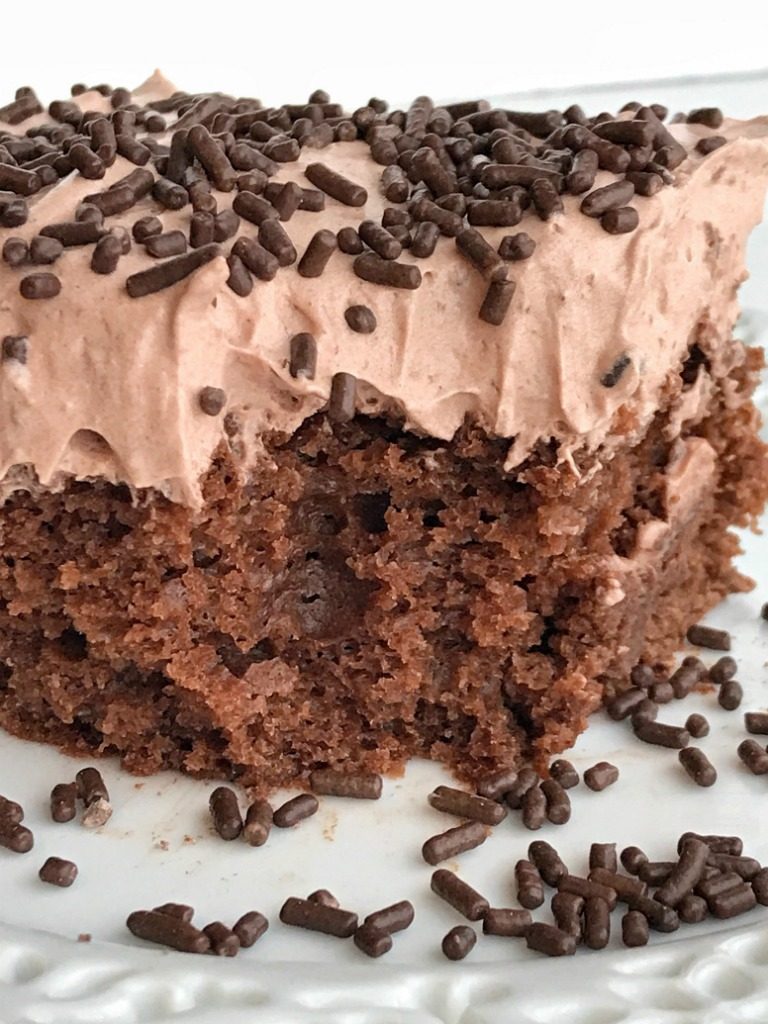 SKINNY CHOCOLATE CAKE RECIPE
I am normally not one for 'skinny' desserts but this skinny chocolate cake recipe changed that for me. If I want brownies or chocolate cake, then I am going to eat brownies or chocolate cake. Not smashed black bean brownies (anyone tried those?) or that chickpea healthy cookie dough I've seen floating around Pinterest lately. 
Plus, I have never had a 'skinny dessert' that actually tasted good. Until this skinny chocolate cake! I am so in love with this chocolate cake. It quite literally tastes like heaven and you would never even guess that each serving is less than 200 calories.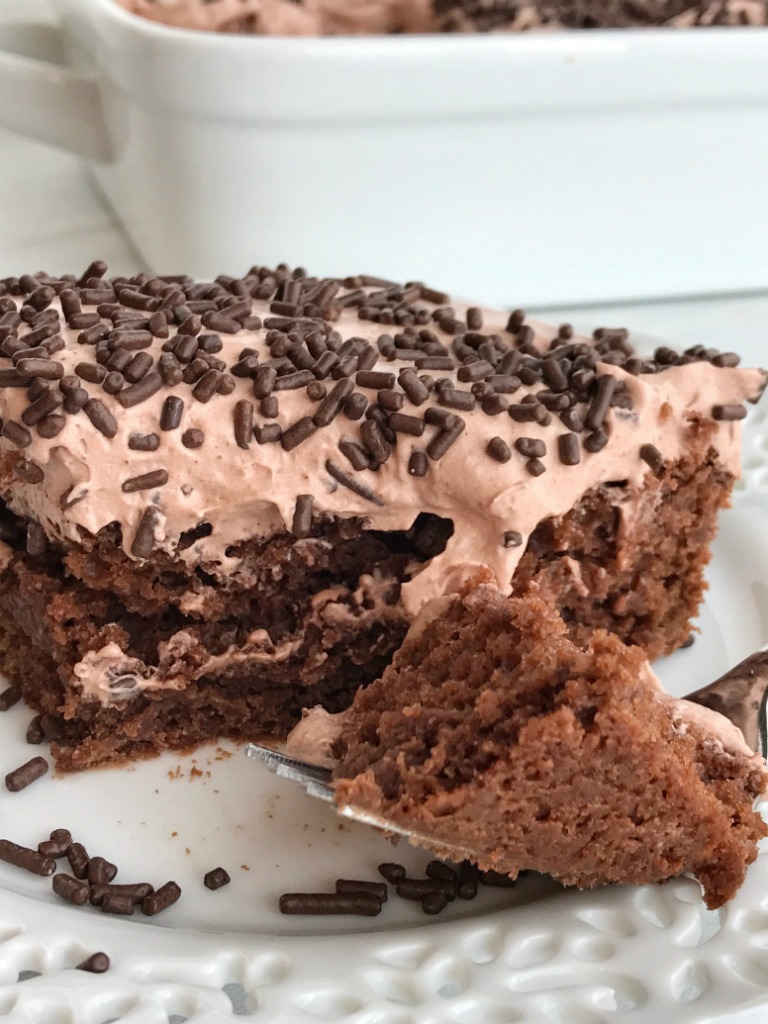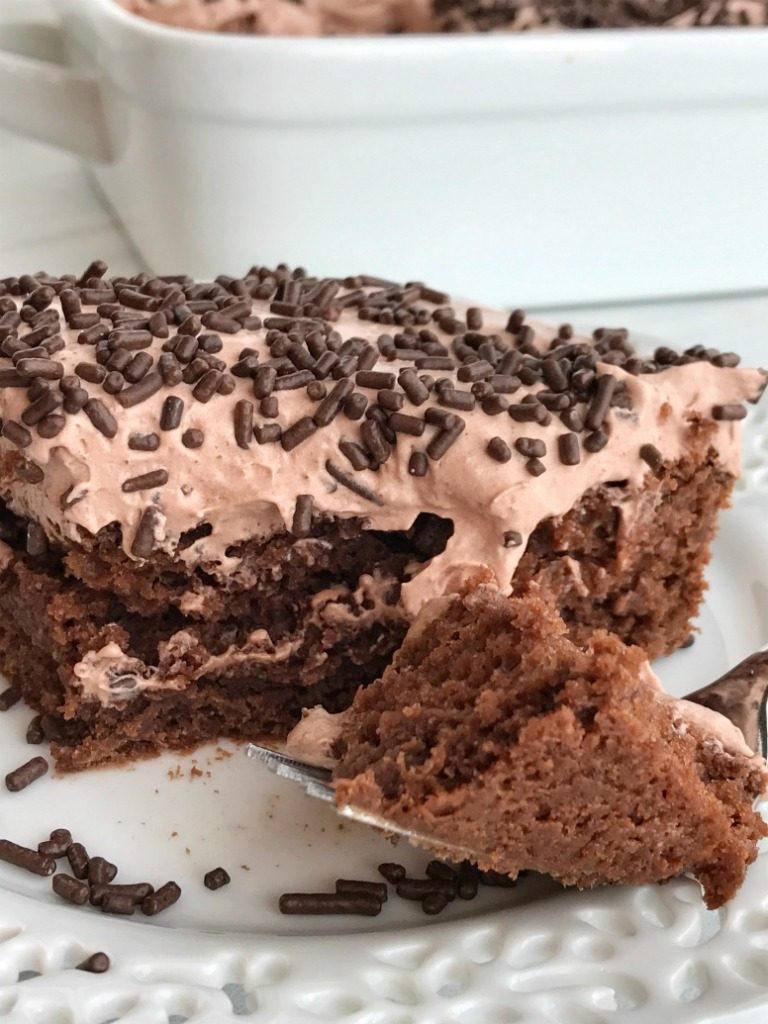 HOW TO MAKE SKINNY CHOCOLATE CAKE
For the chocolate cake you will need a milk chocolate cake mix. Do not prepare the cake mix according to package directions. Instead, add a container of Greek yogurt + water.
For the frosting you will need lite Cool Whip, 1% milk, vanilla extract, and sugar-free chocolate instant pudding mix. 
The frosting is so light & fluffy and really makes this skinny chocolate cake delicious! It's my favorite part.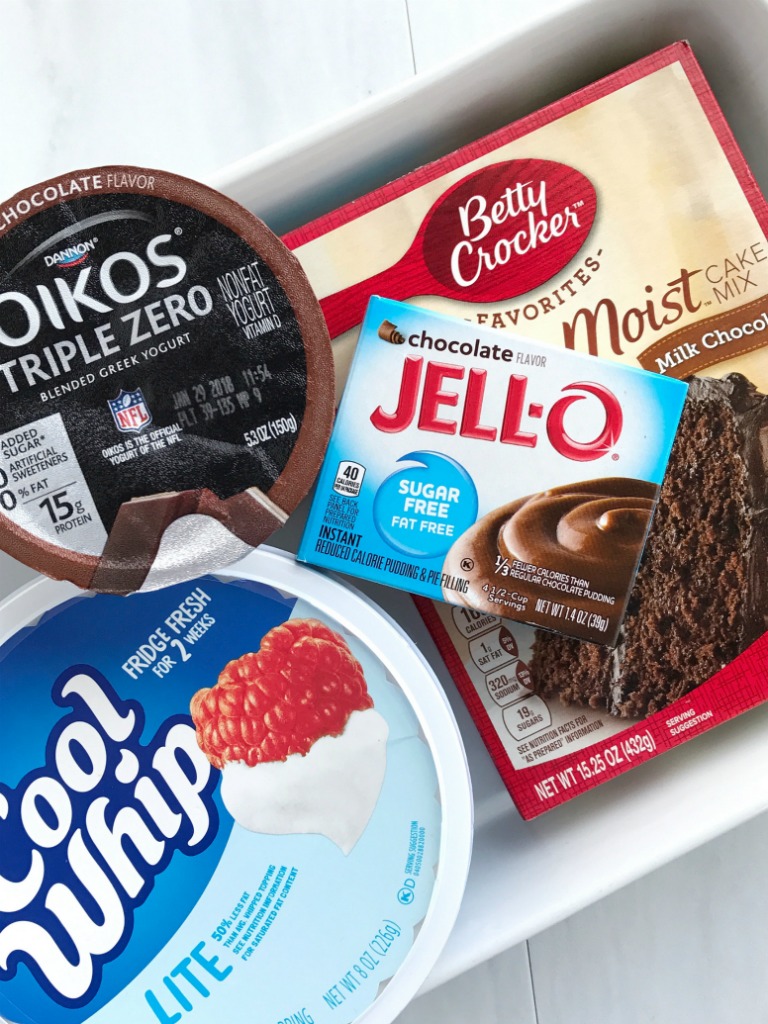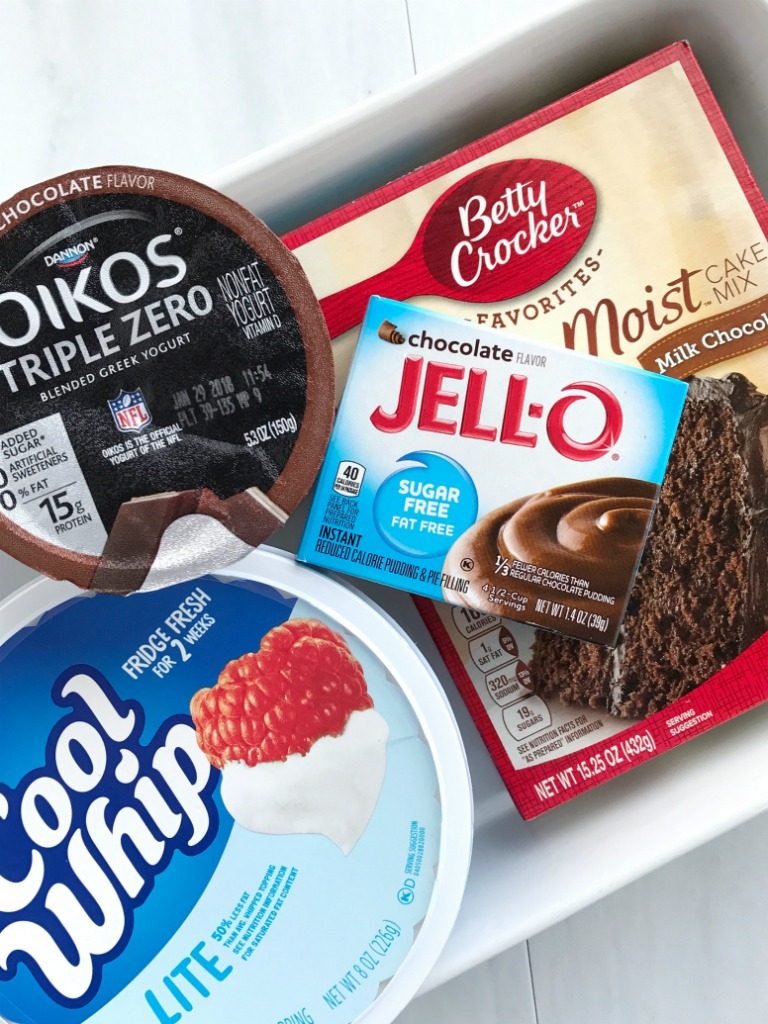 This skinny cake recipe is so adaptable because there are tons of cake mix flavors, instant pudding flavors, and Greek yogurt flavors! Just think of all the possibilities. 
funfetti cake mix + vanilla greek yogurt + vanilla or white chocolate pudding mix
red velvet cake mix + chocolate greek yogurt + chocolate pudding mix
white cake mix + vanilla or plain greek yogurt + white chocolate pudding mix
yellow cake mix + banana greek yogurt + banana cream pudding mix
These are just a few I thought of but there are tons of different combinations. You can also change out the sprinkles for differebt Holidays too. Make a red velvet version with Valentine's Day colored sprinkles, etc.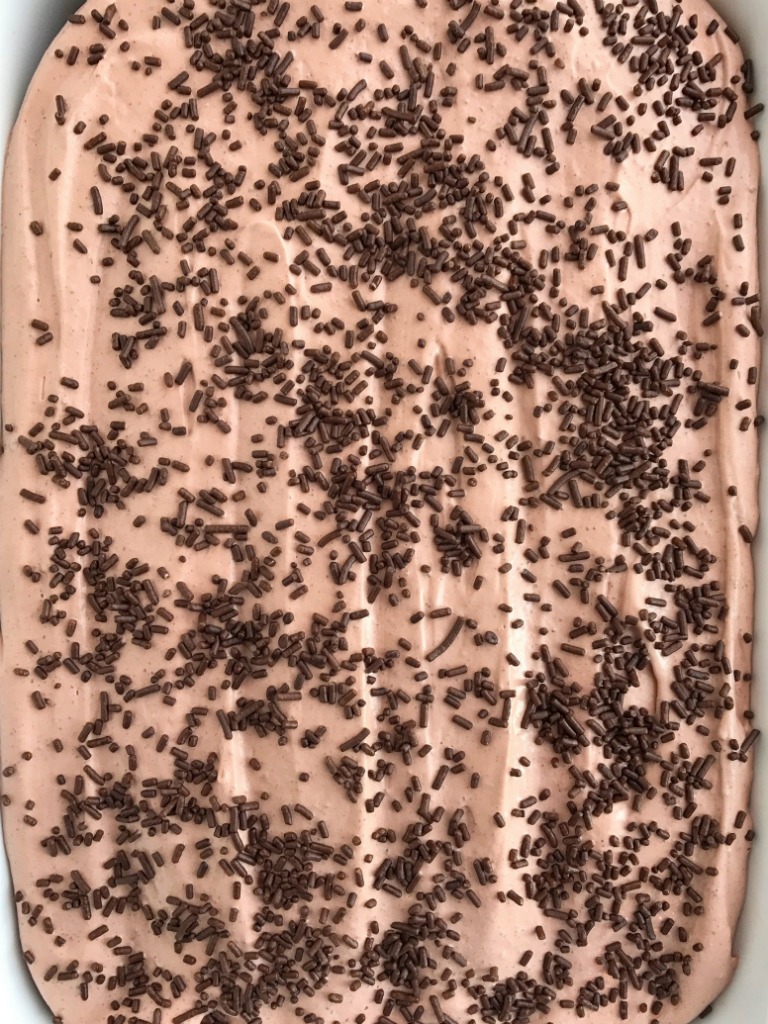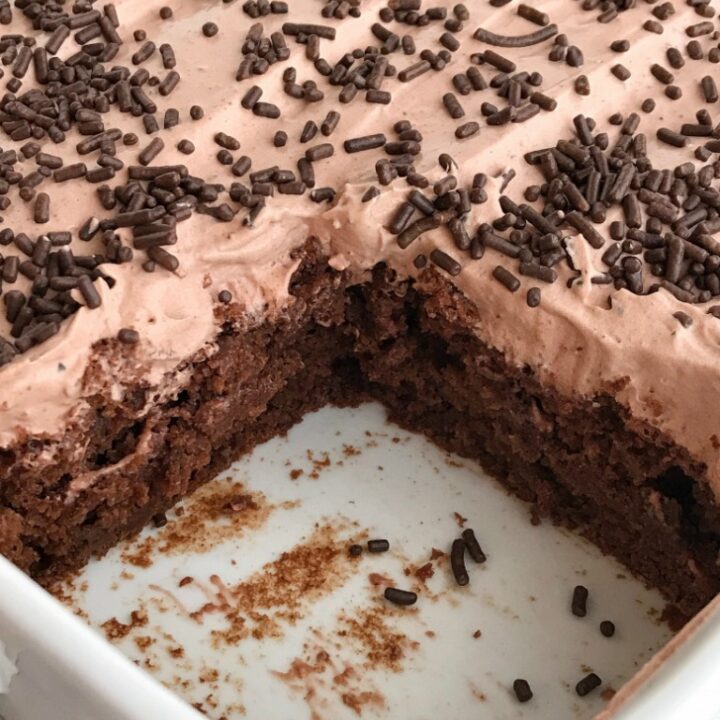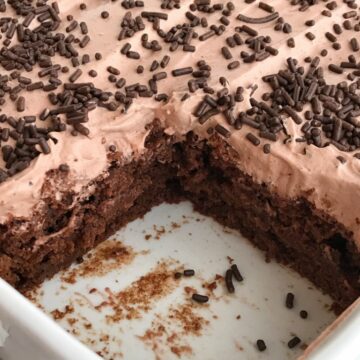 Skinny Chocolate Cake
Skinny Chocolate Cake is made with a chocolate cake mix, chocolate Greek yogurt and topped with a light & fluffy chocolate whipped frosting! You won't believe that each serving is only 200 calories.
Ingredients
chocolate cake
1 box (15.25 oz) milk chocolate cake mix do not prepare
2 containers (5.3 oz each) chocolate Greek yogurt
1 cup water
frosting
1 cup 1% milk
1 box (1.4 oz) sugar-free chocolate instant pudding mix
1 teaspoon vanilla extract
1 tub (8 oz) lite Cool Whip thawed
Instructions
Heat oven to 350 degrees and spray a 9x13 baking dish with cooking spray. Set aside.

In a mixing bowl, combine dry cake mix, Greek yogurt, and water. Stir together using a wire whisk, wooden spoon, or spatula. Make sure to mix it until it's completely combined. About 1-2 minutes.

Evenly spread the cake batter into the prepared baking dish and cook for 25-30 minutes, or until a toothpick inserted in the center comes out clean.

Let cool completely.

For the frosting: combine the milk, dry pudding mix, and vanilla extract in a mixing bowl. Use a wire whisk, or handheld beaters, to whip together for about 1-2 minutes. It will thicken up after a couple of minutes.

Add the Cool Whip and stir together until combined.

Spread over cooled cake and top with sprinkles of choice, or leave plain.

Serve right away or you can let it refrigerate before serving. I prefer this cake cold so I always refrigerate it for a few hours before serving. Leftovers will keep well for 1-2 days.
Notes
Each serving is slightly less than 200 calories!   Using a sugar-free cake mix is just fine and reduces the calories and sugar even more. I have never personally done it so I can't say for sure on the taste of the cake with a sugar-free cake mix. 
Nutrition
Calories: 192kcal | Carbohydrates: 31g | Protein: 4g | Fat: 6g | Saturated Fat: 1g | Cholesterol: 3mg | Sodium: 324mg | Potassium: 185mg | Sugar: 17g | Vitamin A: 60IU | Calcium: 110mg | Iron: 1.6mg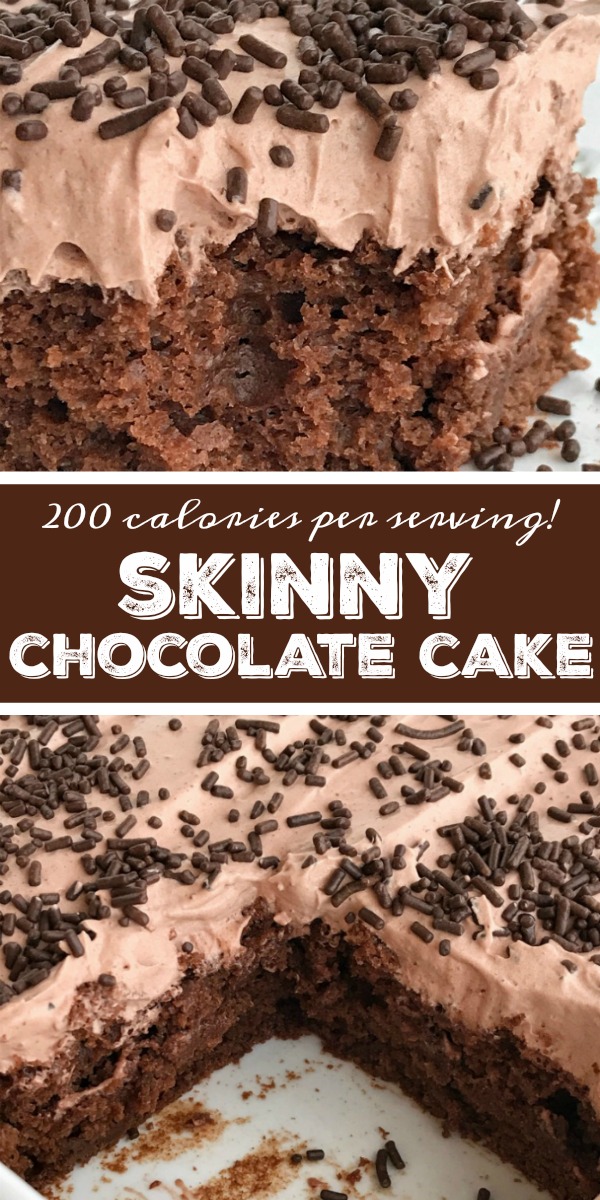 recipe idea adapted from Life in the Lofthouse