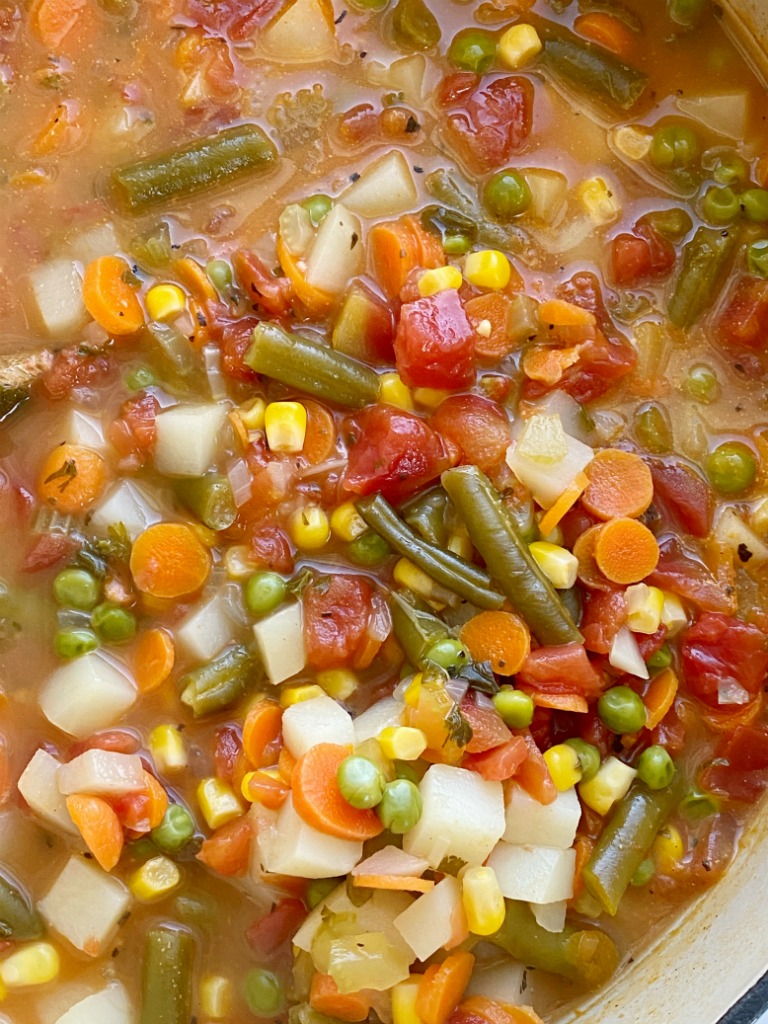 VEGETABLE SOUP RECIPE
Vegetable soup is full of fresh veggies, simmers in a perfectly seasoned broth base, and cooks in one pot on the stove.
I know vegetable soup may not look exciting. I mean it's a bunch of vegetables, right?!
But trust me on this one. This vegetable soup has so much flavor and it does not taste like you're eating super healthy food. It's the perfect recipe to make at the beginning of the week and then portion it out in containers for a healthy lunch all week long. 
HOW TO MAKE HOMEMADE VEGETABLE SOUP
There is lots of chopping involved so grab and cutting board and prepare all the chopped veggies before you start cooking. 
olive oil
onion – use a yellow, white, or sweet onion
carrots – to make it really easy thinly slice baby carrots for this recipe
celery
garlic cloves – I use garlic paste but you can use fresh garlic or chopped garlic from a jar
canned chicken broth or vegetable broth
canned petite diced tomatoes – you can use regular diced tomatoes but I think the petite diced mixes in better
peeled and chopped potatoes – yukon or red potatoes work well
fresh parsley, salt & pepper, dried thyme, Italian seasoning, dried basil, bay leaves
frozen green beans
frozen corn
frozen peas
HOW LONG WILL VEGETABLE SOUP KEEP?
Vegetable soup will keep well in the refrigerator for up to a week. In fact, I love to make this soup at the beginning of the week. Portion it out into 7 small Tupperware containers, and put it in the fridge for the week. That way I have a healthy lunch that's ready to microwave or heat up on the stove top. 
You may want to add just a touch of water when reheating leftovers. Leftovers will not be as brothy because the veggies will continue to soak up the broth as it sits in the fridge. 
MY TIPS FOR THIS SOUP RECIPE
Don't be tempted to use dried parsley instead of fresh. I mean, you could in a pinch but the fresh parsley adds so much life and flavor to this soup! I always use the curled leaf parsley. Not the flat, Italian leaf parsley. 
It may not seem like the bay leaves would do much but they do! You will find them in a spice jar by other spices and seasonings at the store. Be sure and take them out of the soup before serving. 
If you don't like a certain vegetable in this soup then either leave it out, replace it with more of another veggies, or replace it with something else. 
As always, add more or less salt depending on your salt tolerance and depending on if you use low-sodium broth or not. This recipe is written using low-sodium chicken broth. I don't believe they make low sodium vegetable broth so if that's what you use then you may need to decrease the salt. 
TRY THESE OTHER SOUP RECIPES
Vegetable Soup
Vegetable Soup is packed with healthy and nutritious ingredients. Fresh vegetables in a perfectly seasoned broth base, and it cooks in one pot on the stove! Keeps for a week so leftovers are perfect for a healthy lunch. 
Ingredients
2 tablespoons olive oil
1 onion, finely diced (white, yellow, or sweet onion)
2 cups thinly sliced carrots (I cut baby carrots)
1 cup thinly sliced celery
1 teaspoon kosher salt
4 garlic cloves, minced or pressed (I use garlic paste or jarred chopped garlic)
4 cans (14.5 oz each) low-sodium chicken broth
1 can (28 oz) petite diced tomatoes (do not drain)
3 cups peeled and chopped potatoes (use red or yukon gold potatoes)
1 1/2 cups frozen chopped green beans
1/3 cup chopped fresh parsley
2 bay leaves
1 teaspoon dried basil
1 teaspoon kosher salt
1/2 teaspoon Italian seasoning
1/2 teaspoon dried thyme
1/2 teaspoon black pepper
1 1/2 cups frozen peas
1 1/2 cups frozen corn
Instructions
In a large soup pot, over medium-high heat, add olive oil, onions, carrots, celery, salt and garlic. Sauté for 5 minutes.

Pour in chicken broth, diced tomatoes, potatoes, frozen green beans, parsley, bay leaves, basil, salt, Italian seasoning, thyme, & pepper. Stir together. Bring it to a boil (you may have to turn the heat up to do this). Once boiling, cover with lid, and reduce heat to medium-low. Let simmer for 20-25 minutes or until the potatoes and green beans are tender.

Add the frozen peas and corn into the soup. Stir and cover with lid. Let simmer for 15 minutes.

Take out the 2 bay leaves and serve! Leftovers keep well in the fridge for up to one week. Soup can be frozen. Just reheat on the stove top and add additional broth or water if necessary.
Notes
I prefer the curly leaf parsley NOT the flat-leaf Italian parsley If using regular iodized salt then reduce it starting at 1/2 teaspoon and then taste from there. Be sure and chop the potatoes small. I aim to cut them the same size, roughly, as the carrots and other vegetables. If they're too big, they will take much longer to cook.  This recipe makes 16 cups of soup so be sure you have a pot that is big enough to hold all of that.  To make this in the crock pot : Follow the first step and saute the onion, carrots, celery, salt and garlic in olive oil. Add that to the crock pot. Add all remaining ingredients (not the corn and peas) and cook on LOW heat for 6-7 hours. Add the corn and peas, cover with the lid, and let it cook for 30 more minutes. Take out the bay leaves and serve. 
Nutrition
Calories: 232kcal | Carbohydrates: 40g | Protein: 10g | Fat: 6g | Saturated Fat: 1g | Sodium: 755mg | Potassium: 1077mg | Fiber: 7g | Sugar: 8g | Vitamin A: 6074IU | Vitamin C: 45mg | Calcium: 80mg | Iron: 3mg
recipe adapted from cooking classy