SALSA VERDE GUACAMOLE RECIPE
Salsa verde guacamole is a unique and delicious twist to classic guacamole. Everything you love about guacamole plus the huge flavor from salsa verde. 
Eat it as a snack with some tortilla chips. Use it as a topping for tacos, enchiladas, burritos, salads, or nachos. Anything goes when it comes to guacamole.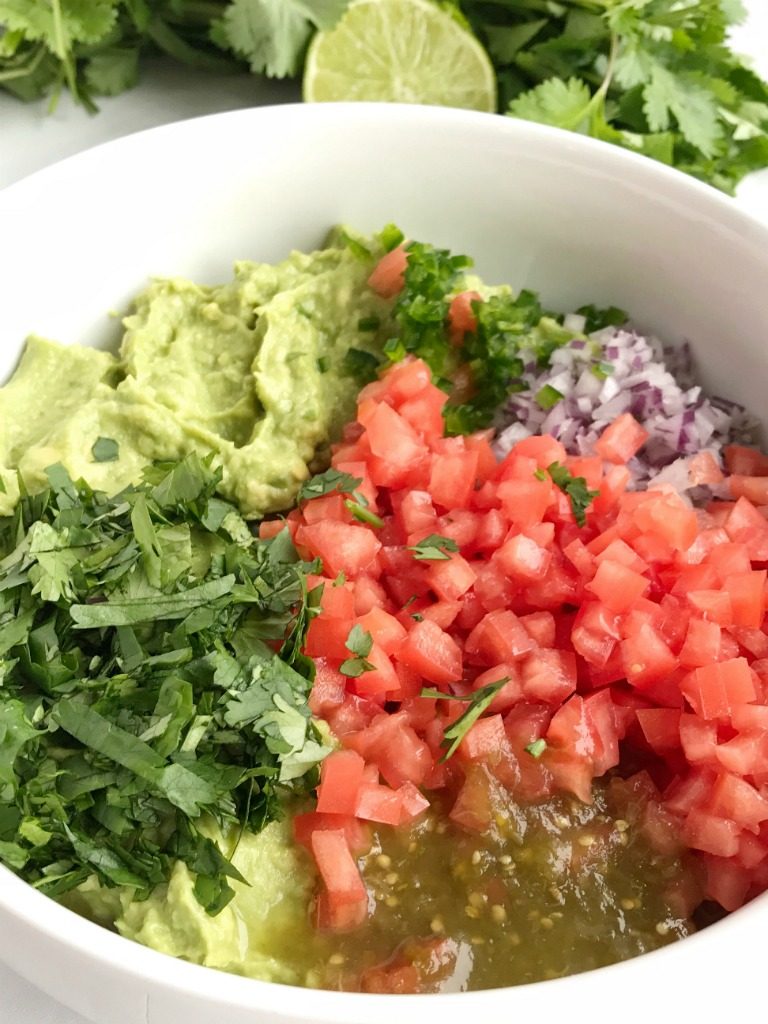 WILL GUACAMOLE TURN BROWN?
Unfortunately, yes, guacamole will eventually turn brown 🙁 But luckily, there are a few tips and tricks to prevent it from turning brown right away. 
Acid will help prevent browning. This recipe calls for tomatoes and lime juice which will both help with the browning issue. It also has salsa verde in it which gives it an extra acid boost. 
Save the large avocado pit (that you took out of the middle of the avocado) and press it into the guacamole. I would only do this if I am refrigerating it for a few hours before serving. 
If you are refrigerating the guacamole, simply press a piece of plastic wrap on top of the guacamole. Not just covering the bowl on top, but press it onto the guacamole inside the bowl. 
But even after doing these tricks it will eventually go brown so these are great to do if you prefer cold guacamole, like me, and want to refrigerate it for 1-2 hour before serving.
HOW TO MAKE SALSA VERDE GUACAMOLE
Cut each avocado in half and remove the pit and skin. Place the avocado in a bowl, and add salt, garlic powder, and lime juice. Use a fork and mash it together until it's the consistency you want.
Add chopped tomato, red onion, chopped cilantro, salsa verde, and jalapeno. Mix it all together until combined. 
It's best served right away or within 1-2 hours of making it. If you are refrigerating it, then be sure and press a piece of plastic wrap on top of the guacamole to prevent browning. Because of all the acid from the lime juice, tomatoes, and salsa verde, this guacamole does not brown as quickly. 
TIPS FOR MAKING THIS RECIPE
It's best to serve this right away to prevent over browning. But, if you prefer it cold you can refrigerate for 1-2 hours before serving. The acid from the lime juice and tomatoes will prevent it from browning for that short time. You can also place the avocado pits back into the bowl and then cover with plastic wrap. This will help prevent browning even more. 
The recipe as is, is not spicy at all. Just lots of flavor! If you want spice then use the entire jalapeno, do not take out the seeds of the jalapeno, and/or add a few dashes of hot sauce. 
It's important to seed the tomatoes otherwise the guacamole will have too much liquid in it. 
You want to make sure that you finely chop the red onion and cilantro. No one wants huge pieces of onion in their guacamole. Same with the tomatoes, make sure that they are chopped small. 
TRY THESE OTHER AVOCADO & GUACAMOLE RECIPES
Salsa Verde Guacamole
Salsa Verde Guacamole is loaded with tomato, cilantro, smashed avocado, jalapeno and salsa verde. Great for an appetizer, a snack, or as a topping on tacos!
Ingredients
3 avocados, pitted & halved
1 tablespoon fresh lime juice (about 1 large lime)
1/2 teaspoon salt
1/2 teaspoon garlic powder
2 roma tomatoes, seeded and diced small
2 tablespoons finely diced red onion
2 tablespoons chopped cilantro
3 tablespoons salsa verde
1/2 of a jalapeno, finely chopped
Instructions
In a mixing bowl, combine avocado, lime juice, salt, and garlic powder. Use a fork to mash the avocado to desired texture and stir to combine everything together.

Add the remaining ingredients and stir together to combine. Taste and season with more salt or more of the other ingredients, as wanted.

Serve immediatly with tortilla chips.
Notes
For no heat and just flavor, take the seeds out of the jalapeno and the white membrane part. If you want the spice then just dice the jalapeno as is. You can also use the entire jalapeno if wanted.    For additional spice add a few shakes of hot sauce.   Add more or less of the cilantro and red onion to taste. The recipe as is, is not spicy at all, just lots of good flavor and my kids eat it no problem. 
Nutrition
Calories: 129kcal | Carbohydrates: 8g | Protein: 2g | Fat: 11g | Saturated Fat: 2g | Sodium: 195mg | Potassium: 414mg | Fiber: 5g | Sugar: 1g | Vitamin A: 293IU | Vitamin C: 12mg | Calcium: 11mg | Iron: 1mg