8 CAN CHICKEN CHILI
No one hate me for this recipe, because although it uses all canned ingredients, it is so ridiculously easy and surprisingly delicious. Like almost better than a chicken chili that cooks all day. 
I am the type of cook that loves homemade, fully from scratch recipes but I also really love those super easy recipes that you can count on for busy nights. It's much healthier than hitting up the drive-thru, even with all the cans 🙂 
I posted this 7 can chicken taco soup a couple years ago on the blog and it is still one of the most popular recipes. Just like today's recipe it is literally 7 cans plus seasonings, that simmer on the stove top.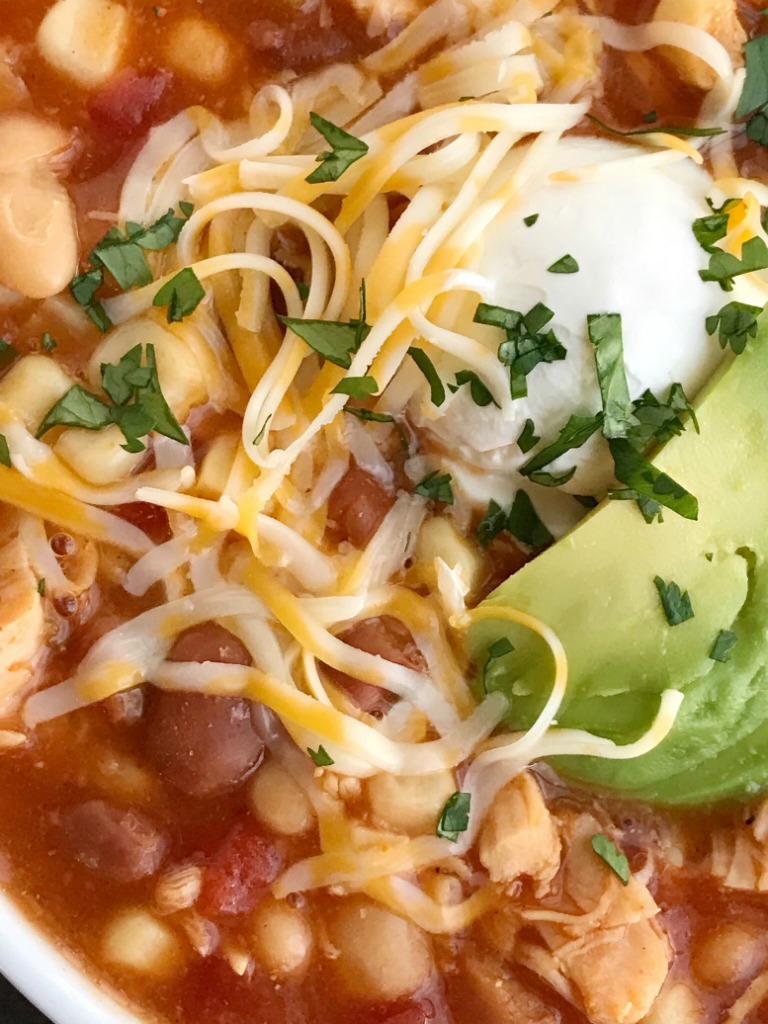 My son has karate twice a week and we don't get back to the house until 5:45. I hurried and made this 8 can chicken chili on the stove top and we were eating it a little after 6:00. It's not only quick & easy, but it is a very inexpensive dinner and it's so good.
You may be hesitant of the canned chili but don't be! I was too but if you get a good quality brand of canned chicken breasts then you can't tell the difference when it's in the soup.
I love the canned chicken at Costco. The quality is amazing, it flakes easily, and it's not overly salty. If you have a Costco membership I would definitely recommend buying their canned chicken. I keep it on hand specifically for this 8 can chicken chili and the 7 can chicken taco soup.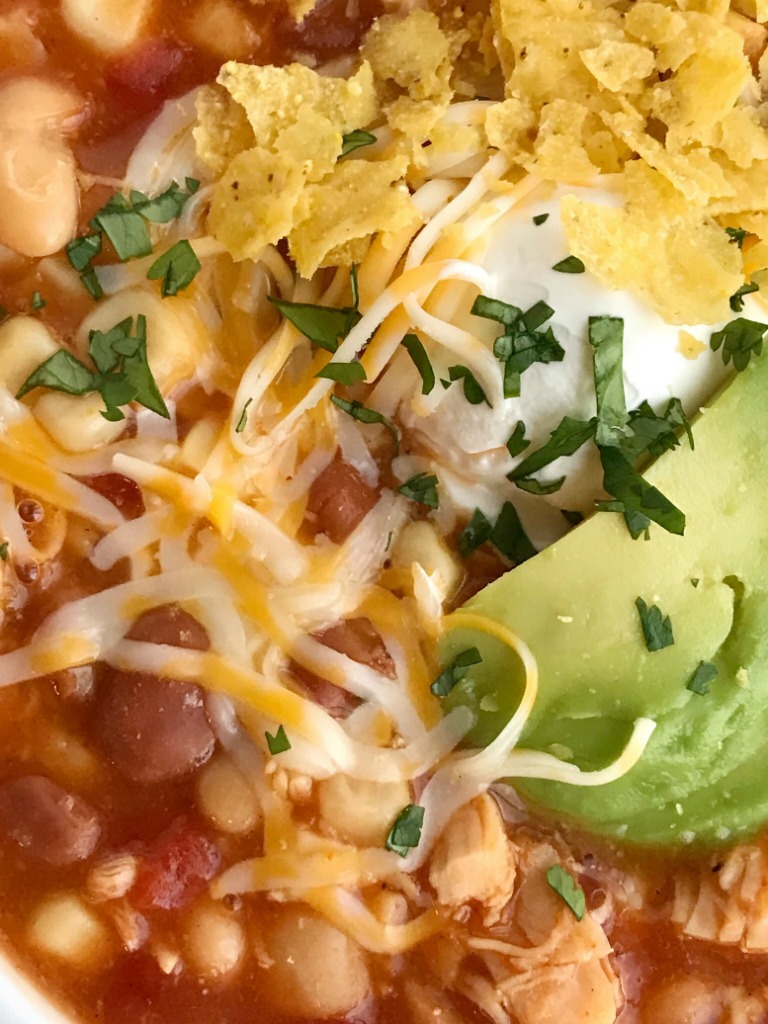 Ingredients for 8 can chicken chili
All the cans are the standard size cans of 15-16 ounces, unless noted in the recipe below. 
Here are the canned items you will need:
1 can chicken broth
4 oz can of diced green chilies
2 cans of chili beans – pinto beans in chili sauce and/or great northern white chili beans (click on link to see a visual)
1 can of white corn (or yellow works fine)
12.5 oz can of chicken breast
8 oz can of tomato sauce
1 can petite diced tomatoes
garlic powder, onion powder, chili powder, and cumin
No seasoning packets needed for this chicken chili! It is not spicy at all. If you are worried about the heat/spice level then just don't use the entire can of green chilies. I made the recipe as is and my kids gobbled it up. No complaints of spiciness. 
It also helps to top it with all the toppings. The must-haves are shredded cheese, sour cream, avocado slices, and tortilla chips. Kids (and adults!) will love to dip chips in this chili.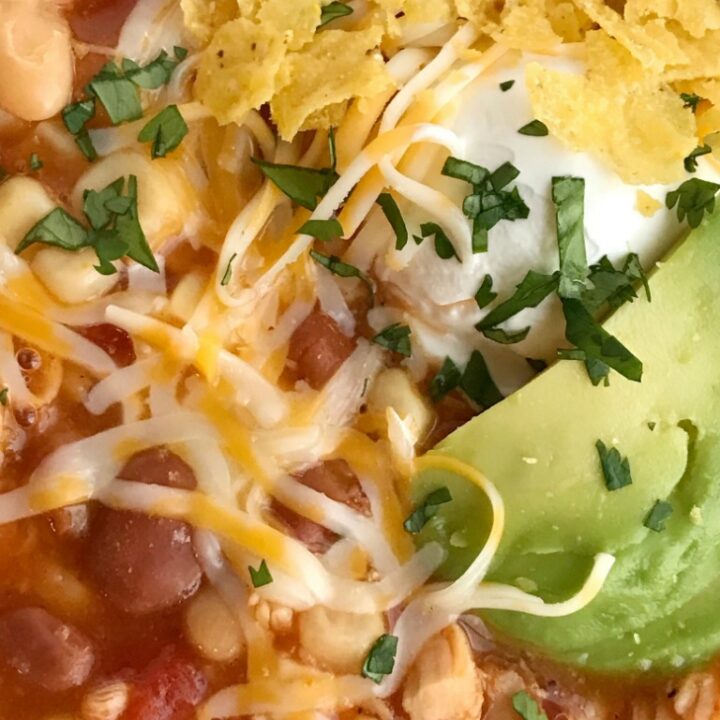 8 Can Chicken Chili
8 can chicken chili is a quick & easy dinner that be ready in no time at all. You literally dump 8 cans into a soup pot plus seasonings! This is surprisingly so delicious and comforting. Top with sour cream, shredded cheese, tortilla chips, and avocado slices.
Ingredients
1 can chicken broth
1 can (4.5 oz) diced green chilies
1 can (12.5 oz) chicken breast (drained & flaked)
2 cans chili beans (do not drain)
1 can petite diced tomatoes (do not drain)
1 can white corn (lightly drained)
1 can (8 oz) tomato sauce
1 teaspoon cumin
1 teaspoon garlic powder
1 teaspoon onion powder
1 teaspoon chili powder
Toppings
sour cream
shredded cheese
avocado slices
tortilla chips
Instructions
In a large pot, over medium-high heat, combine all ingredients and stir together. Bring to a boil and then reduce heat to medium-low and let simmer for 10-15 minutes.

Garnish with toppings and enjoy!

** We don't care for the texture of green chilies so I combine the chicken broth and the diced green chilies in a blender, and blend them up. This will make it so there are no chunks of green chilies in the soup. This is not necessary but an option if you prefer.
Notes
Calorie count is for 1 serving of the chicken chili. Garnishes on top are extra calories (but totally worth it!).   All cans are the standard size 15-16 ounces unless otherwise noted in the recipe.   Chili beans are pinto beans in chili sauce. I get the mild chili beans. I also get 1 can of pinto bean chili beans and 1 can of the great northern chili beans. I like the mix of both but you can also use two of the same.    I have always used the full salt chicken broth for this recipe. It is not too salty at all, but if you are worried then use the low-sodium chicken broth.    If you want more spice then use a can of hot diced green chilies.    
Nutrition
Calories: 214kcal
DON'T FORGET TO PIN THIS RECIPE TO PINTEREST