This Cheeseball Recipe takes just minutes to make and it's so creamy, smooth, and delicious thanks to a special ingredient. Serve with your choice of crackers and you have a yummy appetizer for any gathering or party. 
CHEESEBALL RECIPE
If you've never made your own cheeseball at home then you are missing out! I love this cheeseball recipe because it's so simple to make with only a few ingredients and it's better than anything you will buy at the store. 
We love serving this with buttery Club crackers or Ritz crackers. It's the perfect appetizer for a party, gathering, or for everyone to munch on before a big Holiday dinner like Thanksgiving or Christmas.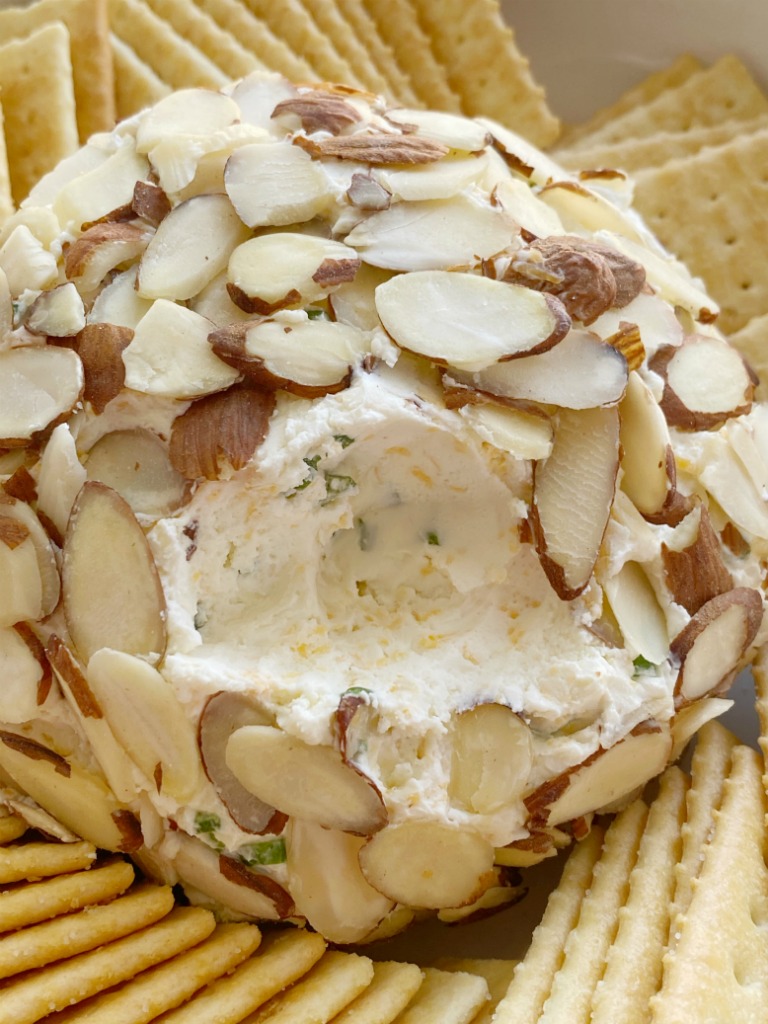 HOW TO MAKE A CHEESEBALL
Making this cheeseball recipe is actually quite simple! Only a few ingredients and a couple hours in the fridge is all you need. 
Cream Cheese – It's best to use full-fat cream cheese. The real stuff! It's creamier and tastes way better. 
Mayonnaise – Don't let this scare you. It adds a rich creaminess that makes this cheeseball the best. 
Green Onions
Shredded Cheddar Cheese
Shredded Parmesan Cheese
Garlic Powder
Worcestershire Sauce
Sliced Almonds
MY TIPS FOR MAKING A CHEESEBALL
For the best taste use full fat cream cheese and real mayonnaise! IT will make such a big difference in flavor and creaminess. 
You can leave the almonds sliced or throw them in a food chopper and ground them up slightly so they are not as big. Either way will work great. 
Make sure you plan ahead and give yourself time for the cheeseball to refrigerate for 2 hours before serving. This will improve the flavor and let it firm up and hold it's shape. 
Use fresh shredded parmesan cheese or the pre-shredded parmesan cheese. 
Make sure the cream cheese is softened really well so that it mixes in easily with the other ingredients. If it's too cold when you try to mix it, you will end up with lumps of cream cheese in the cheeseball. 
TRY THESE OTHER DIP RECIPES
Monster Cookie Dough Cheeseball Dip – This is a sweet cheeseball and one of my favorites! An eggless, flourless cookie dough with mini m&m's on the outside. Serve with mini cookies, pretzels, or even apples. 
Greek Dip Recipe – Feta cheese, olives, and cucumbers make this greek dip a delicious hit. 
Peanut Butter Greek Yogurt Apple Dip – Vanilla yogurt, honey, and peanut butter make for the best easy and healthy apple dip.
The Best Cheeseball Recipe
This Cheeseball Recipe takes just minutes to make and it's so creamy, smooth, and delicious thanks to a special ingredient. Serve with your choice of crackers and you have a yummy appetizer for any gathering or party. 
Ingredients
2 bars (8 oz each) cream cheese softened
3 tablespoons mayonnaise
1/3 cup shredded parmesan cheese
1/2 cup shredded cheddar cheese
1/4 cup sliced green onions
¼ teaspoon garlic powder
¼ - ½ teaspoon Worcestershire sauce
1 cup sliced almonds
Instructions
Combine softened cream cheese and mayonnaise in a bowl and beat with a handheld blender until combined and creamy.


Add in parmesan cheese, cheddar cheese, green onions, worcestershire sauce, and garlic powder. Blend together until combined.

Lay out a piece of plastic wrap (saran wrap) and dump the sliced almonds in the middle. Using a wooden spoon, try to form the cheeseball mixture into some sort of a ball (inside the bowl you mixed it in). Dump the ball on top of the almonds on the plastic wrap.

Use the plastic wrap to press the almonds into the cheeseball and to form into a better "ball" shape. Use your hands to place the almonds on the outside of the cheeseball as needed. Put the cheeseball on a plate (covered) and let it sit in the fridge for 2-4 hours to firm up and for the flavors to come together. * This cheeseball can be made ahead of time too. I actually prefer to make it the day before I need it, leave it in the fridge for 24 hours, and then serve it. The flavors come together so well, it tastes better, and the almonds soften up slightly.

Serve with your choice of crackers!
Notes
Make Ahead : I prefer this cheeseball after it's been in the fridge for at least 24 hours. The flavors develop and the almonds soften up slightly. The leftovers are even still amazing on day 2-4 too. If it lasts that long.  Worcestershire Sauce : If you're more sensitive to this flavor then only use 1/4 teaspoon. I use 1/2 teaspoon when I make this. At first, the flavor tastes strong in the cheeseball but as it sits in the fridge the Worcestershire flavor softens and tastes amazing with the other flavors.  Almonds : If you don't want he larger sliced almonds then feel free to put the almonds into a food processor or food chopper and chop/pulse them into smaller pieces. You could also just use a Ziploc bag and a meat mallet or something else heavy to chop them into smaller pieces.  Cream Cheese : Use the real stuff! The full-fat cream cheese tastes better and it's creamier which makes the cheeseball creamier. Make sure that the cream cheese is very soft so it mixes in nice and smooth with the other ingredients. Place the unwrapped cream cheese bars onto a microwave-safe plate and microwave for 30 seconds. Mayonnaise : The cheeseball does not taste like mayonnaise. Don't leave it out because it makes the cheeseball so smooth, rich, and creamy. 
Nutrition
Calories: 177kcal | Carbohydrates: 3g | Protein: 5g | Fat: 17g | Saturated Fat: 7g | Cholesterol: 37mg | Sodium: 164mg | Potassium: 94mg | Fiber: 1g | Sugar: 1g | Vitamin A: 448IU | Vitamin C: 1mg | Calcium: 97mg | Iron: 1mg