GREEK DIP
I always love having some great dip recipes around this time of year. We've got the Super bowl coming in a couple weeks and I make lots of different dip recipes for everyone to snack on.
We love to serve this Greek dip alongside avocado dip, game day dip, and this vegetable ranch cracker dip.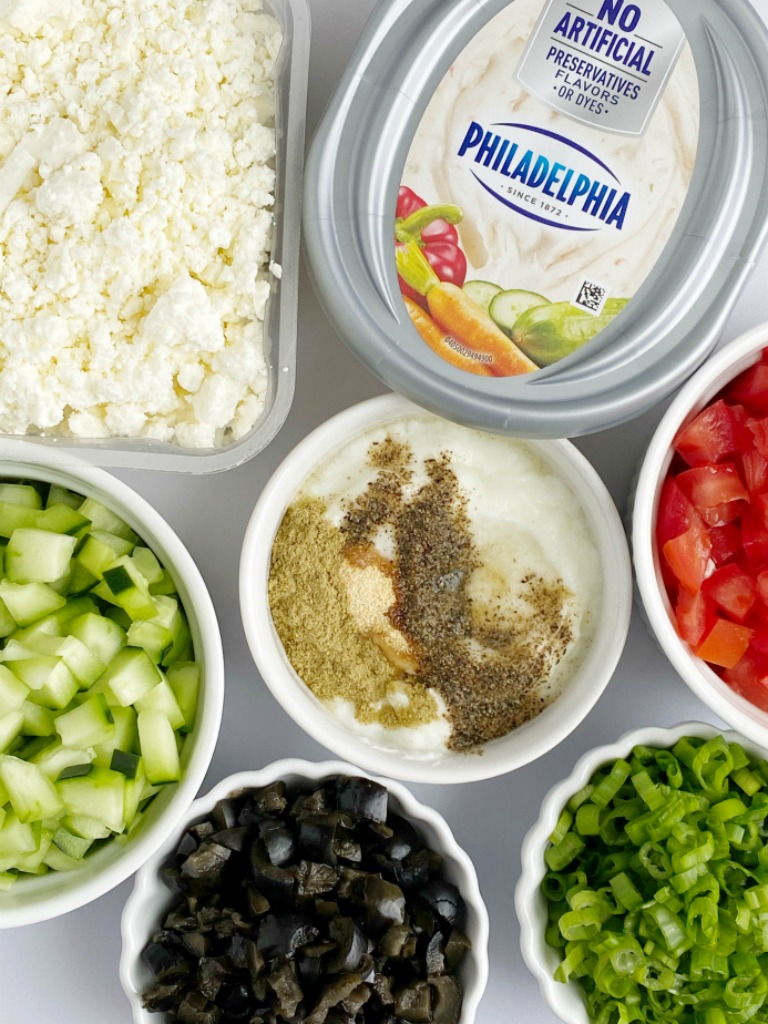 HOW TO MAKE THE BEST DIP RECIPE
Garden Vegetable Cream Cheese – I would highly recommend using this instead of regular cream cheese. It is so delicious and adds a different layer of flavor to this dip. It does not come in a box/bar shape like cream cheese. Instead it's inside a small tub. 
Plain Yogurt – I prefer plain yogurt instead of Greek yogurt because I don't care for the sour taste of Greek yogurt. But use whichever you prefer, just make sure it's plain!
Oregano, Black Pepper, Garlic Powder – These get mixed into the yogurt and cream cheese. 
Feta Cheese
Sliced Green Onions
Black Olives
Cucumbers– Make sure you take the seeds out before chopping. Cut the cucumber in half (the long ways) and then take a spoon and scoop the middle part out that has the seeds. Then go ahead and cut the remaining cucumber. 
Tomatoes – Again, make sure you take the seeds out to avoid too much liquid in the dip. 
Black Olives
Remember that all these amounts listed in the recipe are very adaptable. I've made this dip for years and this is the way we like it. If you prefer more feta cheese then go ahead and add more. Same thing with the cucumbers, tomatoes, olives, etc. Just add more or less if that's what you prefer.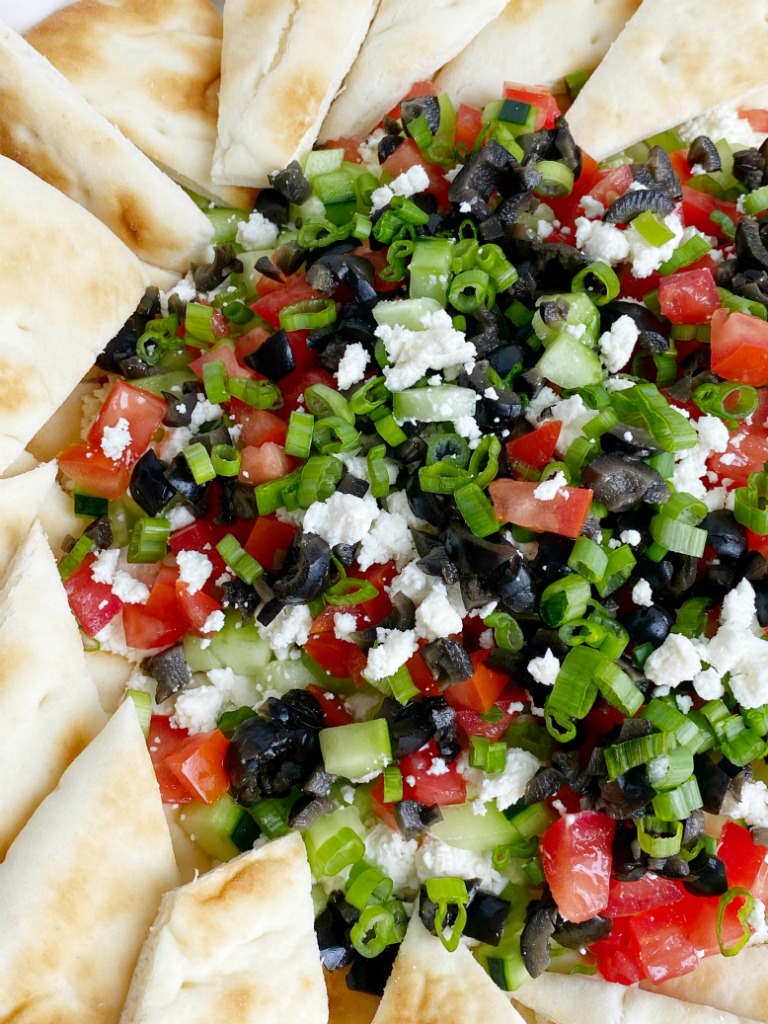 TRY THESE OTHER APPETIZER RECIPES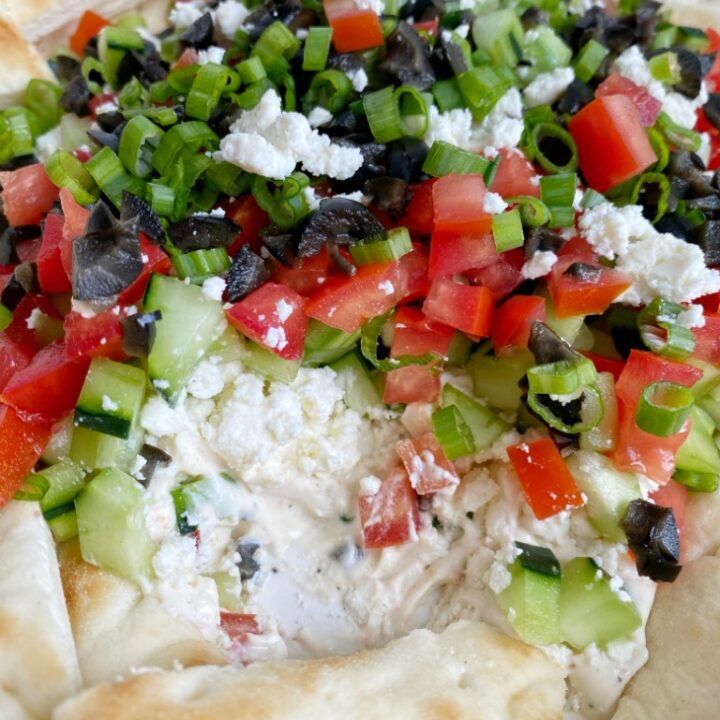 Greek Dip Recipe
This Greek Dip is so yummy with layers of cream cheese, yogurt, spices, tomatoes, cucumbers, olives, and feta cheese. Serve with crackers and pita bread for an amazing appetizer. 
Ingredients
1 carton (8 oz) garden vegetable cream cheese
1/4 cup plain yogurt
1/4 teaspoon dried oregano
1/4 teaspoon garlic powder
1/4 teaspoon black pepper
1 cup crumbled feta cheese
1 cup chopped cucumbers (peeled & seeded)
1 cup chopped tomatoes (seeded)
2 tablespoons thinly sliced green onions
2 tablespoons chopped black olives
pita bread & crackers for serving
Instructions
In a bowl, combine the cream cheese, plain yogurt, oregano, garlic powder, and black pepper. Stir to combine until it's mixed well. Spread onto bottom of a plate, a 9" pie plate, or a similar sized dish.

Layer the remaining ingredients in the order given; feta cheese, cucumbers, tomatoes, green onions, and black olives.

Serve with pita bread & crackers of your choice.
Notes
This recipe is super adaptable. I love the recipe as is, with the amounts given, but if you want more of any ingredient then just add more! I would for sure not substitue with regular cream cheese. Use the garden vegetable or if you can't find that one then the chive & onion cream cheese is another great choice too. 
Nutrition
Calories: 44kcal | Carbohydrates: 2g | Protein: 2g | Fat: 3g | Saturated Fat: 2g | Cholesterol: 12mg | Sodium: 192mg | Potassium: 68mg | Fiber: 1g | Sugar: 1g | Vitamin A: 104IU | Vitamin C: 2mg | Calcium: 76mg | Iron: 1mg
recipe adapted from Taste of Home