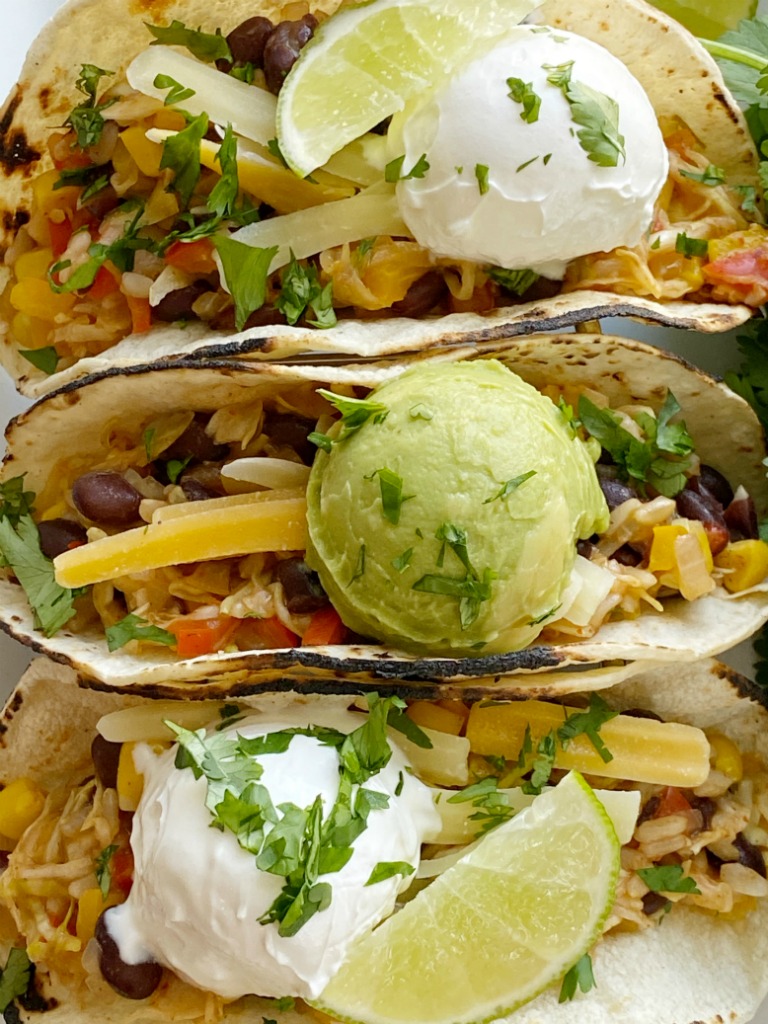 VEGETARIAN RECIPE
These vegetable tacos are a great way to get lots of vegetables in your diet and still have a taco! Corn tortillas stuffed with a vegetable filling, and topped with all your favorite taco toppings. 
No one will miss the meat with these vegetable tacos for dinner.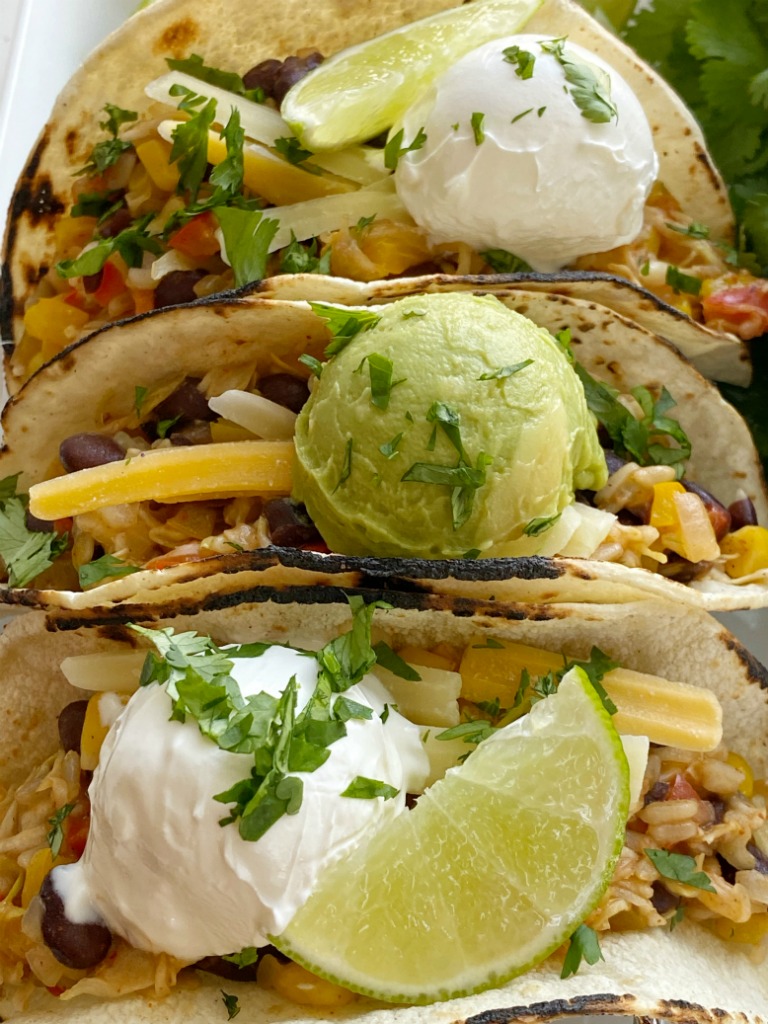 VEGETABLE TACOS WITH BLACK BEANS AND CABBAGE
All you need is one pan and a handful of simple ingredients.
olive oil
diced onion
bell pepper
shredded cabbage
black beans
brown rice
frozen corn
taco seasoning
fresh lime juice
garlic
corn tortillas
taco toppings – fresh cilantro and guacamole or really great!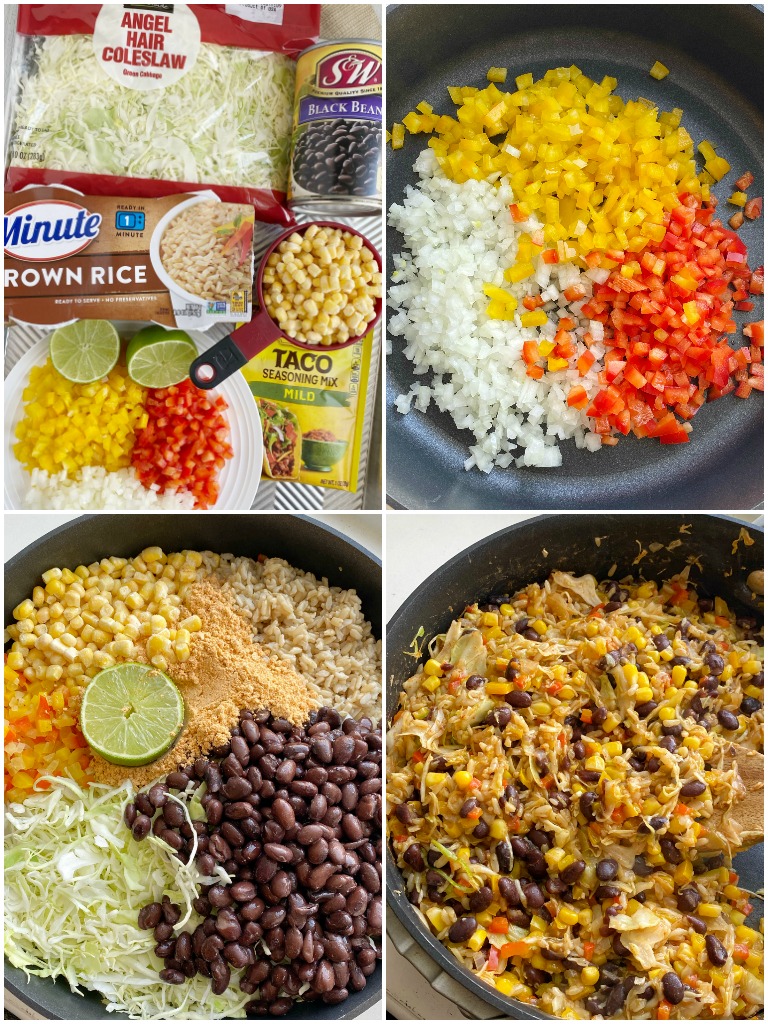 HOW TO MAKE VEGETARIAN TACOS
Start by collecting all your ingredients because once you start cooking, it goes fast, and it's ready within 10-15 minutes. Chop the onion and bell peppers. Drain the black beans. Measure out the frozen corn. 
Add the olive oil, chopped onion, and bell peppers into a skillet pan (a large one with sides cause we're adding in a lot of stuff). Let that sauté for about 5 minutes until softened.
 Add shredded cabbage, drained black beans, frozen corn, brown rice, taco seasoning, lime juice, and garlic. Stir it together and let it cook for 10 minutes. 
Serve alongside corn tortillas and all your favorite taco toppings. 
MY TIPS FOR MAKING THIS RECIPE
You don't have to use a packet of taco seasoning! Simply add your own spices like garlic powder, onion powder, cumin, chili powder, salt, and pepper. 1 packet of taco seasoning is equal to about 2 tablespoons of spices. 
Use any variety or mixture of bell peppers that you want. Red, orange, yellow, or green are all delicious choices.
Use any variety of onion you prefer. Yellow onion, white, red onion, or a sweet Vidalia onion will all work. 
To char the outside of the corn tortillas and to soften them up, simply lay a corn tortilla over the flame on a gas stove (watch carefully!) or cook a corn tortilla inside a small skillet pan for several minutes over medium-high heat. 
Top these tacos with whatever you want. We love chopped cilantro, shredded cheese, and guacamole. 
It's easiest to buy the bag of shredded cabbage in the produce section. It will be by the other bagged salad mixes.
If you don't like black beans then substitute with a bean of your choice. Or just leave them out completely. 
The recipe calls for the ready-to-serve microwave brown rice. Traditionally you cook it in the microwave in the white container it comes in for 1 minute. DO NOT cook it before adding it into the mixture. You can also use leftover brown rice if that's what you have available. 
TRY THESE OTHER VEGETARIAN RECIPES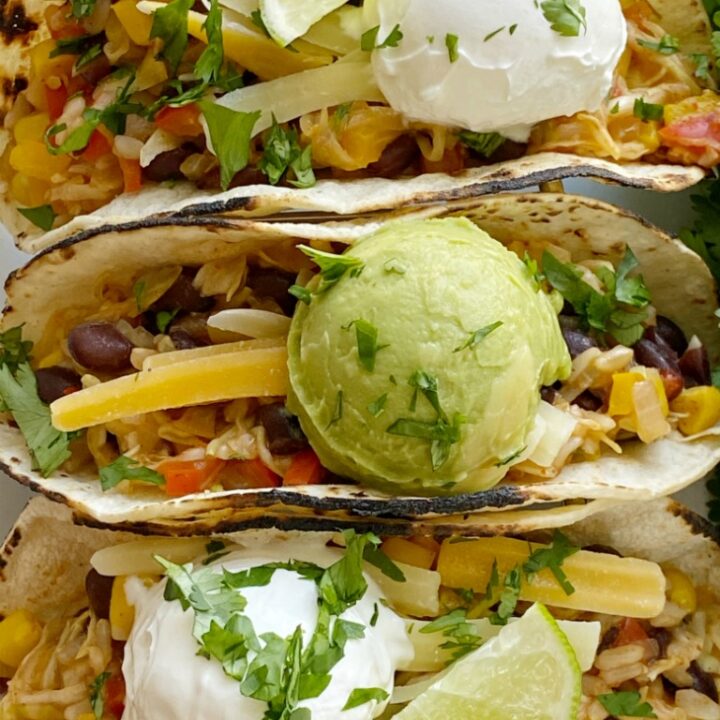 Black Bean, Rice, & Vegetable Tacos
No one will even miss the meat with these hearty, filling, and delicious Black Bean, Rice & Vegetable Tacos. Pair with corn tortillas, fresh diced tomato, shredded cheese, and sour cream for a healthy dinner that you will want to make again! They're the perfect vegetarian recipe for Taco Tuesday.
Ingredients
1 tablespoon olive oil
1 small onion, finely diced
2 bell pepper, chopped (red, orange, yellow, or green bell pepper)
1 can (15 oz) black beans (drained & rinsed)
1 bag (10 oz) shredded cabbage (about 3 cups shredded cabbage)
1 cup frozen corn
1 cup ready-to-serve-Minute brown rice
1 packet taco seasoning
juice of 1 lime
2 garlic cloves, minced or pressed (I use garlic paste)
corn tortillas & taco toppings
Instructions
In large skillet, over medium-high heat, add olive oil, onion, and bell peppers. Cook until crisp-tender, about 5 minutes.

Add the black beans, shredded cabbage, frozen corn, brown rice, taco seasoning, lime juice, and garlic. Stir together and reduce heat to medium. Let it cook for about 8-10 minutes, while stirring occasionally.

Spoon mixture into corn tortillas and top with your favorite taco toppings.
Notes
Please note that this recipe does not call for dry rice. DO NOT add dry rice as there is not enough liquid to cook it. Use the ready-to-serve rice (as pictured above in the blog post) OR use leftover rice that is already cooked.  See the picture in the post for the brown rice. It comes in a 2-pack with white containers. This recipe uses 1 container from that pack. It is also equal to 1 cup of rice if you are using leftover rice or cooking your own. The brand is Minute Rice and it's the ready-to-serve rice that microwaves for 1 minute.  Nutrition information is for one taco (veggie filling + corn tortilla) and it does not include any extra toppings. 
Nutrition
Calories: 160kcal | Carbohydrates: 31g | Protein: 6g | Fat: 3g | Saturated Fat: 1g | Sodium: 31mg | Potassium: 323mg | Fiber: 6g | Sugar: 3g | Vitamin A: 799IU | Vitamin C: 49mg | Calcium: 51mg | Iron: 2mg