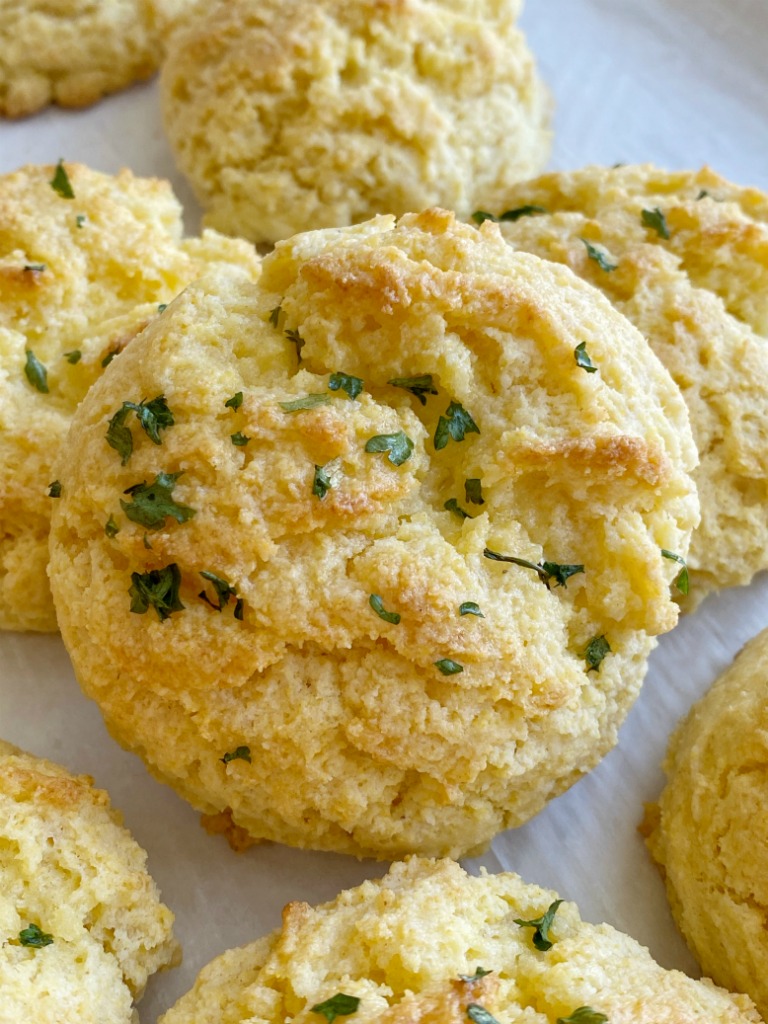 CORNBREAD BISCUITS WITH BUTTER
I have a thing for cornbread. Forget all the chocolate and decadent desserts, show me a pan of cornbread and I am good. I love any and all cornbread recipes, but these cornbread drop biscuits are one of my favorites because they are so simple to make and quick too. 
Throw in some butter, or better yet, honey butter and I am happy 🙂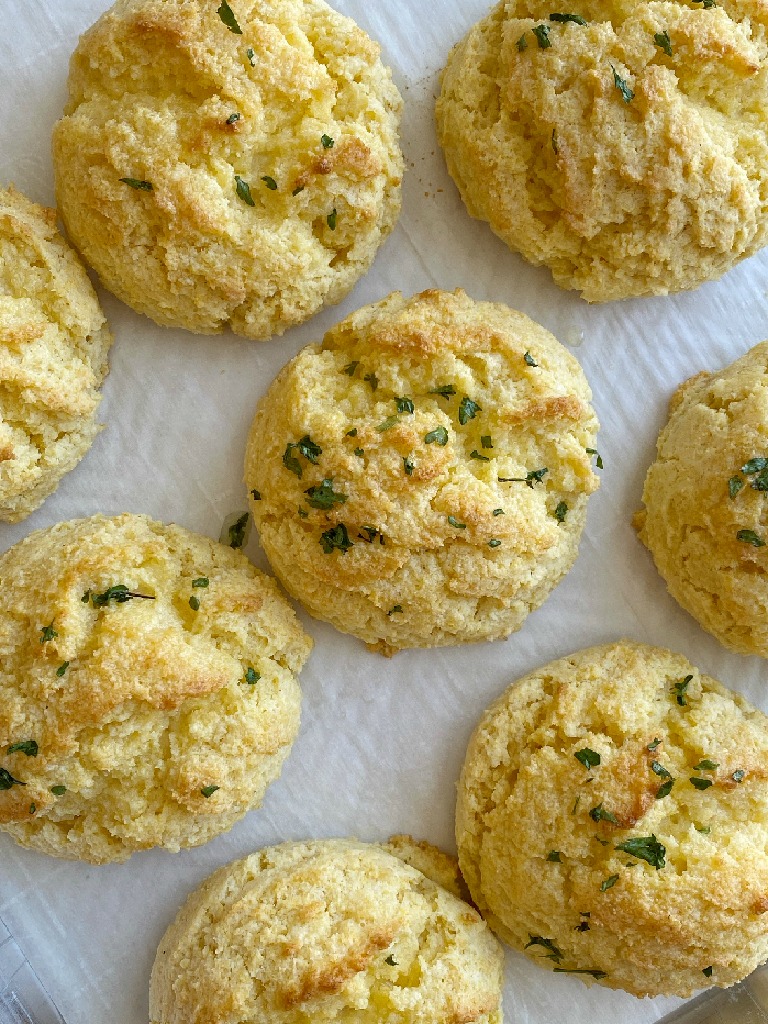 WHAT ARE DROP BISCUITS?
A drop biscuit is a biscuit dough where it has just enough milk to be able to 'drop' the biscuit dough onto a cooking sheet. No need to flour the counter suraface, roll out the biscuit dough, and then cut biscuit shapes.
Simply mix up a simple biscuit dough and with a spoon, or a cookie scoop, drop the biscuits onto the baking tray.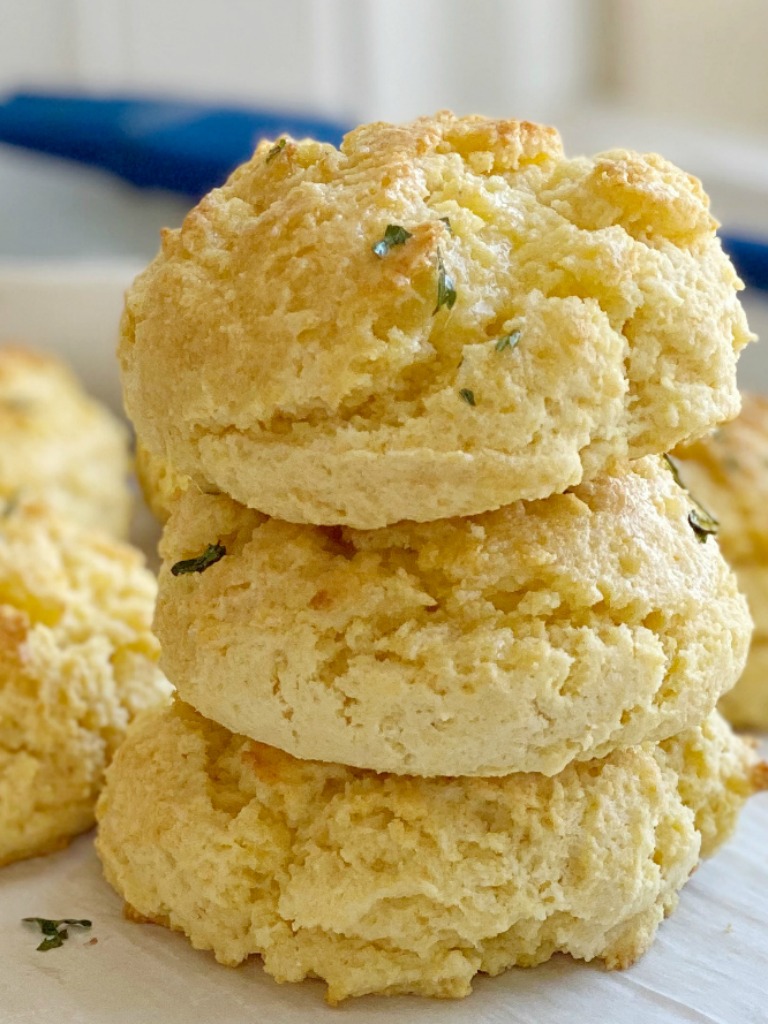 HOW TO MAKE CORNBREAD BISCUITS
All-purpose flour 
Cornmeal – You will find this by the flour at the grocery store.
Granulated Sugar – I like sweet cornbread but if you prefer less sweet, then reduce the sugar to 3 tablespoons (recipe calls for 1/4 cup).
Baking Powder, Baking Soda, and Salt
Butter – The butter needs to be melted and cooled. The trick is to only cook in the microwave for 45 seconds. You'll be left with partially melted butter that is not piping hot. Take a fork and stir it together until the chunks melt into the butter and you're left with a smooth, melted butter. 
Sour Cream – Combine sour cream with the melted butter and you have this amazing soft, tender, and buttery biscuit. It's best to use real, full-fat sour cream for best taste and texture. 
Milk – The higher fat percentage the better! I always use half-and-half milk but whole milk would work great too.
Combine the dry ingredients into a mixing bowl. Combine the wet ingredients into a smaller bowl. I use a 2 cup glass measurer, the same one I melt the butter in, and then add the other wet ingredients into it and whisk it together. 
Combine the wet into the dry ingredients and very gently mix it together. The key is to not overmix the dough. Just mix it until it's combined and no flour pockets remain in the dough. 
Use two large spoons or a cookie scoop and drop the biscuit dough onto the baking sheet. Each biscuit is 1/4 cup of dough. Of course they can be made larger or smaller, just watch the cook time if you make them bigger or smaller.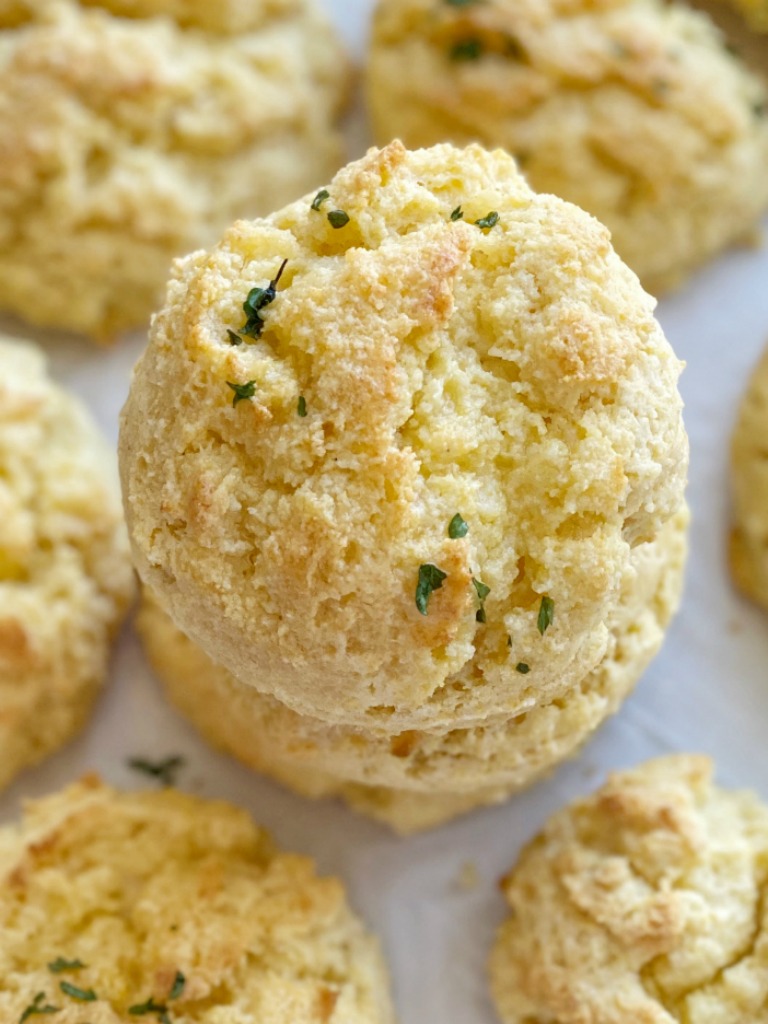 TRY THESE OTHER CORNBREAD & DROP BISCUIT RECIPES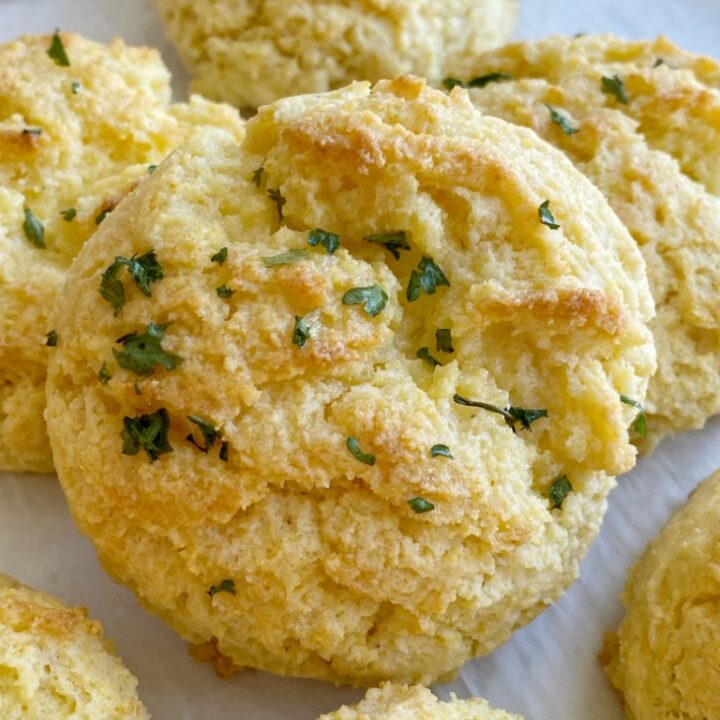 Cornbread Drop Biscuits
Cornbread Biscuits are easy drop biscuits that can be made in just minutes. Butter and sour cream make these cornbread biscuits so moist and buttery.
Ingredients
Cornbread Biscuits
1 1/2 cups all-purpose flour
1/2 cup cornmeal
1/4 cup granulated sugar
2 teaspoons baking powder
1/2 teaspoon baking soda
1/4 teaspoon salt
1/2 cup (1 stick) butter, melted & slightly cooled
1/2 cup sour cream (full fat is best)
1/2 cup milk (higher percentage is better, I use half & half milk)
Optional Butter Topping
3 tablespoons melted butter
1/2 teaspoon dried parsley flakes
Instructions
Heat oven to 450°. Prepare a cookie sheet by lining with parchment paper, silpat liner, or spray with cooking spray.

In a mixing bowl, combine the flour, cornmeal, sugar, baking powder, baking soda, and salt. Whisk together to break up any clumps.

In a smaller bowl (I use the same 2-cup glass measurer that I melted the butter in) combine the melted butter, sour cream, and milk. Whisk together until combined. Pour into the dry ingredients and gently stir together. Just stir until combined and no flour pockets remain in the dough.

Drop the dough (each biscuit is 1/4 cup) onto the prepared cookie sheet. You can use two large spoons, a cookie scoop, or a 1/4 cup measuring cup to drop the biscuit dough.

Bake for 12-14 minutes. Outside should be golden brown and the inside will be soft and fluffy. Just make sure to cook until the middle is no longer wet. Use a toothpick if you have to, to test the middle.

OPTIONAL TOPPING : Combine the melted butter and parsley in a small bowl. Immediately brush it on top of the biscuits after they are out of the oven. I usually don't do this, instead I serve them with butter & honey at the dinner table OR I will just brush them with melted butter.
Notes
I like sweet cornbread but if you prefer less sweet, reduce the sugar to 3 tablespoons (or less if wanted).    The butter topping with parsley flakes is totally optional. I normally just serve these with butter or honey butter for dinner. Or I will just brush them with melted butter and no parsley flakes so my kids don't complain about the "green stuff"!   An easy way to get melted & slightly cooled butter - Place butter in a microwave-safe bowl (I use the same 2 cup glass measurer that I mix the wet ingredients in) and microwave for 45 seconds. You will end up with half melted and half soft butter. Stir with a fork until it all mixes together. Won't take long at all and it will be cooled enough to use the recipe. 
Nutrition
Calories: 217kcal | Carbohydrates: 22g | Protein: 3g | Fat: 13g | Saturated Fat: 8g | Cholesterol: 34mg | Sodium: 200mg | Potassium: 132mg | Fiber: 1g | Sugar: 5g | Vitamin A: 400IU | Vitamin C: 1mg | Calcium: 56mg | Iron: 1mg
recipe found & adapted from The Cook's Treat