Cadbury Mini Egg Blondies are the best Easter treat! Brown sugar based blondie bar recipe loaded with chopped Cadbury mini eggs and chocolate chips.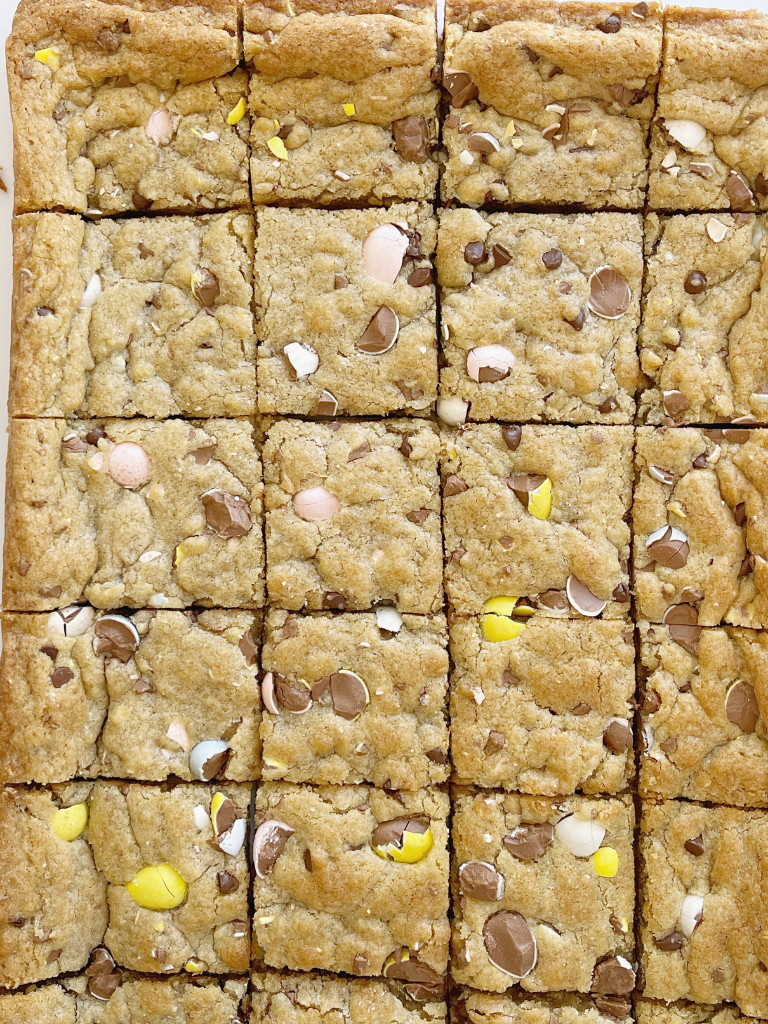 CADBURY MINI EGG BLONDIES
These Cadbury mini egg blondies have a buttery brown sugar base and then they're loaded with lots of chopped Cadbury mini eggs. 
In my world, what's the point of eating those delicious pastel eggs plain when you can make blondies, Cadbury mini egg cookies, Cadbury mini egg Kiss cookies, or even these 7 layer Cadbury mini egg bars?
With all these Cadbury mini egg recipes you might as well get yourself the big bag from Costco or Sam's Club! I always pick up a big bag when I see them on the shelves and make one of these goodies.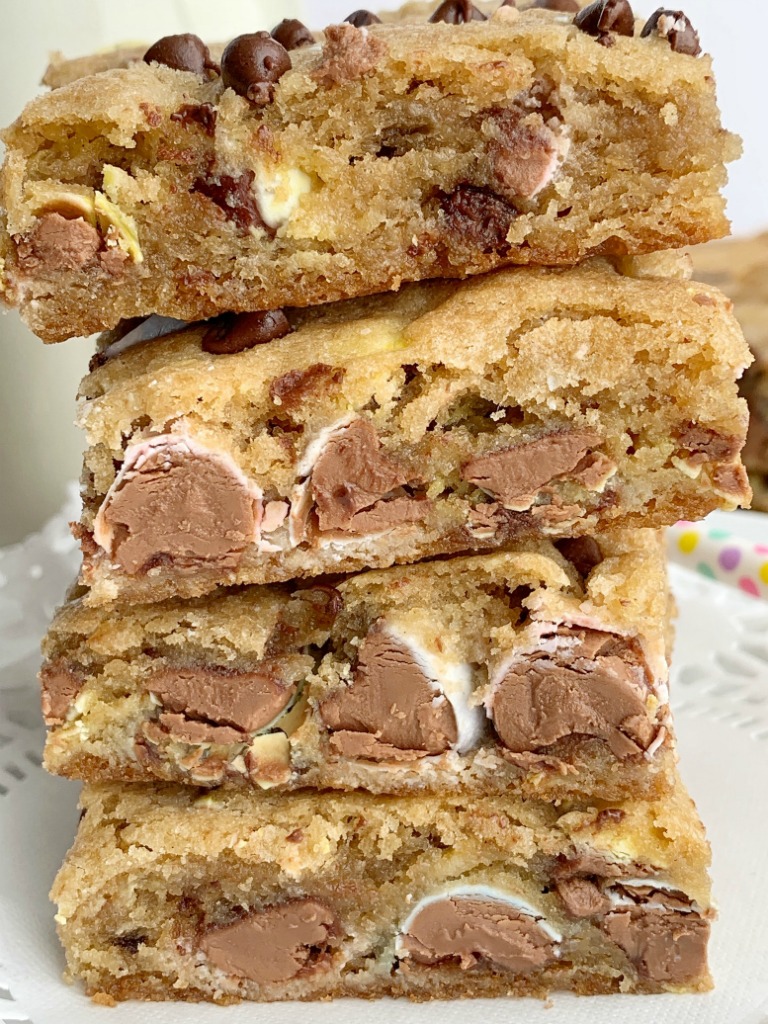 HOW TO MAKE CADBURY MINI EGG BLONDIES
This recipe is based off of my favorite blondie bar recipe. Blondies are a buttery cookie bar with a brown sugar base. You only need a few pantry staple baking ingredients and of course some Cadbury mini eggs to make this recipe. 
All-Purpose Flour
Salt & Baking Soda
Butter – I always use salted butter for everything. If you use unsalted butter then you may want to add a little additional salt, depending on taste. 
Large Eggs
Vanilla Extract – Pure vanilla extract makes such a difference in baking. I know it's expensive, and it pains me to have to buy it each time (and I go through it fast!), but it will make a big difference in the outcome of baked goods. 
Cadbury Mini Eggs – Put some into a Ziplock bag (I use a freezer bag because they are thicker) and then use a meat pounder or other heavy object and chop them. You don't want the pieces crushed, instead just make sure they are roughly chopped. 
Mini Chocolate Chips – I prefer the mini in baking recipes but regular sized chocolate chips will work just as fine too.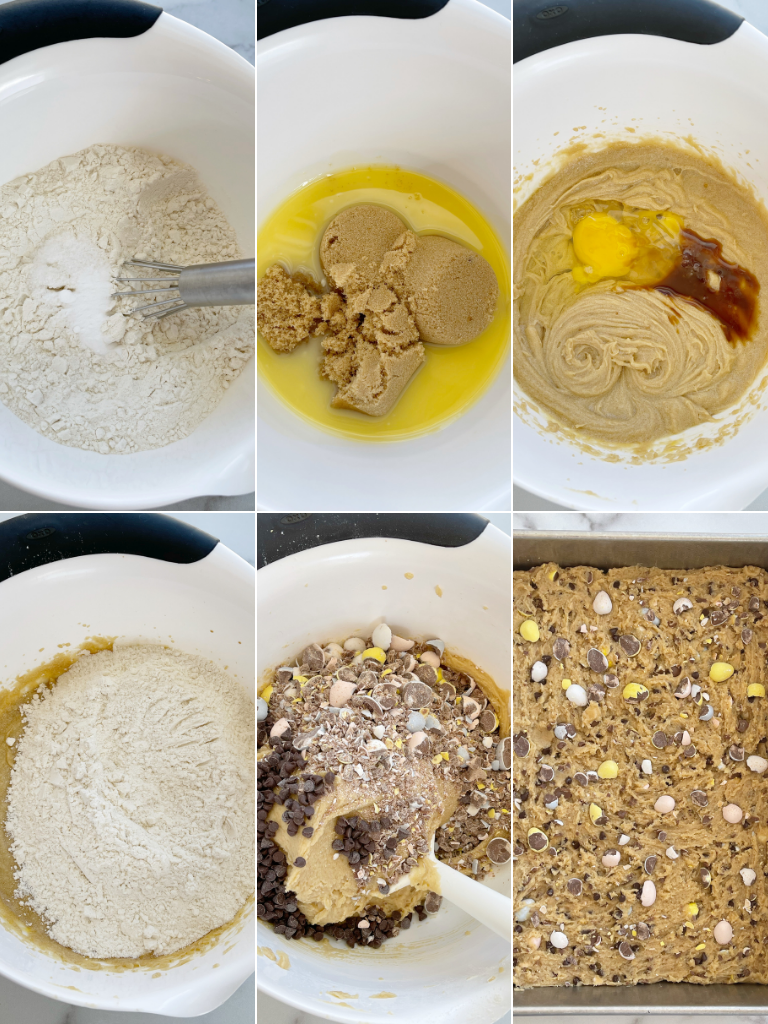 MY TIPS FOR MAKING THIS RECIPE
Use dark chocolate Cadbury mini eggs

If you prefer the dark chocolate version of the mini eggs then feel free to use those instead in this recipe.

Let the bars cool!

The key to a really good blondie bar is to let them cool! It's so hard to wait, I know! But these bars will be so much better after they have cooled for at least an hour. The buttery, brown sugar base needs time to cool and set up.  

How do I chop Cadbury Mini Eggs?

I think the easiest way is to put some into a freezer gallon-sized Ziploc bag (the freezer ones are thicker) and then use a meat pounder, or another heavy object, and hit them. You don't want them crushed, instead aim for a rough chop so you are still left with larger pieces of the mini egg. 

How do I get melted & cooled butter?

Place the unwrapped butter into a microwave-safe container, I use a glass measuring cup, and microwave for 45 seconds. After the cook time you will end up with half melted butter and then half soft formed butter. Take a fork and stir it until all the butter is melted, smooth, and combined. Now you have melted and cooled butter and you can use it immediately. 

How do I get pretty bakery style blondies?

After spreading out the dough into the pan gently press some additional chopped Cadbury mini eggs on top. 
How to easily cut blondie bars

I spray the baking dish with cooking spray and then lay a pre-cut parchment paper into the pan. The cooking spray helps the parchment paper stick to the pan. You could also use tin foil that has been sprayed with cooking spray as well. The trick to cutting bars evenly and easily is to lift them out of the pan and then cut into bars. 
But the most important thing is to make they're cooled before cutting! Let the blondies cool in the pan for at least an hour and then lift them out to cut them.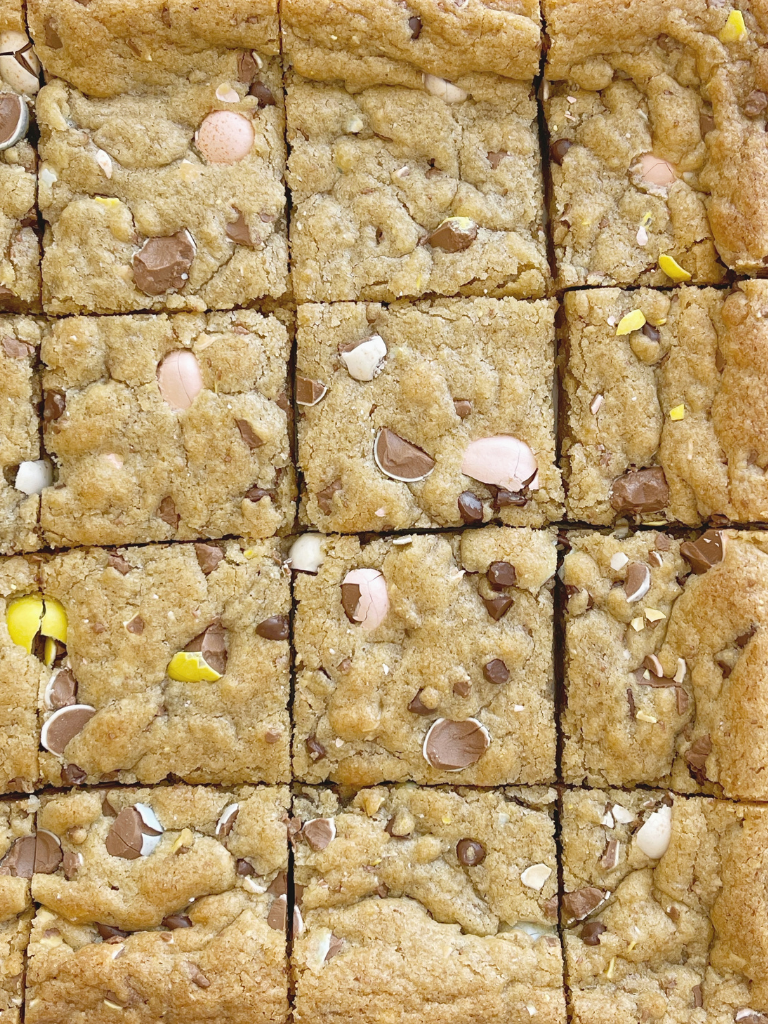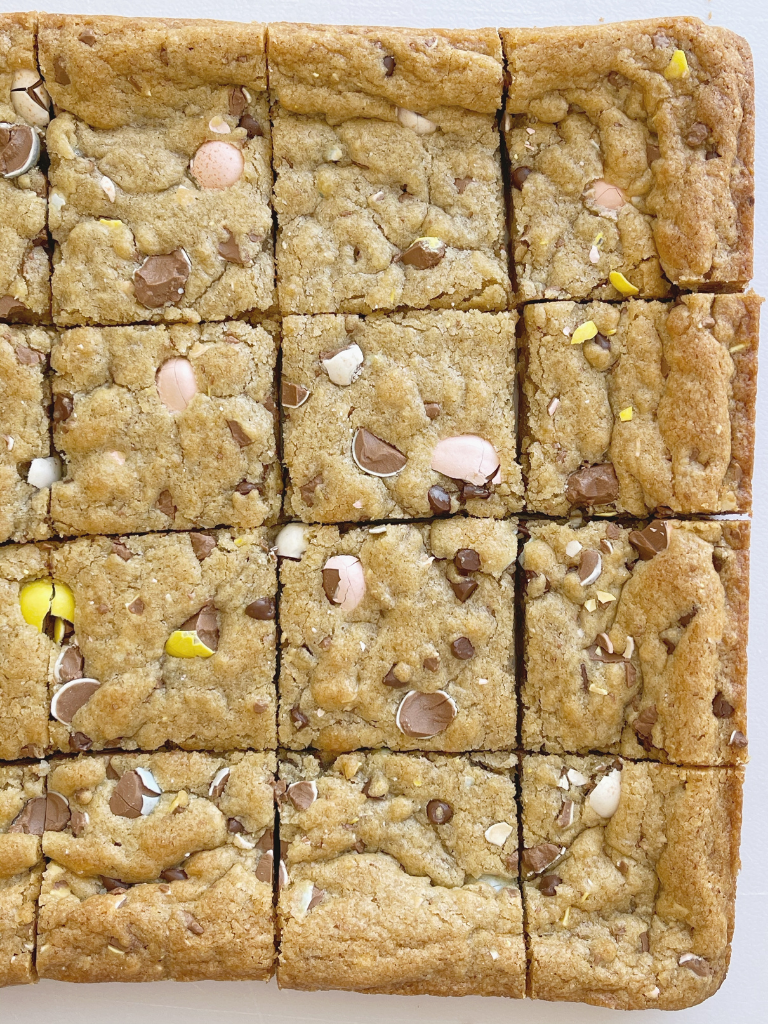 TRY THESE OTHER EASTER TREATS
Easter Goody Bars
Easter Goody Bars are the perfect springtime treat! A pecan and oat crumble mixture for the crust, filled with a creamy fudge filling, topped with more crumble and Easter m&m candy and sprinkles.
GET THE RECIPE
No Flour Mini Cadbury Egg Cookie Bars
No flour mini Cadbury egg cookie bars are the best way to celebrate Easter! These gluten-free, no flour cookie bars are loaded with oats, peanut butter, chocolate, and an entire bag of mini Cadbury eggs. You must try this easy dessert that's made in a cookie sheet so it's perfect for a crowd or for freezing.

GET THE RECIPE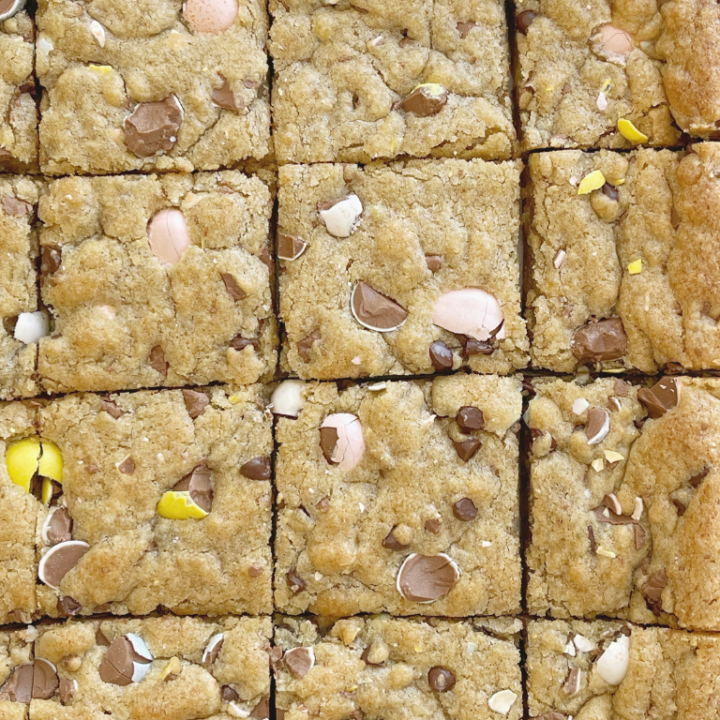 Cadbury Mini Egg Blondies
Cadbury Mini Egg Blondies are soft, chewy, buttery, and loaded with everyone's favorite Cadbury mini egg chocolate candy!
Ingredients
2 cups + 2 tablespoons all-purpose flour
½ teaspoon salt
½ teaspoon baking soda
1 cup (2 sticks) butter melted & cooled
1½ cups light brown sugar
2 large eggs
2 teaspoons vanilla extract
1 cup roughly chopped Cadbury Mini Eggs
1/4 cup mini chocolate chips
Instructions
Heat oven to 350°. Spray a 9x13 baking pan with cooking spray and then line with parchment paper. The cooking spray will help the parchment paper stay in place. Or, just use cooking spray, or line the pan with tin foil and spray it lightly. 

In a small mixing bowl combine flour, salt, and baking soda. Stir with a whisk to break up clumps. Set aside for later use.

In a bowl, or bowl of a stand mixer, combine melted and slightly cooled butter and brown sugar. Blend together until combined. This will take 1-2 minutes. Make sure the butter is blended well and the batter should appear lighter in color.

Add in 1 egg and then blend. Add the other egg and vanilla extract and blend together until combined.

Add in the flour mixture and mix on low speed until combined and no flour pockets remain in the batter. Add the chopped Cadbury Mini Eggs and mini chocolate chips. Stir to combine.

Dump batter into the prepared pan and spread out evenly. Sprinkle additional Cadbury Mini Eggs on top and gently press down.* It's helpful to dump the batter all over the pan, rather than one pile in the middle, it will make spreading it easier in the pan.

Bake for 21-26 minutes. The edges will be a light golden brown and be "wrinkly" and the middle will look pale. Let cool completely in pan (at least 1 hour).

Don't try to rush the cooling time or else they will not cut well at all. Store leftovers, covered, at room temperature.
Notes
Melted & Cooled Butter Tip : Place the unwrapped butter into a microwave-safe bowl, I use a glass measuring cup, and microwave for 45 seconds. When it's done there will be half melted butter and half soft formed butter. Take a fork and stir it until it's all melted, smooth and combined. Now you have metaled butter that is not too hot. You can use it immediatley.  Switch it up : Use dark chocolate Cadbury mini eggs OR use the shimmery Cadbury mini eggs for something different.     
Nutrition
Calories: 262kcal | Carbohydrates: 35g | Protein: 3g | Fat: 13g | Saturated Fat: 8g | Trans Fat: 1g | Cholesterol: 45mg | Sodium: 187mg | Potassium: 46mg | Fiber: 1g | Sugar: 24g | Vitamin A: 339IU | Vitamin C: 1mg | Calcium: 36mg | Iron: 1mg