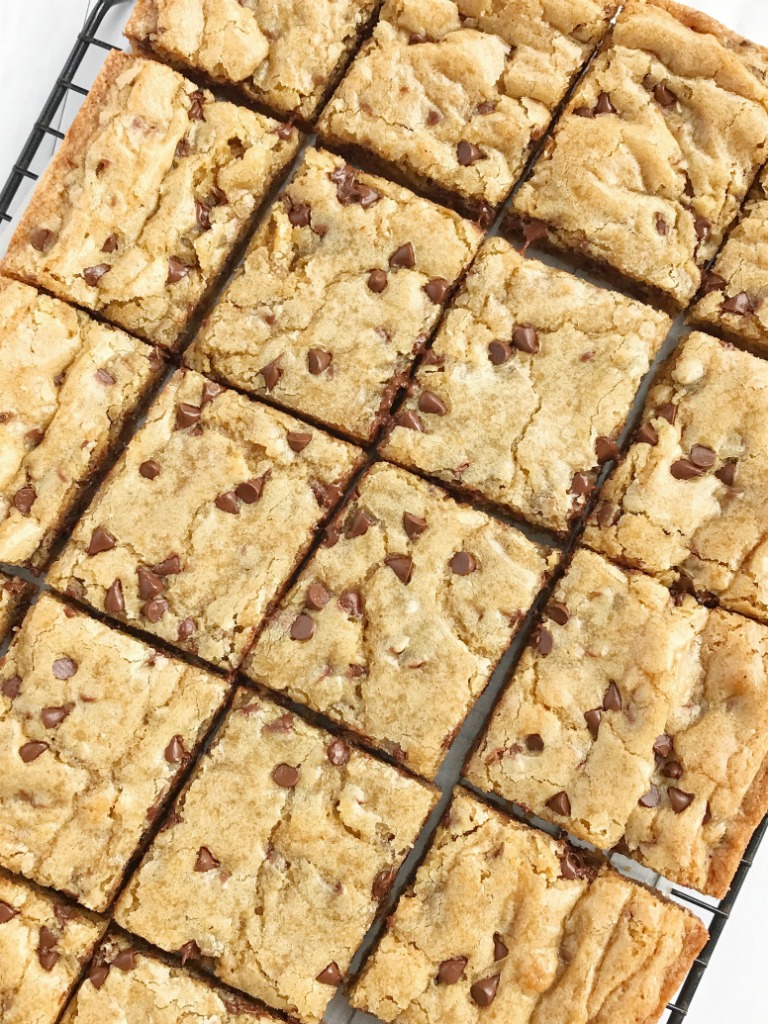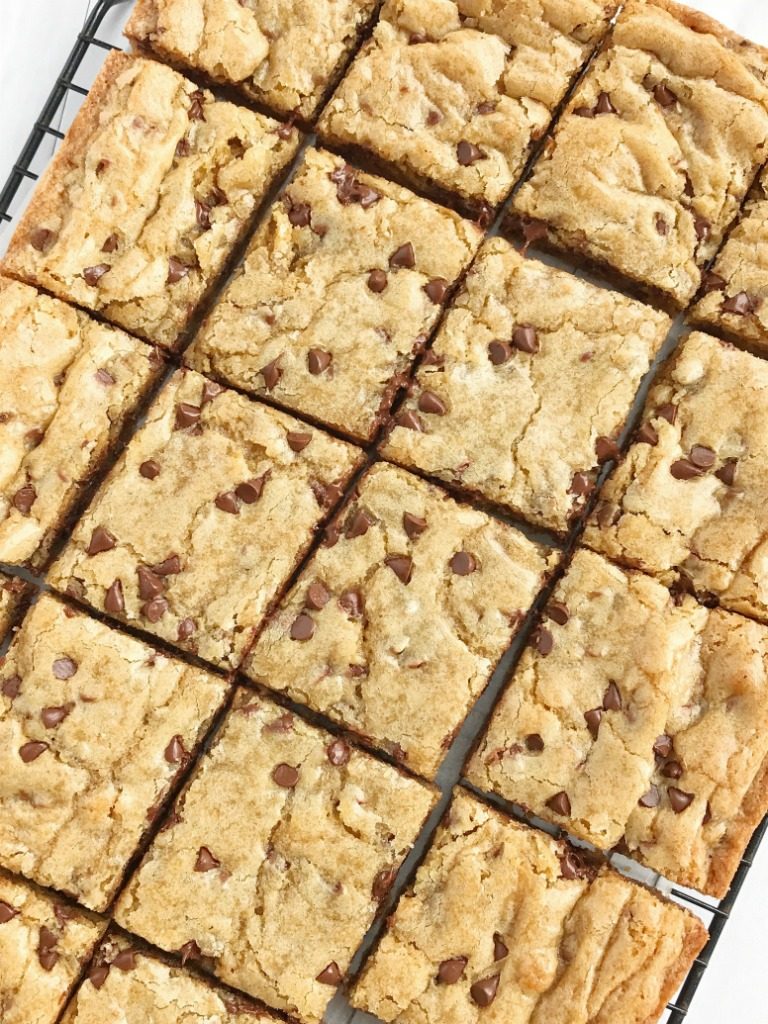 BLONDIES
If you're anything like me you're probably wondering what is a blondie? It's basically a brownie but without the cocoa powder. Instead, it's a vanilla based bar that only uses brown sugar.
Only using brown sugar in blondie bars makes them chewy, gives them that crispy crust (crispy in a good way), and makes them soft and dense.
It's like a chocolate chip cookie but 1,000x better 🙂 If that's even possible to get better than a chocolate chip cookie…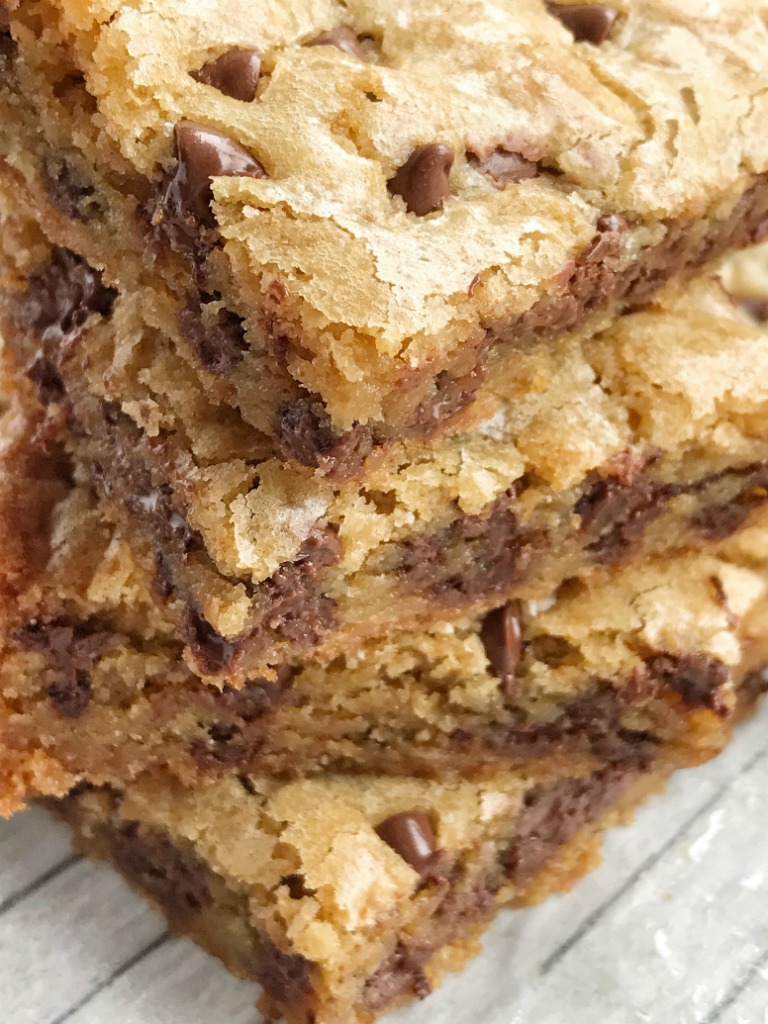 I'll be totally honest and say that these were gone in 1 day at my house. My kids (and myself) were crazy for these blondies. 
They bake up in a 9×13 baking pan and they are thick, chewy, and buttery cookie bars. The edge pieces are a bit crispy and the middle pieces are so soft and chewy.
I normally don't like edge pieces of bars but these were an exception. They were my favorite!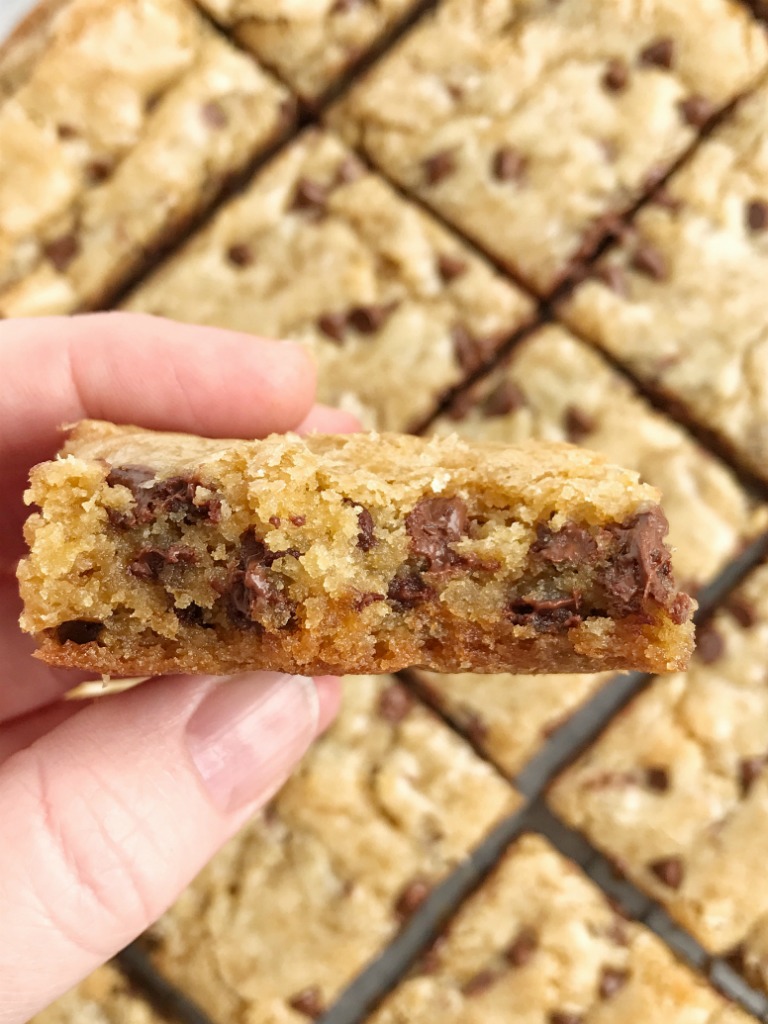 I love using the mini semi-sweet chocolate chips in these bars because then there is more chocolate spread through out the bar.
You can use regular semi-sweet chocolate chips if that's what you have. But try the mini ones, I love them and always have to buy a couple bags of them when I go grocery shopping.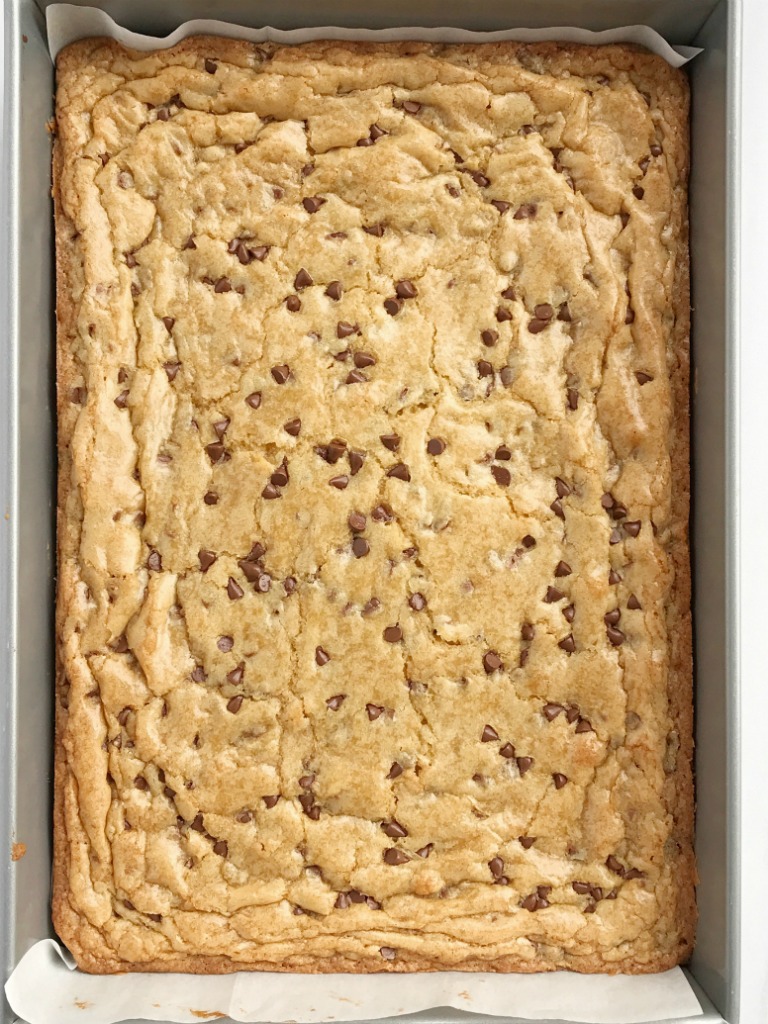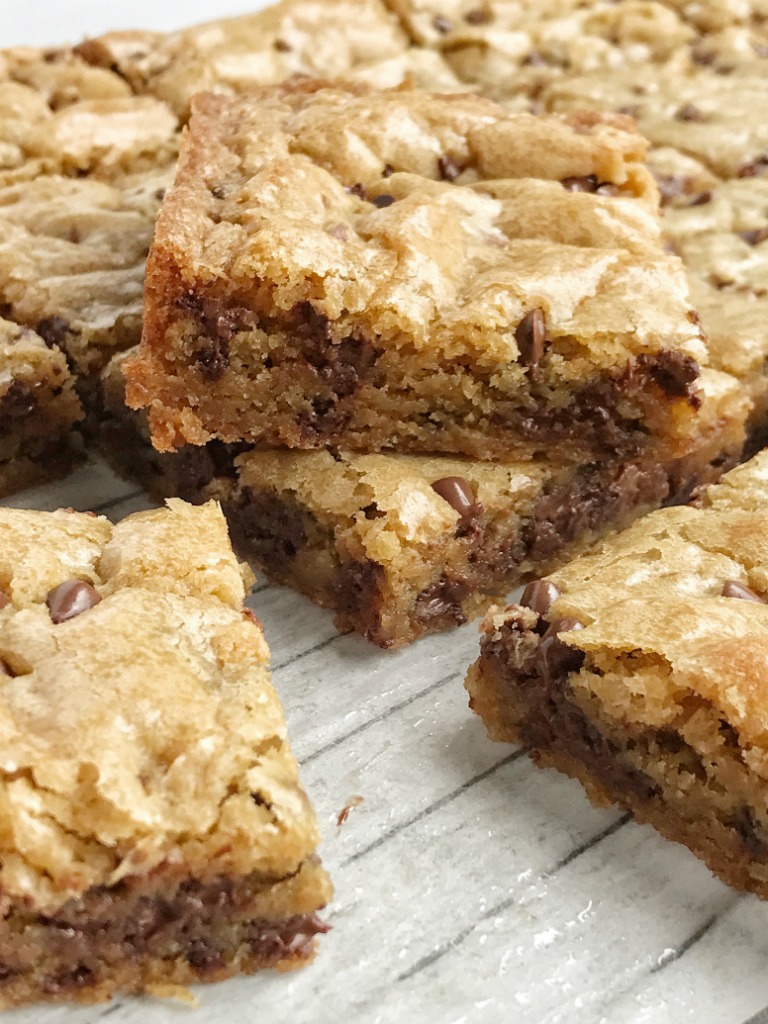 MY TIPS FOR MAKING THIS RECIPE
I always use parchment paper to line the pan with. It makes cutting and taking the bars out of the pan so easy. Once they're cooled you just lift them out with the overhang of the parchment paper and cut. 
To help parchment paper stay in place when I use it. I lightly spray the pan with cooking spray and then lay the parchment paper down on it. I also buy the box of precut parchment squares which fit perfectly in a 9×13 baking dish. 
DO NOT use the piping hot melted butter. Instead let it cool slightly. A tip for this : place the butter in a microwave-safe dish and microwave for about 35-40 seconds. Part of the butter will be melted while the other part will be in a soft butter stick form. Take a fork and mix the butter until it's all nice and smooth. This way you're not melting it all the way and getting the butter piping hot. If you do it this way you can add it into the dough right away.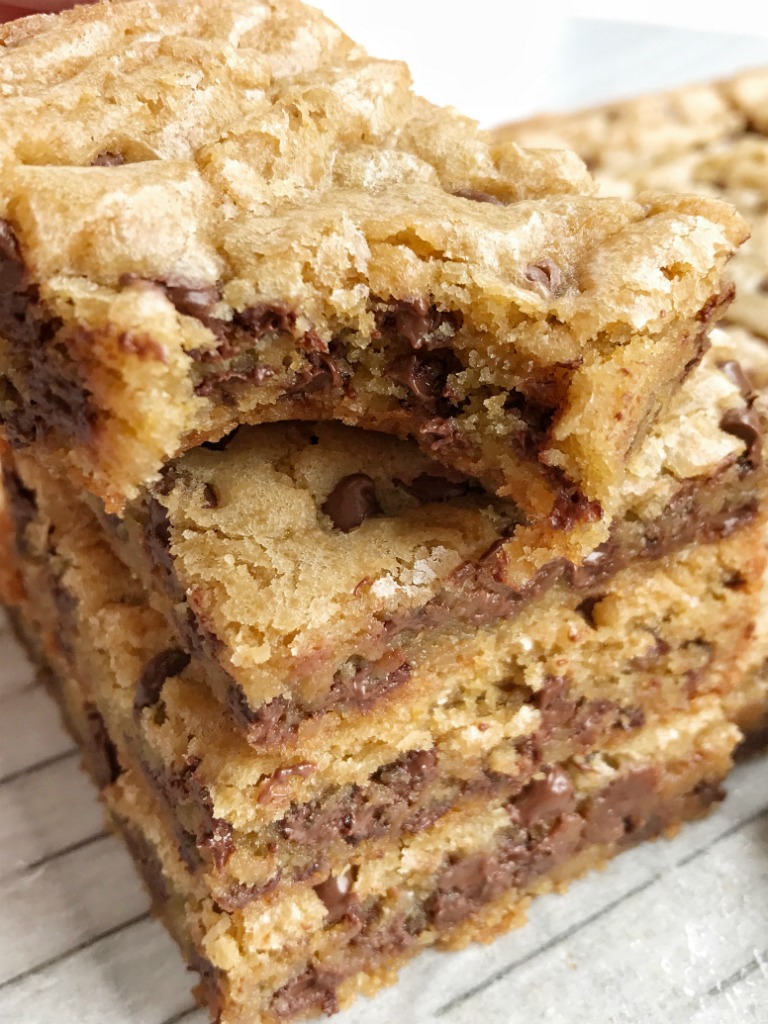 Be sure and try out these other chocolate chip treats :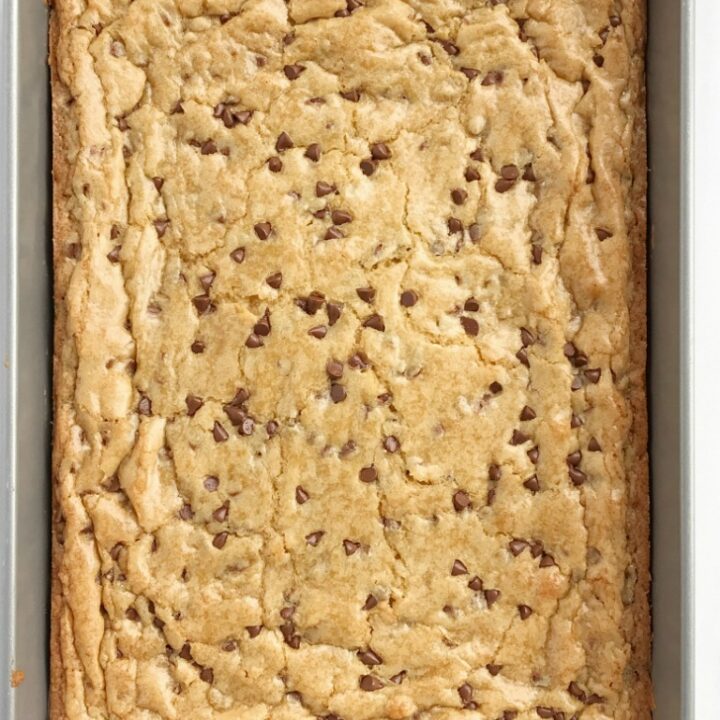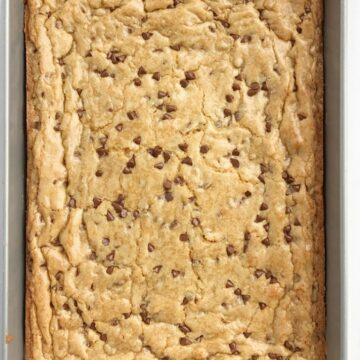 Chocolate Chip Cookie Blondie Bars
Chocolate Chip Cookie Blondies bake in one pan and are so simple to make. They bake up perfectly sweet & chewy each time with crisp, buttery edges and a soft-baked center. If you love chocolate chip cookies then you will love these chocolate chip cookie blondies.
Ingredients
2 cups + 2 tablespoons all-purpose flour
1/2 teaspoon salt
1/2 teaspoon baking soda
1 cup (2 sticks) butter, melted & cooled slightly
1 1/2 cups brown sugar
2 large eggs
1 tablespoon vanilla extract
1 1/4 cups miniature semi-sweet chocolate chips
Instructions
Heat oven to 350 degrees. Spray a 9x13 baking pan with cooking spray and then line with parchment paper. The cooking spray will help the parchment paper stay in place. Or, just use cooking spray.

In a mixing bowl combine flour, salt, and baking soda. Stir with a whisk to break up clumps

In a bowl, or bowl of a stand mixer, combine melted and slightly cooled butter and brown sugar. Blend together until combined.

Add in 1 egg and then blend. Add the other egg and vanilla extract and blend together until combined.

Slowly add in the flour mixture and mix until combined and no flour pockets remain in the batter. Add the miniature chocolate chips, reserving some for sprinkling on top if wanted. Stir to combine.

Dump batter into the prepared pan and spread out evenly. Sprinkle the reserved mini chocolate chips over top and gently press down.

Bake for 24-26 minutes. The edges will be a light golden brown and be "wrinkly" and the middle will look pale. Let cool completely.

These blondies need about an hour to cool completely. Don't try to rush it or else they will not cut well at all.
Notes
Mine are perfectly cooked at 25 minutes exactly. The edges will be a light golden brown and look "wrinkly". The middle will still be pale and look underdone but that's what you want.   To help keep the parchment paper in place in the pan, spray the pan first with cooking spray and then line with parchment paper. Be sure and leave a light overhang so you can easily lift the bars out to cut.   To help the butter be slightly cooled, simply melt the butter in the microwave until it's only half melted, about 40-45 seconds. Use a fork to stir together and that should finish melting the butter. You'll be left with slightly cooled melted butter that can be used right away. 
Nutrition
Calories: 224kcal
PIN THIS RECIPE TO PINTEREST