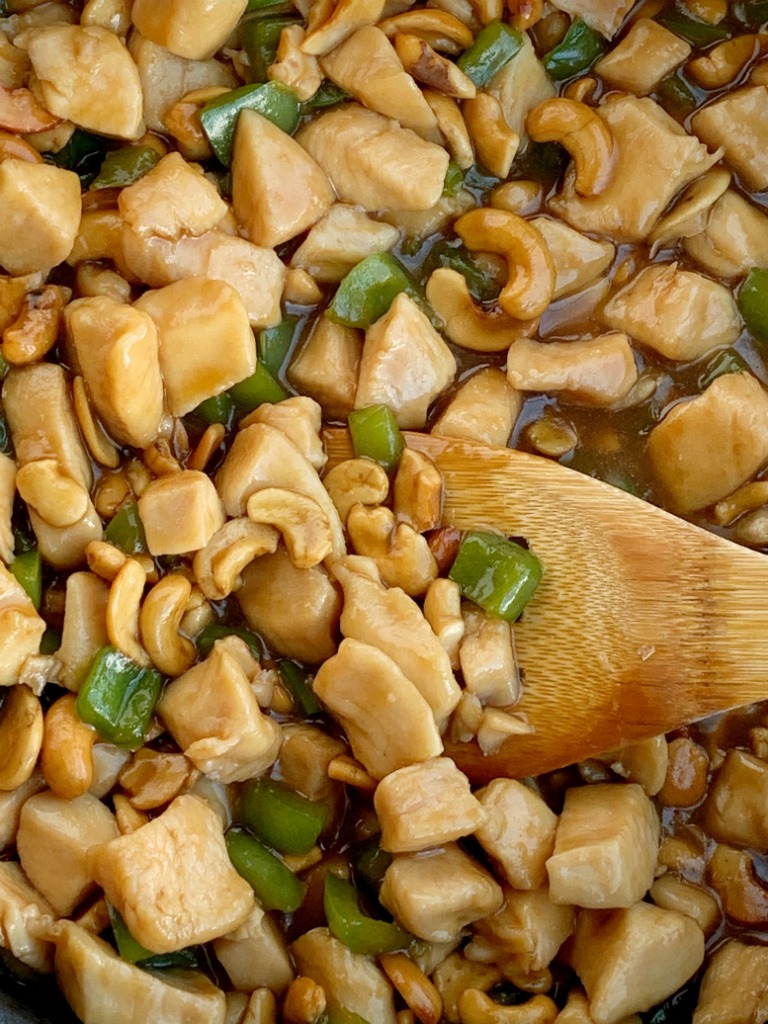 CHINESE CASHEW CHICKEN
Well, we did it friends! It only took 4 kids + 9 years for us to get our very first 'rush-to-the-ER-she-needs-stitches-now' trip to the hospital. 
Fitting that it should be the rowdy, happy go lucky, energetic, accident prone 4 year old 🙂 She had an unlucky landing after her gymnastics flip down in the basement. 
10 stitches + a lollipop + 4 new Beanie Boos + a box of popsicles later and she is all better.
Now onto an easy, family friendly dinner that it's perfect for crazy nights! One pot and about 30 minutes is all you need for this Chinese Cashew Chicken. 
Serve over some rice, egg noodles, cauliflower rice, or whatever else you want. My son who hates rice just ate it plain and loved it that way.
MY TIPS FOR MAKING THIS RECIPE
Cut the chicken pieces all the same size. No need to get out a measurer and measure them, just make sure that they are all roughly small, bite-sized pieces so they will cook evenly and so they will cook in the time given. 
Oyster sauce can be hard to find in the grocery store. It will be by the soy sauce, teriyaki sauces, and the other Asian inspired ingredients. If you can't find it, you could use Hoisin sauce or even the thick teriyaki sauce. It will change the final taste of the dish but it should still be delicious. 
Use 1 or 2 green peppers depending on how much you want. I used 1 1/2 green peppers cause that's what I had in the fridge. 
Following the directions as is, the bell peppers will be soft with a slight crunch to them. If you want them all the way soft then cook them with the chicken in the skillet. The slight crunch of the bell peppers combined with the crunch of the cashews pairs really well with the tender bites of chicken. 
TRY THESE OTHER CHINESE INSPIRED CHICKEN RECIPES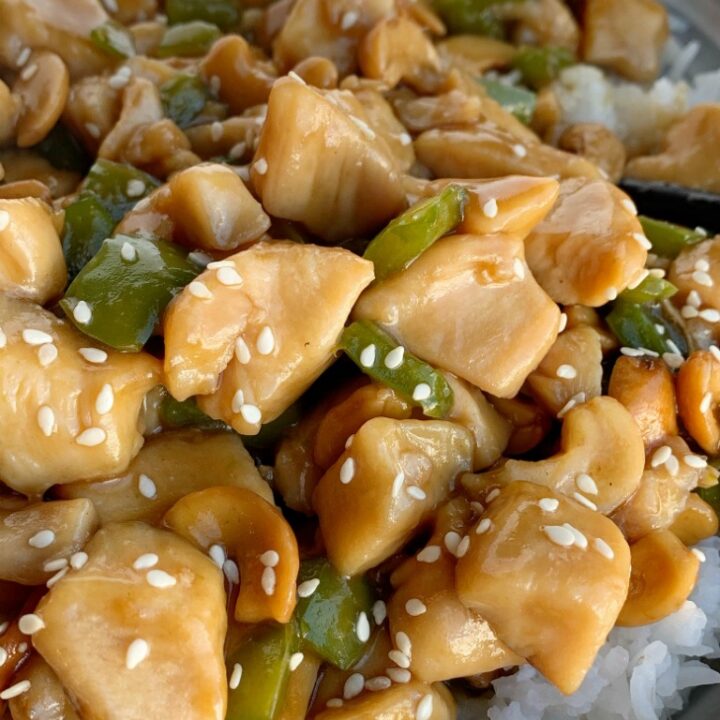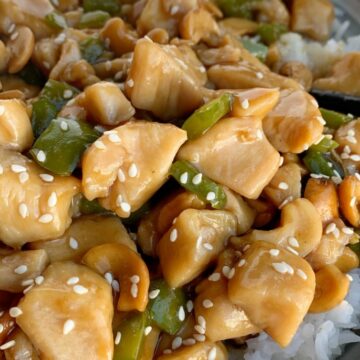 Chinese Cashew Chicken
Chinese Cashew Chicken cooks in one pot on the stove top and can be on the table in just 30 minutes! Chunks of chicken and green pepper simmer in a easy homemade Chinese sauce.
Ingredients
Chicken Skillet
2 lbs boneless, skinless chicken breasts (about 2-3 large chicken breasts)
1 teaspoon cornstarch
1 tablespoon olive oil
3 garlic cloves, minced or pressed or use garlic paste
1 teaspoon fresh ginger paste or chopped fresh ginger
1-2 green bell peppers diced into small bite-sized pieces
1 cup slightly salted cashews
Sauce
1/2 cup low-sodium chicken broth
1/4 cup low-sodium soy sauce
1/4 cup oyster sauce
3 tablespoons unseasoned rice vinegar
1 tablespoon brown sugar or honey I use brown sugar
1 tablespoon cornstarch
2 teaspoons sesame oil
Instructions
Cut chicken breasts into small, bite-sized pieces and place into a mixing bowl. Sprinkle the 1 teaspoon cornstarch over the chicken and mix together. Let that sit while you prepare the sauce and cut the bell peppers.

MAKE THE SAUCE: combine all sauce ingredients in a glass measuring cup or a mixing bowl and whisk together to combine.

Heat olive oil in a large skillet pan over medium-high heat. You want the pan hot when you add the chicken. Add the chicken to the hot skillet and cook until chicken is mostly cooked through and white on the outside.

Add the garlic, ginger, and chopped green peppers in with the chicken. You may need to add an additional 1 teaspoon of olive oil to the pan. Stir and cook for about 2 minutes or until the ginger and garlic is fragrant.

Add the sauce into the pan and bring the mixture to a low boil, and then reduce heat to medium-low and let it simmer for about 5-10 minutes.

The sauce will thicken slightly more once it's off the hot stove. Serve over rice.
Notes
You can buy fresh ginger in the produce section. Simply take a piece of it and shred it or finely chop it. Or, the easiest thing to do is to buy a tube of the ginger paste which you can find in the refrigerated section of the produce area. If needed, you could also substitute with 1/2 teaspoon ground ginger.   If there is no way you can find Oyster Sauce, you can substitute with thick teriyaki sauce or Hoisin sauce. The flavor will change but it should still be good. But try to find the Oyster sauce cause it adds such a great flavor to the final dish.        
recipe adapted from Mel's Kitchen Cafe