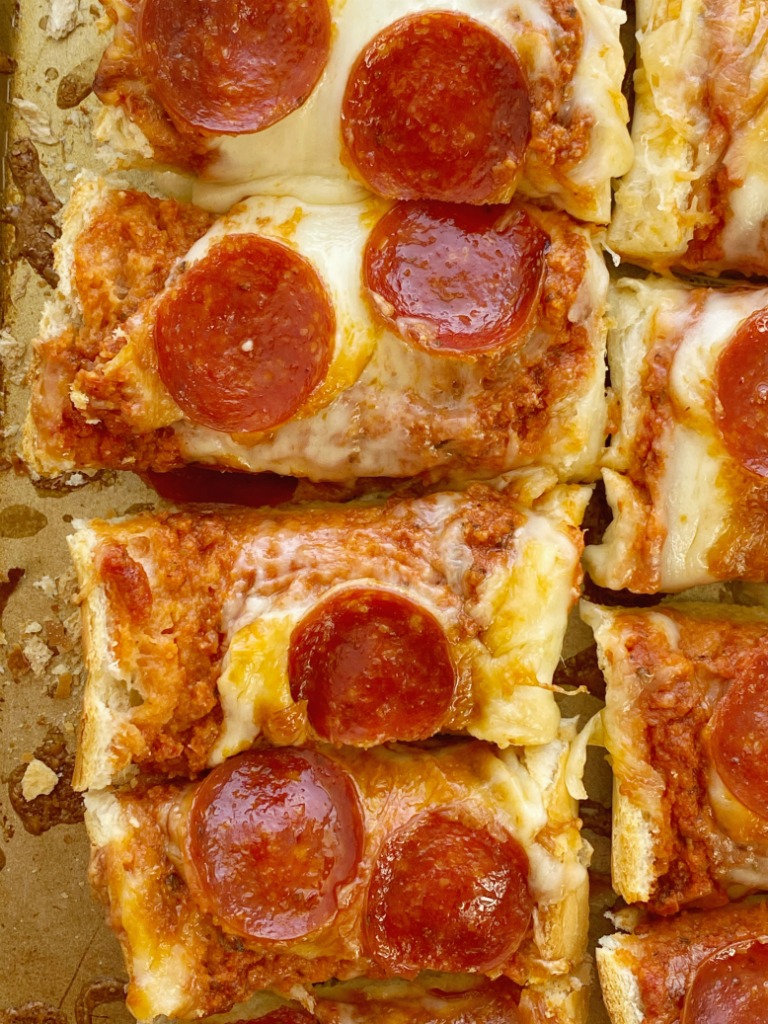 FRENCH BREAD PIZZA
Are you ready for the quickest (and dare I say) yummiest pizza ever?! This french bread pizza is a 30 minute meal and one of my family's favorite ways to eat pizza.
The french bread base provides a thick & crunchy "crust" and then it's topped with spicy pepperoni and melty mozzarella cheese. We love our pizza nights around here and this is always a favorite. Other favorites are always this homemade sheet pan pepperoni pizza, a Costco pizza made fresh at their food court, or this pepperoni pizza biscuit casserole.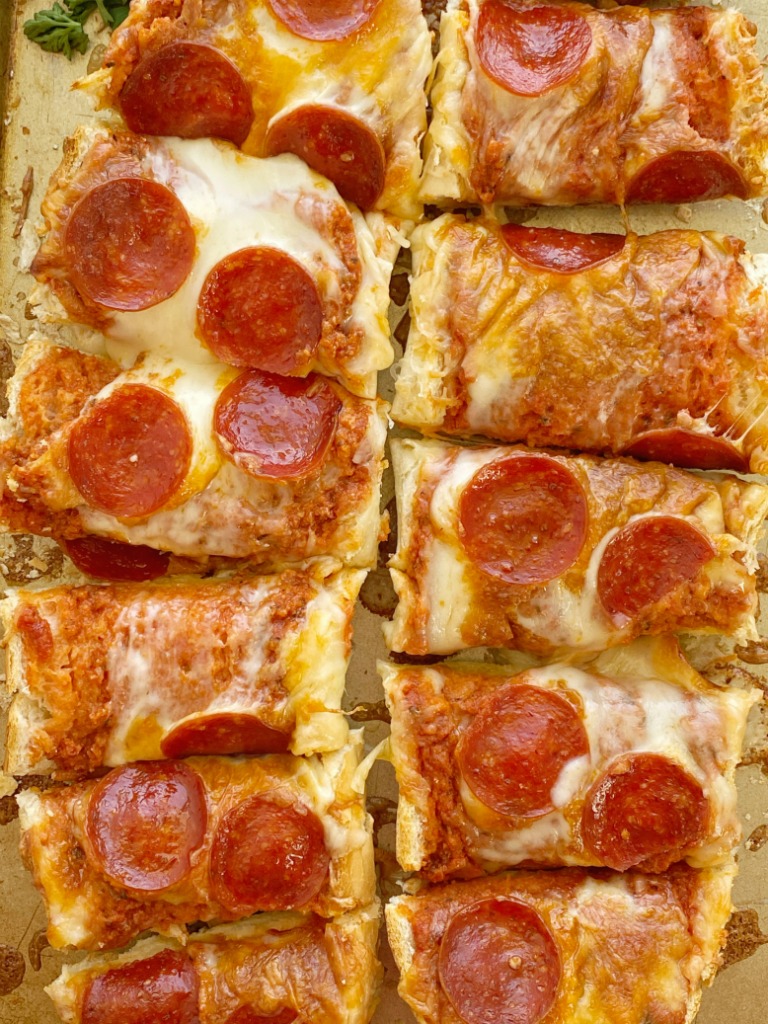 HOW TO MAKE FRENCH BREAD PIZZA THAT'S NOT SOGGY
The best way to make your pizza not soggy is to cook it at a really high temperature so it's gets nice and crispy. The french bread has lots of bread so don't worry that the entire loaf will be crispy. You'll get that crispy outside and soft & warm bread center. 
I also love that the french bread is such a strong and sturdy base for the pizza so that also helps the pizza not get soggy. Even with all the pizza sauce and cheese!
French Bread – Just pick up a loaf of cheap, plain french bread. Nothing fancy here. 
Pizza Sauce – You could get all fancy and make your own but my recipe has some mix-ins for the pizza sauce and you won't even be able to tell that it came from a jar. Plus it's easy!
Parmesan Cheese – The cheap stuff in the can. You could use fresh parmesan cheese but it will burn in the oven so be careful. 
Italian Seasoning & Garlic Salt 
Mozzarella Cheese – Grate your own cheese! It will turn out 100x times better if you grate your own from a block. 
Pepperoni – We love the classic pepperoni pizza but feel free to use leftover crumbled sausage, bacon bits, or Canadian bacon. Anything works.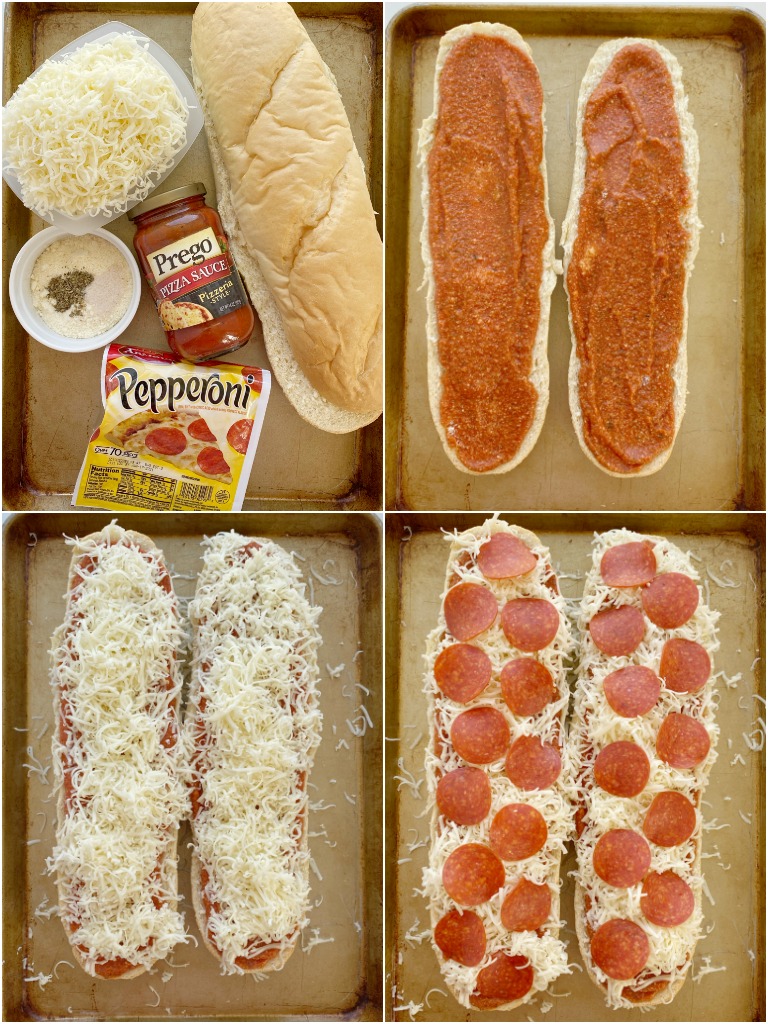 MY TIPS FOR THIS RECIPE
What is french bread pizza? It's pizza made on a loaf of french bread! So easy to make and I think the french bread makes for the perfect pizza base. It's thick, sturdy, crunchy, and soft all at the same time. 
Can you freeze french bread pizza? I would not recommend it but hey, if you love freezing stuff and want to try it then go ahead! 
What do I do with the leftovers? I put the leftover pieces on a plate, covered, and keep it in the fridge for 2-3 days. We don't mind the leftovers at all heated up in the microwave. I've also heard that heating up pizza in the air fryer is a game changer. So that's another option. Leftovers won't be as crispy as fresh but they are still good. 
What do I serve with this? I love to serve this with sliced fruit like watermelon or strawberries. I also serve it with a chopped Caesar salad. They come premade (bagged salad mixes) in the salad section of the produce area at the store.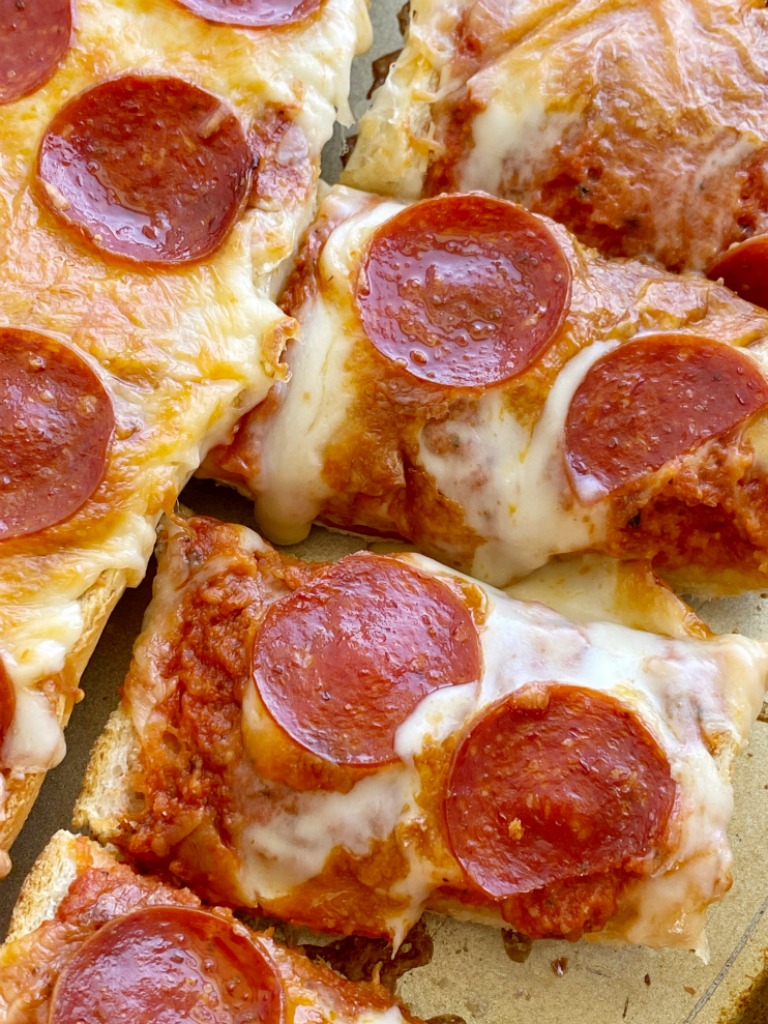 TRY THESE OTHER EASY DINNER RECIPES THAT USE FRENCH BREAD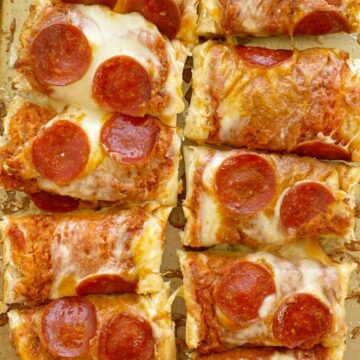 French Bread Pizza
French Bread Pizza is perfectly crispy on the outside. No soggy pizza here! Topped with a jar of pizza sauce with added seasonings to make it even better, pepperoni, and lots of cheese. It's a 30 minute dinner that's perfect for a busy weeknight meal.
Ingredients
1 loaf french bread cut in half lengthwise
1 jar (14 oz) pizza sauce
¼ cup grated parmesan cheese
½ teaspoon Italian seasoning
¼ teaspoon garlic salt
2 cups shredded mozzarella cheese grate your own from a block
sliced pepperoni or other toppings you prefer
Instructions
Heat oven to 425°. Line a rimmed cookie sheet with parchment paper or tin foil. Or just lightly spray the cookie sheet with cooking spray.

Lay both bread halves on cookie sheet.

In a small bowl, combine the jar of pizza sauce, parmesan cheese, garlic salt, and Italian seasoning. Mix together and evenly spread it over both halves of bread.

Top with the shredded mozzarella and then finish with the pepperoni and/or other toppings you prefer.

Bake for 20-25 minutes. Let cool for 5 minutes before cutting into slices. 
Notes
Mozzarella Cheese : It's best to shred your own mozzarella cheese if possible. The pre-shredded cheese has some additives to help it not clump together, which also makes it not melt as smoothly and creamy. In a pinch, use pre-shredded (I've done it before!) but for best results shred your own. Parmesan Cheese : I always use the cheaper grated parmesan cheese for this recipe. I like the finer texture of it and it's cheaper. It's the one that you buy in the can with the green top, in the pasta aisle of the grocery store. You can use fresh shredded parmesan cheese but it does burn at such a high temperature.  Oven Temperature : I know the 425 may seem like a really high temperature, but you want that to get the outside nice and crispy with a good crust, while the inside stays soft and warm. Which is why you need a high oven temperature.  Nutrition Information : It's for 8 servings at 2 slices per person. It also includes 1 cup of pepperoni. Which may actually be a lot (not sure) as I don't ever measure the pepperoni.
Nutrition
Calories: 324kcal | Carbohydrates: 32g | Protein: 17g | Fat: 14g | Saturated Fat: 7g | Cholesterol: 40mg | Sodium: 1061mg | Potassium: 289mg | Fiber: 2g | Sugar: 4g | Vitamin A: 431IU | Vitamin C: 3mg | Calcium: 210mg | Iron: 3mg