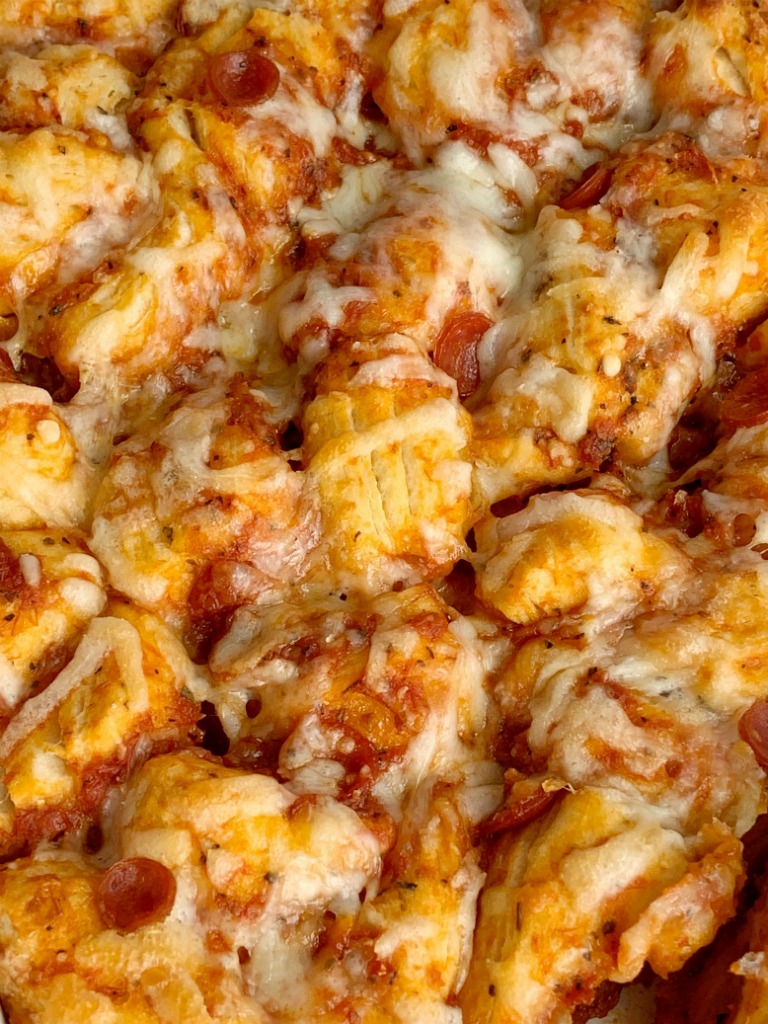 PIZZA CASSEROLE
I have been without a kitchen for three weeks now. If you follow me on Instagram then you know that we recently bought a house and then decided to gut the kitchen and re-do it.
Eating out for three weeks may sound like fun to some, but I honestly will throw up if I ever see a slice of pizza again or eat another bowl of cold cereal, haha 🙂
Which is why I am posting this recipe for easy bubble-up pizza casserole! Because I secretly wish that I could be eating this for dinner instead of take-out.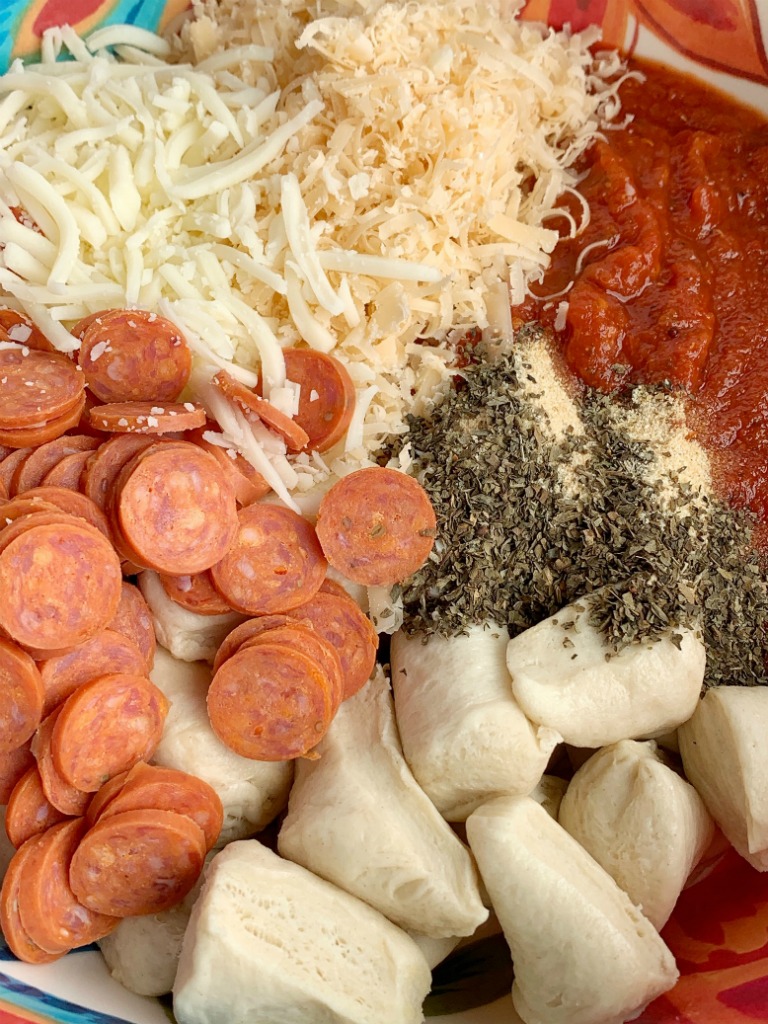 BUBBLE-UP BISCUIT CASSEROLE
Have you heard of these casseroles before? They are one of my favorite simple dinner recipes to make. 
It's essentially a casserole, baked in one pan, that uses refrigerated flaky biscuits (like Pillsbury) as the base of the casserole. Pile on some toppings and bake it up until the biscuits are nice and fluffy. 
I have this taco biscuit casserole already on the blog and figured it was time to share my pizza version with you all!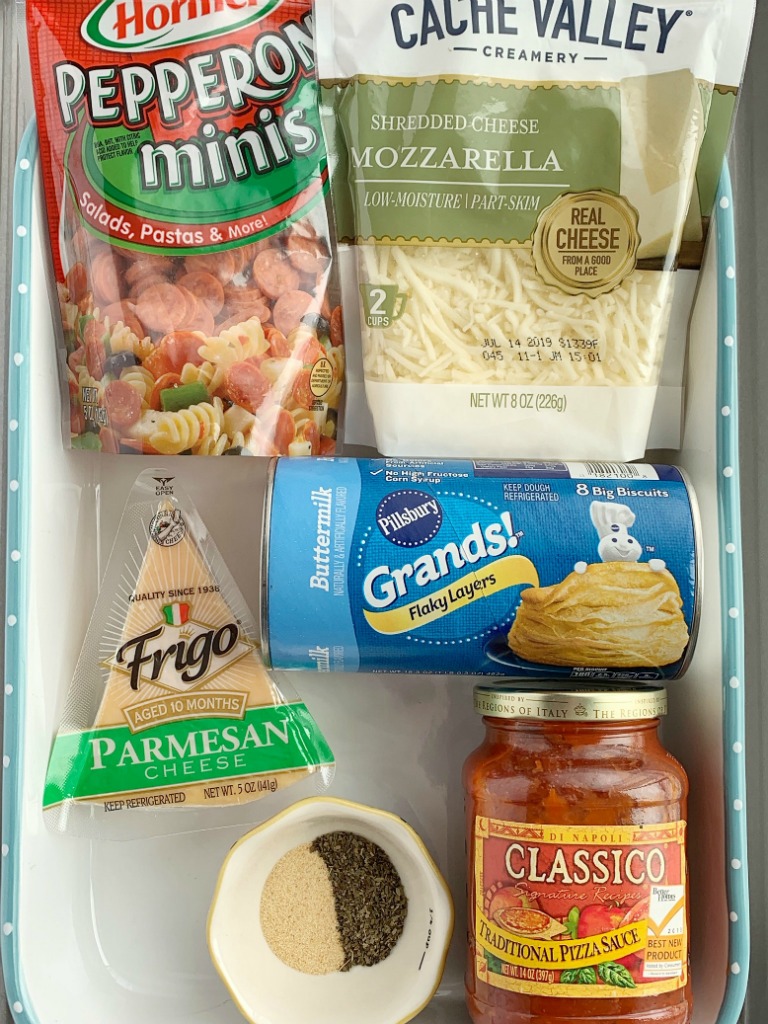 Pillsbury Refrigerated Biscuits – This is the base of the casserole. You can buy whatever version you want of the biscuits; flaky, buttermilk, homestyle, etc. Make sure that there are 8 biscuits in the can. You will cut each biscuit in half, and then cut each half into four smaller pieces. This will ensure that the biscuits cook all the way through during the cook time. 
Mini Pepperoni – The mini size does better in this dish because of the smaller biscuit pieces. But if you can't find the minis or would rather get the whole pepperoni (which are cheaper) then make sure you at least cut the pepperoni in pieces. Or leave them whole and I am sure it'll still be great!
Jarred Pizza Sauce – Yes you can make your own but buying a jar of it is so convenient and easy. I love the Prego brand or Classico brands of pizza sauce. 
Mozzarella Cheese & Parmesan Cheese – Normally I am a fan of shredding your own cheese but for the purpose of ease in this casserole, the pre-shredded stuff does just fine. That's what I always use for this. As far as the parmesan cheese, I prefer to shred some from a wedge, but you can also buy it pre-shredded or use the powdered stuff that comes in the green can. 
Basil & Garlic Powder – These are the seasonings that we prefer but they can easily be changed. If you love Italian Seasoning then use that instead. Don't like garlic powder, then leave it out. Want fresh garlic, go ahead and use fresh. Options are endless and can be customized to your family's liking.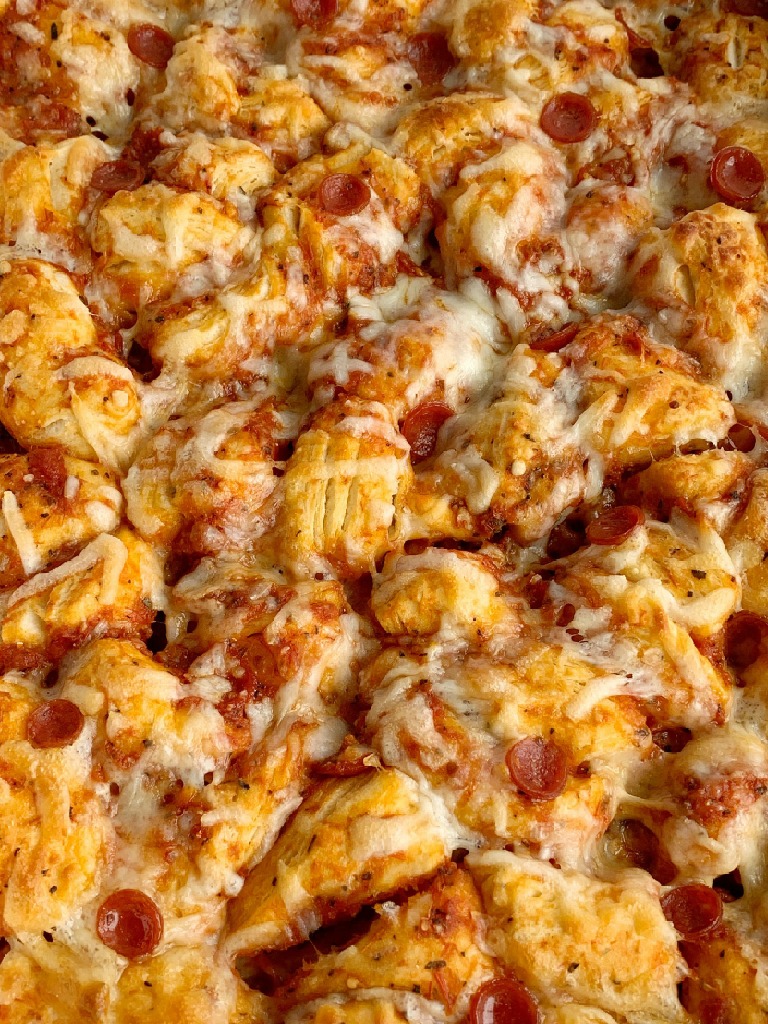 MY TIPS FOR MAKING PIZZA CASSEROLE
All ovens are different so if the biscuits are not done in the amount given in the recipe, just leave it in there for a few minutes longer. I always use a toothpick and check the biscuits in the center of the dish before pulling it out. You will be able to tell that the biscuit are done because you can see the flaky layers and they will look dry (like they're cooked) instead of wet and glossy (like they're uncooked).
Make sure that there are 8 biscuits in the can of refrigerated biscuits you buy. The smaller cans only have like 4 or 5, so be sure to buy a 16.5 oz can (larger size) with 8 biscuits.
The 9×13 baking pan may seem too big once you put the biscuit mixture in it. But trust me! It's the perfect size. The biscuits 'bubble-up' as they bake and it will be a full casserole once it's done baking.
Serve this with a chopped Caesar salad kit (from the grocery store produce section) and dinner is done!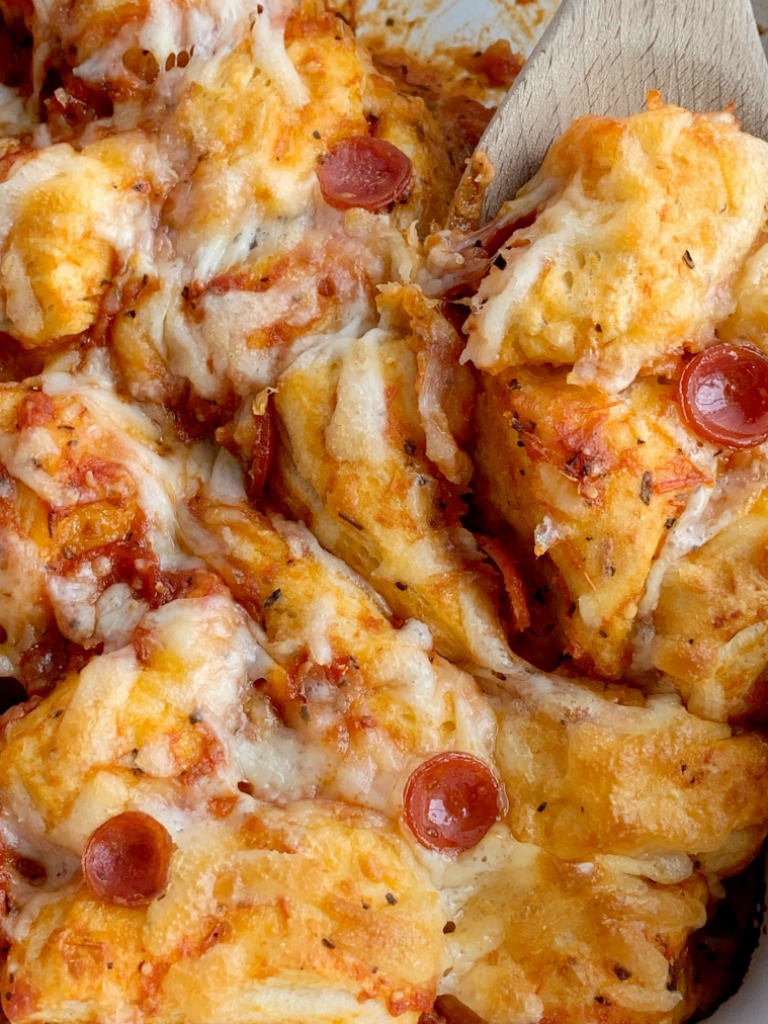 TRY THESE OTHER BUBBLE UP BISCUIT CASSEROLES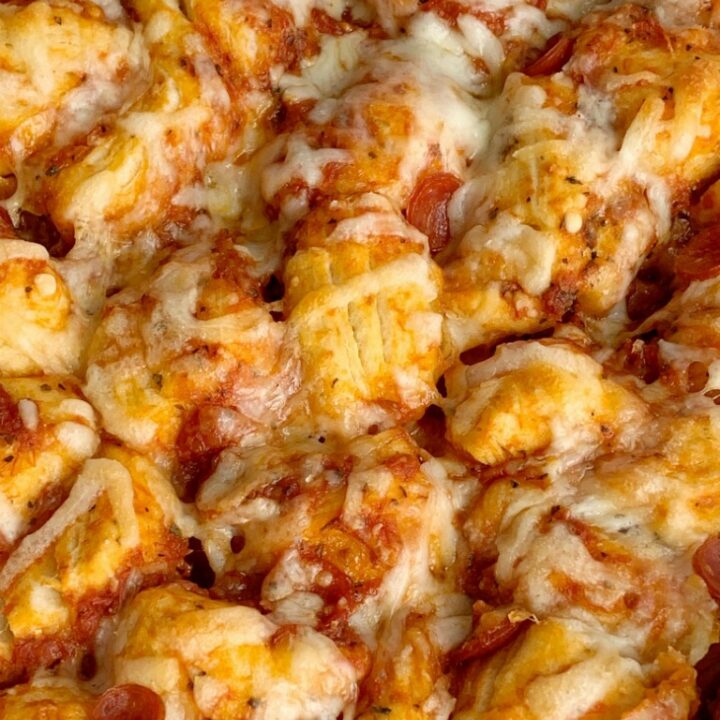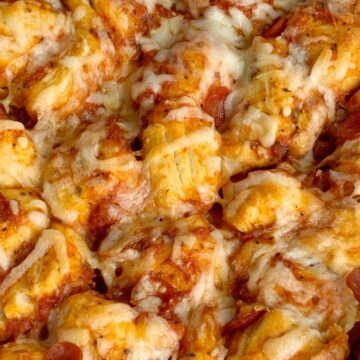 Pepperoni Pizza Biscuit Casserole
Pizza Casserole made with fluffy biscuits, pizza sauce, mini pepperoni, seasonings, and cheese! So easy to make and ready for dinner in just 30 minutes.
Ingredients
1 tube (16.5 oz) Pillsbury Grands Biscuits
1 jar (14 oz) pizza sauce
1 teaspoon dried basil
1 teaspoon garlic powder
1 cup mini pepperoni
2 cups shredded mozzarella cheese
1/4 cup parmesan cheese
Instructions
Heat oven to 375°. Spray a 9x13 baking dish with cooking spray.

Separate dough into 8 biscuits. Cut each biscuit in half, and then cut each half into 4 smaller pieces, for a total of 8 small pieces per biscuit.

In a large bowl, combine the cut biscuit pieces, jar of pizza sauce, basil, garlic powder, 3/4 cup of the mini pepperoni, 1 1/2 cups of mozzarella cheese, and parmesan cheese. Stir together until the biscuits are coated and everything is combined.

Spread the mixture evenly into the prepared baking dish. Sprinkle the remaining 1/2 cup of mozzarella cheese on top, and then place the remaining mini pepperoni over the cheese.

Cook for 22-25 minutes or until the biscuits are cooked through. Check the biscuits in the middle of the dish with a toothpick for doneness.
Notes
If the biscuit dough is gooey and not done, then that means the casserole did not bake long enough. Mine cooks in 23 minutes but some oven may take longer. Check the center with a toothpick for doneness.    I prefer the mini pepperoni but if you have the whole pepperoni, you may want to chop it up slightly. Or you can leave it whole and I'm sure it will still be great.