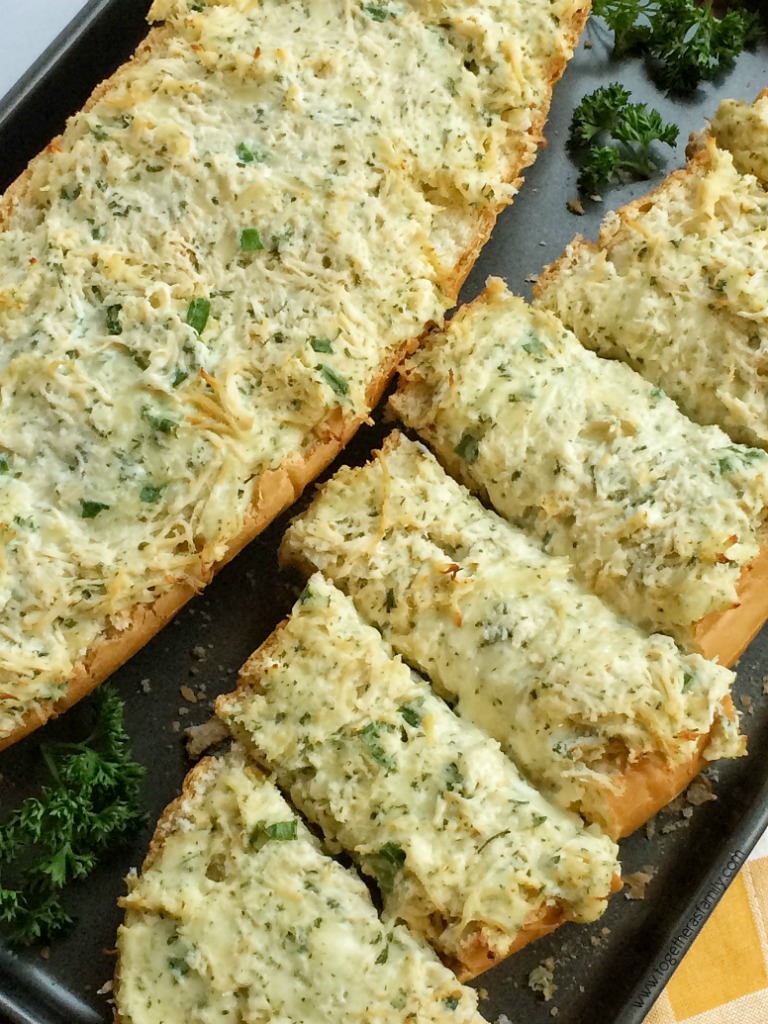 HOT CHICKEN SALAD SANDWICHES
I have a list of 5 of my family's favorite dinner recipes that are so easy to make, inexpensive, and are a guarantee that my kids will eat it with no complaining. 
As a busy mom of 4 kids these types are recipes are my sanity and life savers!
Today's recipe for hot chicken salad French bread sandwiches is one that I make all the time when I have leftover chicken. The other quick and easy dinner recipes is this creamy garlic parmesan pasta, cream cheese alfredo sauce, homemade spaghetti meat sauce, and this instant pot bake ziti. 
HOW TO MAKE HOT CHICKEN SALAD
Shredded or Chunked Cooked Chicken – I always use some leftover shredded chicken for this recipe. It's a great way to use up leftovers! I use a rotisserie chicken often as well. Pick one up at the grocery store or Costco and make this for dinner. You can also throw 2 boneless, skinless chicken breasts into the slow cooker with a can of chicken broth. Cook it on LOW during the day for 6-7 hours, shred it up and use it in this recipe. 
French Bread – Be sure and get a loaf of French bread at the store. Or you could go all out and make your own…. but I always buy mine 🙂 
Mayo & Sour Cream – Yes I know some may disgust mayo but you need it in this hot chicken salad recipe. It's so creamy paired with the sour cream. I prefer to always use the full-fat real mayo and sour cream, but feel free to use whatever you prefer. 
Green Onions, Dried Parsley, Garlic Salt – These are the easy and simple seasonings for this hot chicken salad. 
Shredded Cheese – Use whatever kind of cheese you love. I always have Colby-Jack in my fridge so that's what I use. 
HOW TO SERVE HOT CHICKEN SALAD
I love to serve these hot chicken salad sandwiches with some fruit. My kids love kiwi, watermelon, pineapple, mandarin oranges so I usually do something like that.
You can also serve it with some chips as well.
I've made this recipe so many times that I have it memorized by now. I hope you love it as much as my family does 🙂 
Hot Chicken Salad French Bread Sandwiches
Hot Chicken Salad is so creamy, cheesy and baked in the oven on French bread for a delicious and easy to make open faced sandwich. This easy dinner recipe is ready to eat in less than 30 minutes. 
Ingredients
1 loaf french bread (cut in half lengthwise)
2 cups cooked shredded chicken
1/2 cup mayonnaise
1/2 cup sour cream
1/4 cup sliced green onions
2 tablespoons dried parsley
1/2 teaspoon garlic salt
2 cups shredded cheese (any variety)
Instructions
Heat oven to 350 degrees. Place French bread halves on a large baking sheet.

Mix together shredded chicken, mayo, sour cream, green onion, garlic salt, parsley, and shredded cheese in a large mixing bowl. Spread evenly on top of the French bread halves.

Cook for 20-25 minutes. Let cool for a few minutes and then cut into slices.
Notes
This is best eaten the same day it's made. If you store leftovers in the fridge the bread becomes softer but you can always put it back in the oven to crisp it up or try the microwave.   You can use regular full-fat mayo and sour cream or the light versions. I've used both with great results, but for best taste use the full-fat real stuff. 
Nutrition
Calories: 412kcal | Carbohydrates: 30g | Protein: 21g | Fat: 23g | Saturated Fat: 8g | Cholesterol: 62mg | Sodium: 707mg | Potassium: 208mg | Fiber: 1g | Sugar: 2g | Vitamin A: 343IU | Vitamin C: 1mg | Calcium: 191mg | Iron: 3mg
recipe adapted from Mel's Kitchen Café