No Bake Black Forest Pie has a chocolate cookie crust with two layers of smooth cheesecake. Top each slice with a spoonful of canned cherry pie filling.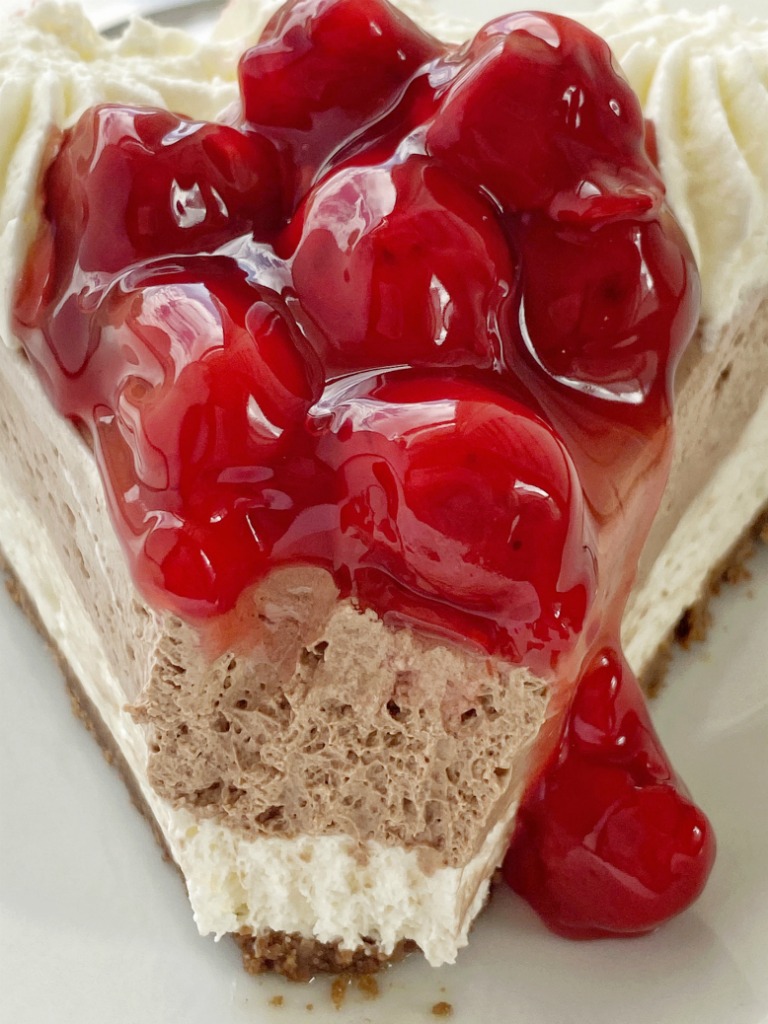 NO BAKE BLACK FOREST PIE
This black forest pie is my absolute favorite shortcut dessert. It can be made in just minutes, it's no bake, and it needs to be made the day before so it can be made ahead of time which will save you time!
I love a homemade, from scratch dessert recipe as much as anyone but sometimes you just need something that is so quick & simple to make. 
A chocolate cookie crust filled with a vanilla cheesecake, chocolate cheesecake, and then topped with canned cherry pie filling.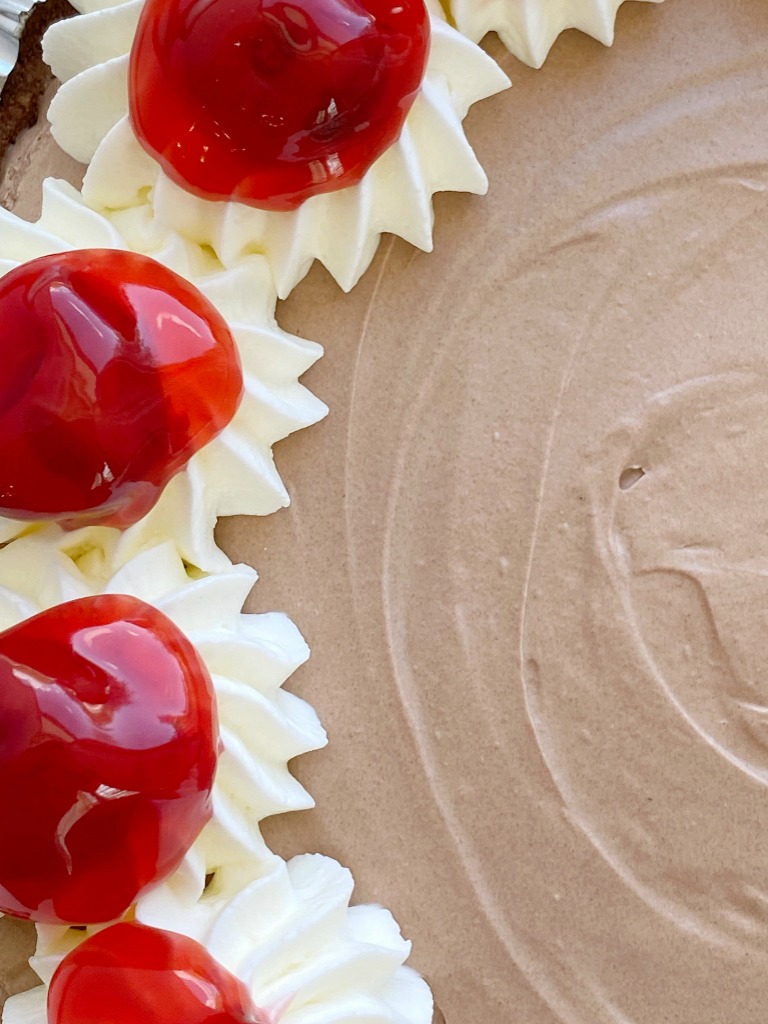 INGREDIENTS NEEDED TO MAKE BLACK FOREST PIE WITH CANNED CHERRY PIE FILLING
Chocolate Cookie Crust – A chocolate graham cracker crust or an Oreo cookie crust both work well in this recipe. 
Cream Cheese – For best results use the real stuff! Full- fat cream cheese none of the low-fat stuff. 
Granulated Sugar – This is the sweetener for the cream cheese
Sour Cream – Again, use the real stuff. Full-fat sour cream. 
Vanilla Extract
Cool Whip – I normally like to make my own whipped cream in recipes that call for Cool Whip but in this recipe I don't! The Cool Whip is actually good in this recipe and you can't even tell. So I always go the easy way and use the Cool Whip when I make this. 
Cocoa Powder
Powdered Sugar
Canned Cherry Pie Filling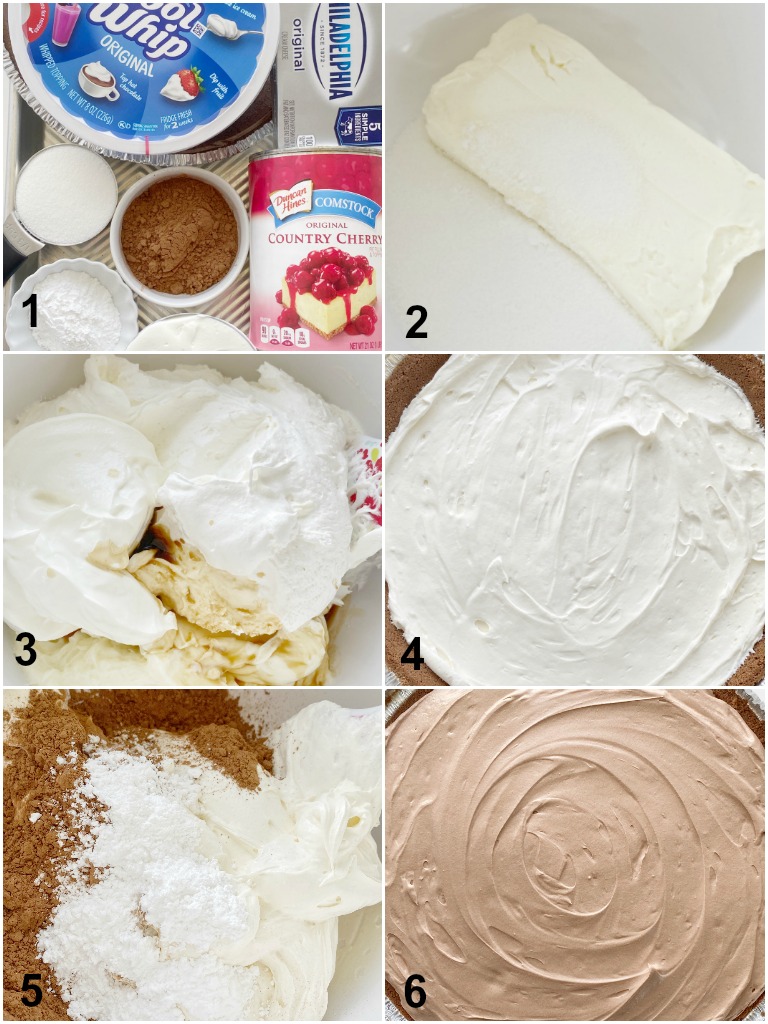 MY TIPS AND HELPFUL HINTS
For best taste and texture use full-fat, real sour cream and cream cheese. 
To avoid a lumpy texture in the cheesecake, make sure that the cream cheese is softened well before using. I place the unwrapped cream cheese on a microwave-safe plate and microwave for 25-30 seconds. This will ensure that the cream cheese is softened enough so it won't leave lumps in the mixture.

What is a black forest dessert?

Black forest is a combination of chocolate and cherry flavors. This pie recipe has a chocolate crust, a creamy chocolate cheesecake middle, and it's topped off with cherry pie filling. 

How long will leftovers last?

The longer the pie sits in the fridge then the soggier the crust can get. But, this pie will still last 3-4 days in the fridge. I actually think it tastes best as it sits in the fridge. The flavors come together and it's delicious. I normally make this about 24 hours ahead of time of when I need it, and it does just fine sitting in the fridge that long before serving. 

Can I make my own cherry pie filling or switch it out with something else?

You sure can! I have no experience making my own cherry pie filling because I actually think the canned stuff tastes just fine. I am all about shortcuts where it makes sense and still tastes good. You could top this pie with strawberry pie filling or even a berry pie filling if you don't like cherries.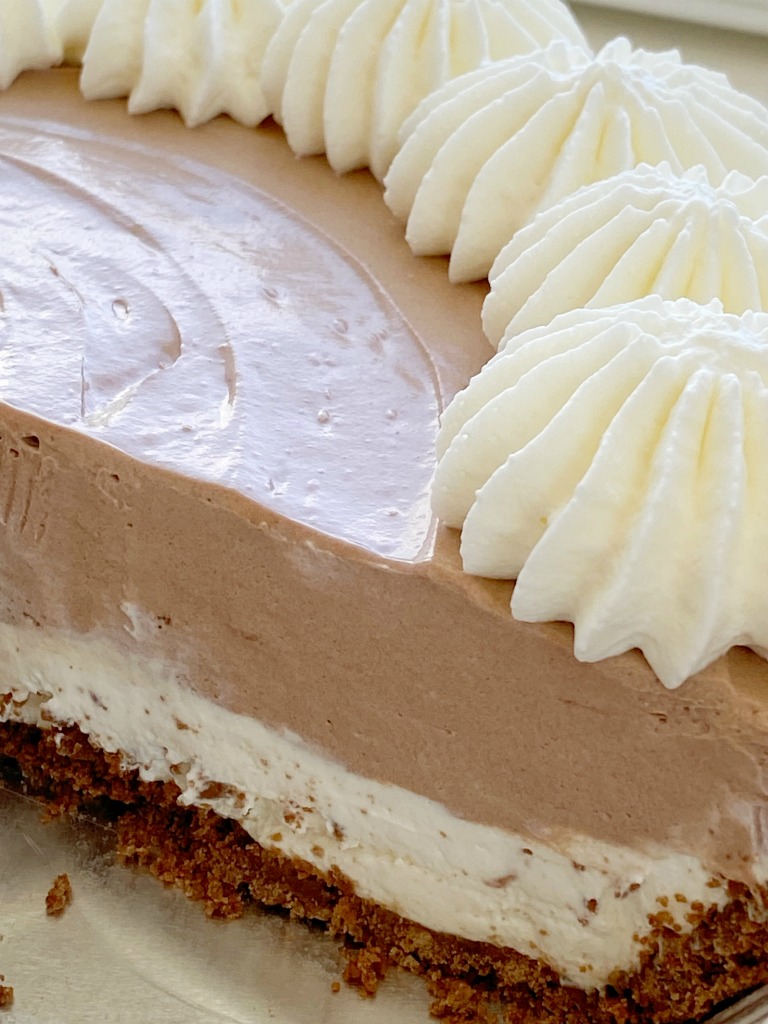 TRY THESE OTHER BLACK FOREST DESSERT RECIPES
Black Forest Lush – A layered dessert of Oreo cookie crumbs, instant pudding, and cherry pie filling all layered in a 9×13 baking dish. 
Black Forest Cake – An easy layered chocolate cake that starts with a cake mix! Layered with cherry pie filling and whipped cream. 
Easy Chocolate Cherry Cake – A 9×13 cake that combined a chocolate cake mix and canned cherry pie filling. This cake is super moist! Topped with chocolate curls, whipped cream, and a cherry.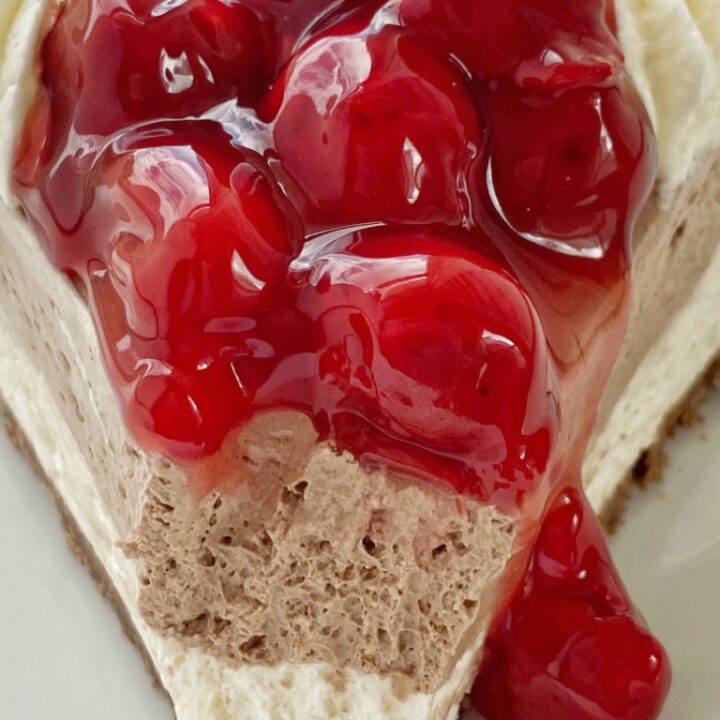 No Bake Black Forest Pie
No Bake Black Forest Pie has a chocolate cookie crust with two layers of smooth cheesecake. Top with a spoonful of canned cherry pie filling.
Ingredients
1 (6 oz) ready-to-use chocolate crust Oreo or chocolate graham cracker crust
1 bar (8 oz) cream cheese softened
1/3 cup granulated sugar
1 cup sour cream
2 teaspoons vanilla extract
1 carton (8 oz) Cool Whip thawed
1/4 cup cocoa powder
2 tablespoons powdered sugar
1 can (21 oz) cherry pie filling
Instructions
In a mixing bowl, beat cream cheese and granulated sugar until smooth and combined. Add in sour cream and vanilla extract. Beat until combined.

Stir in the Cool Whip with a spatula or wooden spoon until it's mixed well. 

Spread half of the mixture into the ready-to-use pie crust.

Add cocoa powder and powdered sugar to the remaining cream cheese mixture and beat together until combined.

Spread evenly over the cream cheese layer.

Cover and let refrigerate for at least 8 hours or overnight. Cut into slices and serve each slice topped with some cherry pie filling.
Notes
I prefer to use full fat dairy products when baking. I always use full-fat sour cream and full-fat cream cheese, as well as the regular Cool Whip. You can use the 1/3 fat reduced cream cheese, lite Cool Whip, and even light sour cream. I know it will still turn out a beautiful pie, but you won't get that richness and creaminess you would when using full-fat dairy products.  You want to make sure your cream cheese is really soft so you avoid lumps. I like to put mine in a bowl and microwave it for about 30-45 seconds to make sure it's nice and soft. This pie gets better and better as it sits in the fridge. I love making this the day before and letting it sit in the fridge for overnight (24 hours of refrigeration before I serve it). The flavors have more time to develop! You need minimum of 8 hours in the fridge so plan for that when making this pie. This pie will last 3-4 days in the fridge.  If wanted you can make some whipped cream to garnish the top of the pie with. Which is what I did in the pictures above. Beat 3/4 cup heavy whipping cream + 3 tablespoons powdered sugar until stiff peaks form. Garnish the top of the pie with that along with the cherry pie filling. 
Nutrition
Calories: 433kcal | Carbohydrates: 56g | Protein: 5g | Fat: 22g | Saturated Fat: 11g | Cholesterol: 51mg | Sodium: 256mg | Potassium: 256mg | Fiber: 2g | Sugar: 23g | Vitamin A: 762IU | Vitamin C: 3mg | Calcium: 102mg | Iron: 1mg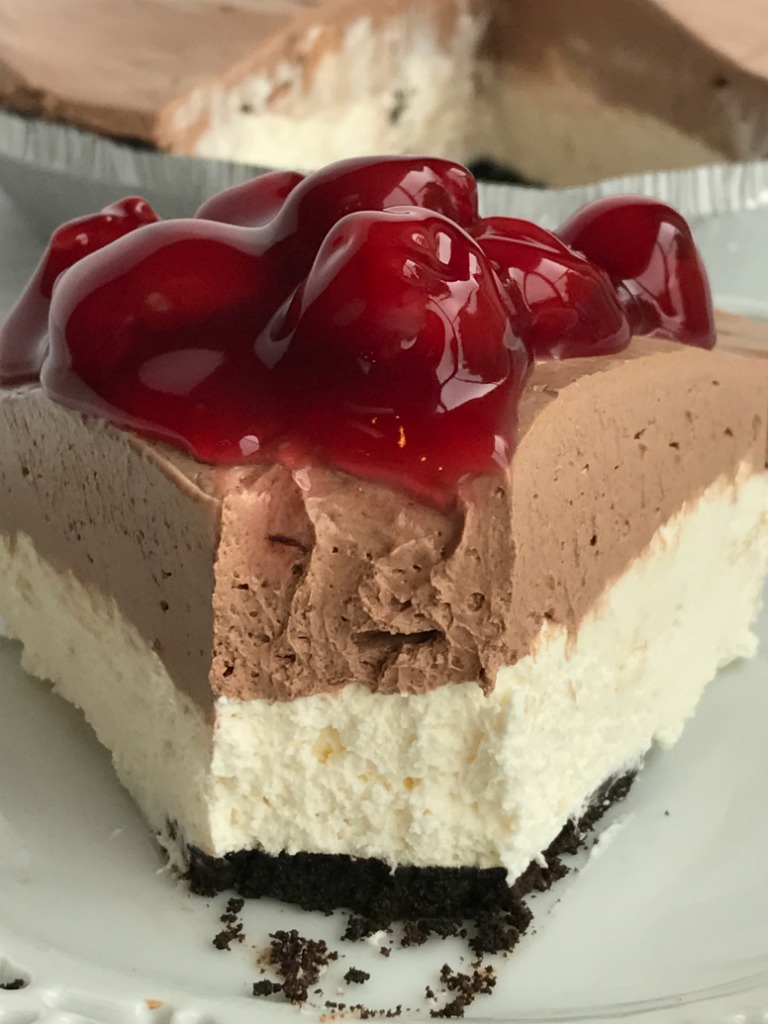 recipe adapted from Taste of Home