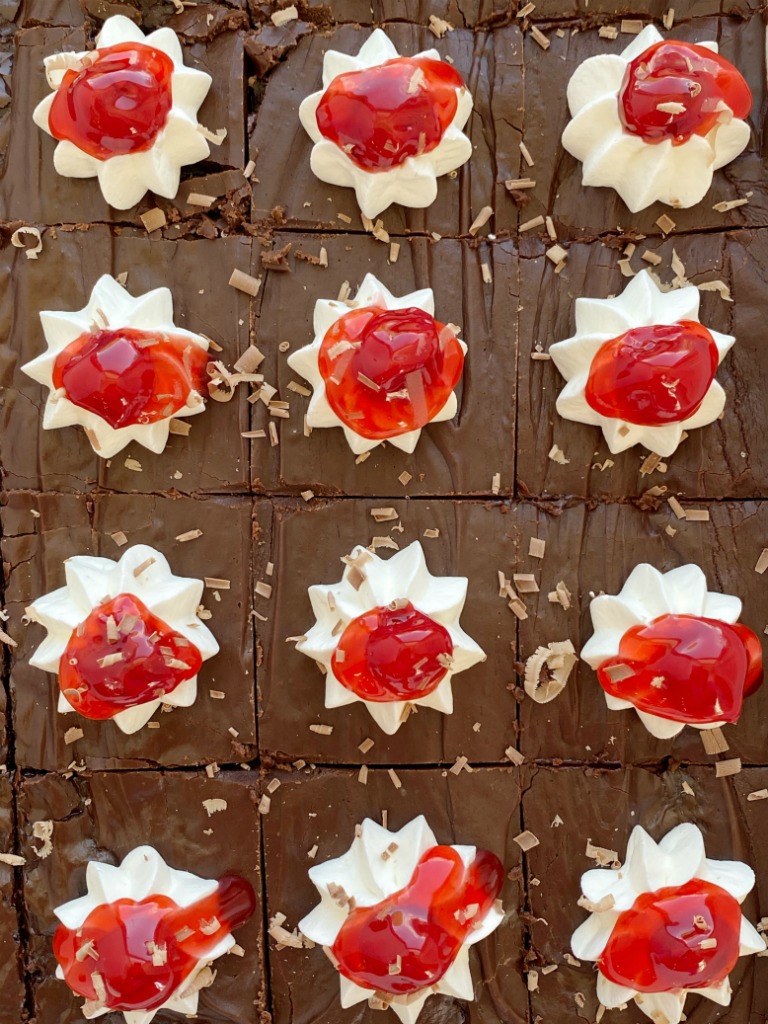 CHOCOLATE CHERRY CAKE RECIPE
This chocolate cherry cake will blow your mind! Or taste buds I should say. You will not believe how easy it is to make. It looks like it might be a time intensive cake but trust me, anyone can make this beauty. 
The chocolate cherry cake is only 4 ingredients and it's covered in a fudge like chocolate frosting and then topped with whipped cream, extra cherries, and shaved chocolate. Which is just a chocolate bar that has been shaved with a vegetable peeler. Super easy. Keep reading for all my easy tips for this show stopper dessert recipe. 
CHOCOLATE CHERRY CAKE MADE WITH A CAKE MIX AND CHERRY PIE FILLING
Devil's Food Boxed Cake Mix – I have only ever made this with the Devil's Food cake mix but I am sure any boxed chocolate cake mix will work. But just know, that the recipe has been tested with a Devil's Food cake mix so I would just get that one. 
Canned Cherry Pie Filling – Some may be opposed to this and that's ok, feel free to make your own. But, I will say that I actually love the cherry canned pie filling so I have no problems using it. 
Large Eggs
Almond Extract – Do not leave this out! Even if you have to go buy some just for this recipe, do it. Almond + cherry + chocolate were basically meant to be. 
The fudgy chocolate frosting is a simple mixture that you boil on the stove top. All you need is butter, milk, sugar, and some semi-sweet chocolate chips. 
HOW TO DECORATE THE TOP
You can always choose to leave the cake as is and it will be amazing. But the added whipped cream and garnishes really take this cake to the next level, in terms of taste and presentation. 
Here are some options for decorating and serving this chocolate cherry cake
Buy an extra can of cherry pie filling and spoon one cherry + some syrup onto each pile of whipped cream (as shown in the pictures). Or you can just serve each serving of cake with a topping of some cherry pie filling. 
Homemade Whipped Cream is probably the one thing I would never serve this cake without. It's easy to whip your own cream. Put 1 cup of heavy whipping cream into a small bowl plus 1/4 cup powdered sugar. Start on low speed and beat the whipping cream until thickened and stiff peaks form. Gradually increase the speed as the whipped cream gets thicker.
You could also just buy a can of spray whipped topping or a tub of Cool Whip. Dollop some over each cake piece when serving it. 
Use a vegetable peeler to shave some chocolate curls onto the cake. This is so easy! Buy a check out stand sized Hershey chocolate bar and use a vegetable peeler on the long side of the chocolate bar to shave chocolate curls onto the cake. 
MY TIPS FOR MAKING CHOCOLATE CHERRY CAKE
– Allow yourself enough time for the frosting to set up and harden. It will harden, not like hard, but like set. It needs about 2 hours to allow enough time for this.
– This cake can easily be made ahead of time. Prepare the cake and top with the frosting the day before. Once it's completely cooled, leave it out at room temperature, covered, overnight and then decorate the next day when you are ready to serve. 
– If you topped each piece in the pan (like pictured) then you will need to store leftovers, covered, in the refrigerator for up to 2-3 days. If you leave the cake plain with no toppings, and instead serve with toppings as needed, store the cake covered at room temperature for 2-3 days. 
TRY THESE OTHER EASY CAKE MIX RECIPES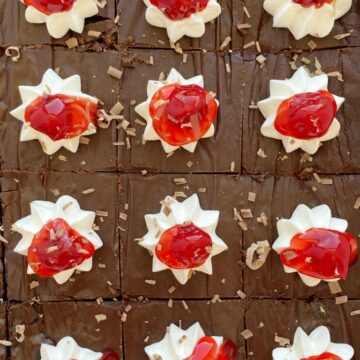 Chocolate Cherry Cake
Chocolate Cherry Cake is an easy cake recipe that starts with a cake mix and canned cherry pie filling, and topped with a fudgy chocolate frosting. You won't believe how delicious and easy this is to make!
Ingredients
Chocolate Cherry Cake
1 box (15.25 oz) Devil's Food Cake Mix
1 can (21 oz) cherry pie filling
2 large eggs
1 teaspoon almond extract
Chocolate Frosting
1 cup granulated sugar
1/3 cup whole milk
5 tablespoons butter I use salted butter
1 cup semi-sweet chocolate chips
Garnishes (optional)
Hershey Chocolate Bar for chocolate shavings
1 cup heavy whipping cream
1/4 cup powdered sugar
additional cherry pie filling
spray whipped cream or Cool Whip instead of homemade whipped cream
Instructions
Heat oven to 350°. Prepare a 9x13 baking dish and spray with cooking spray.

In a mixing bowl, combine the dry cake mix (do not prepare according to package instructions), canned cherry pie filling, eggs, and almond extract. Beat together with a handheld blender for 1-2 minutes until combined well. *Alternately, you can use the bowl of a stand mixer with the paddle attachment

Pour into the prepared baking dish and evenly spread it out. Cook for 30-35 minutes or until center is done and not jiggly anymore. Edges will be pulled away from the baking dish as well. Use a toothpick inserted in the center to make sure there is no wet batter.

About 5 minutes before cake is done prepare the chocolate frosting. Combine sugar, milk, and butter into a saucepan over medium high heat. Bring to a boil and let boil, while stirring constantly, for 1 minute. Turn off the heat and stir in the chocolate chips. Mix until melted and everything is combined.

Immediately after the cake comes out of the oven, pour the chocolate frosting over the cake and smoot it out.

Let cake sit at room temperature for 1-2 hours so the icing can harden and set up.

Serve as is or garnish with whipped cream, extra cherry pie filling, and chocolate curls (like shown in pictures). To make the homemade whipped cream, combine the heavy cream and powdered sugar into a small bowl. Beat on low speed, gradually increasing to high speed as cream thickens, until thick and stiff peaks form.
Notes
It is so important to make sure the cake is fully cooked through! Otherwise, it will sink in the middle and the frosting will just make it collapse. The cake should not be "jiggly" at all when you take it out of the oven. Use a toothpick inserted into the middle to make sure that no wet mixture comes out on the toothpick. The toothpick should come out with crumbs or nothing at all. The sides of the cake will be puffy and pulled away from the baking dish.  Mine was done at 32 minutes. Regardless of the bake time given in the recipe, please cook it longer if needed to make sure it's cooked all the way. Or cook it shorter if your oven is just really amazing 🙂  This can be made ahead of time too. Make the cake as directed and frost it. Once the frosting and cake have cooled completely, cover it with plastic wrap and let it sit at room temperature overnight. Garnish the cake (if wanted) right before serving.  Nutrition information is for one piece of cake with frosting. It does not include the optional garnishes. 
Nutrition
Calories: 253kcal | Carbohydrates: 39g | Protein: 3g | Fat: 10g | Saturated Fat: 5g | Cholesterol: 27mg | Sodium: 218mg | Potassium: 166mg | Fiber: 1g | Sugar: 22g | Vitamin A: 187IU | Vitamin C: 1mg | Calcium: 49mg | Iron: 2mg