Monster Cookie Dough Bars are no bake and egg free! Monster cookie dough with peanut butter, quick oats, and mini m&m's topped with milk chocolate ganache.
MONSTER COOKIE DOUGH BARS
No bake and egg free monster cookie dough bars are loaded with oats, peanut butter, chocolate, and mini m&m's. It's like eating cookie dough in cookie bar form. I am not sure there is anything better than that 🙂
They're topped with a milk chocolate ganache and then of course more mini m&m's. 
If you've been around here for any amount of time then you know that we are big fans of anything monster cookie. Like these monster cookie bars, or this no flour & no egg monster cookie dough cheeseball dip, and then my personal favorites monster cookies and Reese's stuffed monster cookies.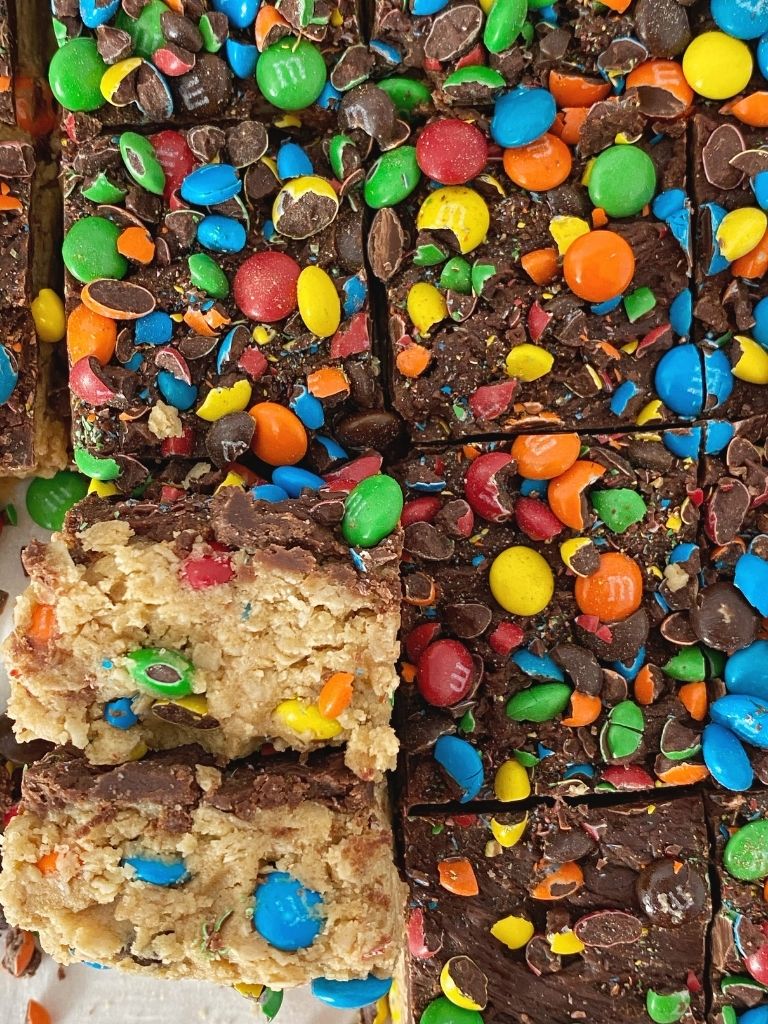 HOW TO MAKE MONSTER COOKIE DOUGH BARS
Butter – I use salted butter but unsalted butter will work fine too. 
Light Brown Sugar
Granulated Sugar
Creamy Peanut Butter
Vanilla Extract
All-Purpose Flour
Quick Oats
Mini M&M's – I just love the cute minis but regular sized m&m's will work just fine as well. 
The ganache topping is a simple mix of milk chocolate chips and heavy cream. Sprinkle on more mini m&m's immediately after spreading the ganache on top.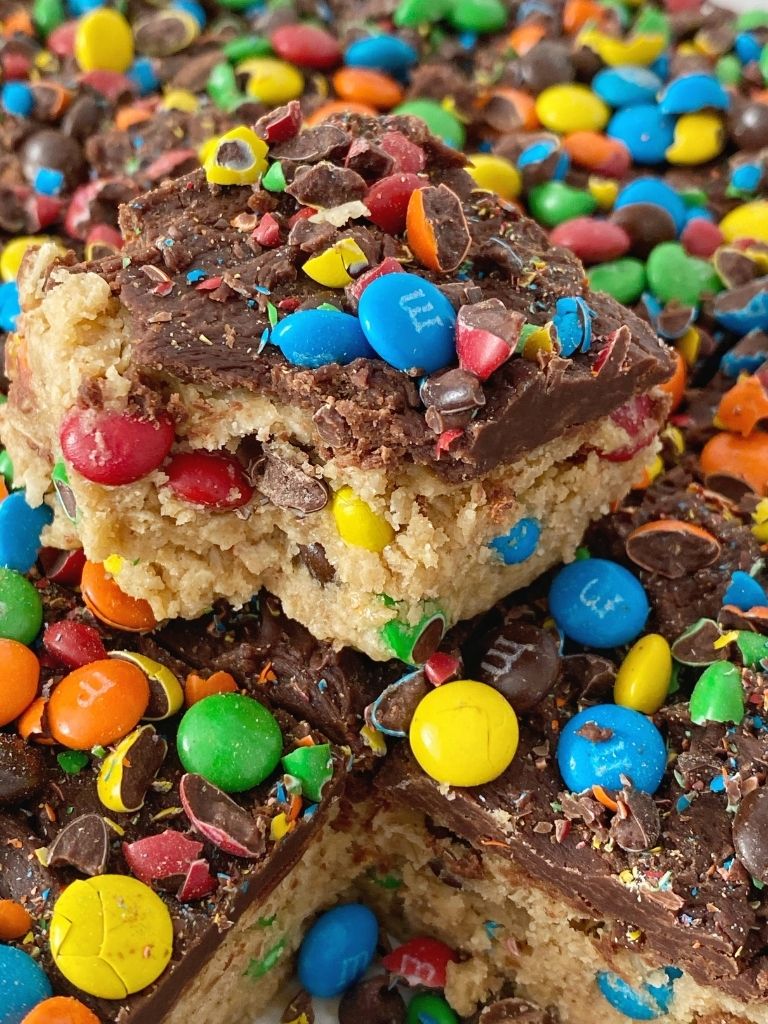 HOW TO HEAT TREAT FLOUR
I know some may not love the idea about putting the raw flour into these cookie bars. Don't worry because there is a simple way to heat treat flour so you kill all the potential bacteria that could be in it. 
I will put a disclaimer and say that I don't do this. But I know some do worry about it which is why I wanted to include the directions to heat treat flour. 
Place the amount of flour needed into a microwave-safe bowl on high and cook for 30 second intervals, stirring between each 30 second interval and checking the temperature. Microwave for an additional 30 seconds if the flour is not up to temperature yet. 
To treat the flour you want to heat it to 165 degrees.
Use the heat treated flour in any recipe. 
You want to make sure you stir the flour between cooking intervals to ensure that the flour does not burn. With the small amount needed in this recipe, only 1/2 cup, I would suggest cooking for 15 second intervals and then stirring between each.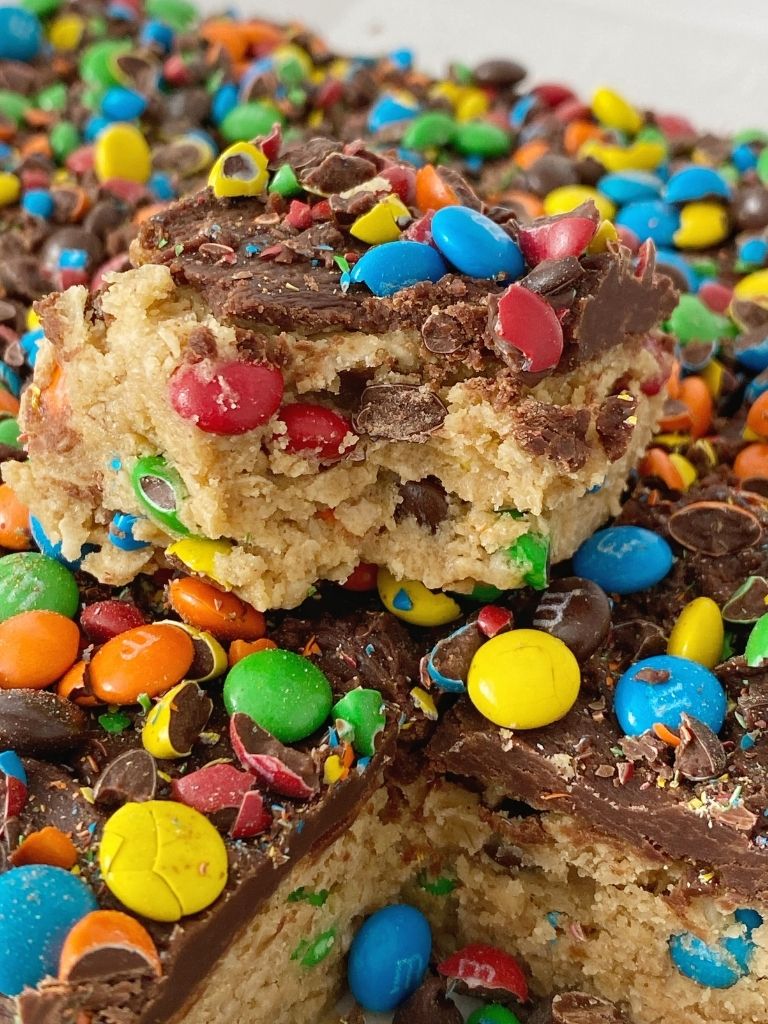 MY TIPS FOR MAKING THIS RECIPE
If you are worried about the raw flour then be sure to heat treat the flour before adding it. See above for how to heat treat flour. 
Gluten-free flour works great in this recipe!
The quick oats are the preferred oats for this recipe. They are finer and hold the bars together better. Use old-fashioned oats at your own caution. They are a bigger, heartier texture oat and may make the bars not set up nicely and crumble. I have only ever used quick oats in this recipe. 
For less sweetness you can use semi-sweet chips for the topping instead of the milk chocolate chips. The bars as is, are not super sweet so I think the semi-sweet would just not be good at all, but you can experiment. 
I will often leave off the chocolate topping, just because it can get messy with little kids, and just do the cookie dough bars. We love it that way as well. 
Store the bars in the fridge. As they sit out at room temperature they do get very soft. I cut the cookie dough bars into small squares, place them in a covered Tupperware and stick it in the fridge. Then we can just eat them straight from the fridge. I actually prefer these a little softer so I like to leave a few out at room temperature for a few minutes before eating them.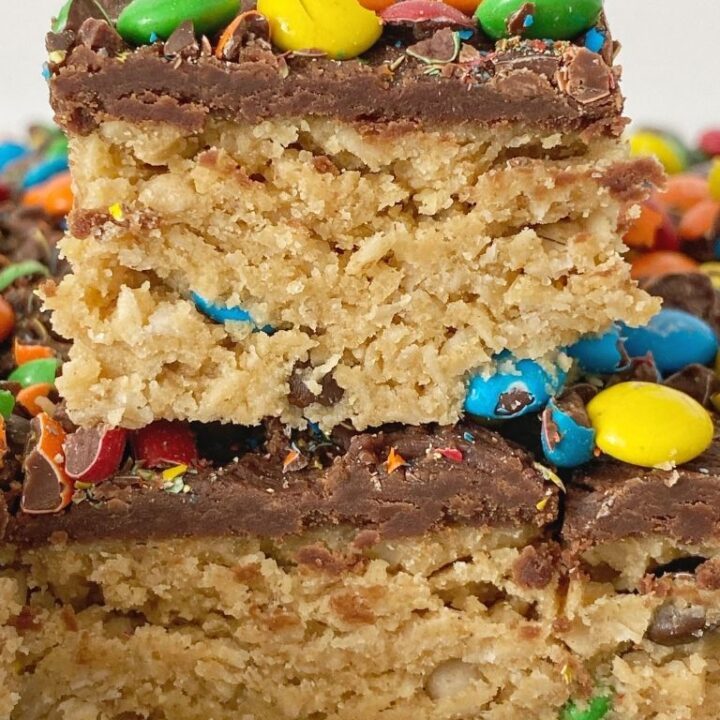 Monster Cookie Dough Bars
Monster Cookie Dough Bars are no bake and egg free! Monster cookie dough with peanut butter, quick oats, and mini m&m's topped with milk chocolate ganache.
Ingredients
1/2 cup (1 stick) butter softened
1/2 cup light brown sugar
1/4 cup granulated sugar
1 cup creamy peanut butter
1 teaspoon vanilla extract
1/2 cup all-purpose flour
2 cups quick oats
3/4 cup mini m&m's
Ganache Topping
1¼ cups milk chocolate chips
3 tablespoons heavy cream
1/4 cup mini m&m's
Instructions
Line an 8x8 baking dish with tin foil or parchment paper. Doing this will make the bars easier to lift out and cut into squares.

In a mixing bowl, combine butter, brown sugar, and sugar. Beat together with a hand mixer until combined and creamy.

Add the peanut butter and vanilla extract. Beat together until combined.

Add flour, oats, and m&m's and beat on low speed until combined.

Press into prepared pan.

To make the topping: In a microwave safe bowl melt the chocolate and heavy cream for 2 minutes, stirring every 30 seconds. *It may not take the entire 2 minutes until it's melted. That's ok.

Pour the milk chocolate over the cookie dough bars and spread out evenly. Immediately sprinkle with remaining M&M's.

Cover the pan with tin foil and refrigerate for 2 hours. Lift the bars out by the overhang of the foil or parchment paper and cut into squares. Store the bars in the fridge.
Nutrition
Calories: 244kcal | Carbohydrates: 27g | Protein: 5g | Fat: 14g | Saturated Fat: 6g | Cholesterol: 15mg | Sodium: 94mg | Potassium: 98mg | Fiber: 2g | Sugar: 18g | Vitamin A: 179IU | Vitamin C: 1mg | Calcium: 33mg | Iron: 1mg