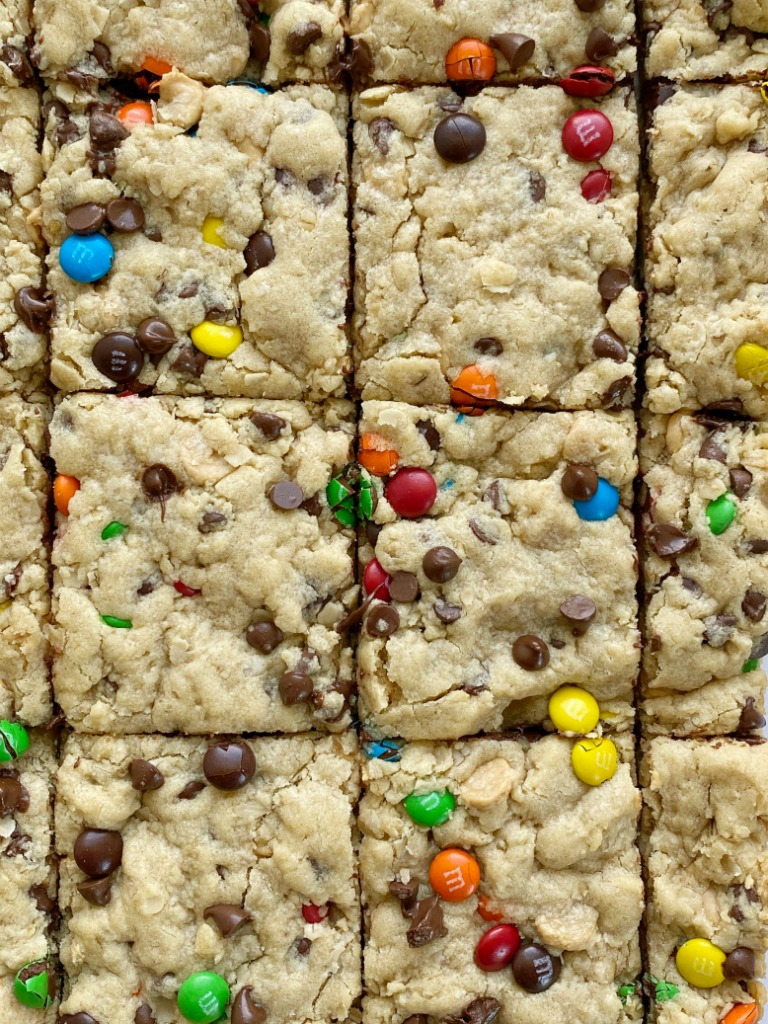 MONSTER COOKIE BARS
Monster cookie bars are loaded with peanut butter, chocolate, oats, peanut butter chips, and mini m&m's for a delicious treat that everyone loves.
If you've been around here for any length of time then you know I am obsessed with all things monster cookie! Like these super popular no flour monster cookie bars or this addictive monster cookie dough dip, or these family favorite monster cookies.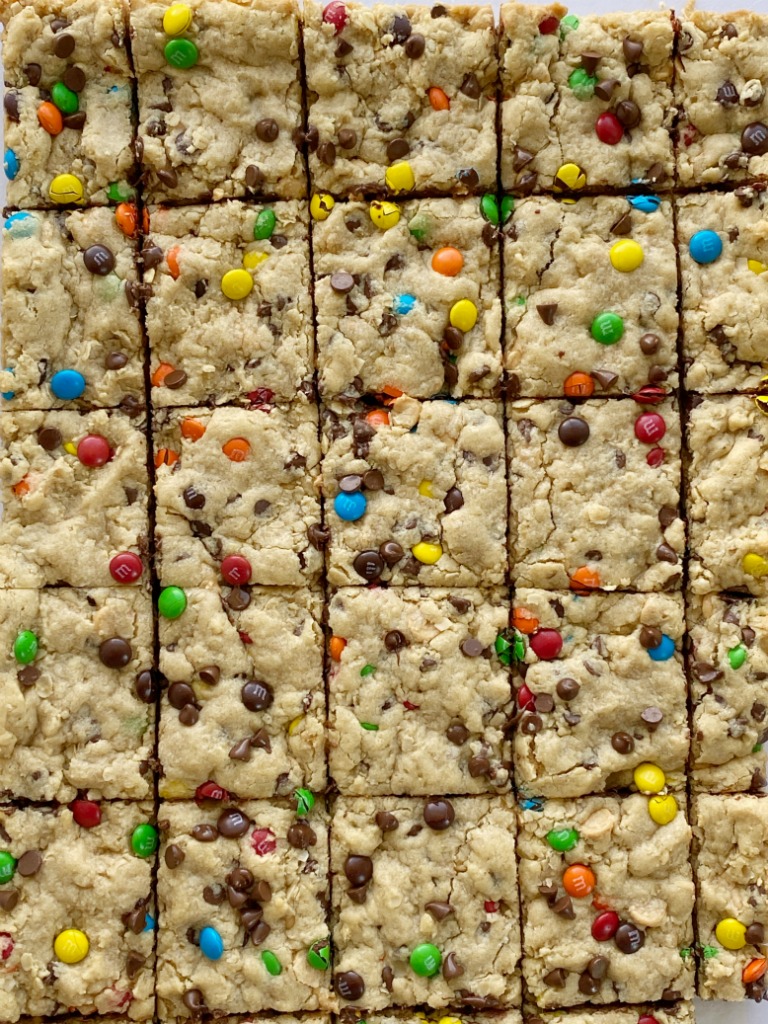 HOW TO MAKE SOFT BAKED & THICK MONSTER COOKIE BARS
All-Purpose Flour, Baking Soda, Salt, Quick Oats – Add all this into one bowl and stir with a whisk to break up any clumps. I have only ever made this recipe with quick oats. You can substitute with old-fashioned oats but it may change the texture slightly as they are larger oat flakes. But I am sure it would work just fine. 
Butter, Peanut Butter, Brown Sugar, Sugar, Vanilla Extract, Egg, Egg Yolk – This is the wet ingredients that get beat together in another bowl or in the bowl of a stand mixer. Beat until light in color and fluffy. 
Peanut Butter Chips, Mini Chocolate Chips, and Mini M&M's – I love using the mini sized chips and m&m's! The size is smaller so most every bite has some of each. Feel free to use the regular sized chips and m&m's if wanted. Don't forget the peanut butter chips! They really are the best part and add so much peanut butter goodness.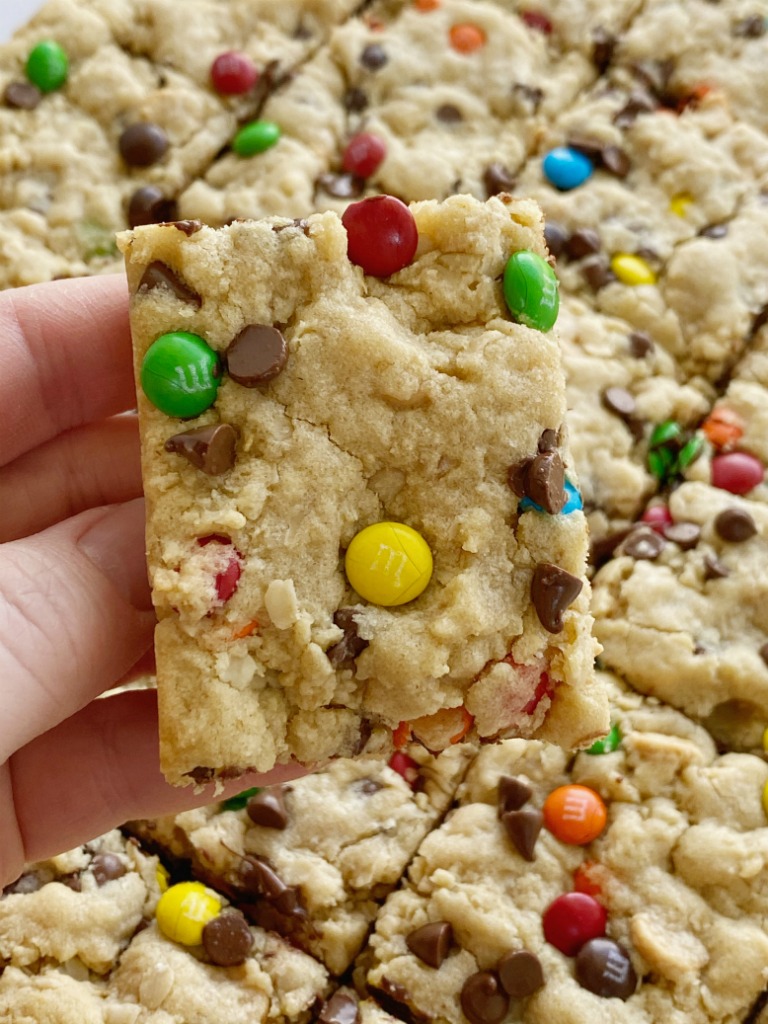 MY TIPS FOR THIS RECIPE
– For best results use miniature semi-sweet chocolate chips and mini m&m's. You can easily find both of these items in the baking aisle of the grocery store. You can also find the mini m&m's in the candy aisle by the other bagged m&m varieties. 
– Please do not overcook these bars. They should still be pale in color and only the very edges should look like a very light golden brown color. The middle of the bars will almost look underdone. I promise these bars will cook as they are cooling in the pan. 
– We love to eat these bars warm after they have cooled in the pan for 20 minutes or so. 
– Leftovers keep well covered at room temperature for several days. Heat one up in the microwave for a warm treat or eat as is. 
– For a pretty presentation gently press some additional m&m's onto the top of the bars before baking.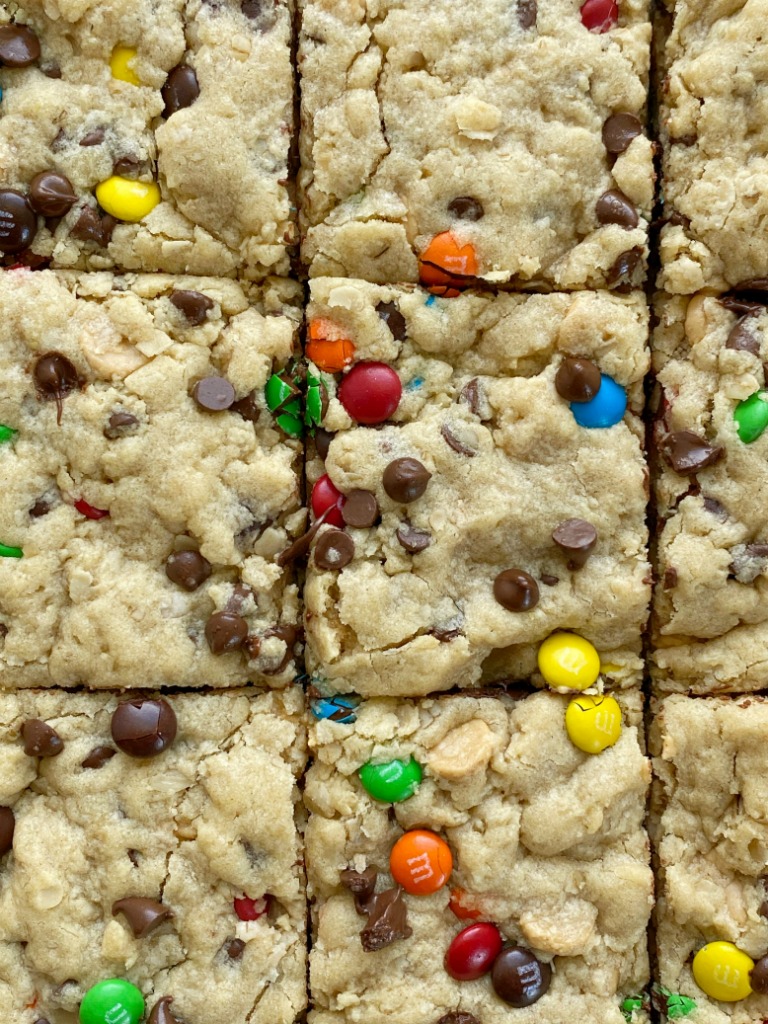 TRY THESE OTHER BAR RECIPES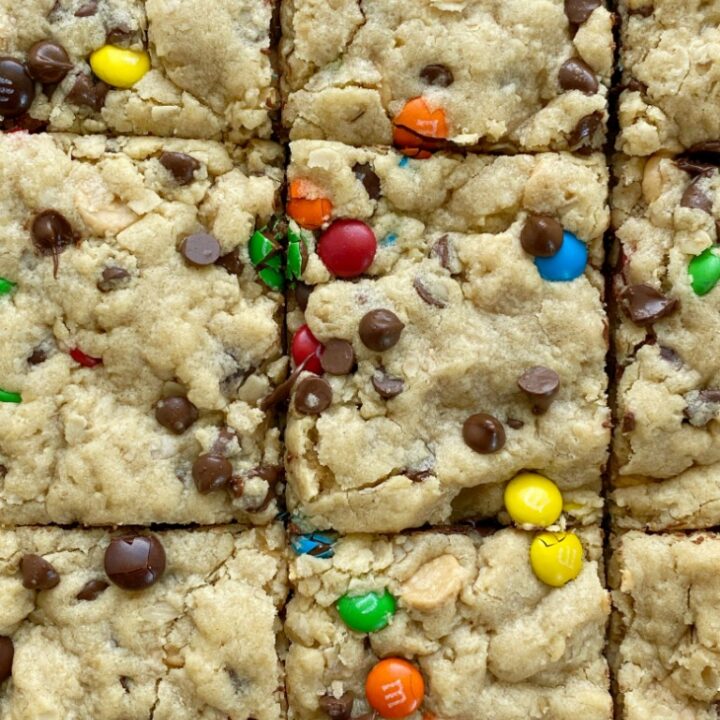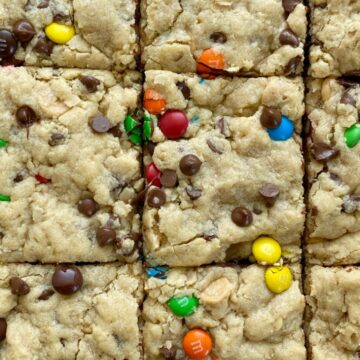 Soft-Baked Monster Cookie Bars
Monster Cookie Bars loaded with peanut butter, oats, chocolate chips, peanut butter chips, and mini m&m's. They bake up perfectly soft, chewy, and thick.
Ingredients
1½ cups all-purpose flour
¾ teaspoon baking soda
¼ teaspoon salt
1 cup quick oats
1/2 cup butter softened
1/3 cup creamy peanut butter not all natural
1/2 cup granulated sugar
1/2 cup light brown sugar
1 teaspoon vanilla extract
1 large egg
1 large egg yolk (discard the whites, only use the yolk)
1/2 cup peanut butter chips
1/2 cup miniature semi-sweet chocolate chips
1/2 cup mini m&m's
Instructions
Preheat the oven to 350 degrees. Lightly grease a 9X13-inch baking pan, or line with parchment paper or tin foil. Set aside.

In a small bowl, whisk together the flour, baking soda, salt and oats. Set aside until later.

In a separate large bowl, or in the bowl of a stand mixer fitted with the paddle attachment, cream together the butter, peanut butter, brown sugar, and sugar until fluffy looking and light in color, about 2 minutes.

Add in the vanilla, egg and egg yolk. Blend together well.

Add the dry ingredients, peanut butter chips, chocolate chips, and mini m&m's into the wet mixture and beat on low speed just until combined.

Press the dough into the prepared pan. Bake for 13½-18 minutes or until very lightly browned on the edges. The bars will still look pale and slightly underdone in the middle. That's ok. Don't over bake or the bars will be dry!

Let the bars cool in the baking pan for 20-30 minutes. Cut into squares.
Notes
For a pretty presentation gently press some additional m&m's and chocolate chips onto the top of the bars before baking.  I always bake with salted butter. If you are using unsalted butter then increase the salt to 1/2 teaspoon.  All-natural peanut butter is drier and does not have the oil and fat content of regular peanut butter which is why it's best to not use all-natural peanut butter when baking. It tends to dry out baked goods.  When I bake these they are done at 13 minutes but I know some people have said their bars cook for longer, like closer to 15 minutes. Just be sure that you are not over baking the bars. They are much better even when they're slightly under baked because then at least they are soft and thick instead of dry and crumbly. 
Nutrition
Calories: 245kcal | Carbohydrates: 30g | Protein: 5g | Fat: 12g | Saturated Fat: 7g | Cholesterol: 33mg | Sodium: 149mg | Potassium: 97mg | Fiber: 2g | Sugar: 18g | Vitamin A: 182IU | Calcium: 23mg | Iron: 1mg