The best Monster Cookies are a soft-baked, chewy, thick cookie loaded with oats, creamy peanut butter, chocolate, and m&ms. This is a family favorite cookie recipe that is loved by all. 
For more monster cookie recipes be sure and try my monster cookie dough cheeseball dip, these soft-baked monster cookie bars, or my no bake monster cookie dough bars. 
Monster Cookies Recipe
Monster cookies are the most frequently made cookie at my house. They are so thick, chewy, slightly crunchy edges, with a soft baked center. Plus, they have my favorite cookie ingredient in them… cornstarch!
If you've never added cornstarch to cookies then you're missing out my friends. It's only a small amount but makes a huge difference in the texture of the cookies. 
If you love thick, soft-baked, chewy cookies with a hearty texture then these monster cookies are a must-make!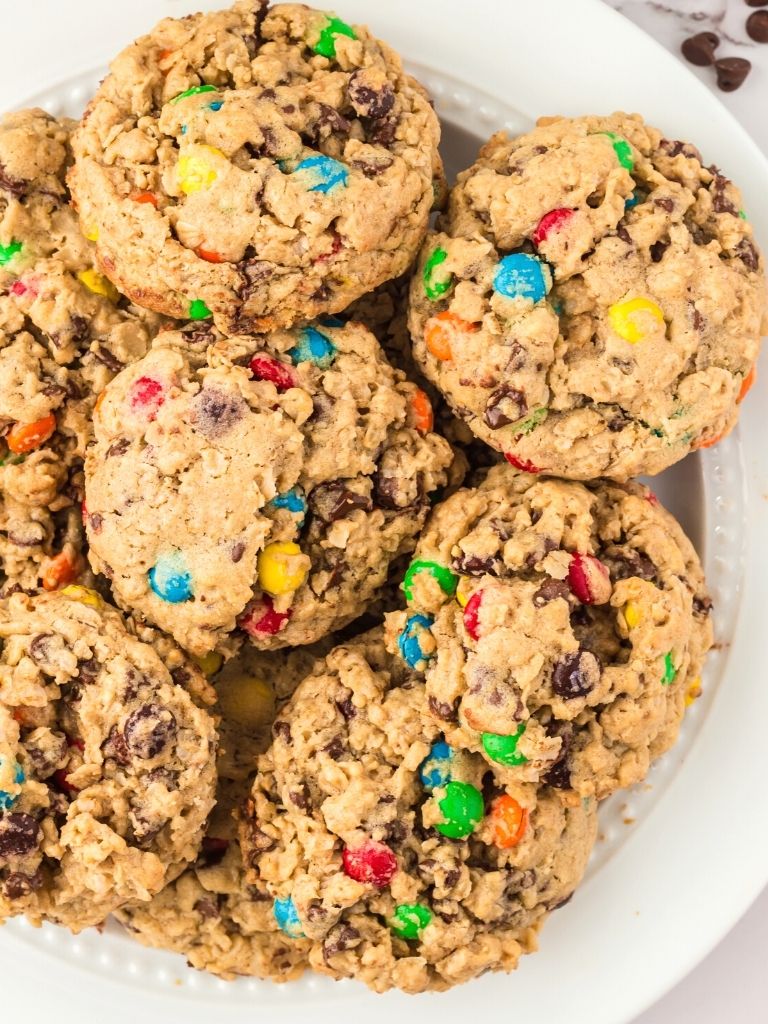 What Are Monster Cookies?
Monster Cookies include oats, peanut butter, chocolate chips, and m&m's. It's essentially a loaded cookie with all the good stuff in life, right?! ♥
One of the most popular recipes on my blog just happens to be another monster cookie recipe. These no flour monster cookie bars are a family favorite with everyone that's tried them. 
I absolutely love monster cookies and therefore I have created lots of different variations like these triple peanut butter monster cookies or these Reese's stuffed monster cookies!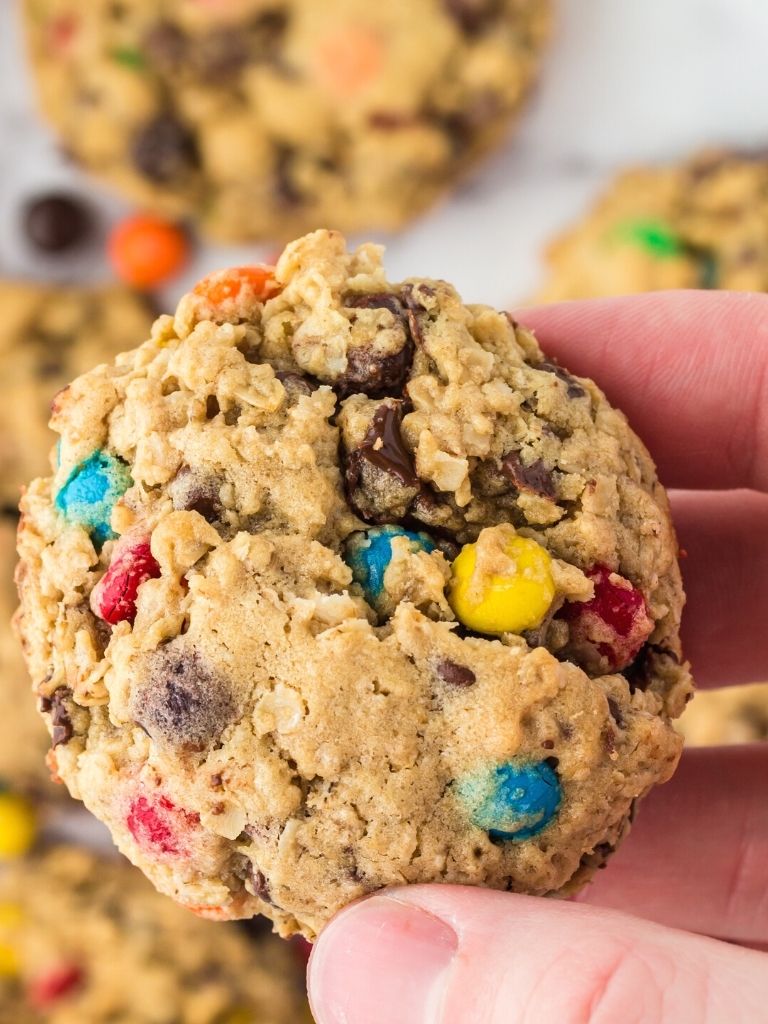 What You'll Need To Make Monster Cookies
You need some baking staples for this cookie recipe. Nothing too fancy! Be sure and get those mini m&m's and mini chocolate chips. They make all the difference. 
Butter : I always use salted butter when baking. Actually, for everything! I only buy salted butter. If you use unsalted butter then you may have to add a pinch of salt. Depending on preference and taste. 
Brown Sugar
Creamy Peanut Butter : I have tried using crunchy peanut butter before to make these and it does not work. It's drier and too thick for these cookies. Also, it's best to use the real deal peanut butter not the all natural stuff. The all natural peanut butter is thicker and does not have as much oil in it, so it tends to dry out baked goods. Some all natural peanut butters (like Jif) are not as dry so that one may work if you want to experiment. 
Large Egg
Vanilla Extract
All-Purpose Flour
Baking Soda
Baking Powder
Cornstarch – Even if you have to buy this I would highly recommend using it because it adds so much. If you must, you can leave it out but I promise the cookies are better with it. 
Salt
Quick Oats – I prefer the texture of quick oats in these cookies but lots of people have used whole old-fashioned oats with great results. So you could probably use whatever one you want, but the recipe has been tested with quick oats. 
Miniature Chocolate Chips
Miniature M&M's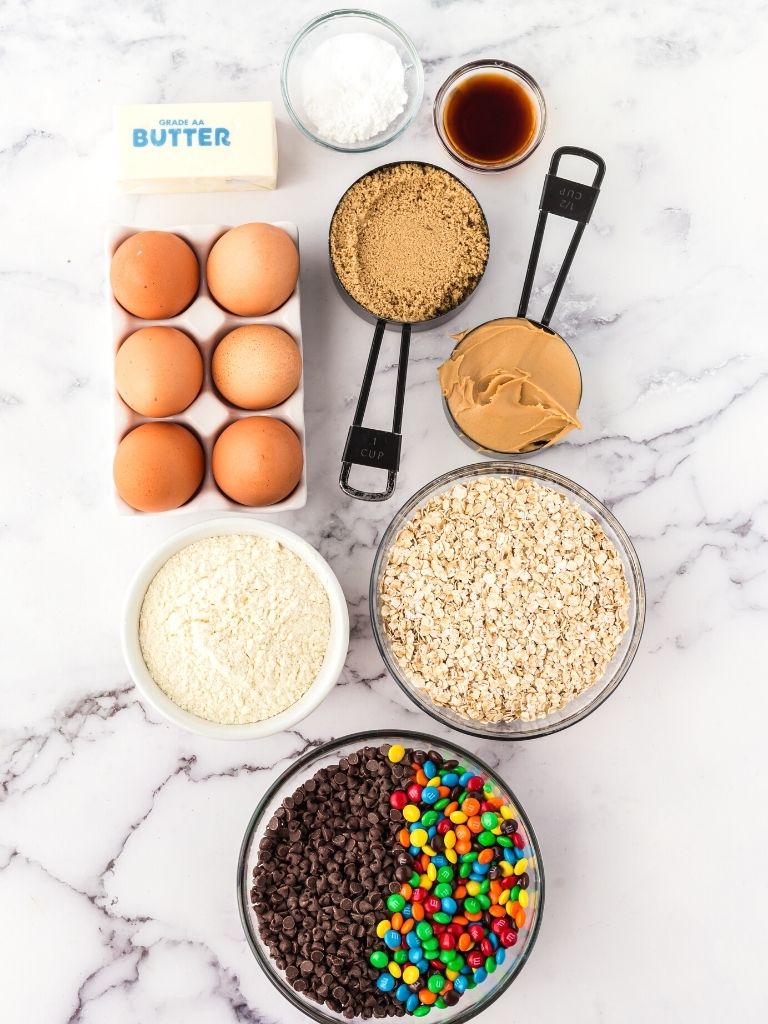 How To Make Monster Cookies
It's pretty simple to make monster cookies. You need one bowl and a hand mixer (or stand mixer works too!) and some cookie sheets. I highly recommend a cookie scoop (medium size) as well to make scooping the dough balls really easy. 
Heat Oven : Preheat the oven to 350 degrees while you are preparing the cookie dough. 
Cookie Sheets : I like to use two cookie sheets so I can have another batch ready to go. I use parchment paper on the cookie sheets but you can also spray with cooking spray or use a silpat mat. 
Cream Ingredients : Add the butter, sugars, and creamy peanut butter into the mixing bowl. Beat on medium-high speed for 1-2 minutes. You want to make sure you get really light in color and fluffy looking. 
Dry Ingredients : Stir the dry ingredients in a smaller separate bowl with a whisk to break up any clumps. Using a whisk acts as a sifter without the actual sifter and work. Slowly add the dry ingredients into the creamed ingredients while mixing on low speed. 
Add The Good Stuff : Add the quick oats, m&m's, and chocolate chips. You can either mix on low speed or use a spoon or spatula and mix it by hand. 
Bake : Scoop the dough into balls and place 12 per cookie sheet. I love to use a medium cookie scoop to do this or you can just use about 2 tablespoons of dough and scoop by hand or with a spoon. They should look like golf balls when done. Bake according to time in the recipe. 
Cool : When cookies are done they won't spread or flatten much. If you want them to be more of a cookie shape then either gently press some additional m&m's onto the tops of each cookie OR you can gently tap the cookie sheet against the countertop or stove top to help naturally spread the cookies.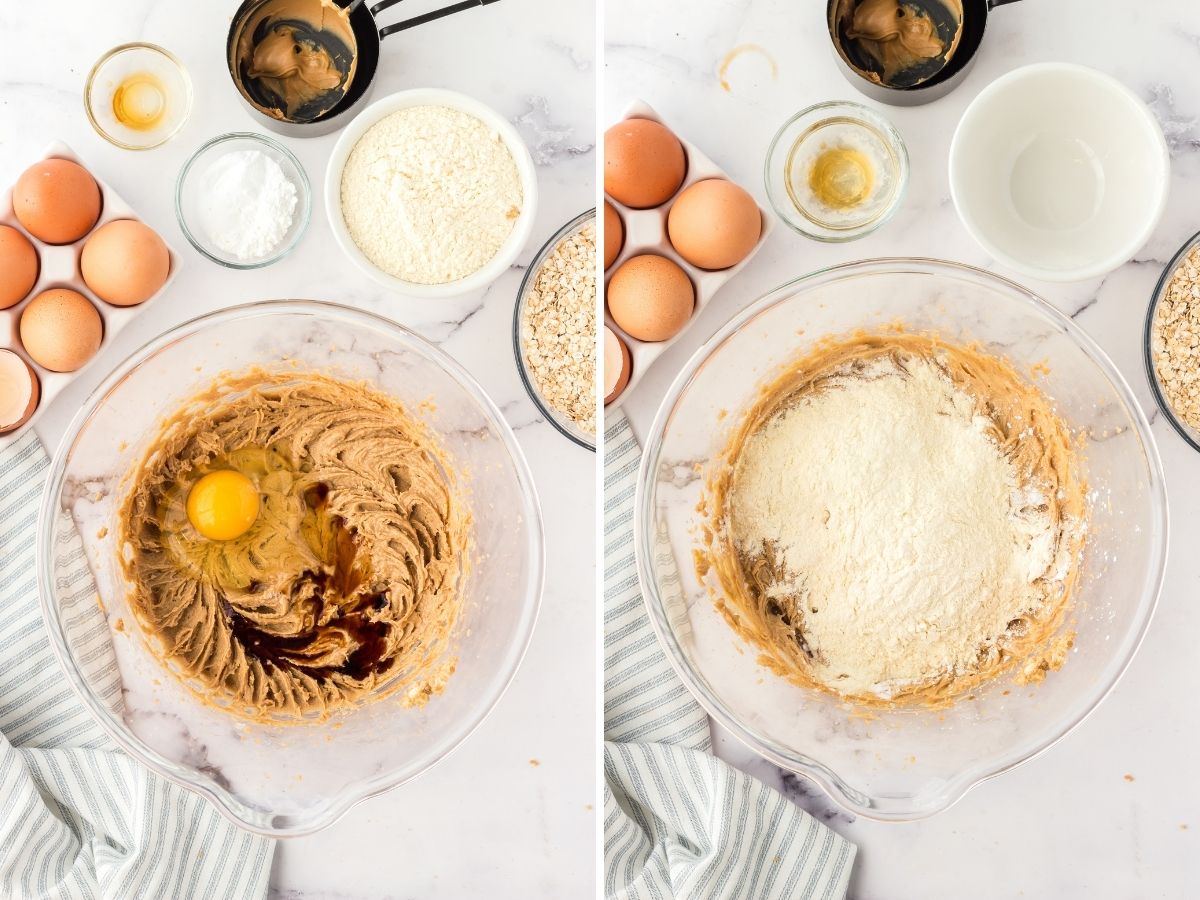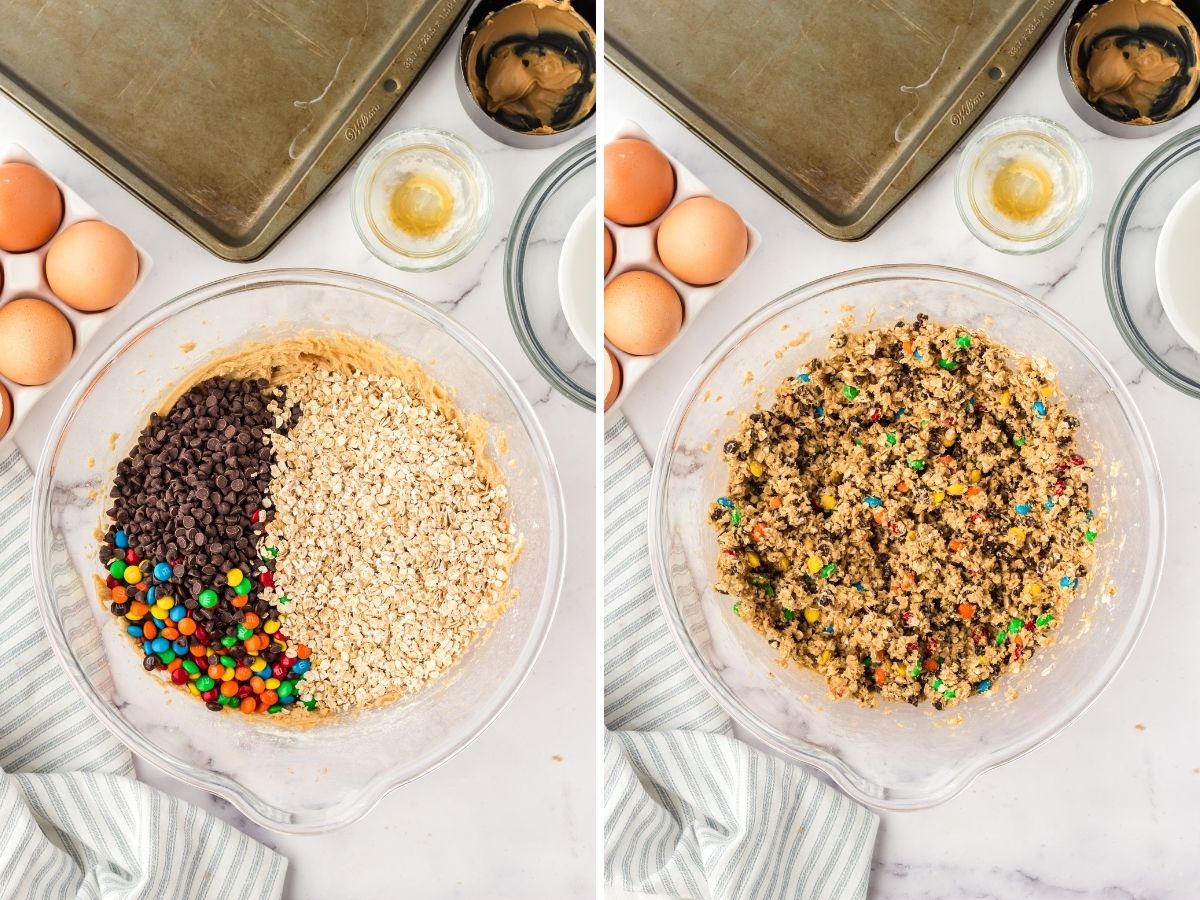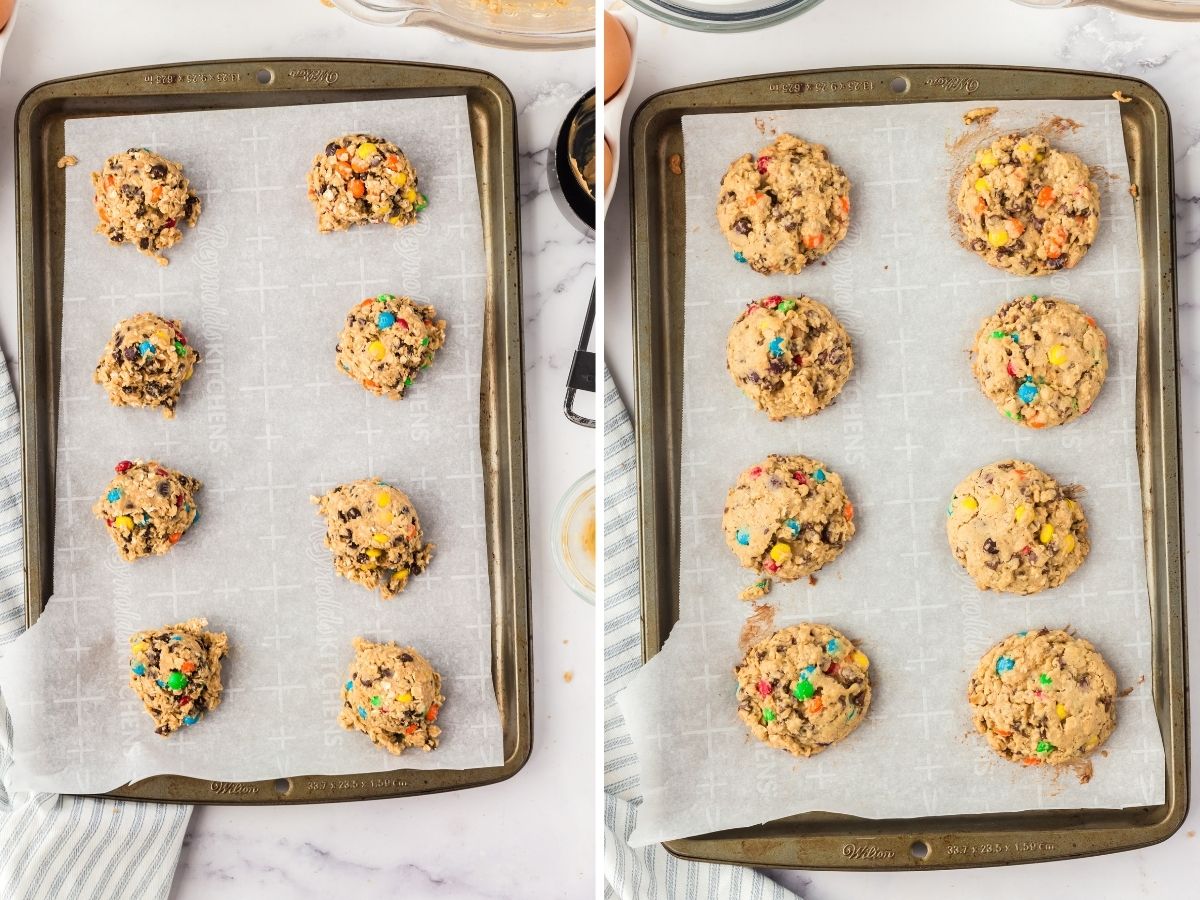 Tips For Success
Baked Cookies : When the cookies come out of the oven they will still be puffy. They don't spread much at all while baking. There are three options: You can take a cup and gently press the bottom of it on top of the cookies to flatten them out slightly. This will produce a flatter topped cookies. Or my favorite way, is to just press a few additional m&m's onto each cookie and this will help naturally "un-puff" the cookie. Or you can tap the cookie sheet on the counter or stove top immediately after they come out of the oven. This will naturally help the cookie settle.
Use Mini Chips & Mini M&M's : The mini chocolate chips and m&m's work best in these cookies because of the smaller size. That way each bite of the cookie has little bits of chocolate chip and m&m in it. Of course the regular sized chocolate chips and m&m's will work fine in this recipe if that's what you have. 
Beat Butter + Sugar: It's super important to beat the sugars and butter for at least 1-2 minutes. You want the batter to be fluffy looking and noticeably lighter/paler in color. 
When Are They Done? : Never take cookies out of the oven that look done. These cookies will be puffy and look soft and that's what you want. They will continue to cook while they cool. The cookies should definitely not look like there is raw/wet dough on top. 
Peanut Butter : Use regular creamy peanut butter. No all-natural peanut butter as they tend to be drier and will dry out baked goods. I love the Peter Pan brand or Skippy brand of creamy peanut butter.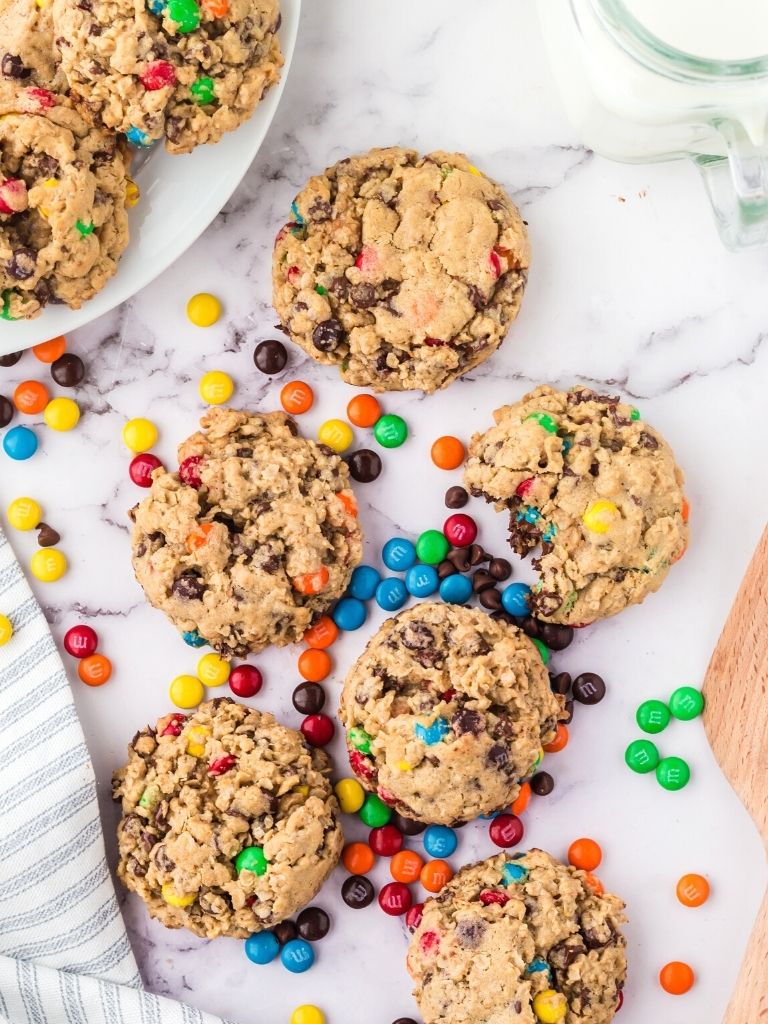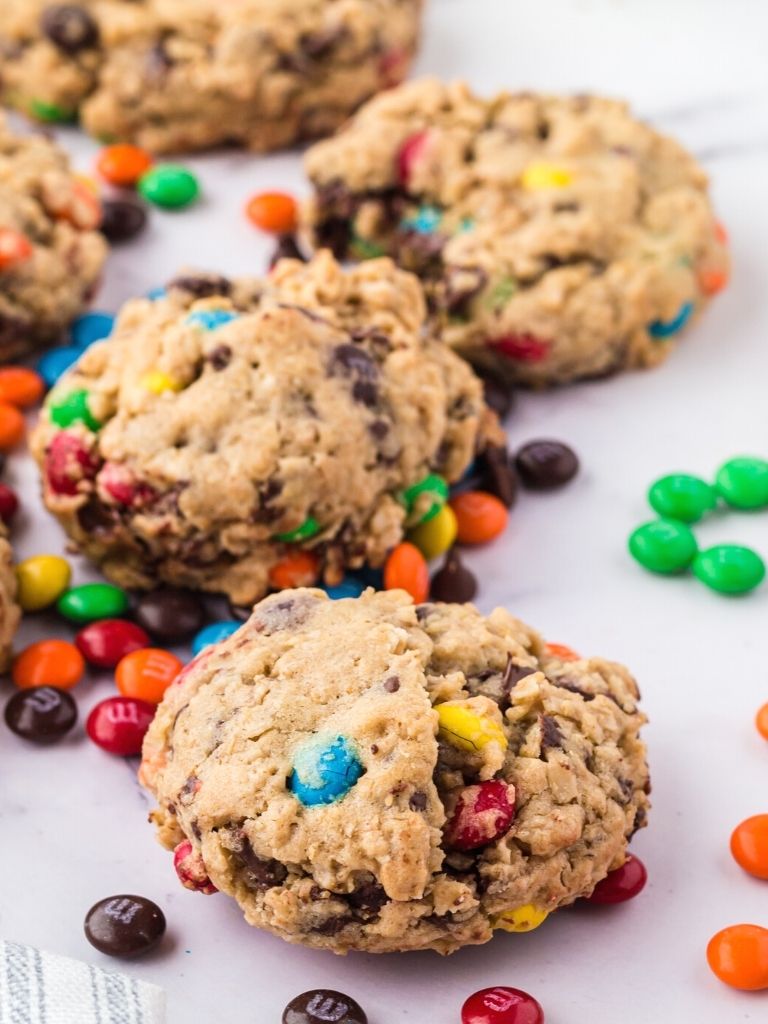 How To Store Leftover Cookies
Leftover monster cookies store best at room temperature, in an air-tight container (or sealed Ziploc bag) for up to 5 days. They are best fresh but leftovers will still be delicious. 
If you prefer cold cookies then go ahead and store them in the fridge. 
Can I Freeze Monster Cookies?
Yes! Monster cookies freeze perfectly. There are two ways to freeze them. 
You can scoop the dough into the dough balls and place it on a baking sheet or something else that will fit in your freezer. Freeze the dough balls. Place the frozen dough balls into a freezer safe container or bag and freeze for up to one month. You want to freeze the dough balls first so that they don't stick and squish together while in the freezer. 
You can also freeze the cookies once they are baked and cooled. Place the baked cookies (cooled) into a freezer safe container or bag and freeze for up to one month. When ready to eat, simply leave one out at room temperature or you can microwave it for a few seconds to soften it up.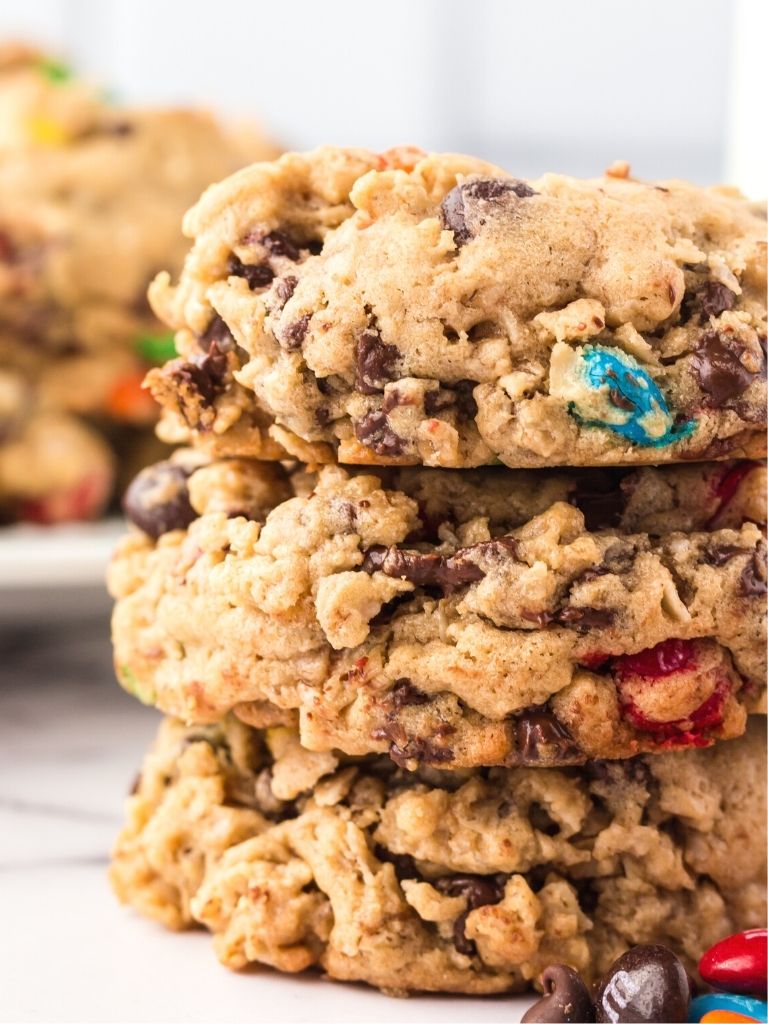 More Cookie Recipes You'll Love
Chocolate Reese's Cookies : Chocolate cookie with peanut butter chips and chopped Reese's peanut butter cups. 
The Best M&M Cookies : Bakery style cookies studded with lots of m&m candy. 
Giant Oatmeal Chocolate Chip Cookies : My favorite! So hearty and chewy with the oats and giant sized!
Toffee Cake Mix Cookies : So easy to make with 4 ingredients. Buttery toffee cookies are so good. 
S'mores Cookies : Everything you love about s'mores in a cookie!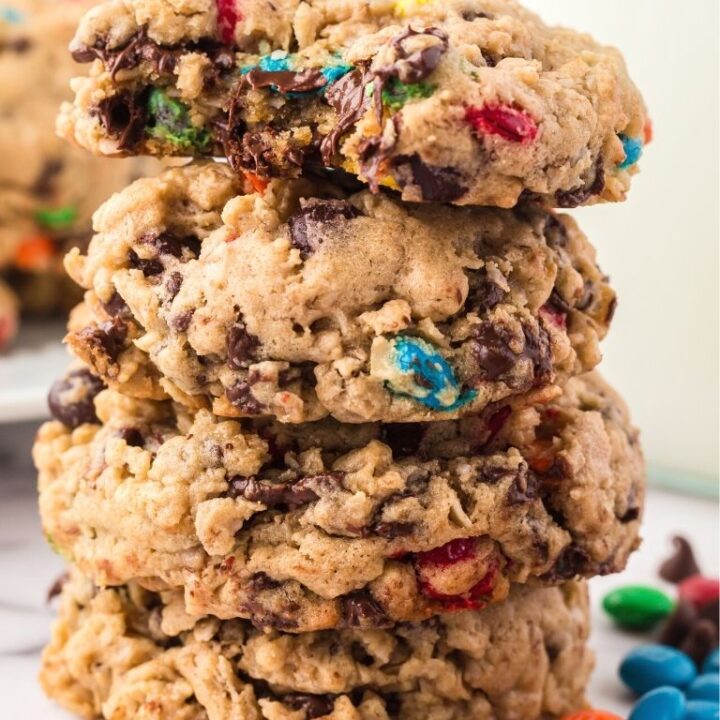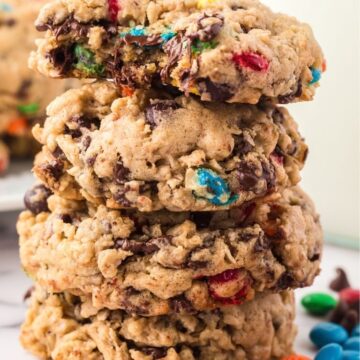 The Best Monster Cookies
The Best Monster Cookies are loaded with peanut butter, oats, chocolate chips, and m&m's! They are thick, chewy, and a soft-baked cookie, with a surprise ingredient, that are crazy delicious.
Ingredients
1/2 cup butter softened
1 cup brown sugar
1/2 cup creamy peanut butter
1 large egg
2 teaspoons vanilla extract
3/4 cup all-purpose flour
1 teaspoon baking soda
1 teaspoon cornstarch
¼ teaspoon baking powder
¼ teaspoon salt
1½ cups quick oats
1 cup mini semi-sweet chocolate chips
1 cup mini M&M candies
Instructions
Preheat oven to 350°. Line cookie sheets with parchment paper, use a silpat liner, or spray with cooking spray.

In a large bowl (or bowl of a stand mixer) cream together the butter, brown sugar, and peanut butter until light and fluffy, about 1-2 minutes.

Mix in the egg and vanilla, scraping down the sides of the bowl as needed.

In a separate bowl, add the flour, baking soda, cornstarch, baking powder, and salt and whisk to combine.

With the mixer on low speed, slowly add the flour mixture to the wet ingredients and mix until just combined.

Add the oats, chocolate chips, and M&M candies. Mix on low speed just until dough is combined.

Use a medium cookie scoop, or about 2 tablespoons cookie dough, and place on the baking sheets. They should look like golf balls. 

Bake the cookies for 7-9 minutes until the edges are just starting to brown and the top still looks slightly undercooked.

Remove from the oven and cool for 5 minutes on the baking sheet before moving them to a wire rack to cool completely.

** These cookies don't spread much after baking. If you gently press additional m&m's onto the tops of each cookie that will help flatten the cookie to more of a "cookie shape". You can also tap the hot cookie sheet against the countertop or stove top to help the cookies to fall.
Notes
Natural peanut butter does not work well in this recipe. Press some additional m&m's on top of the cookie dough balls, before putting cookie sheet in the oven, for a pretty presentation. Or press some m&m's on top of the cookies after they come out of the oven to naturally press down the cookies into more of a cookie sheet.   I have also made giant monster cookies. Form 1/4 cup of dough into a ball and then slightly flatten on the cookie sheet. Bake for about 11-13 minutes. 1-2 minutes will seem like a long time to mix the sugars, peanut butter, and butter but it's really important to do it for about that long. The dough will be much lighter in color and look fluffy. That's when you know you have blended it long enough. I use salted butter.
Nutrition
Calories: 190kcal | Carbohydrates: 22g | Protein: 3g | Fat: 10g | Saturated Fat: 5g | Cholesterol: 15mg | Sodium: 112mg | Potassium: 105mg | Fiber: 2g | Sugar: 15g | Vitamin A: 122IU | Vitamin C: 1mg | Calcium: 26mg | Iron: 1mg