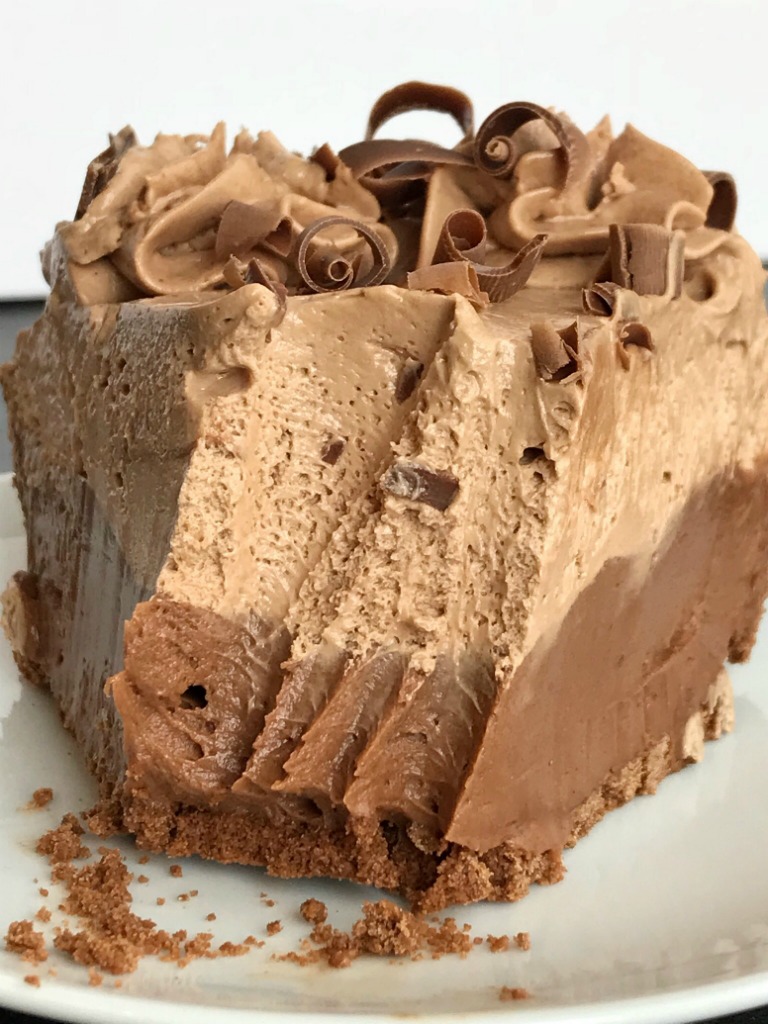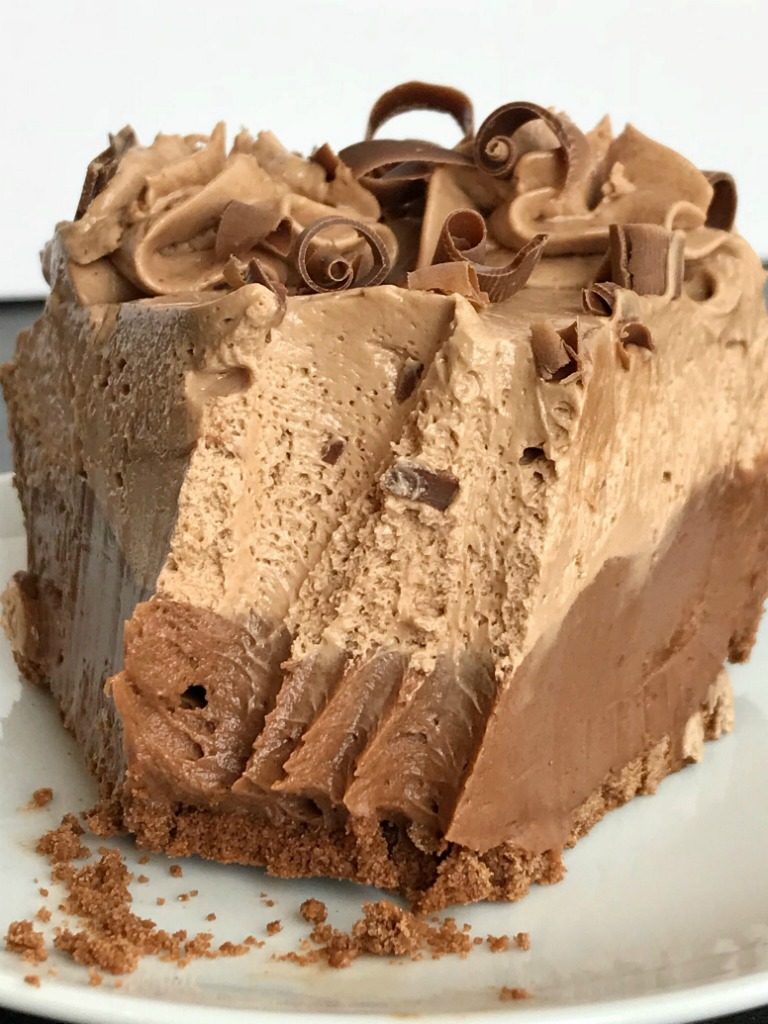 NUTELLA PIE
This Nutella pie is easily one of my very favorite pie recipes on the blog. Anything loaded with Nutella is pretty much a guaranteed hit, right?!
This pie is even better because it's no bake, so easy to make, and you only need 6 ingredients. 
Cream Cheese – Do yourself a favor and get the regular, full-fat cream cheese
Granulated Sugar 
Nutella – Basically the best thing on earth!
Vanilla Extract
Cool Whip – I use the easy stuff in the tub but if you're feeling like a rock star then go ahead and make your own whipped cream. It would take this pie from 'minutes to make' to 'not minutes to make', but it would still be delicious. You decide!
Chocolate Graham Cracker Crust – I actually prefer to buy the store bought cracker crusts. They hold up to the pie much better when cutting and they're easy!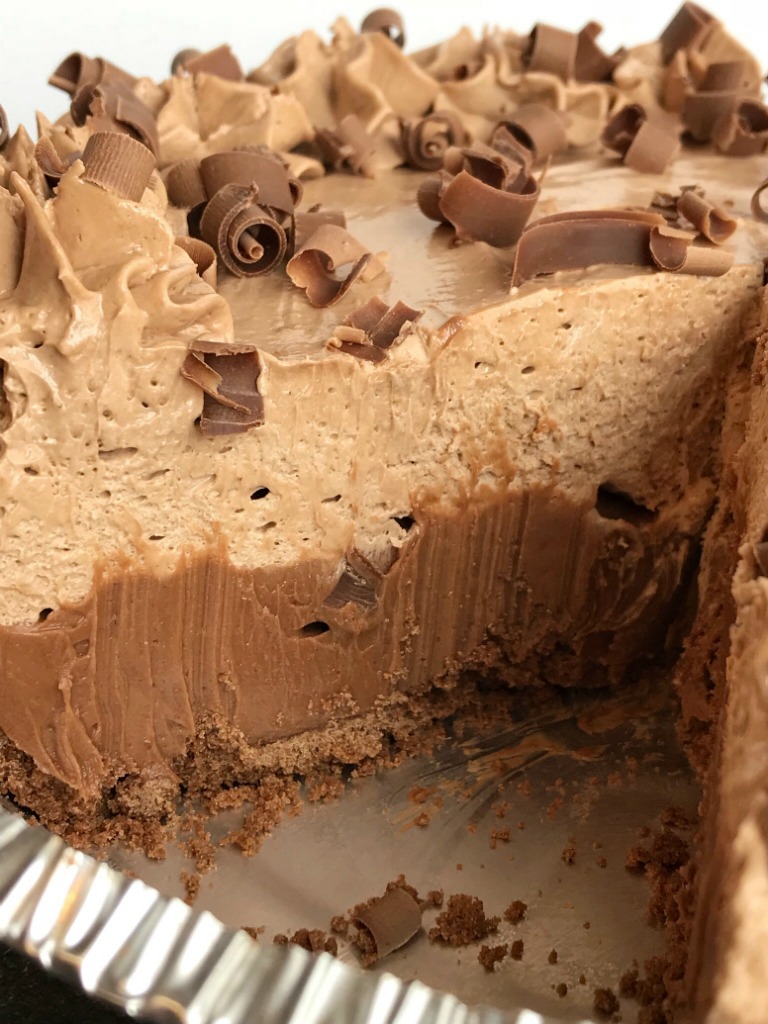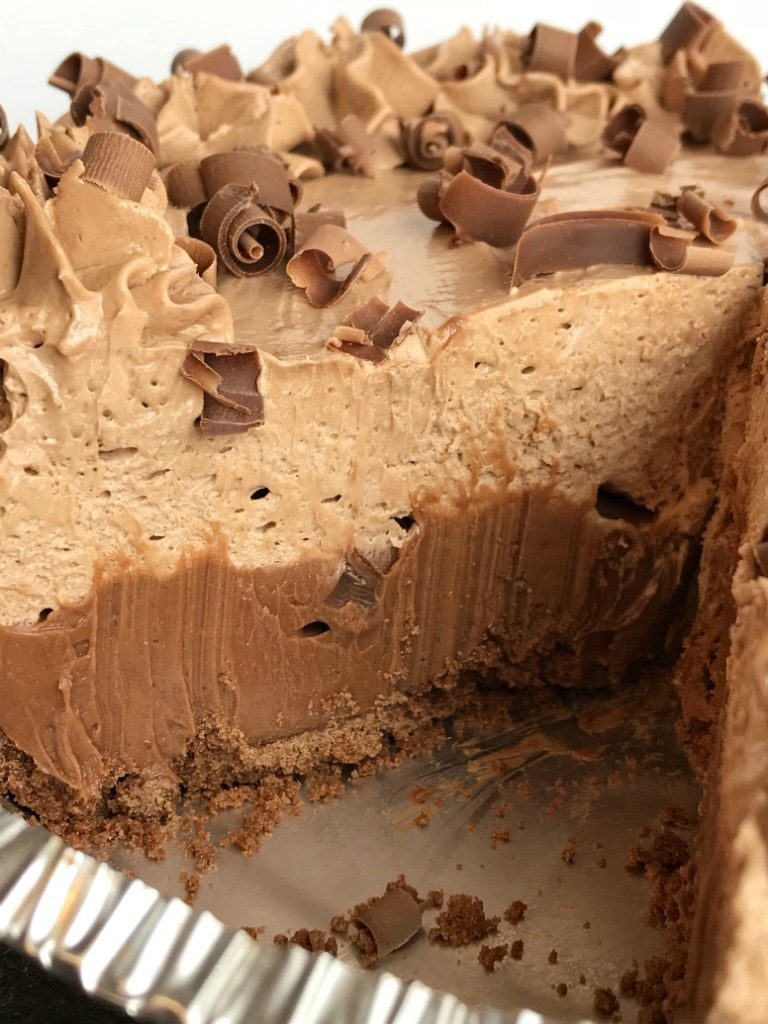 CAN I MAKE NUTELLA PIE AHEAD OF TIME?
YES! In fact it needs to be made ahead of time which makes it perfect for the upcoming Thanksgiving Holiday, or for any sort of gathering. Get this pie made and in the fridge, and it's easily something that you can prepare ahead of time. 
Any no bake pie needs hours in the refrigerator so it has time to thicken and set up nicely. So please plan ahead, and make sure you make this pie the night before. 
My general rule is that any pie that is no bake, I make the night before and let it hang out in the fridge overnight and through the next day until I need it.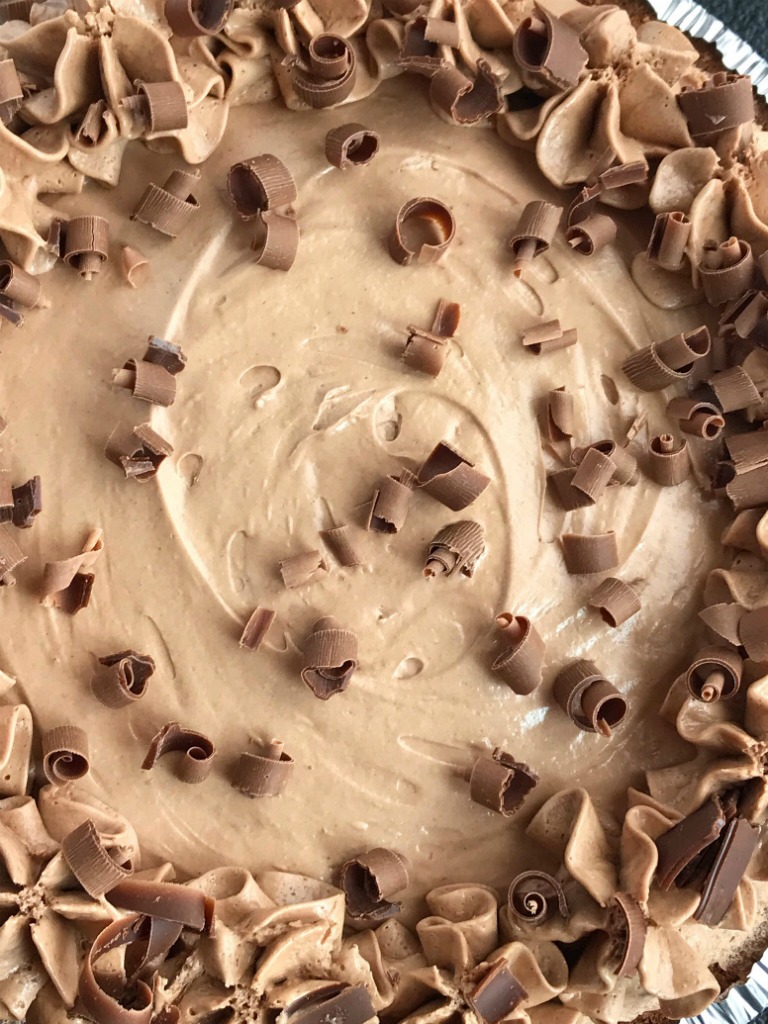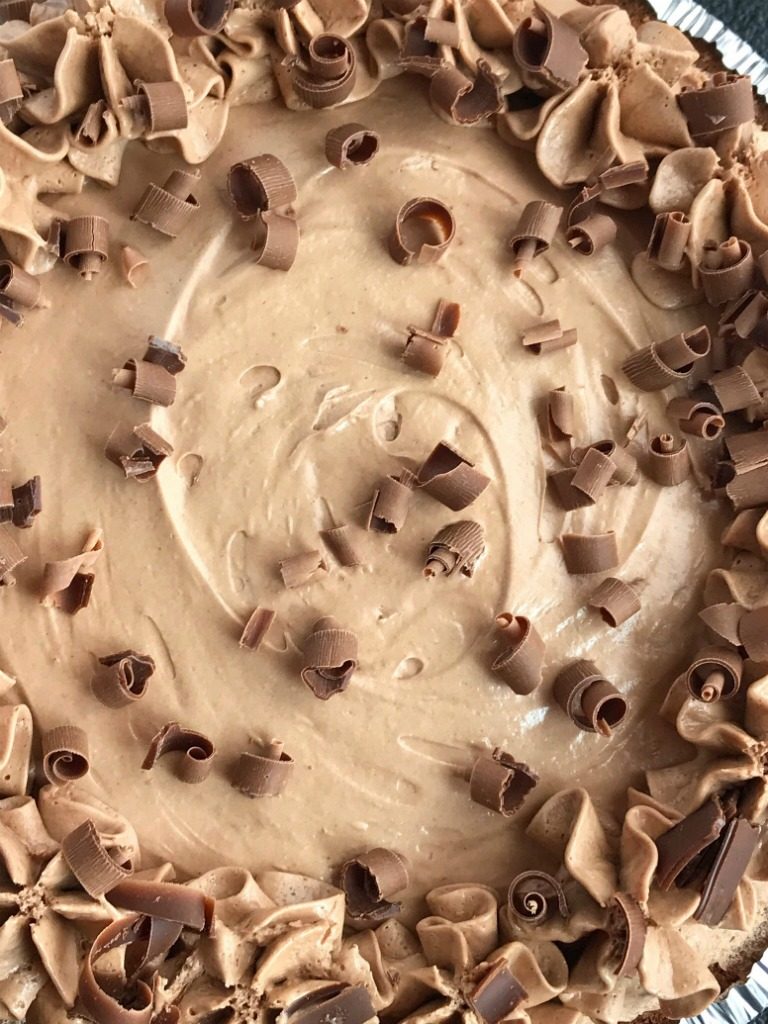 MY HELPFUL TIPS FOR MAKING THIS NO BAKE PIE RECIPE
Make sure that your cream cheese is softened so that it blends in easily with the granulated sugar. I microwave the cream cheese bars for about 30-40 seconds in the microwave to get them nice and soft. You don't want the cream cheese melted, just really soft.
Don't worry about the granulated sugar being grainy. I promise it's not. That's why you want the cream cheese soft so that the sugar blends in nicely with it.
You can make your chocolate crust if that's what you prefer. Just make sure it's a recipe for a 9-inch pie.
I have not tried this with reduced fat cream cheese. I am not a fan of the reduced fat cream cheese (the taste is a bit off for me) so I don't use it when I bake especially. I would highly recommend sticking with the full-fat, real cream cheese for best taste.
I always like to save some extra of the top layer (the mixture with the Cool Whip added to it) and then right before serving, I pipe it on top of the pie. This is totally optional!
If you want to make chocolate shavings it's so easy. Simply buy a Hershey chocolate bar and then use a vegetable peeler to peel down the sides of the chocolate bar. Let the shavings fall on top of the pie.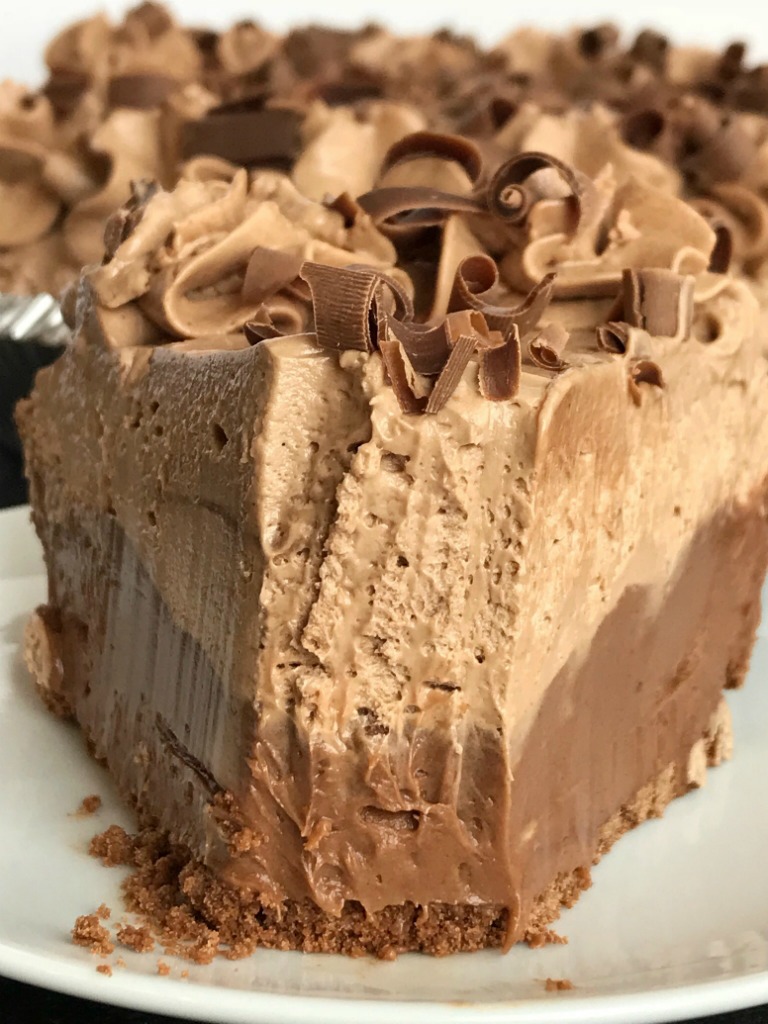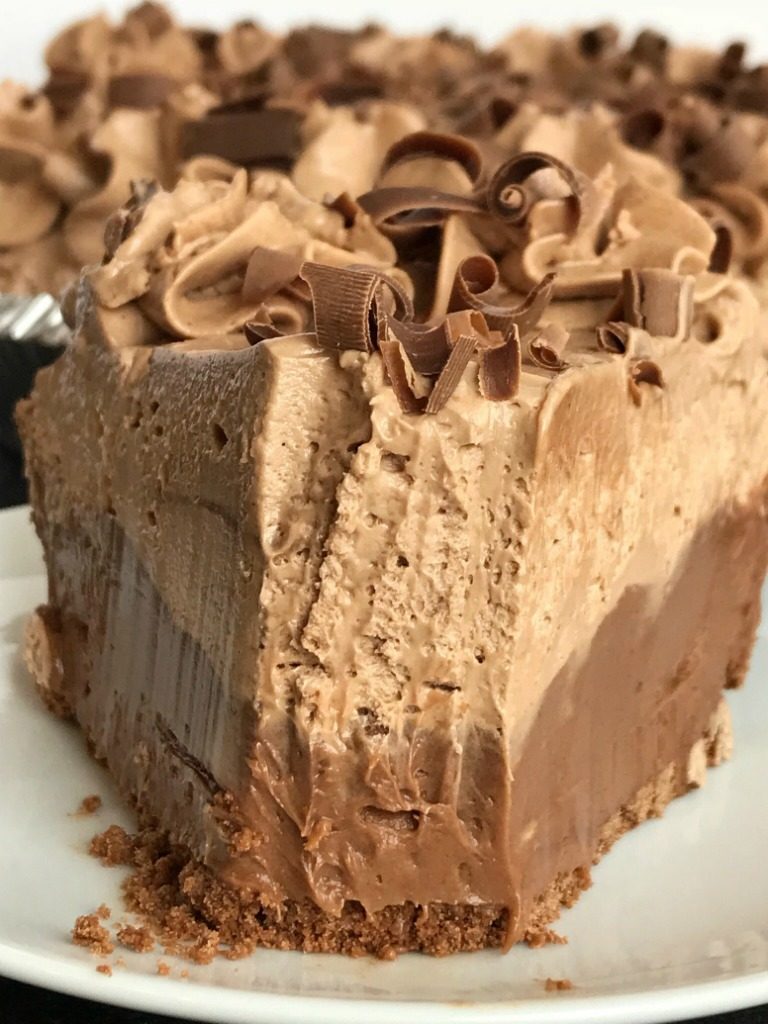 This no bake Nutella cheesecake cream pie is beyond words delicious. It's so rich and decadent but at the same time it tastes light and fluffy. And if you love Nutella then I just know you will love this pie. 
If you're looking for other fabulous no bake pie recipes try my lemon cheesecake pie, this black forest cream pie, or my no bake snickers cream pie. 
TRY THESE OTHER PIE RECIPES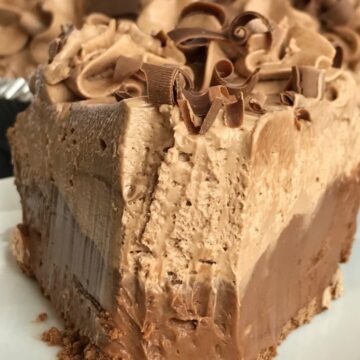 No Bake Nutella Cheesecake Pie
No bake Nutella Cheesecake Pie is always a hit! Two layers of creamy & sweet Nutella cheesecake inside a premade chocolate graham cracker crust. Only 6 ingredients needed for this simple and delicious no bake dessert. 
Ingredients
2 bars (8 oz each) cream cheese, softened
1/3 cup granulated sugar
1/2 teaspoon vanilla extract
1 1/4 cups Nutella
1 carton (8 oz) Cool Whip, thawed
1 ready-to-use chocolate graham cracker crust
Instructions
Unwrap cream cheese and place on a microwave safe plate. Microwave for 30-40 seconds until very softened. 

Add softened cream cheese, granulate sugar, and vanilla extract to a mixing bowl. Beat together, using a handheld blender, until creamy and combined. Add in Nutella and blend together. 

Spread half of the mixture into the pie crust.

Add the carton of Cool Whip to the reamining Nutella mixture and stir together to combine. Evenly spread it on top of the 1st layer in the pie crust.

Cover with the enclosed plastic lid (from the pie crust) and let refrigerate for at least 8 hours. Preferably overnight.

Cut into slices and serve. This pie is rich so I can usually get 10 smaller slices from it. If wanted, decorate the pie with chooclate shavings and/or reserve some of the Cool Whip mix from the pie and pipe it on top of the pie right before serving.
Notes
If you would rather not use the Cool Whip, simply whip 1 cup of heavy whipping cream + 3 tablespoons powdered sugar in a bowl. Whip until stiff peaks form. This takes about 5 minutes.  UPDATE : This pie sat in the fridge for 4 days after I made it and it got better and better. This is the perfect pie to make the day before you need it because it's actually better on day 2 and day 3. It's still good the day you make it (after the refrigeration time of course) but it gets even better the next day 🙂