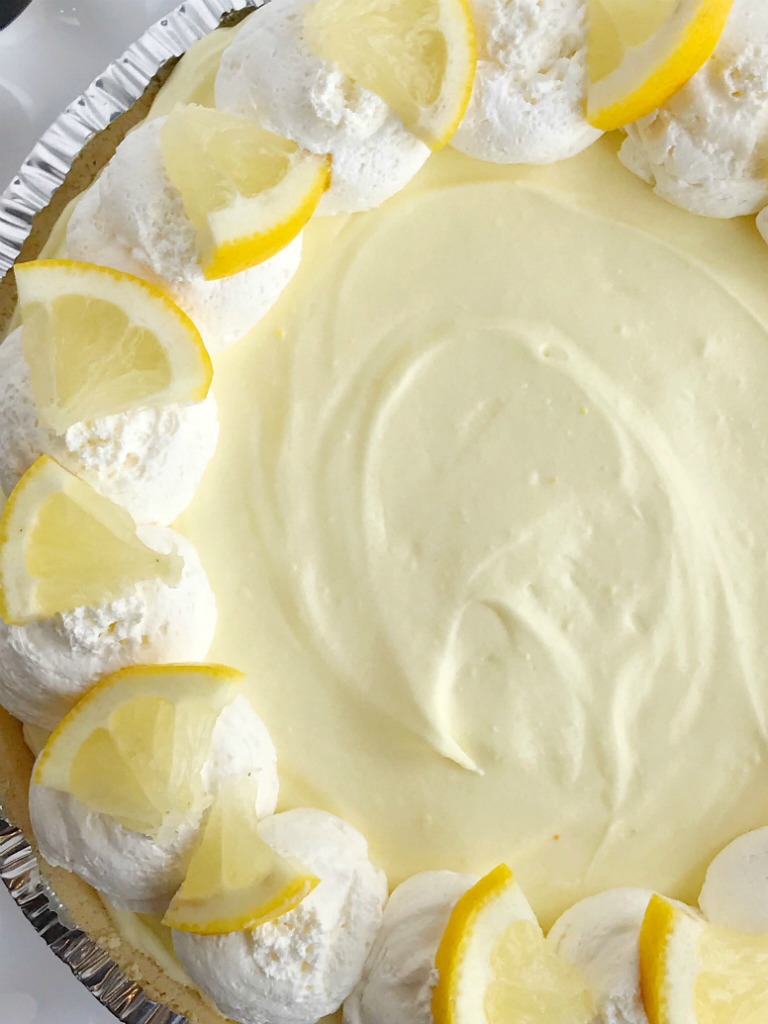 LEMON CHEESECAKE PIE RECIPE
Once the sunshine comes out and spring is here all I want is lemon anything! Which is how this no bake lemon cheesecake pie came to life. 
This triple layer lemon pudding pie is always so popular around this time but I wanted something creamier with a more cheesecake like texture. But it still had to be no bake! Because who wants to spend hours in the kitchen when the sun is shining outside! Well, me I guess 🙂 I love being in the kitchen. 
No bake pies are the best for hot summer days, Holidays, or gatherings. No oven needed, simple ingredients, pre-made crust, they're cool & creamy, and the best part is that they are make ahead desserts because they need the refrigeration time before serving.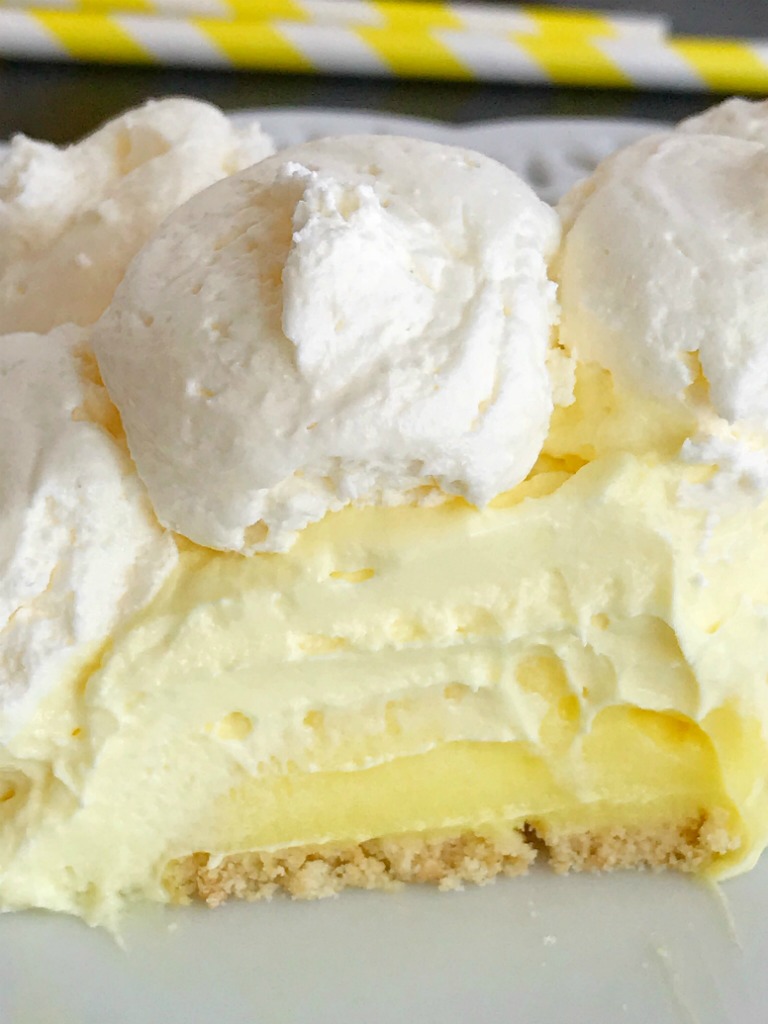 HOW TO MAKE NO BAKE LEMON CHEESECAKE PIE
Nilla Wafer or Graham Cracker Crust – I always buy the store bought crusts that are ready to use. I actually prefer these ones over homemade because the crust stays together! Homemade graham cracker crusts tend to always be really crumbly. You don't want the 'extra servings' crust just the regular sized (6 oz) store bought crust. 
Instant Lemon Pudding– Do not use sugar-free! This recipe was created around the 3.4 oz box lemon pudding. 
Half & Half – This is half cream and half milk. It's thick and fatty which is so good in helping the lemon pudding firm up and set. You could use other milks but I have found that this is the best. If you do use another milk just be sure you are using the highest fat percentage possible (like whole milk would be fine or even 2%).
Cream Cheese
Granulated Sugar
Cool Whip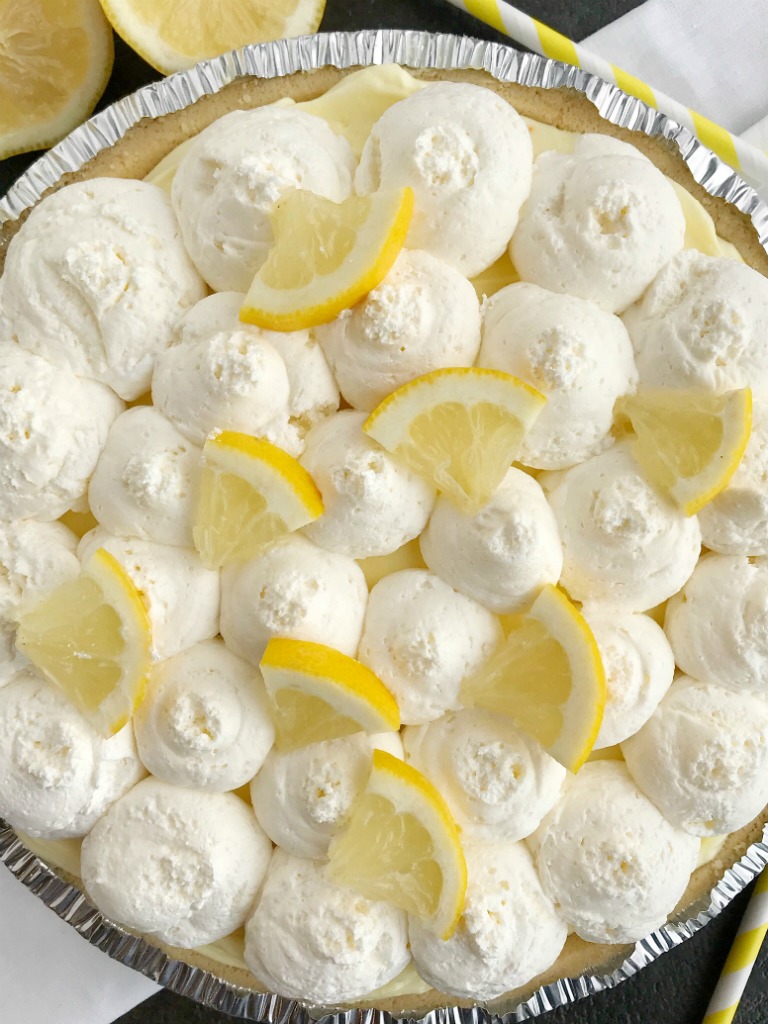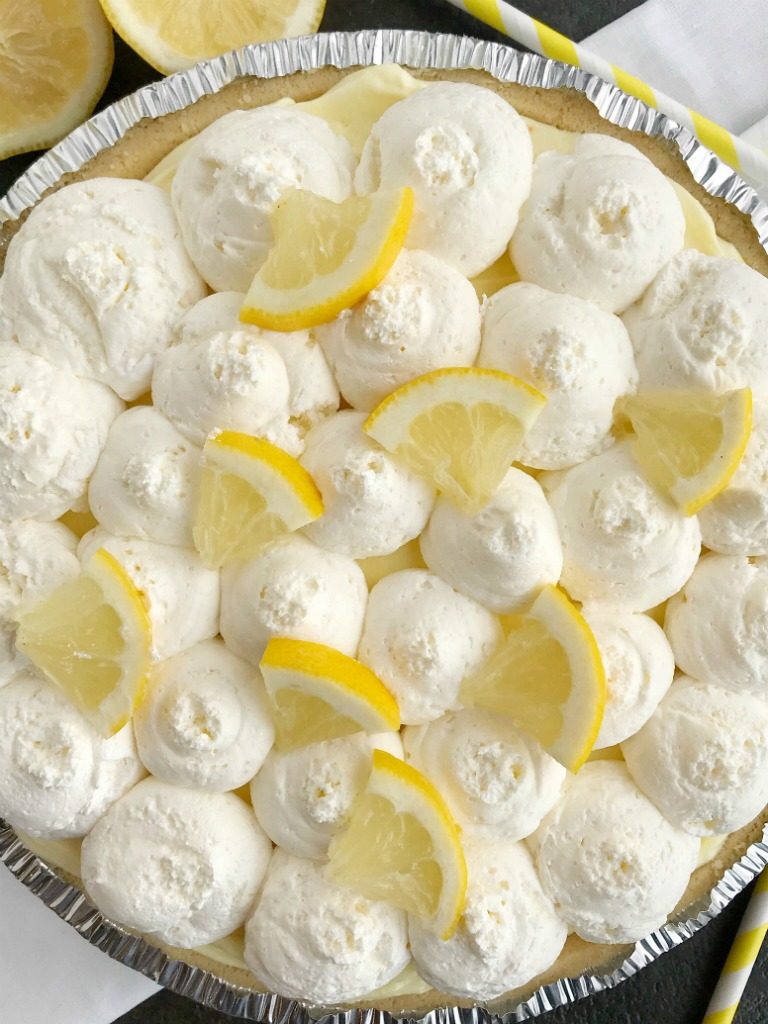 MY TIPS FOR THIS NO BAKE PIE RECIPE
Do not follow the instructions on the pudding box. Just add the dry pudding mix + half & half milk that's called for in the recipe below. 
Be sure you are getting the correct instant pudding box at the store. The cook n' serve boxes look almost identical but you definitely do not want the cook n' serve version!
You don't have to pipe on the top layer. I only do it for the pretty pictures. When I make this normally, I will just spread it on the top as the 3rd layer. But you can pipe it on if you want to! I use a piping bag + a Wilton 1A tip. 
Garnish with fresh lemon slices for an extra pretty presentation. 
If you prefer to use your own homemade whipped cream add 1 1/2 cup heavy whipping cream + 1/4 cup powdered sugar into a mixing bowl and beat until stiff peaks form. Use this in place of the Cool Whip container. 
If you do use another milk just be sure you are using the highest fat percentage possible (like whole milk would be fine or even 2%).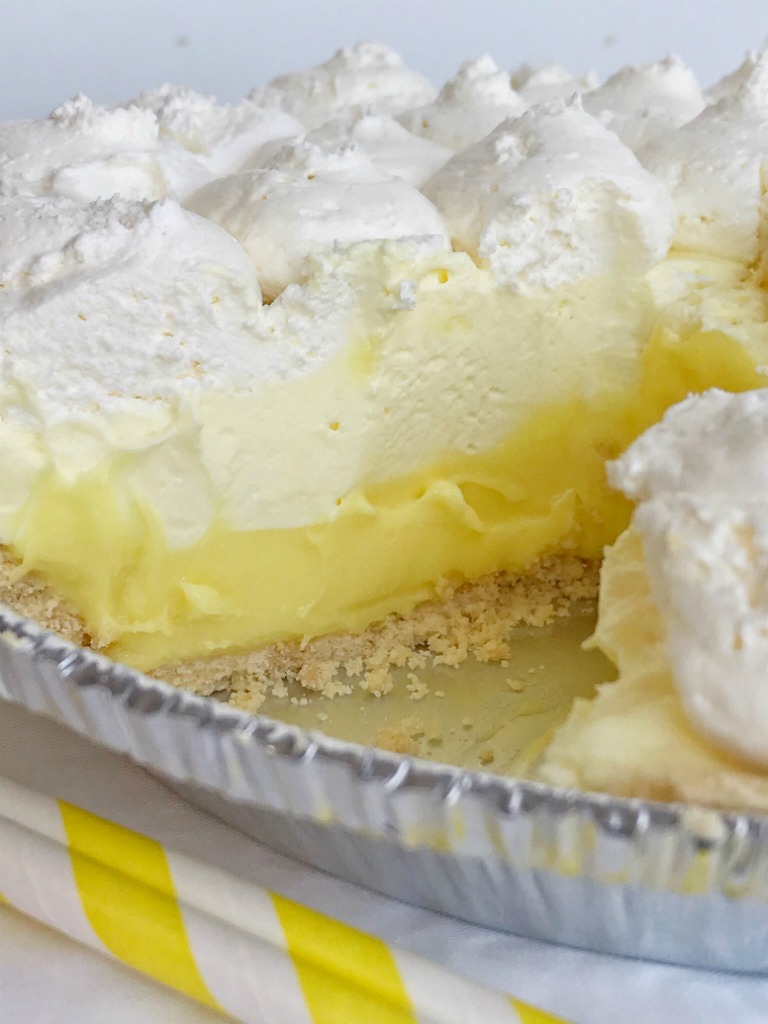 TRY THESE OTHER NO BAKE PIE RECIPES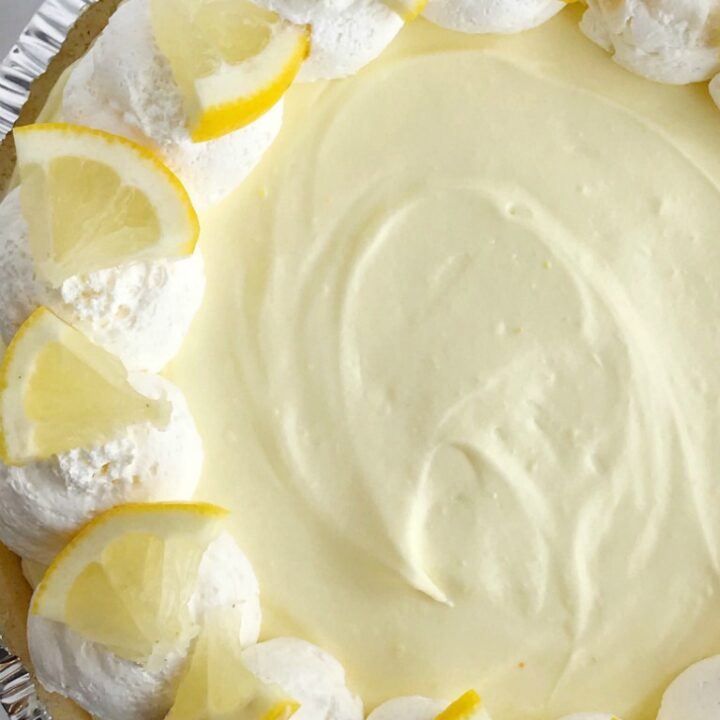 No Bake Lemon Cheesecake Pie
Lemon Cheesecake Pie is a no bake dessert that is so creamy and bursting with fresh lemon flavor! Lemon pudding, cream cheese, and Cool Whip inside a crumb crust.
Ingredients
1 (6 oz) ready-to-use Nilla Wafer or Graham Cracker crust
2 boxes (3.4 oz each) lemon instant pudding mix
2 cups half & half
1 bar (8 oz) cream cheese softened
1/3 cup granulated sugar
1 tub (8 oz) cool whip
fresh lemon slices for garnish optional
Instructions
In a mixing bowl, combine the dry pudding mix and half & half milk. Whisk together for 1-2 minutes. Let sit for a few minutes so the pudding can get nice and thick. Once thickened, spread 1 1/2 cups of the pudding into the pie crust. Set aside the remaining pudding.

In a separate mixing bowl, using a handheld blender, beat together the softened cream cheese and sugar until it's creamy and combined. Using a spatula, fold the cool whip in and mix until combined. Add half of the mixture into the remaining pudding mix. Spread into the pie crust to form the 2nd layer.

Spread the remaining cool whip/cream cheese mixture on top of the pie, or use a piping tip and bag to pipe it on as wanted.

It's best to let the pie refrigerate overnight OR at least for 6-8 hours so that it can firm up, come together, and get nice & cold.

When ready to serve, garnish with fresh lemon slices if wanted.
Notes
The granulated sugar will dissolve into the cream cheese. I know some may worry about it being grainy, but I promise it won't. Just make sure the cream cheese is softened well so it can all mix together. 
I use this Wilton 1A piping tip and these piping bags.
Put the tip in, cut the corner and then put the piping bag into a tall cup. I then use a spatula to put the cream cheese/cool whip mixture into the bag and then pipe it onto the pie as wanted. 
I put the cream cheese, unwrapped, onto a microwave safe plate and the microwave it for about 25 seconds or so. You want the cream cheese nice and softened so it blends in easily with the sugar. 
Nutrition
Calories: 171kcal | Carbohydrates: 13g | Protein: 4g | Fat: 12g | Saturated Fat: 7g | Cholesterol: 36mg | Sodium: 28mg | Potassium: 81mg | Sugar: 12g | Vitamin A: 99IU | Calcium: 69mg