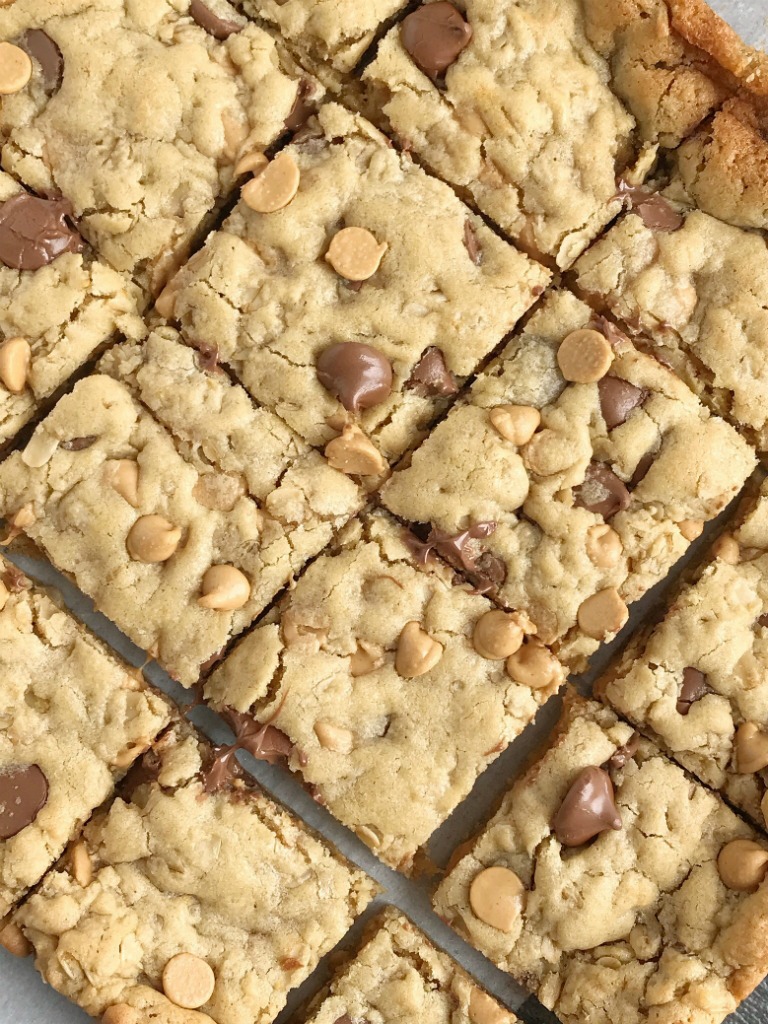 OATMEAL CHOCOLATE CHIP PEANUT BUTTER BARS
These oatmeal chocolate chip peanut butter bars just happen to be my very favorite recipes on this blog. It was one of the first recipes I ever posted and it's still made at least monthly at my house. 
Soft cookie bars loaded with all the good stuff in life! Peanut butter, chocolate chips, oats, peanut butter chips. They're literally perfect.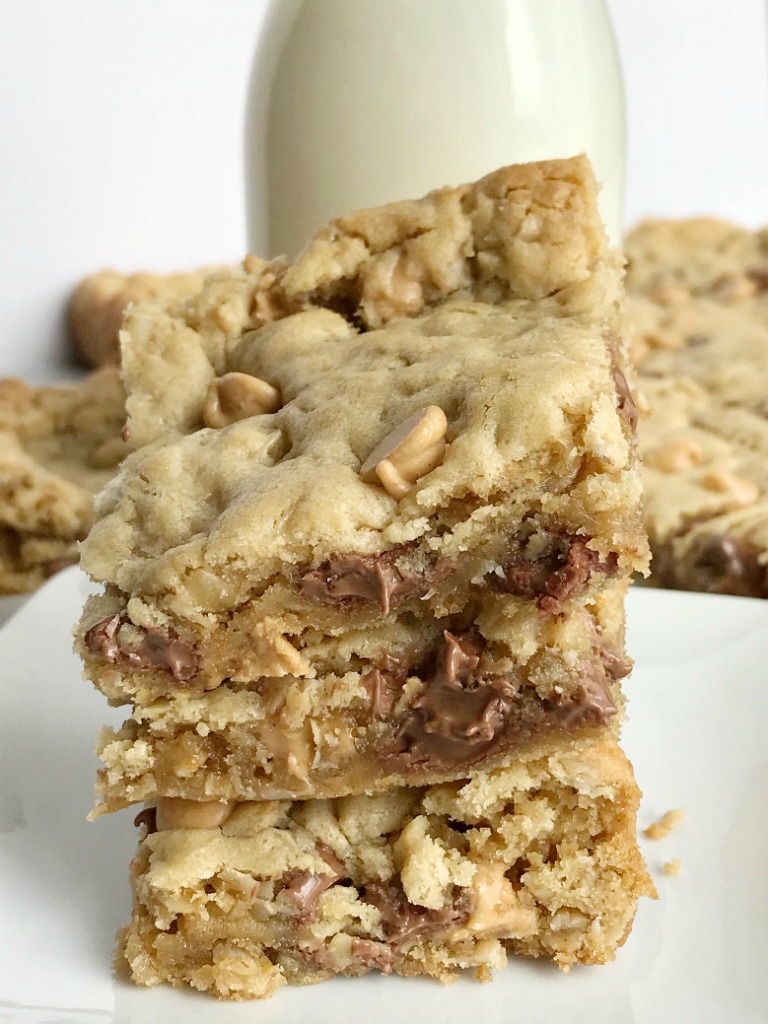 INGREDIENTS NEEDED TO MAKE COOKIE BARS
To make these oatmeal chocolate chip cookie bars you will need the usual ingredients like butter, vanilla extract, flour, baking soda, salt, sugar, brown sugar, peanut butter chips, and chocolate chips.
Old-Fashioned Oats – This recipe specifically calls for the regular, old-fashioned oats. Meaning, NOT the instant or quick oats that cook in 1 minute. Sure you could try substituting, but this recipe has been tested and retested with the old-fashioned oats. 
Peanut Butter – Please do not use all-natural peanut butter for this recipe. You want the oil and all the goodness from the regular creamy peanut butter. The all natural stuff is too dry which will result in a very dry and crumbly cookie bar. 
Egg + Egg Yolk – Yes it seems odd but just do it. Save the extra egg white for something else or throw it away. The extra egg yolk adds moisture and fat and just makes these bars totally scrumptious.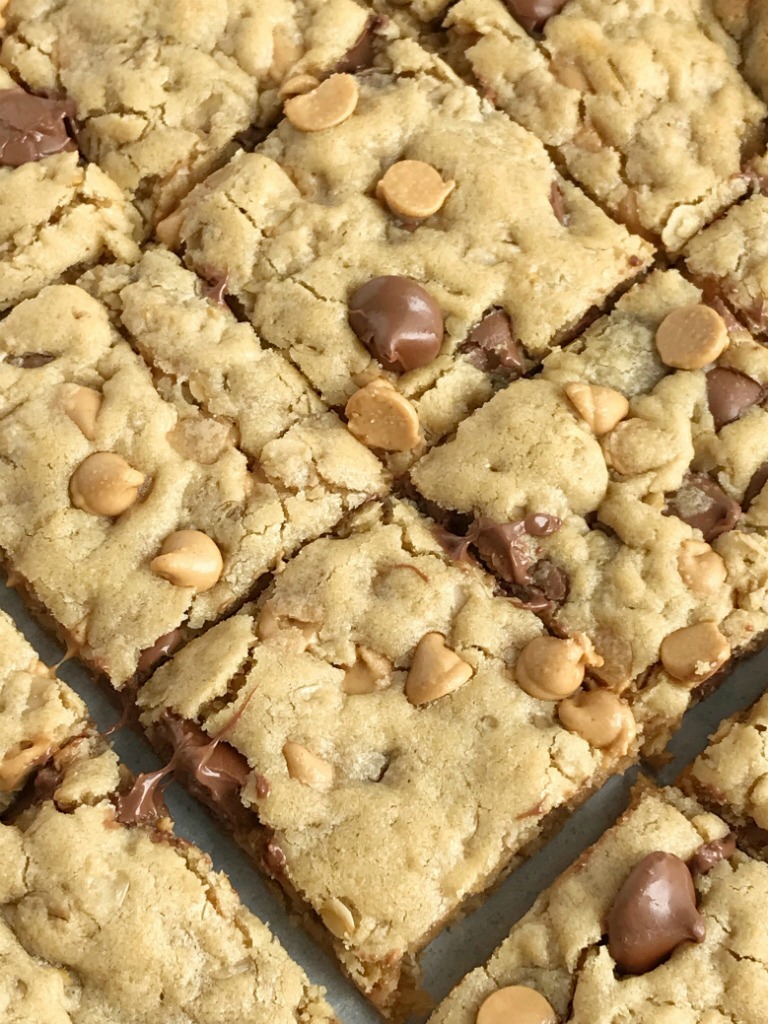 MY TIPS FOR THESE PEANUT BUTTER COOKIE BARS
The #1 tip for this recipe is to NOT OVERBAKE. I know it seems like a no brainer, but trust me, the bars will still be pale and you will think that they're not done. But they are! Pull them out, let them cool in the pan and I promise they will set up and come together nicely but still be so super soft. 
I get asked all the time if the peanut butter can be substituted. No it can't. They are peanut butter cookie bars after all, so if you can't eat peanut butter then I would go with a different recipe like these chocolate chip blondie bars. Same idea but no peanut butter. 
I have never, in my hundreds of times making these, baked them for longer than 15 minutes. Set your timer for 14-15 minutes and go from there. You want the edges to be pulled away from the pan and very lightly golden and the middle of the bars should still look pale. That's a good thing. You don't want any golden brown color on the bars.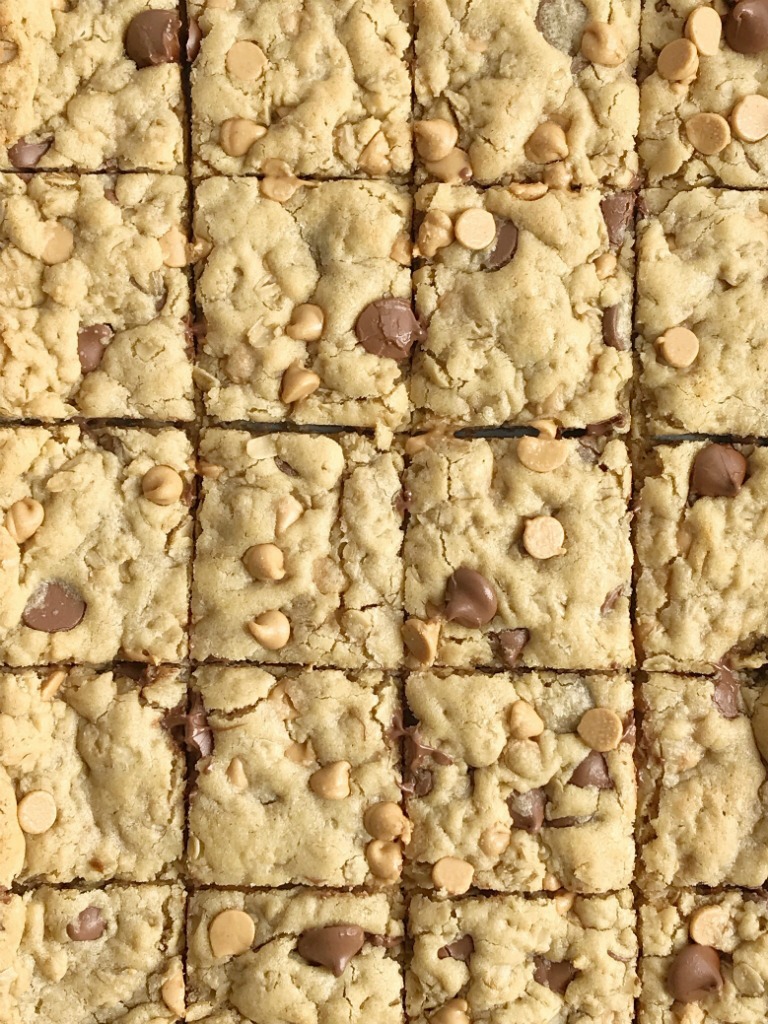 TRY THESE OTHER OATMEAL CHOCOLATE CHIP RECIPES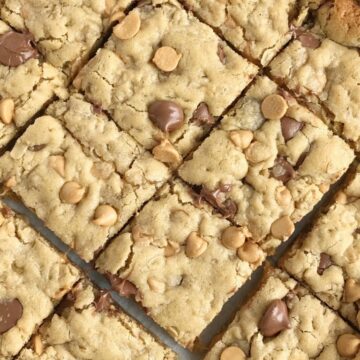 Oatmeal Chocolate Chip Peanut Butter Bars
Oatmeal Chocolate Chip Peanut Butter Bars are soft baked & thick cookie bars loaded with peanut butter, oatmeal, chocolate chips, and peanut butter chips.
Ingredients
1 1/2 cups all-purpose flour
3/4 teaspoon baking soda
1/4 teaspoon salt
1 cup whole-grain old fashioned oats (not quick oats)
1/2 cup (1 stick) butter, softened
1/3 cup creamy peanut butter
1/2 cup granulated sugar
1/2 cup packed light brown sugar
1 teaspoon vanilla extract
1 large egg
1 large egg yolk
1 cup peanut butter chips
1 cup chocolate chips semi-sweet, milk chocolate, or miniature
Instructions
Preheat the oven to 350 degrees. Lightly grease a 9X13-inch baking pan and set aside.

In a medium bowl, whisk together the flour, baking soda, salt and oats.

In a large bowl, or in the bowl of a stand mixer fitted with the paddle attachment, cream together the butter, peanut butter, brown sugar, and sugar until fluffy looking and light in color, 2-3 minutes.

Add in the vanilla, egg and egg yolk. Mix together well.

Add the dry ingredients into the wet and mix just until combined.

Add chocolate chips and peanut butter chips and combine together.

Press the batter into the prepared pan. Bake for 15-18 minutes or until lightly browned on the edges. The bars will still look pale and slightly underdone in the middle. That's ok. Don't over bake or the bars will be dry!

Let the bars cool in the baking pan for 20-30 minutes. Cut into squares and enjoy!
Notes
I always reserve about 1/4 cup of the peanut butter chips and the chocolate chips to sprinkle on top of the bars before baking.   Readers have commented and said they used quick oats and it worked just fine.   Since moving to Utah, these cook for even less time now. If you are high altitude you may want to set the timer for 13-14 and watch it from there. Look for the edges to be light golden brown and pull away from the sides of the pan. The center should still look pale and slightly underdone. Let them cool and they will set up nicely. 
Nutrition
Calories: 253kcal | Carbohydrates: 32g | Protein: 5g | Fat: 12g | Saturated Fat: 7g | Cholesterol: 33mg | Sodium: 159mg | Potassium: 63mg | Fiber: 2g | Sugar: 20g | Vitamin A: 187IU | Vitamin C: 1mg | Calcium: 24mg | Iron: 1mg