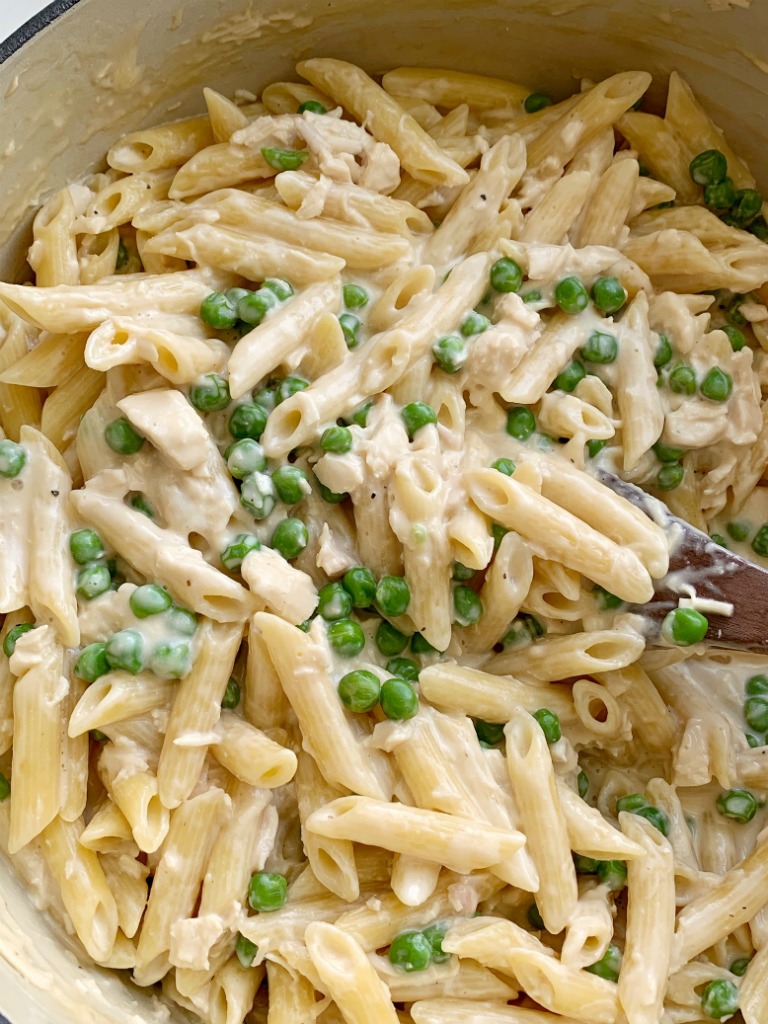 CHICKEN ALFREDO PASTA
One thing that I can always count on my kids gobbling up (with no resistance at the dinner table) is a cheesy, creamy, pasta dishes. 
I love this chicken alfredo because it cooks in one pot and uses only a few ingredients! When it comes to busy weeknights with kids, one pot and simple ingredients is a game changer and makes clean up a breeze. 
It's creamy, cheesy, full of pasta and green peas. Basically it's very kid-friendly and my 2 year old ate about half of it by himself. And I am not even kidding about that 🙂 
Penne Pasta - I prefer penne pasta or ziti pasta in this dish. You don't want pasta that is too small or too big, and those two kinds are a medium size which cook up perfectly in the allotted cook times. 
Evaporated Milk - The pasta cooks in a mixture of evaporated milk + water as it boils. No need to drain after the cook time, like with normal pasta, it's amazing how creamy and milky the sauce gets from the evaporated milk. I have only ever made this recipe with the full-fat vitamin D evaporated milk so I can't say for sure what the results would be with a lower fat evaporated milk. 
Jarred Alfredo Sauce - Yes, I love making stuff homemade as much as the next person, but when I want dinner on the table quickly I love turning to easy, pantry staples like jarred alfredo sauce. Choose an alfredo sauce that you love as the flavor really shines through in this dish. 
Chicken - Use leftover grilled chicken, buy pre-cooked chicken strips and cut them, or use a rotisserie chicken. Lots of options here, just use what you have. You could probably even substitute with ham. Just make sure that it's equal to 2 cups of whatever kind of chicken or meat you use. 
Green Peas - Adds some color and nutrients to this dish. My kids happen to love green peas (they seem to be a pretty tolerable veggies by most kids) so that's why we always use the green peas. Yes, you can substitute with any veggie you want. Just make sure that you are buying the steamable pack of veggies. That way it's easy to pop them in the microwave while the pasta is cooking. 
Parmesan Cheese - For best taste, shred parmesan cheese from a wedge. This can be found in the produce section by the deli area and the other specialty cheeses. The next best thing would be to buy some pre-shredded parmesan cheese. 
MY TIPS FOR THIS RECIPE
Stir the pasta, water, and evaporated milk frequently while it's cooking on the stove top. This will prevent the milk from scalding and burning to the bottom of the pan. 

This recipe is super adaptable. Feel free to add seasonings like dried basil, Italian Seasoning, etc. I make the recipe as is but it can easily be customized. 

When the boiling cook time is up it will seem very liquidy, but that's ok! Just follow the recipe as is and it will thicken up as you add in the peas, chicken, and cheese. Plus, as it sits off the stove top it does thicken up as well. 

For best results, shred your own parmesan cheese from a wedge. The next best thing would be to buy pre-shredded parmesan cheese. The powder cheese (in the green can) will work also. 
TRY THESE OTHER ONE POT PASTA RECIPES
One Pot Chicken Alfredo Pasta
One Pot Chicken Alfredo Pasta is a simple weeknight dinner for the entire family! One pot is all you need for this creamy, delicious chicken alfredo pasta dinner. Easy clean up and it's ready in under 30 minutes. 
Ingredients
1

box

(1 lb) penne pasta

1

can

(12 oz) evaporated milk

4

cups

water

1

teaspoon

salt

½

teaspoon

black pepper

1

bag

(12 oz) steamable frozen green peas

2

cups

shredded or diced cooked chicken

1

jar

(16 oz) alfredo sauce

1

cup

shredded parmesan cheese
Instructions
In a large pot (I used a 5 qt pot) add the dry pasta, evaporated milk, and water. Stir together and heat to boiling over high heat.

Once it reaches a boil, reduce heat to medium-high and cook for 8 minutes, stirring frequently.

While pasta is cooking cook the peas in the microwave according to package directions. Be sure and drain the peas when they're done cooking.

After the pasta is done cooking for 8 minutes, stir in the cooked chicken and jar of alfredo sauce. Stir together and let cook for an additional 4-5 minutes, stirring frequently.

Remove from heat and stir in the green peas and parmesan cheese, stirring until combined. Pasta will thicken as it sits off the heat.
Notes
I want to warn again that this dish is very mild, which is why it's so kid-friendly. As always, adapt it to what you want. Get an alfredo sauce with roasted red pepper, add some pesto into the pasta, add different spices, etc. My kids love it as is and between the 4 of them eat the entire recipe. 
I cook on a gas cook top so times may vary slightly if you are using something different. Just make sure the pasta is mostly cooked in the first step (where you are boiling water, milk, and pasta) because it will finish cooking up after you add the chicken and alfredo sauce in the next step. Follow the times but you may need to add an additional few minutes depending on how cooked you want the pasta noodles. 
For more flavor, you could also use chicken broth in place of the water. You may need just a bit less additional salt if you use chicken broth. 
I realized that all the steamable packs of frozen veggies are different sizes. Make sure that whatever you use, it's between 9-12 oz of frozen veggies. My pack was 12 oz and that seems to be the norm. 
Nutrition
Calories:
449
kcal
Carbohydrates:
49
g
Protein:
19
g
Fat:
19
g
Saturated Fat:
9
g
Cholesterol:
68
mg
Sodium:
935
mg
Potassium:
297
mg
Fiber:
2
g
Sugar:
7
g
Vitamin A:
222
IU
Vitamin C:
1
mg
Calcium:
280
mg
Iron:
1
mg