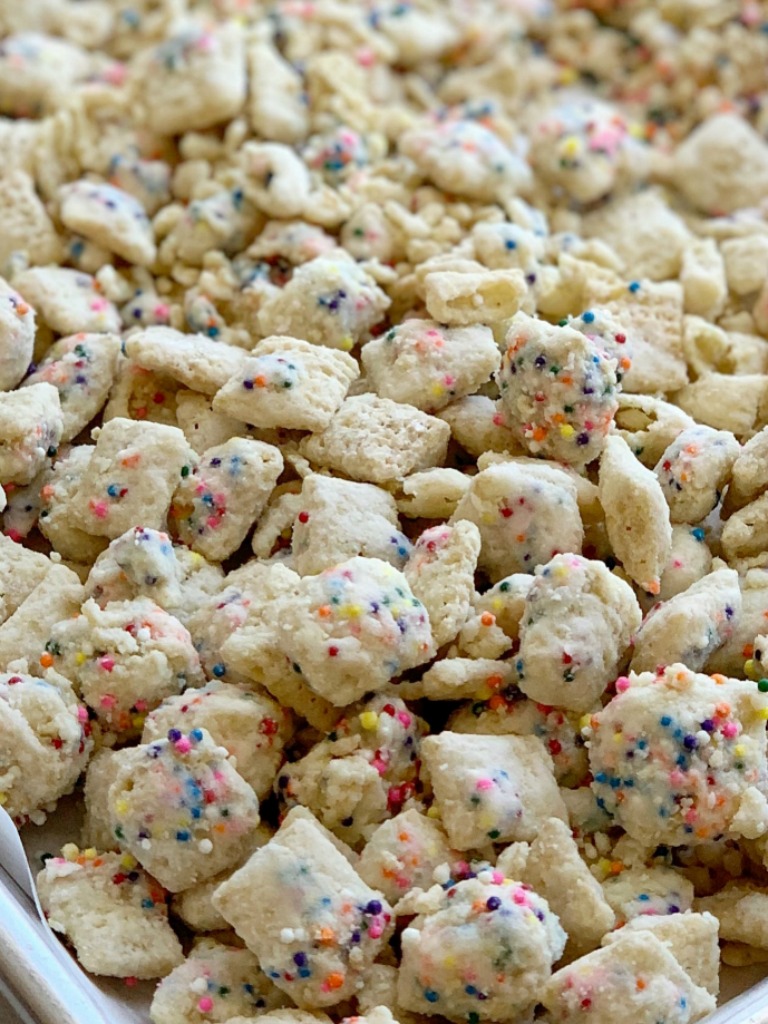 CHEX MIX
This funfetti version of the classic chex mix (aka- muddy buddys or puppy chow) is Rice Chex cereal coated with a white chocolate glaze, loaded with rainbow sprinkles, and dusted with powdered sugar.
I love chex mix recipes cause it's something that kids can help make. Not sure about you, but summer days are long and sometimes boring here at my house. Whenever that happens I know I can always bake with my kids and make a treat with them.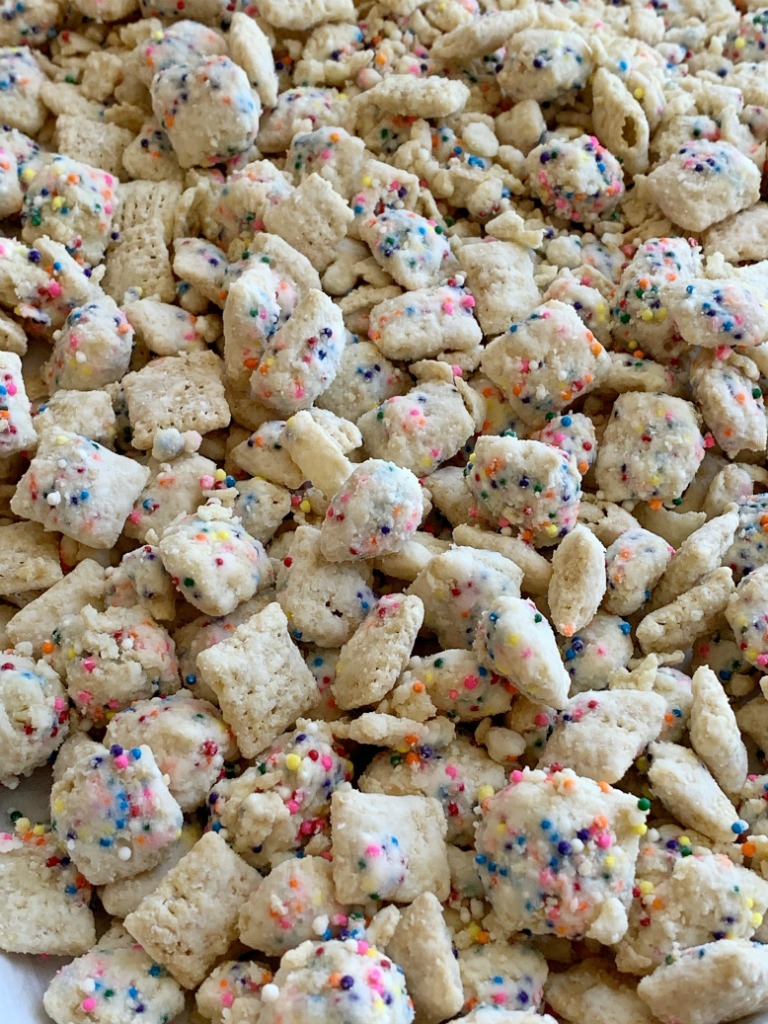 Some of our favorite's are s'mores cookie cups, the best monster cookies, or homemade brownies. 
HOW TO GET THE KIDS INVOLVED 
Let them help measure and pour the cereal into the bowl
Have them break up the white chocolate baking bar into squares
Pour the sprinkles into the bowl
Kids love to shake anything! Have them shake the bowl/bag to combine the cereal + powdered sugar and sprinkles.
I have 4 kids and nothing can bring a smile to their faces and excitement to their eyes like those rainbow sprinkles can 🙂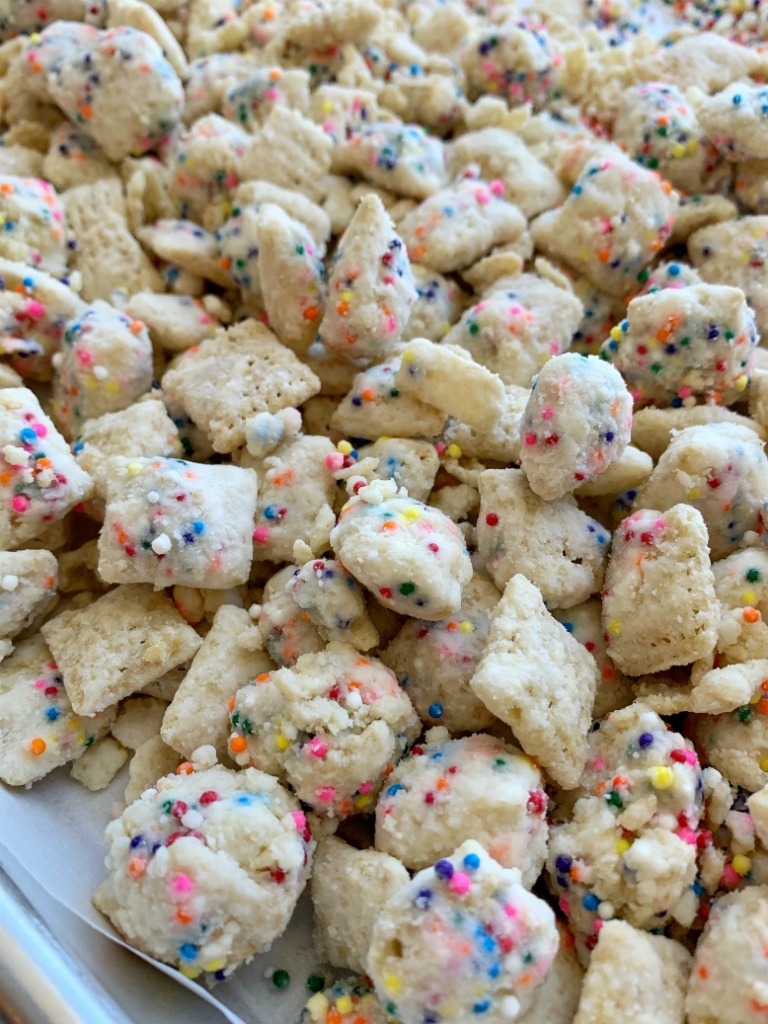 INGREDIENTS NEEDED FOR CHEX MIX
Rice Chex Cereal – The rice version is preferred because it's pale in color and has the most mellow taste. For best tastes, stick with the Rice chex. I usually just buy the store brand because it's way cheaper and the taste is so similar. 
Salted Butter – You need some salt to balance the powdered sugar, white chocolate, and sprinkles. If you use unsalted butter then be sure and add a pinch of salt. 
White Chocolate – This is so important! DO NOT use white baking chips. They do not melt as well and it just won't work. White chocolate is already a very finnicky chocolate, so splurge a bit and buy the white chocolate baking bar. Baker's is the brand I buy. It literally looks like a wrapped candy bar in the baking aisle, usually found above the chocolate chips. Each bar/box is 4 oz so you will need to buy 3 of them. 
Rainbow Sprinkles – Buy the sprinkles that are rainbow and look like tiny little balls. For Holidays feel free to switch it up and use the coordinating Holidays color sprinkles instead. 
Powdered Sugar – Just powdered sugar. Nothing fancy here 🙂 You are welcome to do some testing and reduce the powdered sugar slightly. Obviously, this chex mix is sweet. My kids love it but I can only handle a litte. Feel free to play with the powdered sugar amount and reduce as necessary.
Vanilla Extract & Almond Extract – I love the combination of the two in this recipe. It makes it taste like a sugar cookie! You can always omit the almond extract and just use double the amount of vanilla extract. Either way works.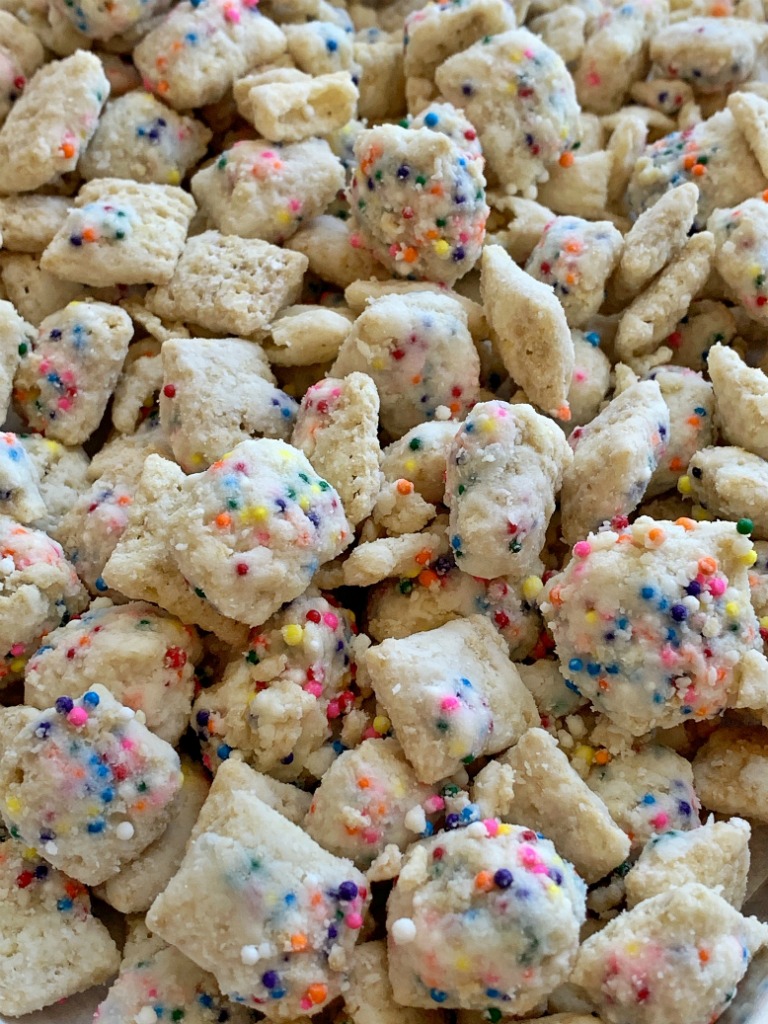 TRY THESE OTHER CHEX MIX RECIPES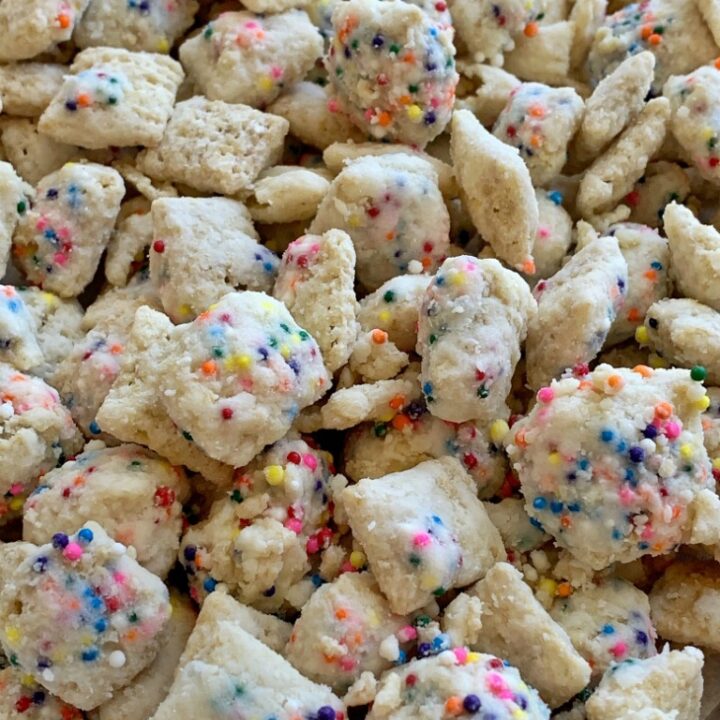 Funfetti Chex Mix
Chex Mix gets a funfetti makeover! Rice Chex cereal, white chocolate, rainbow sprinkles, and powdered sugar makes this Chex mix a crowd favorite! So easy to make and perfect for a party or fun treat to make with the kids during the summer. 
Ingredients
5 cups Rice Chex cereal
4 tablespoons salted butter, chunked
3 bars (4 oz each) white chocolate baking bars (NOT white chocolate chips)
1/4 teaspoon vanilla extract
1/4 teaspoon almond extract
1/2 cup rainbow sprinkles
1 cup powdered sugar
Instructions
Measure out 5 cups of Rice Chex cereal into a large mixing bowl (preferably one with a lid so you can shake everything in one bowl). Set aside. * If you do not have a bowl w/a lid, either use a spoon to stir OR shake/mix it up in a gallon sized Ziploc bag.

In a saucepan over medium low heat, combine the butter chunks, white chocolate (break into pieces, it comes "precut"), vanilla extract and almond extract. Heat until everything is melted and combined together.

Immediately pour the white chocolate mixture over the chex mix and stir with a wooden spoon until the cereal is coated. Add in the rainbow sprinkles and cover the bowl with a lid. Shake it up to coat the cereal in sprinkles!

Add in the powdered sugar and cover with lid again. Shake to coat the cereal in the powdered sugar.

Pour onto a cookie sheet (I line mine with parchment paper) and spread out. Let cool for 20-30 minutes. It can be eaten warm but the coating stays on better if you allow it to cool. Store in a Ziploc bag on the counter.
Notes
The white chocolate baking bars can be found above the chocolate chips in the baking aisle. DO NOT use white chocolate chips because it just won't work. Chips don't melt as well as the baking bar.    If you do not have a bowl with a lid, either mix everything with a spoon for each step OR place the white chocolate coated cereal into a gallon size Ziploc bag and shake it in the bag. Either way works just fine!
Nutrition
Calories: 173kcal | Carbohydrates: 31g | Protein: 1g | Fat: 5g | Saturated Fat: 3g | Cholesterol: 12mg | Sodium: 162mg | Potassium: 22mg | Fiber: 1g | Sugar: 20g | Vitamin A: 390IU | Vitamin C: 3mg | Calcium: 51mg | Iron: 4mg
SAVE THIS RECIPE TO PINTEREST