Instant Pot Baked Ziti is a family favorite dinner that's made even easier when you "bake" it in an Instant Pot! 15 minutes start to finish and only a few simple ingredients. Your family will love this perfect baked ziti recipe.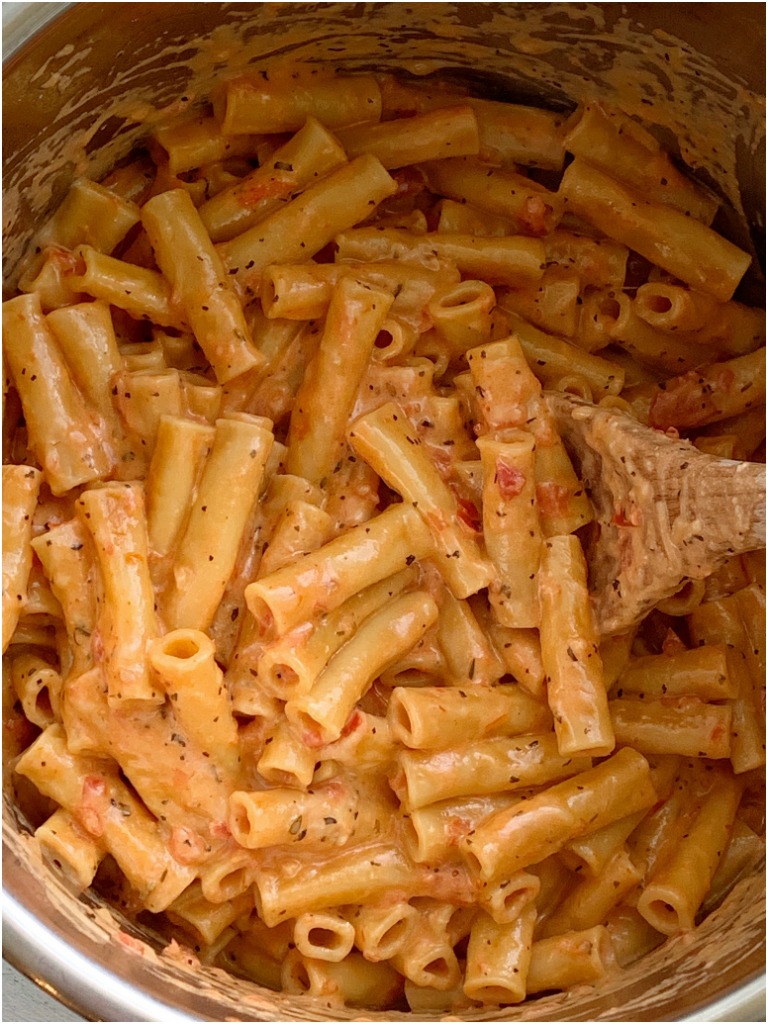 BAKED ZITI IN THE INSTANT POT
Confession time… I have made this baked ziti 3 different times in just 1 week! It is that good and I literally want to force everyone of you to make it 🙂 Not really, but you should!
I am always hesitant when it comes to Instant Pot Recipes because of that 'burn' notice. I have gotten that thing more times than I can count. Which is why when this recipe worked the first time I was amazed.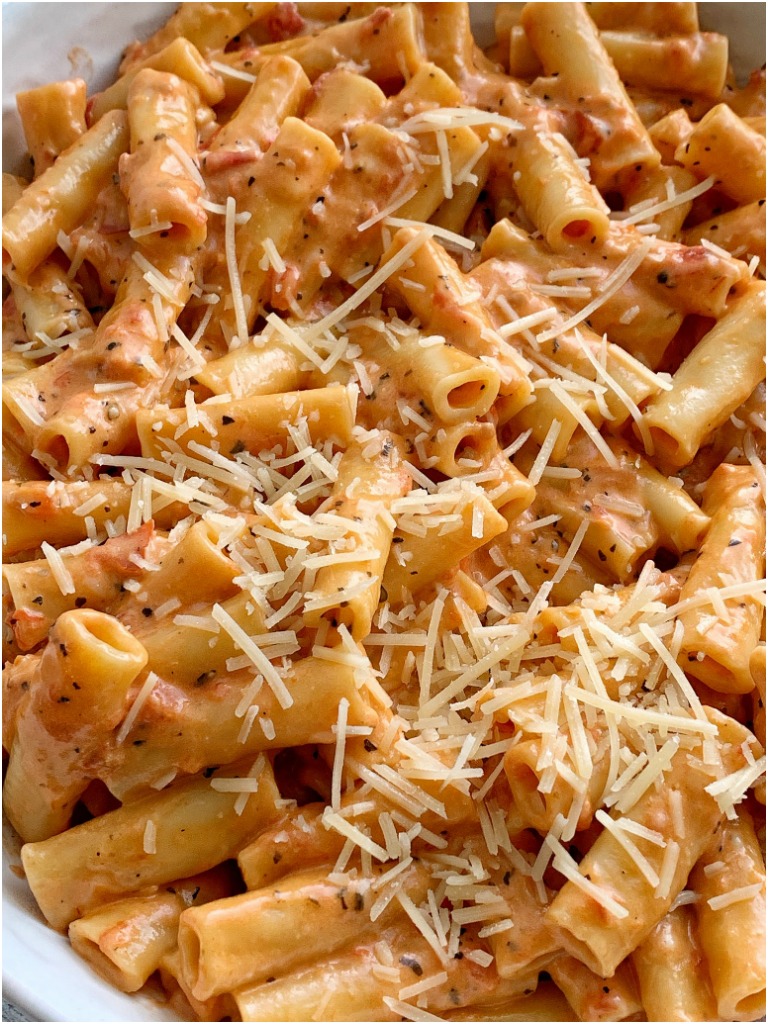 WHY DO I GET THE BURN NOTICE ON THE INSTANT POT?
I did a little "research" about the Instant Pot and found that they changed their model at some point. Kind of like the iPhone. It starts at 1 or the basic model and then progresses from there. Same thing with the Instant Pot. They made their first model that only had the different categories to choose from, and then they made one that had the 'manual' button function , and then they changed it to one that had the 'pressure cooker' button function in place of the manual. Lately, I have had more and more comments saying that they get the burn notice when they make some of my Instant Pot Recipes. I've honestly had the same problem. I bought a new version of the Instant Pot a few months back and it has the 'pressure cooker' button. Apparently it's a thing that those models get the burn notice all the time, Google it if you don't believe me, compared with the older models that just have the button that says 'manual'. And hey, the older models with the 'manual' feature are way cheaper. So I ditched my "old" one and paid $49 for the older model. I would highly suggest getting yourself an Instant Pot that has the button that says' manual' on it NOT the one that says 'pressure cooker' on the button in place of the 'manual' button. I hope this makes sense. Basically, if you want a higher chance of success buy the cheaper version of the IP with the 'manual' function/feature on it (like this one) instead of one that has the 'pressure cook' button (like this one). 
Basically, you get the burn notice on the Instant Pot when there is not enough liquid or food is stuck to the bottom of the insert. This recipe has plenty of liquid and if you follow the directions, and DO NOT STIR THE PASTA into the liquid, then you should not be getting the burn notice at all.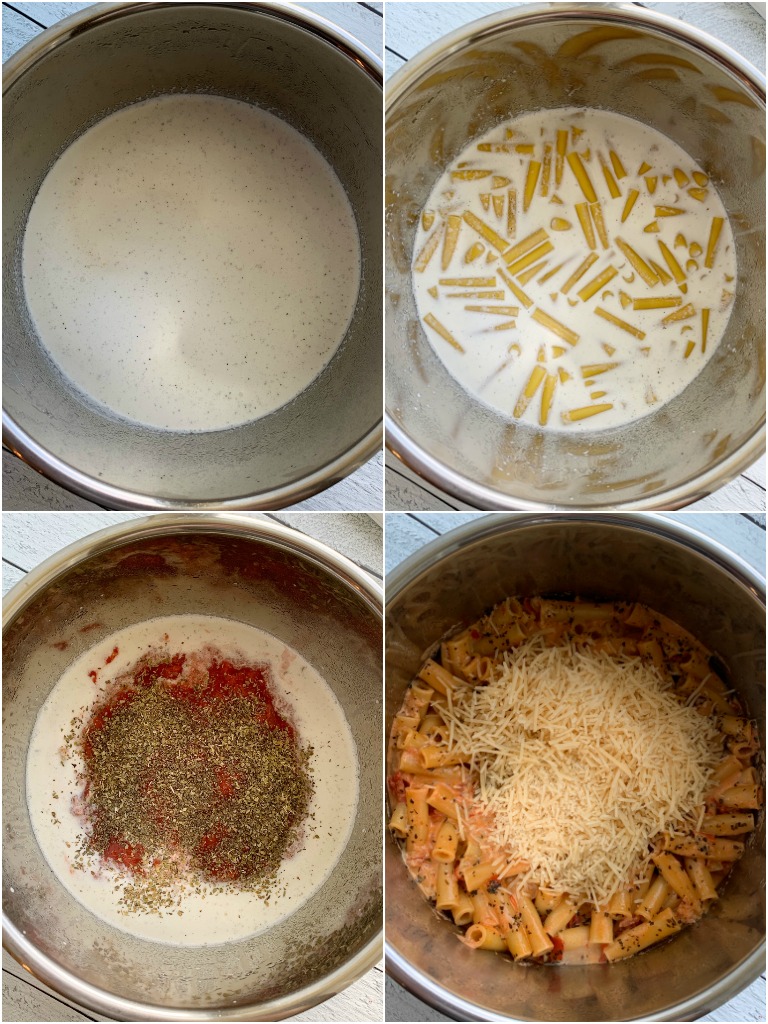 INGREDIENTS NEEDED TO MAKE INSTANT POT BAKED ZITI
Low-Sodium Chicken Broth – Regular chicken broth will work just fine but you may have to decrease the salt by 1/4 teaspoon. 
Heavy Whipping Cream – No one is making baked ziti for diet food, right? haha 🙂 Use the heavy whipping cream and don't try to substitute it with something else. Plus, that Keto diet is all the rage now so basically this baked ziti with heavy whipping cream is diet food!
Seasonings – Simple seasonings like salt, pepper, crushed garlic, dried basil, and dried oregano are all you need. Use any type of garlic you prefer. I always use the tube of garlic paste and just squeeze some out, but you can also mince and press fresh garlic cloves, or use the chopped garlic from the small glass jars. 
Ziti Pasta Noodles – A 16 oz (1 lb) box is what you need for this recipe. Yes, you can use any tube shaped pasta but the ziti pasta really is the best thing to use and it's very common so you should have no troubles finding it in any grocery store.
Shredded Parmesan Cheese – I normally say grate your own from a wedge but after experimenting, the pre-shredded stuff you buy in a bag or plastic container does just fine! I actually prefer it because it's easier. I would not recommend using the cheaper, grated parmesan cheese in the green can. Use the shredded parmesan cheese that you can find by the bagged shredded cheese at the grocery store. Or by all means, grate your own from a wedge!
MY QUICK TIPS FOR MAKING THIS RECIPE
Add the ingredients into the IP in the order listed!

Why? Because there is a reason for it. You want the chicken broth first so that the cream is not at the base of the insert (sometimes dairy can trigger the burn notice). 

Do not stir the pasta

You will be tempted to but don't do it! Just pour the pasta in and gently poke down the pasta that is very obviously sticking way above the liquid. Don't stir! Just gently push it down with a spatula or wooden spoon. 

Use the heavy whipping cream

It makes this baked ziti so creamy and thick and basically makes it amazing so just trust me and use it.
TRY THESE OTHER FAVORITE INSTANT POT RECIPES
Instant Pot Cilantro Lime Rice
Instant Pot Sante Fe Chicken Burrito Bowls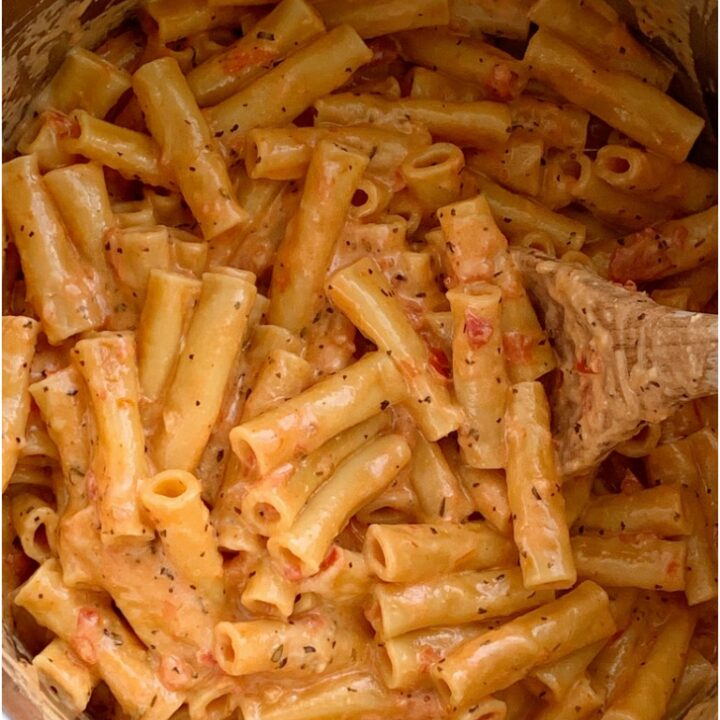 Perfect Instant Pot Baked Ziti
Instant Pot Baked Ziti is a family favorite dinner that's made even easier when you "bake" it in an Instant Pot! 15 minutes start to finish and only a few simple ingredients. Your family will love this perfect baked ziti recipe.
Ingredients
2 cups low-sodium chicken broth
2 cups heavy whipping cream
3/4 teaspoon salt
1/4 teaspoon black pepper
2 cloves garlic, minced or pressed (I use garlic paste OR chopped garlic in a jar)
1 box (16 oz) ziti pasta
1 can (15 oz) crushed tomatoes
2 teaspoons dried basil
1 teaspoon dried oregano
1 cup shredded parmesan cheese
Instructions
Spray the insert of a 6 QT Instant Pot with cooking spray. Pour in the chicken broth and then the heavy whipping cream. It's important to pour them in separately and the chicken broth needs to be first.

Add the salt, pepper, and garlic into the liquid.

Add the pasta but DO NOT STIR. If there is a mound of pasta or pasta that is sticking way out of the liquid, then gently press it down with a wooden spoon or spatula but do not stir it into the liquid!

Evenly pour the crushed tomatoes over the pasta, and then sprinkle the basil and oregano over top the tomatoes. DO NOT STIR!

Secure the lid of the Instant Pot and set the valve to the 'sealing' position. Select 'manual' (or 'pressure cooker' if that's what your IP has) and change the time to 5 minutes cook time. It will take about 8 minutes to come to pressure and then the 5 minute cook time will start.

Let the pressure release naturally for 10 minutes (meaning do not unseal the valve just let the IP sit there for 10 minutes after the cook time), and then quick release the remaining pressure.

Add the parmesan cheese and stir everything together until it's well combined.

Serve with additional parmesan cheese and/or chopped fresh basil if wanted.
Notes
In place of the fresh garlic you can use 1/2 teaspoon garlic powder if wanted Normally I can only find a 29 oz can of crushed tomatoes so I measure out 1 1/2 cups of crushed tomatoes and use that in the recipe. Then you can make this recipe twice with the remaining crushed tomatoes 🙂  For step-by-step photos please scroll up in the post because there is a picture with the steps to take when making this recipe
Nutrition
Calories: 491kcal | Carbohydrates: 49g | Protein: 15g | Fat: 27g | Saturated Fat: 16g | Cholesterol: 90mg | Sodium: 530mg | Potassium: 389mg | Fiber: 3g | Sugar: 4g | Vitamin A: 1083IU | Vitamin C: 5mg | Calcium: 229mg | Iron: 2mg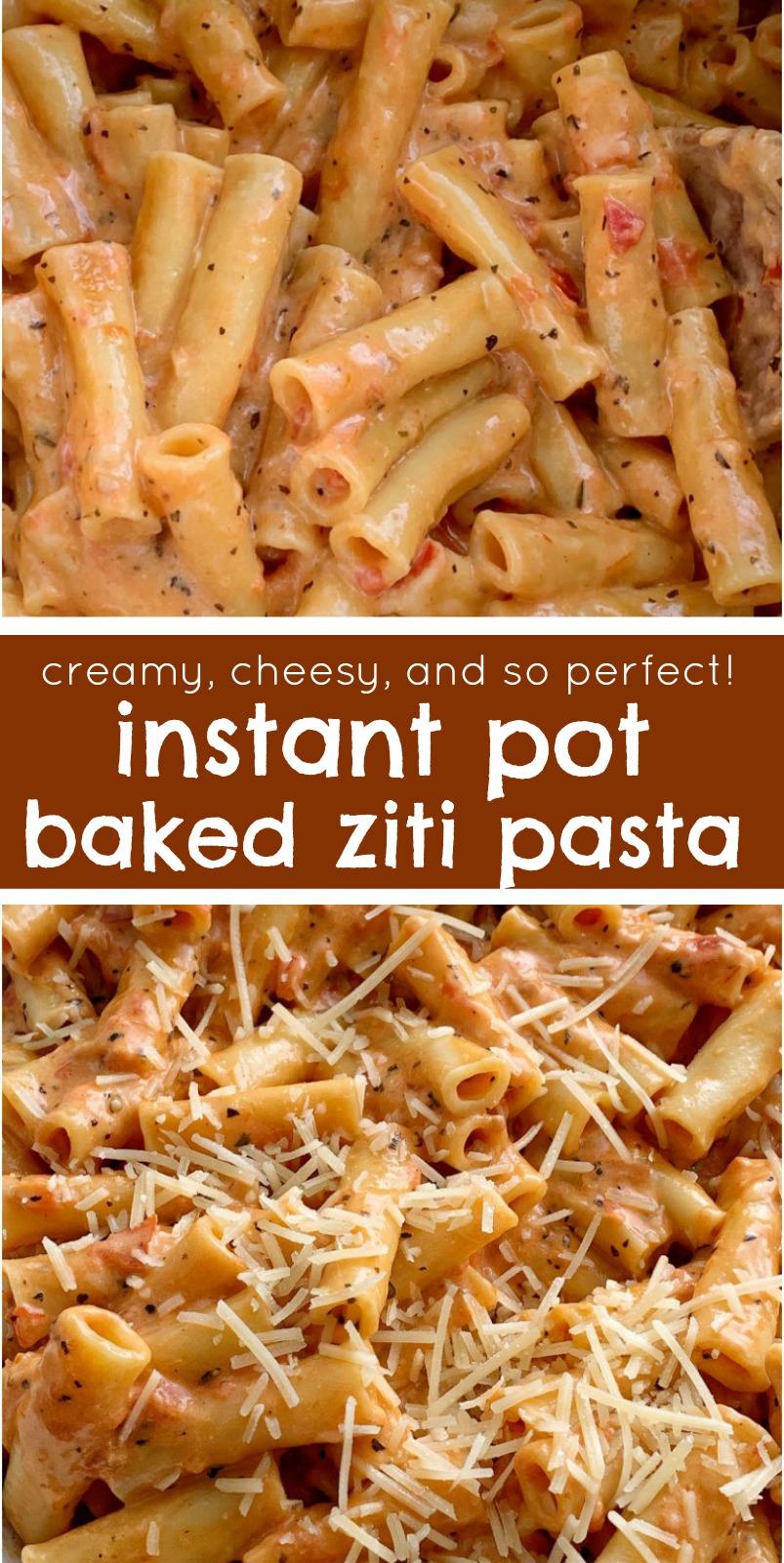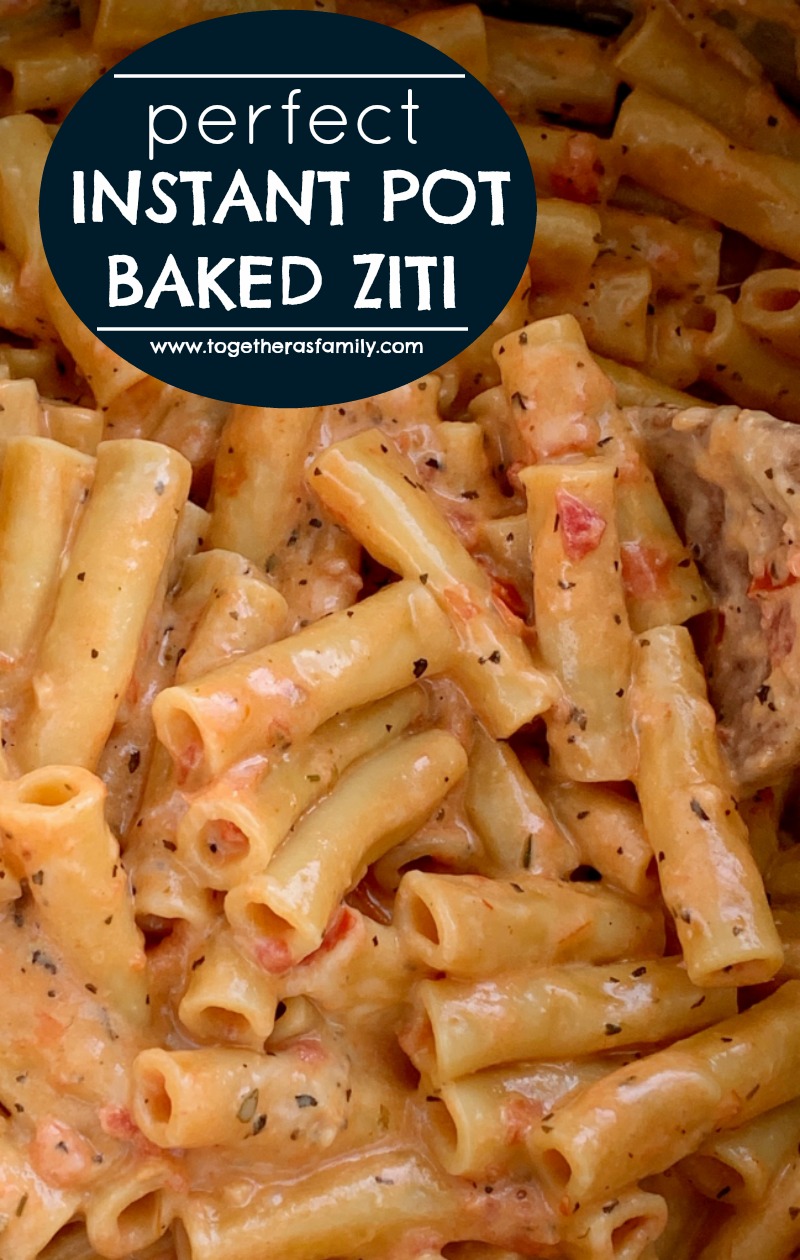 recipe adapted (very slightly) and found at Mel's Kitchen Cafe