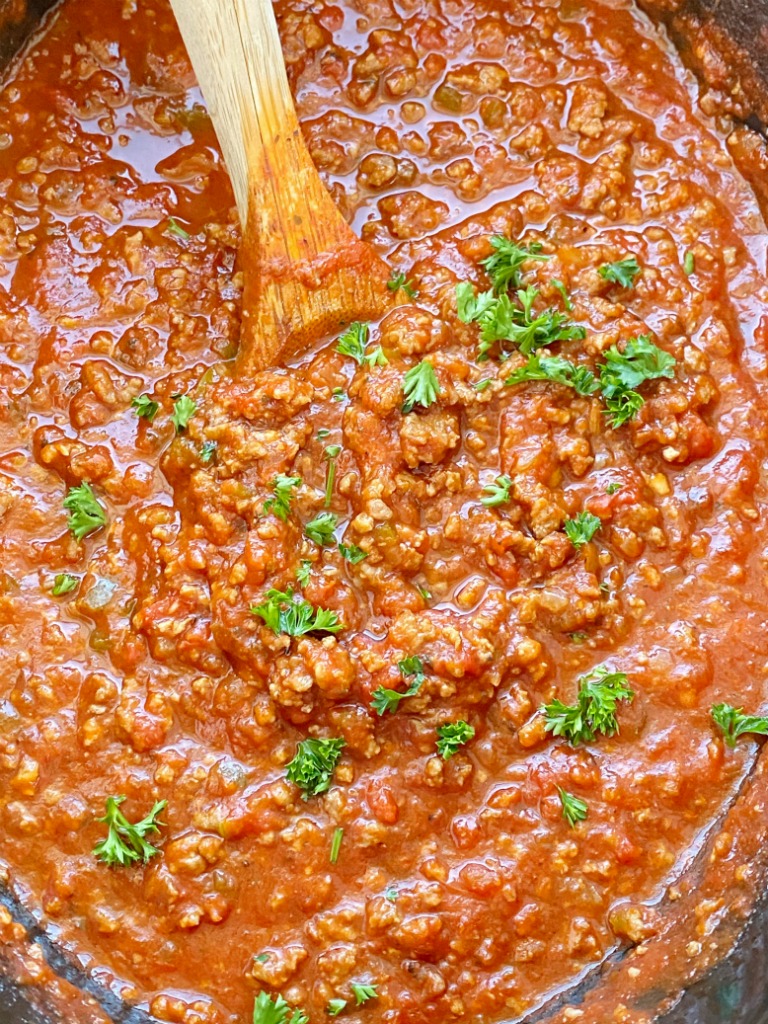 ITALIAN SAUSAGE & GROUND BEEF SPAGHETTI SAUCE
I love making homemade spaghetti sauce in the slow cooker! Instead of simmering on the stove top, this Italian sausage spaghetti sauce simmers for hours in the slow cooker and develops a rich and deep flavor. 
Serve over some pasta noodles and sprinkle with parmesan cheese for a delicious, straight from an Italian restaurant, pasta dinner.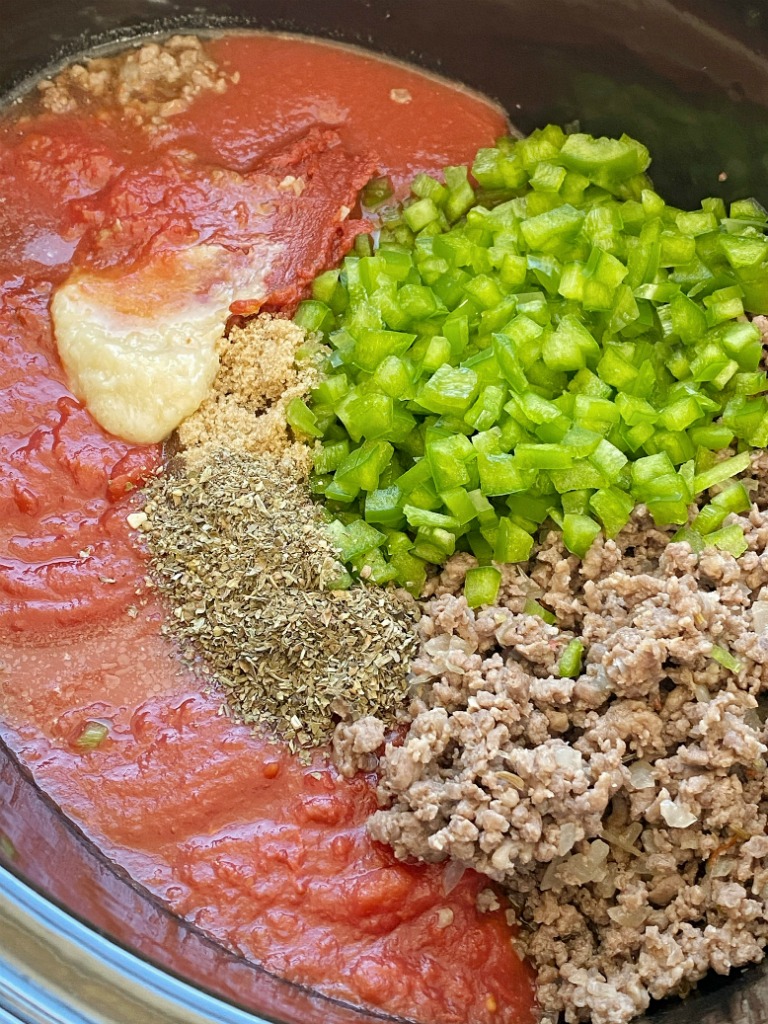 HOW TO MAKE HOMEMADE SPAGHETTI SAUCE IN THE SLOW COOKER
Cook and crumble ground beef, mild ground Italian sausage, salt, and diced onion in a skillet over medium-high heat. Drain the grease and add into the slow cooker. 
Dump the remaining ingredients into the slow cooker and stir it all together. Cover with lid and cook on LOW heat all day. It's an easy set-it-and-forget- it crock pot recipe.
INGREDIENTS NEEDED FOR ITALIAN SAUSAGE SPAGHETTI SAUCE
Ground Beef
Italian Sausage – I always use mild Italian sausage when I make this. I also have used the sweet Italian sausage before as well. If you want more spice and more of a kick, then use a hot Italian sausage. But if you're cooking for kids I would definitely recommend using sweet or mild. 
Crushed Tomatoes
Green Pepper
Beef Broth – You can use the reduced sodium beef broth or regular beef broth. If you use the reduced-sodium then be sure and check the taste and add more salt if necessary. I normally use regular beef broth because then I don't need to add any additional salt and it has lots more flavor!
Tomato Sauce & Tomato Paste – If wanted, use a tomato sauce and tomato paste with Italian herbs in it. I have used regular tomato sauce and paste before, and I have also made this with the tomato sauce that has Italian herbs added to it. Either works fine. 
Brown Sugar – Yes, you need this! With all the acid in this recipe (from the tomatoes) you need something sweet to balance it out. Use between 1-2 tablespoons depending on preference. 
Italian seasoning, dried basil, garlic, salt, & pepper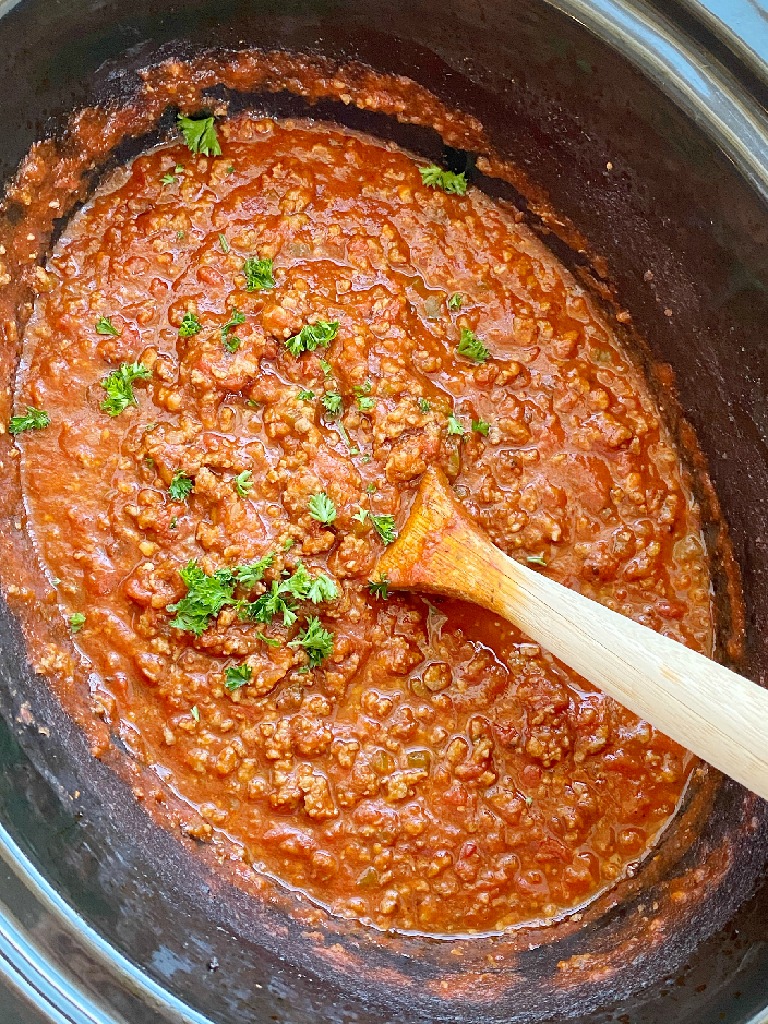 TRY THESE OTHER HOMEMADE SPAGHETTI SAUCE RECIPES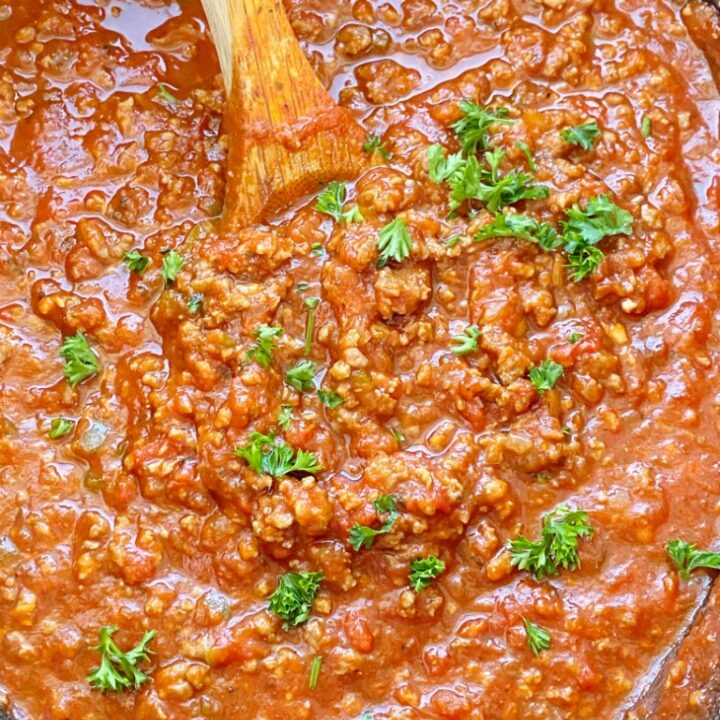 Slow Cooker Italian Sausage and Beef Spaghetti Sauce
Come home to an Italian feast with this Slow Cooker Italian Sausage & Beef Spaghetti Sauce. Two meats simmer all day long in the crock pot for maximum flavor. Leftovers freeze really well for another pasta dinner night.
Ingredients
1 lb ground beef
1 lb mild Italian sausage
1 onion, finely chopped
1 teaspoon salt
1 green pepper, chopped
1 can (28 oz) crushed tomatoes
1 cup beef broth
1 can (8 oz) tomato sauce
1 can (6 oz) tomato paste
3 cloves garlic, minced or pressed (I use garlic paste)
1-2 tablespoons brown sugar (can also use granulated sugar)
2 teaspoons Italian seasoning
1 teaspoon dried basil
1/2 teaspoon salt
1/4 teaspoon pepper
Instructions
Spray the insert of the slow cooker with cooking spray.

In a skillet pan, over medium-high heat, add the ground beef, Italian sausage, onion, and salt. Cook and crumble until meat is browned. Drain grease. Add into the slow cooker.

Add in the remaining ingredients and stir together. Cover with lid and cook on LOW heat for 7-8 hours.

Serve over pasta noodles and sprinkle with parmesan cheese. Leftovers freeze really well. I put extra spaghetti sauce in a quart-sized Ziploc freezer bag.
Notes
If you want more spice then use hot Italian sausage   I use regular, full-salt beef broth for this recipe. The slow cooker tends to mute flavors with the long cooking time, so I prefer the salt in the beef broth. If you use low sodium beef broth, you may want to add additional salt after the cook time. Just taste and season to preference.    When you take off the lid after the cook time the sauce will seem really thin and almost liquidy. Leave the sauce in the slow cooker with the lid off to let it thicken up. This sauce is nice and thick, but may not appear to be when you first take off the lid. 
Nutrition
Calories: 276kcal | Carbohydrates: 11g | Protein: 14g | Fat: 20g | Saturated Fat: 7g | Cholesterol: 56mg | Sodium: 1122mg | Potassium: 678mg | Fiber: 3g | Sugar: 7g | Vitamin A: 577IU | Vitamin C: 20mg | Calcium: 51mg | Iron: 3mg