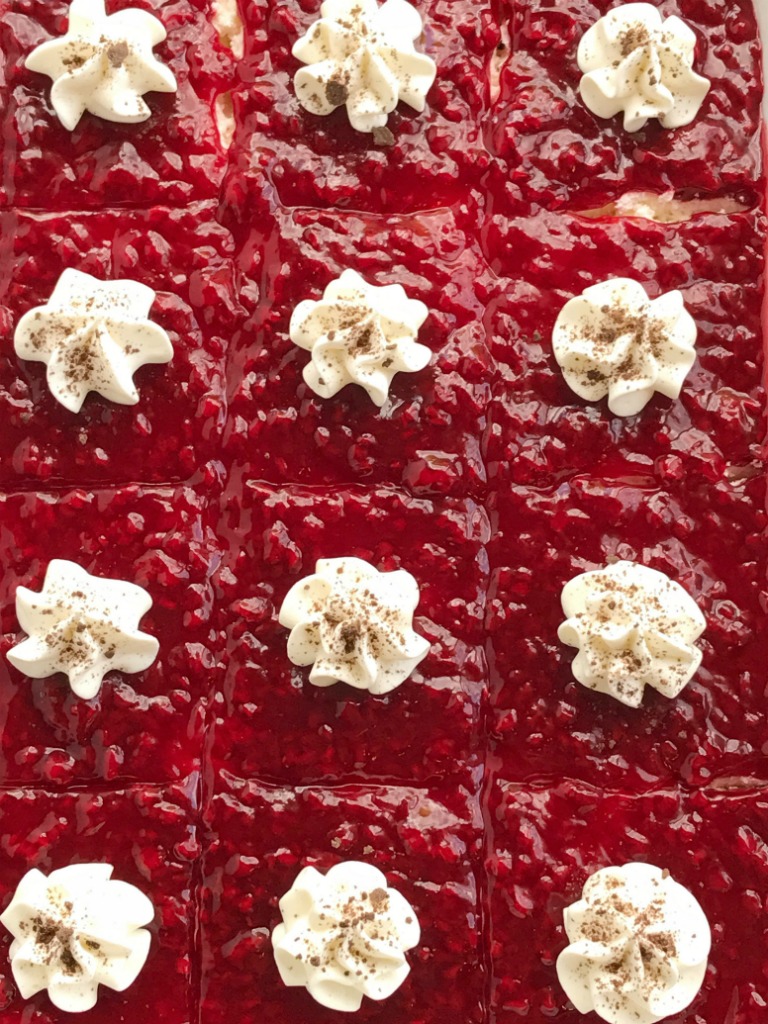 CHOCOLATE RASPBERRY CHEESECAKE DELIGHT
This raspberry cheesecake delight dessert is so delicious and it's so pretty. Don't you just love pretty food? Three layers of deliciousness and topped off with an easy raspberry pie filling. 
In my normal life (aka- not my food blogging life) I don't make several desserts every week. I try and feed my kids good & healthy food, and *try* to limit the sweets and sugar. 
Which is why I'm not sure what has gotten into me lately with all these no-bake dessert recipes. It must be the spring air and the thought that summer is just around the corner. 
This no bake black forest cheesecake pie, this lemon pie and this family favorite Oreo pie are some of my more recent no bake desserts.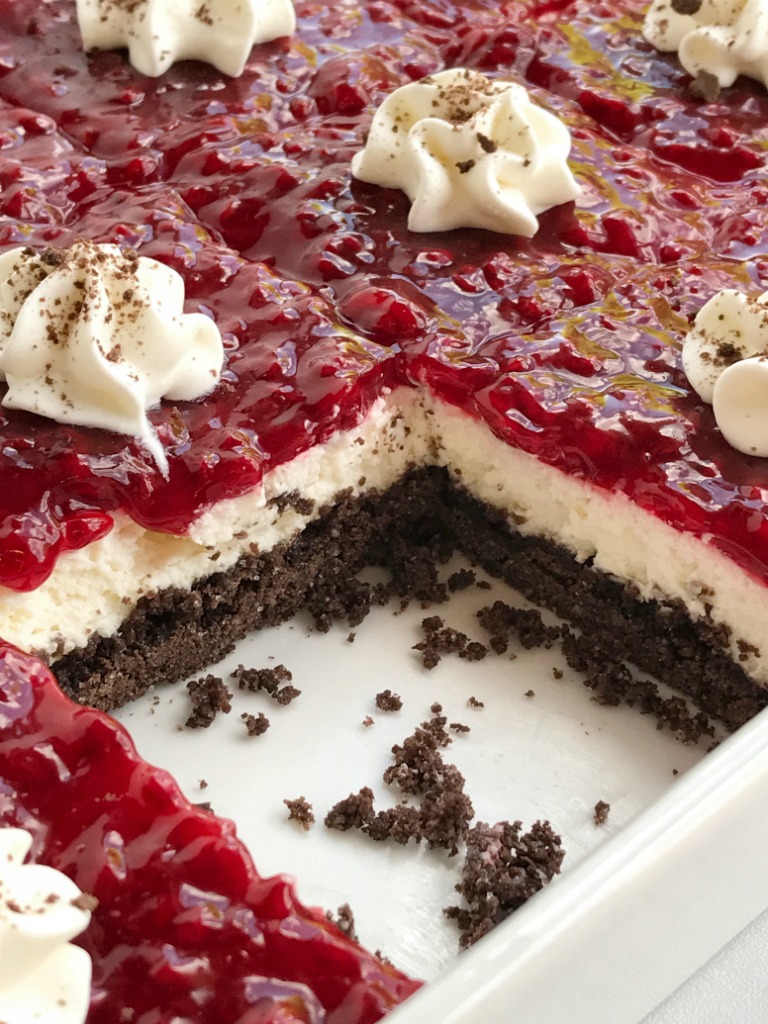 INGREDIENTS NEEDED FOR RASPBERRY CHEESECAKE DESSERT
For the crust you will need some chocolate graham crackers, granulated sugar, and melted butter. I always use salted butter because it has the best taste. Crush up the crackers into fine crumbs, it's easiest to do this in a food processor OR use a Ziploc bag and pound it, and then combine those crumbs with melted butter and sugar. 
For the middle cheesecake layer, you will need cream cheese, heavy whipping cream, and powdered sugar. If you really don't want to whip your own cream, you can substitute it with one 8 oz tub of Cool Whip. I highly recommend following the recipe and whipping your own 🙂 
The topping is simply a can of raspberry pie filling.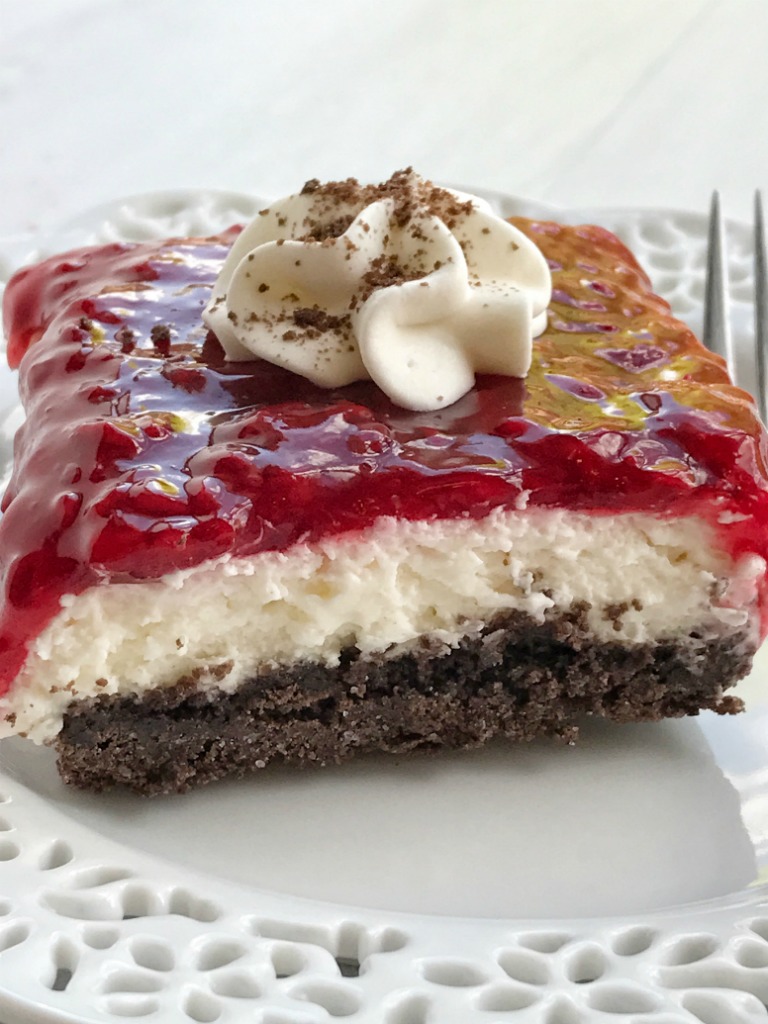 MY TIPS FOR THIS RECIPE
If you're not a fan of raspberries then go ahead and use any canned pie filling. Just make sure it's the same sized can as the one called for in the recipe. We love it with raspberry so I have never tried another flavor, but I think it would work out great.
There are lots of graham cracker choices out there. I have seen vanilla, cinnamon, and then the regular graham crackers too. Get creative and use different crackers if wanted. 
I topped mine with some freshly whipped cream and then I also crumbled up some chocolate graham crackers to sprinkle on top of the whipped cream. This dessert does not need a topping (it's amazing as is) but if you want to add some, then go ahead. To make it easy you could also use the spray can of whipped cream, or use some fresh raspberries for topping. 
Plan ahead to make sure that you get that minimum fridge time of 8 hours. I always make it the day before and leave it in the fridge overnight. Because this dessert chills in the fridge for so long, the layers get nice and thick, which makes it much easier to cut when it comes time.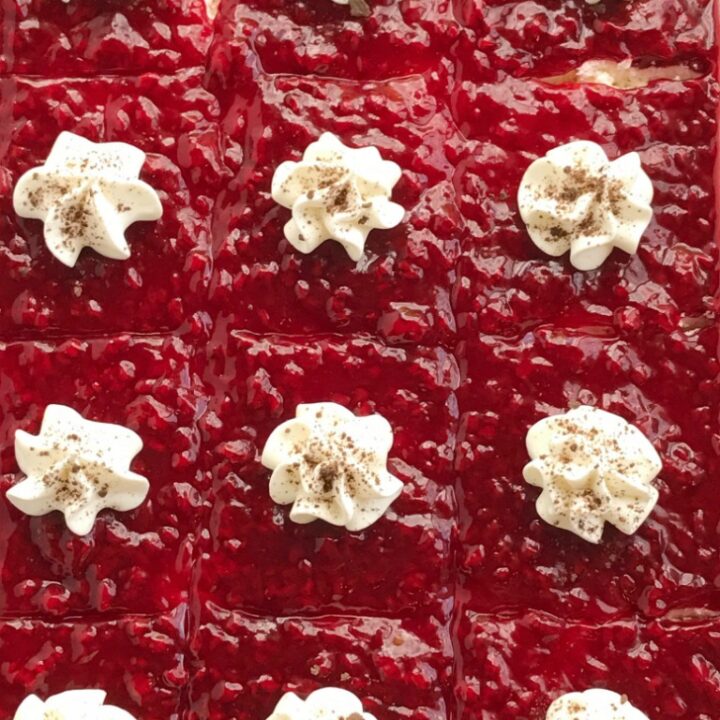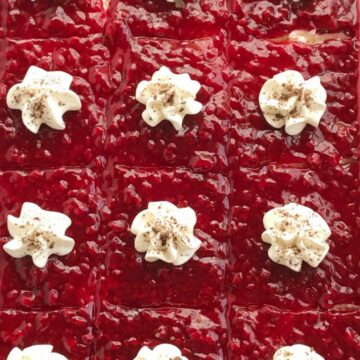 Chocolate Raspberry Cheesecake Delight
Chocolate Raspberry Cheesecake Delight is an almost no-bake dessert with three delicious layers! A chocolate graham cracker crust, creamy sweet cheesecake middle, and topped with raspberry pie filling.
Ingredients
Chocolate Crust
2 cups chocolate graham cracker crumbs
1/4 cup granulated sugar
1/2 cup (1 stick) butter, melted
Cheesecake
1 cup heavy whipping cream
1 block (8 oz) cream cheese, softened
1 cup powdered sugar
Raspberry Topping
1 can (21 oz) raspberry pie filling
Instructions
Heat oven to 350 degrees and spray a 9x13 baking dish lightly with cooking spray.

To make the crust: Combine graham cracker crumbs, sugar, and melted butter in a mixing bowl and combine together. Pour into the prepared baking dish and press evenly into the pan. Bake for 8 minutes. Let cool completely.

To make the filling: Pour heavy whipping cream into a mixing bowl. Using an electric hand-mixer, or bowl of a stand mixer, beat cream until stiff peaks form and it's thick.

In another bowl, beat together the cream cheese and powdered sugar. Fold in the whipped cream. Pour it onto your graham cracker crust and gently spread out evenly over the crust.

Top the cheesecake layer with the can of raspberry pie filling. Spread out evenly.

Cover with saran wrap and let refrigerate for at least 6-8 hours or for best results refrigerate overnight.
Notes
I crushed a little extra graham crackers so that I could reserve some to sprinkle on top for garnish. I also whipped some additional heavy cream to pipe onto the top of each serving.   To crush the graham crackers, place them into a Ziploc bag and use a meat pounder or something else heavy and crush into crumbs. You could also just put the graham crackers in a food processor. 2 cups crushed is equal to about 1 1/2 sleeves of chocolate graham crackers.   You want to make sure the cream cheese is softened so it does not make the cheesecake lumpy. I unwrap the cream cheese, put it on a microwave-safe plate, and microwave it for about 25-30 seconds to get it nice and soft so it blends easily. 
Nutrition
Calories: 193kcal | Carbohydrates: 19g | Protein: 1g | Fat: 13g | Saturated Fat: 7g | Cholesterol: 36mg | Sodium: 94mg | Potassium: 11mg | Sugar: 13g | Vitamin A: 396IU | Vitamin C: 1mg | Calcium: 11mg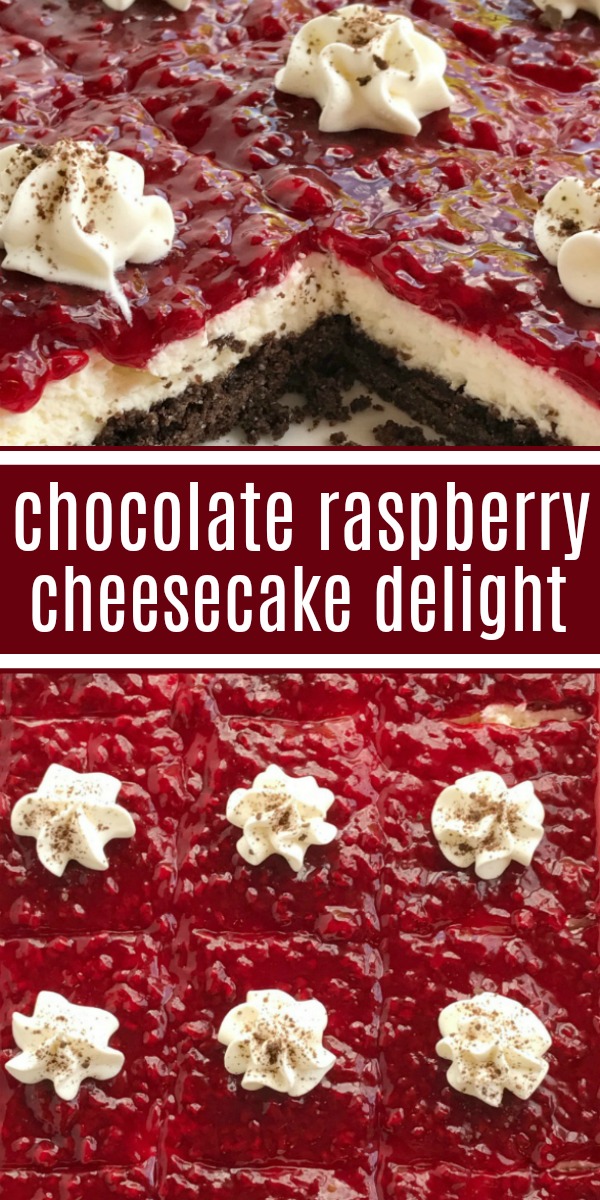 recipe inspired from this one that I found on Pinterest