Tips & Easy Recipes to make when you are cooking from your pantry. Easy recipes that use simple, canned, or frozen ingredients.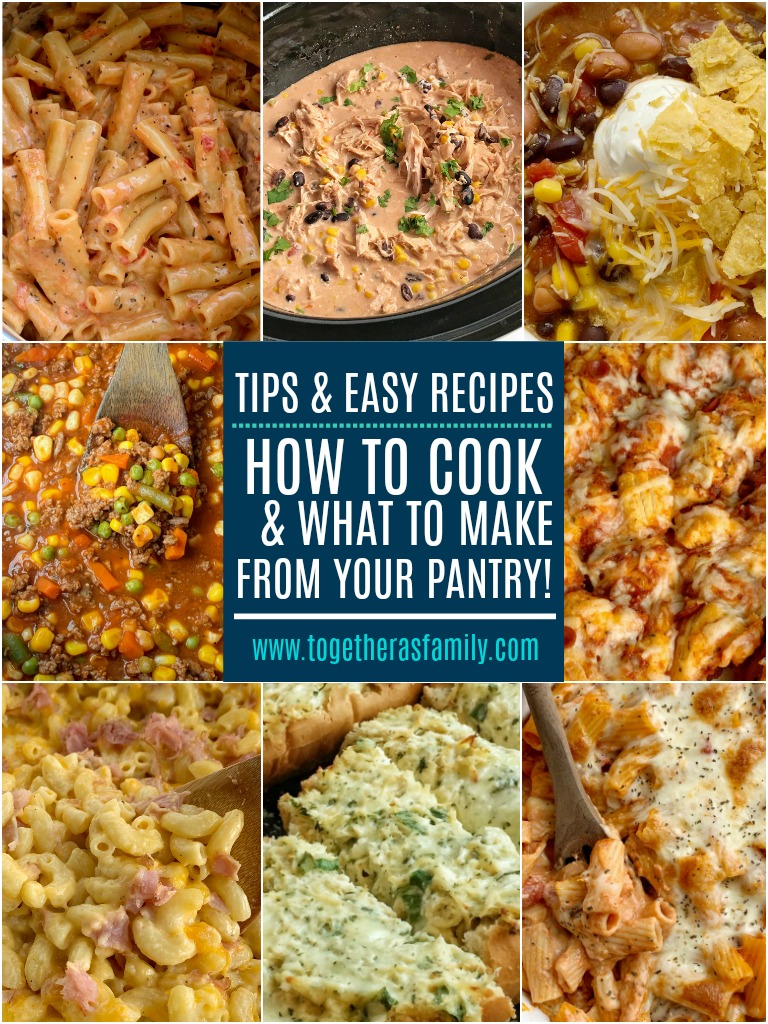 I am certain that most of us are dealing with school closures, social distancing, work changes, and lots of other different and difficult situations. One of the ways that we can all be prepared is to have some recipes that we can make at home, from our pantry, instead of going out during this time. 
I am a firm believer in the fact that we as parents can show our kids how to act when unexpected and scary things occur in the world. They see us, they do listen (even though it usually seems they don't), and they do emulate our actions and behavior.
So yes, we can stress out, panic, hoard all the supplies OR we can stay calm, take one day at a time, and prepare as best (without wasting and hoarding) as we can.
I also know that if we all do our part and stay home as much as possible during this social distancing time period, that we can all help flatten the curve and come together to help those that are most vulnerable to this virus. 
This is a long post today with lots of tips, recipes, and information. Scroll down to the recipes or read my tips below. I hope that this is helpful and please, if you have other ideas and/or easy pantry ingredient recipes, please comment and share. We can all help each other out during this difficult and uncertain time.
WHAT ITEMS SHOULD I TO STOCK IN MY PANTRY?
I know there are lots of sites out there that will give you a very detailed, bullet point style list of everything you should have in your pantry. That is so overwhelming for me! My advice is to stock up on what you know your family loves! It's that simple. Every family is different so evaluate what dinner recipes, snack recipes, etc. that you know your family loves and stock up on those ingredients. 
I would not recommend buying 100 boxes of pasta just because your family loves pasta. I mean we all love pasta, right?! But more than likely we won't eat 100 boxes of pasta within this two-week social distancing. And I don't know about your pantry space but I certainly do not have the space to store 100 boxes of macaroni & cheese 🙂 
I also would not recommend buying 100 cans of something that your family does not normally eat just because so and so says you should have that in your pantry. My family does not eat canned soup so that is something that I never have in my pantry. They like ramen noodles so that is something I would stock instead of canned soup.
My kids love the spiral macaroni & cheese so I always have at least 10 boxes or so of that in my pantry. 
My kids also love peaches, pears, and mandarin oranges. So again, in my pantry I have lots of canned peaches, pears, and also the plastic single-serve bowl of mandarin oranges. 
One of our go-to easy, simple pantry dinners is just simply pasta and spaghetti sauce. If I have some ground meat to use up (or use from the freezer) I will throw that into the sauce too. Pasta and canned spaghetti sauce are easy items to keep in your pantry and their expiration dates are usually years away. 
Canned chicken. I know some people have lots of issues with canned chicken but I promise it's not bad at all. I always keep a supply of it in my pantry. My personal favorite is the Kirkland Signature brand from Costco. 
Canned Tuna Fish. Again, it's a shelf stable canned meat item that tastes good, is a great source of protein, and you can use it to make tuna salad sandwiches or a tuna casserole.
I know I can always make something out of seasoning packets (like ranch, onion soup, and Italian), a can of creamed soup, and some chicken or beef broth. Those are all items that I keep in my pantry. 
We are all in love with cold cereal. And yes, I have no shame in admitting that there have been plenty of evenings where we sit around the table and eat cereal. Nothing wrong with that! I always have several different boxes of cereal in my pantry. 
Peanut Butter & Jelly Sandwiches. You will always find lots of peanut butter, different jams or jellies, and Nutella too! My kids all love pb&j sandwiches or Nutella & peanut butter sandwiches if you're my daughter. 
Frozen Chicken Breasts & Ground Beef – I buy the large bags of frozen chicken breasts from Costco. The frozen breasts work well for crock pot recipes or you can thaw them and use for any recipe that calls for chicken breasts. I also freeze ground beef. I use quart-sized Ziploc bags and put 1 pound of beef in it. Write what it is and the date and throw it in the freezer.
Shredded Cheese -It freezes perfectly and is a great topping for soups, tacos, or use in any recipe that calls for shredded cheese. 
This is obviously not the full list of what I normally stock in my pantry. The above are just examples to show that you should really try and focus on what you know your family eats regularly and the stuff they love. 
The point I am trying to make is that you should stock your pantry with items that you know you will use ♥ It will not do you any good to stock your pantry with ingredients that you don't normally use just because someone said you should have that in your pantry. 
MAKE A LIST OF YOUR FAMILY'S TOP FAVORITE DINNER RECIPES THAT YOU KNOW YOU WILL/CAN ALWAYS HAVE THE INGREDIENTS IN YOUR PANTRY
Here is my family's list of pantry ingredient dinner recipes that I always have on hand.
Here is my family's list of pantry ingredient snack recipes that I always have the ingredients for. 
Steel Cut Oatmeal Energy Bites – I make these weekly! Sometimes it's hard to find quick cooking steel cut oats in stores so I always order them through Amazon. 
Cinnamon Banana Bread Muffins – We always seem to have browned bananas so that's basically a pantry staple at my house. These muffins are the best way to use those browned bananas. 
Applesauce Muffins – Applesauce is a great baking ingredient and my kids also happen to love applesauce. These applesauce muffins are crazy delicious! They look plain and boring but don't let that fool you. 
Monster Cookies – Yes, I bulk stock flour, sugars, oats, chocolate chips, and m&m's in my pantry. These are always the first cookies we make when we want cookies. 
Homemade Brownies – This is an easy pantry recipe because it calls for cocoa powder instead of expensive melted chocolate. Cocoa powder is a great baking ingredient to keep in your pantry. Even if it is only to make these brownies 🙂 it keeps forever as well so it won't spoil quickly. 
Cheesy Refried Bean Chip Bites – This is not a recipe but it's something my grandpa would always make when we were young and visiting his house. Get tostitos scoops, a can of refried beans, and shredded cheese. Place the scoop chips on a microwave safe plate, dollop some refried beans inside, and top with shredded cheese. Microwave for about 45 seconds (more or less). It's a cheesy bite and it's so good. Kids and adults will love these snacks. 
EASY RECIPES TO MAKE FOR DINNER THAT USE PANTRY INGREDIENTS
Here are lots of dinner recipes that use canned pantry staple ingredients. Some also call for chicken or ground meats, but those freeze really well which is why ground beef, ground turkey, chicken breasts are great items to keep stocked in your freezer or items to stock up on. 
All of these recipes call for canned goods, meats which can easily be frozen, dry spices and seasoning packets, and frozen vegetables. There are lots that can also use canned chicken in place of the shredded chicken called for in the recipe. I have used canned chicken in the hot chicken salad sandwiches before.
And remember that most crock pot recipes work just fine with frozen chicken breasts. It may need a slightly longer cook time but I have not noticed a huge difference between cook times when I use frozen. 
I hope & pray that you are all safe and happy during these difficult and uncertain times ♥